10% off select add-ons through Oct 8!
How To Convert A Shed To An Art Studio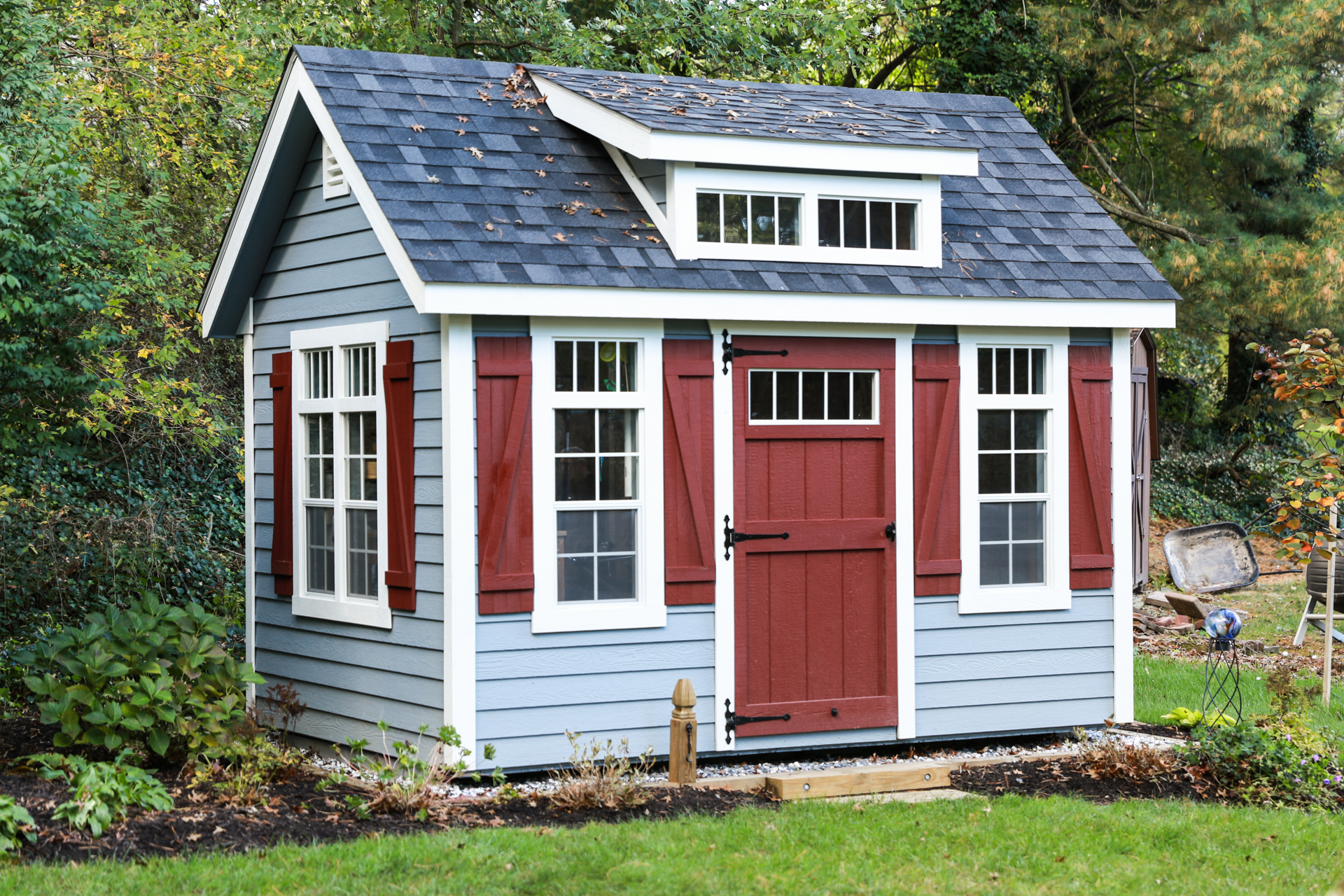 In case you didn't read our company name, we're a shed business. That's what we live and breathe. But we're not a shed business simply trying to sell sheds for our own profit. We genuinely care about you and your life as well. That's why we love to write about new ideas on how you can use your shed; this article will focus mostly on how you can convert a shed to an art studio and what benefits it may have to your artist inklings or, more seriously, your artistic career.
Do I Need An Art Studio?
The first question that may come to your mind is "Do I even need an art studio for my work?" or "When do I know when to get an art studio?". These are great questions, and questions that should be answered before blindly plunging into converting a shed to an art studio.
Creating an art studio can be an investment; even if you already have a shed and want to make a shed to studio conversion, time and money will inevitably be invested. That's why it's important to ask yourself, "Will this be a good/not good investment for me?" Here's a couple reasons why purchasing a shed and converting that shed into an art studio could be a good idea.
Prevention Of Emotional Burnout
Ever heard the phrase "separation of church and state"? We can tweak that phrase to say, "separation of work and home life." Although it is often possible, it can be personally draining to have the stress and responsibilities of work on your shoulders while also trying to keep your kids in order. Also, rather than focusing on creative ideas for your art projects, the "home-life" mentality can still subconsciously be there and cause distractions.
On the flip side, if you would decide to go ahead with a shed to studio conversion, your art shed would still most likely be on your property,giving you a separate space dedicated to work only, while also allowing you to easily go back to your house if need be. Training your brain to switch between work mode and home mode can be greatly helped if the two are separated physically, which will eventually mentally separate the two for you as well.
Creativity Struggles
Converting a shed to an art studio can also help you have a personal workspace where you can creatively think and paint without hindrance.
Health
Another reason why it might be time to have a separate space for art is for health reasons. Your health should not be endangered by your work, and depending on where you store certain supplies for your art in the home, it could be damaging.
In General
Generally, distractions hinder our work. That's why an art studio apart from the home could be valuable because distractions will be greatly hindered if you are working alone in a private work environment. Several of the distractions that could be crossed out by an art studio is the home-life mindset, children (bless their hearts) etc.
Photo credit to Bianca Fazacas by Unsplash®
How To Convert A Shed To An Art Studio
A shed to studio conversion can be a big deal, so we're going to try to break down this process step-by-step. Keep in mind that to convert a shed into an art studio will take time and effort, so make sure that you allow enough time for yourself to get the project done.
Step 1: Finding Your Shed
You can't convert a shed into an art studio without first having a shed. If you already have a shed that is not being used very much, you could save some money and simply convert your old shed into a beautiful art studio.
If you don't own a shed, there's plenty of shed companies out there where you could purchase a quality shed and create an art studio in. You could also check out our sheds for sale and browse different shed types.
There are several factors to consider before purchasing a new shed; otherwise, your shed to studio conversion might be disappointing. Some of the variables that you want to consider include sunlight, accessibility, spaciousness, and ventilation. Let's break these factors down a little further.
Sunlight
Make sure that your art studio shed is full of sunlight.
Adding windows, placing your shed where the sun can reach it, adding glass doors, etc. are all ideas that could make your art studio much more airy, happy, and bright.
Accessibility
One of the advantages to converting a shed to an art studio is that your workplace can still be on your property and close to home. Of course, this allows for you to have easy access to your workspace. When installing the shed, place it at an accessible location where you can simply get away to work but also where you can easily go back home if need be.
Spaciousness
When thinking about what kind/what size shed you should get, think carefully about what you will have in your art studio.
One thing to be considered is how much overhead space you will need. An easel height is adjustable and can vary, but make sure that you have enough height to your shed so that your easel and other tall objects can fit in your future art studio.
Another factor that will affect the size of your art shed is how many artist-related items you will have in your shed. Make a list of what all will be put in your art studio, and carefully calculate how much space will be needed. It would be a shame if in the middle of your shed to studio conversion process, you realize that there is not enough space for everything.
Generally, you want your space to be roomy and spacious rather than small and crowded, and so think extra rather than minimum.
Ventilation
When working with paints and other materials, proper air circulation is critical for your own health and also for a non-stuffy atmosphere.
Art Studio Sheds
Although all of our shed types would be great places to facilitate a shed to studio conversion, here's a couple of our sheds that we think would be great options for a future art studio.
Premier Workshop Shed
In simple terms, the Premier Workshop Shed is the best of the simplest. With a simple A-frame roof and yet a stately design, this shed could easily be converted to an art studio.
What gives the Premier Workshop Shed a great opportunity to be a shed to studio conversion candidate is the fact that there are 8 standard windows, allowing for plenty of warmth and sunlight. The base price for a Premier Workshop Shed is $4,033.
Studio 1 Modern Shed
If you're looking for a more modern, contemporary look to your future art studio, the Studio 1 Modern Shed might be your best bet.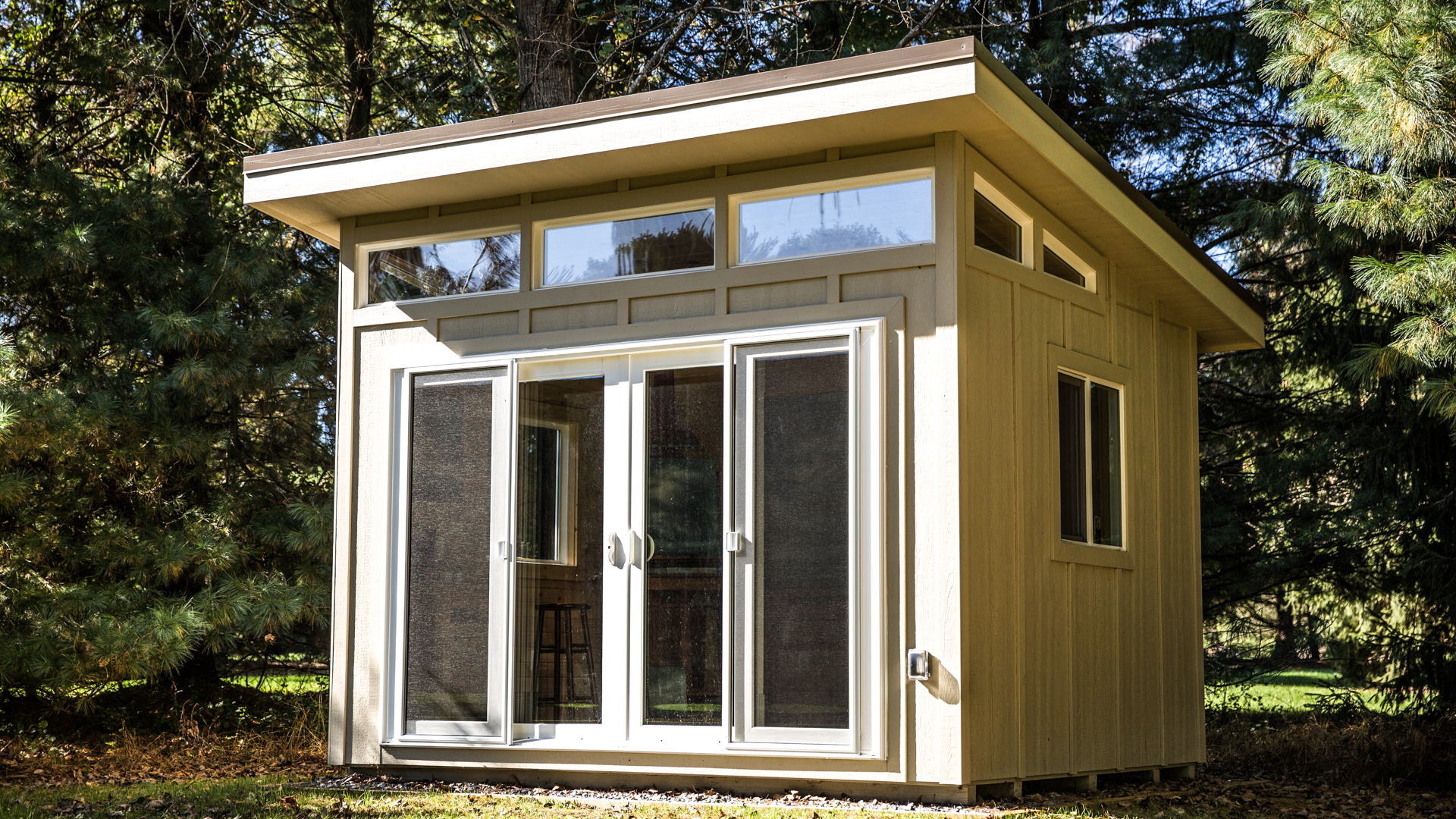 Although the base price of a Studio 1 Modern Shed is a little more expensive ($10,579), than the base price of the Premier Workshop Shed, the overall contemporary and clean look of the Studio 1 Modern Shed may be worth the extra money for you.
Classic Saltbox Shed
Looking for an art studio with historical tastes? Well, the Classic Saltbox Shed design comes from old, New England-style homes where a two-story home had a lean-to addition which reminded people of the boxes where they kept salt dry.
What's more is that this shed is very affordable and could easily be converted from a shed into an art studio.
Premier Dutch Barn Shed
Another member of the Premier shed family, the Premier Dutch Barn Shed boasts of 8 standardized windows just like the Premier Workshop Shed, providing that bright and airy atmosphere where your artistic skills can flourish. What's different about this shed compared to the others mentioned is the design of its roof.
Featuring a double-sloped Gambrel roof, the Premier Dutch Barn Shed can maximize overhead space while also giving you the option of adding a loft for additional storage purposes. This gives you the option to store more and still allow your shed to have an organized and tidy look. This is just a couple of our options that could be converted from a shed into an art studio. If you would like to see more of our shed options, feel free to check out all of our sheds for sale.
Step 2: Mental Preparation
Now that you've decided whether to purchase a shed or convert a shed you already have into an art studio, it's time to get started with the interior of your shed.
If you are converting an existing shed into an art studio, the first step will be to take out all the storage items that were in there previously, and clean the shed from top to bottom. If you simply bought the shed, this step can be skipped unless you would like to give the shed an initial deep clean.
First off, remember your purpose and desire of what you want your future art studio to look like. Most likely, you'll want your art studio to be quiet, private, and away from the hustle and bustle of normal life. Plus, remember that this is your workspace; so keep it work-geared and focused so that other distractions cannot creep in.
Step 3: Stock Your Studio
You probably already have a lot of art gear, but double-check and make sure that you have all the tools and brushes that you'll need for your studio.
Essentials like paintbrushes, access to water, an easel (or something to paint on), drying racks, and of course much more will all be needed for your shed. If you want to read more about what you will need for your art shed, click here.
Step 4: Creating The Artistic Vibe
This step may be one of the most important steps you'll encounter. In fact, we hesitate to list it so far down on the list because it should be something that is always on your mind throughout the whole shed to studio conversion process. We'll explain a couple possible ingredients to creating an artistic vibe through 2 of the 5 senses.
Feel
The feel of your art studio should be relaxing and peaceful. One big way to keep this vibe alive is to keep your art studio always organized and tidy. That's one reason why having a separate art studio can be beneficial. If your workspace is in your house, chances are you don't have a whole lot of room for your art studio. This may cause for a cluttered and cramped work space. Having a separate space for an art studio may give you more room to create while also allowing for your workspace to stay organized and neat.
Like we said, organization gives peace of mind, which is important if you want to avoid distractions and increase the relaxing atmosphere of your art studio.
After converting your shed to an art studio, you could also paint the interior of your shed to give it a personal touch.
Also, add small inspirations throughout your art studio whether that be personal photos, magnificent paintings, an inspirational quote, or whatever else.
Smell
This may seem rather insignificant but keep the air in your art studio fresh, clean, and rejuvenating. Whether that be letting in a draft of wind or having essential oils on hand, keeping a good smell in your art studio is important in creating an artistic atmosphere.
Step 5: Enjoy Your New Art Studio
Last but not least, enjoy working in your new art studio. Converting a shed into an art studio is no small task and takes a lot of time and investment.
Although this may seem like a no-brainer, take time to use your art shed. If creating art is your job, this shouldn't be a problem, but if it's a side hobby, you'll have to be more intentional about creating art. Also check out our article on converting a shed into a guest house here!
Our customer's aRt studios
Some of our customers have done exactly what we were talking about by converting a shed to an art studio. Here are some of the art studios that our customers have created.
If you would like to read a little more about our customers and their art sheds, click one of the buttons below!
How We Can Help
We offer many different types of sheds that could be used for a future art studio. If you're still not satisfied with the sheds that we do offer, check out our 3D Shed Designer to design your own shed. With our 3D Shed Designer, you can choose the style of shed, size, quantity of windows, type of door, and much more!
Or if you would like to browse our shed selection, click the button below!
Maybe, you're looking for a shed to use for something totally different, such as a sports shed. We've got an article on that as well.
Throughout this write-up, we hope you were able to learn more about how to convert a shed into an art studio about how to get started with that process. Henri Matisse said, "Creativity takes courage," and I hope that this article has given you the creative courage to convert your shed into an art studio!
Recent Shed Blog Posts...
Recent Shed Stories...
ready for more space in your life?
Create the building of your dreams by requesting a free estimate or customizing your own 3D design. You can also call us at 717-442-3281.
We're ready to assist you!