50 miles of Free Delivery with all purchases through Dec 9!
12×20 Sheds: Everything You Should Know
Are you looking for a new storage shed for all your storing needs but also one to fit your budget? You may have just found it. A 12×20 shed could be perfect for you. This shed is great for larger items as well as storing smaller units. The best part about it, they start as low as $5,676! Would this sound like an ideal shed for you?
Here are some things you should consider if you are in market for a larger-sized shed:
Is a 12×20 Shed right for you?
A 12×20 outdoor storage space may be right for you. It comes with plenty of open storage space that can fit many of your backyard essentials. That being said, there are some things you should look at before purchasing the 12×20 storage shed. This may include the size of your yard, where it will be placed in your yard, and the zoning laws for your county and state.
SPACING IN YOUR YARD
When deciding on which shed you need, consider the size of your yard. This is crucial because of different zoning laws for sheds, we recommend 18 inches of extra length and width, so the shed is securely placed on the foundation. You should also be aware of preventing clutter in your backyard. Having too many items without much space left will make it look less attractive.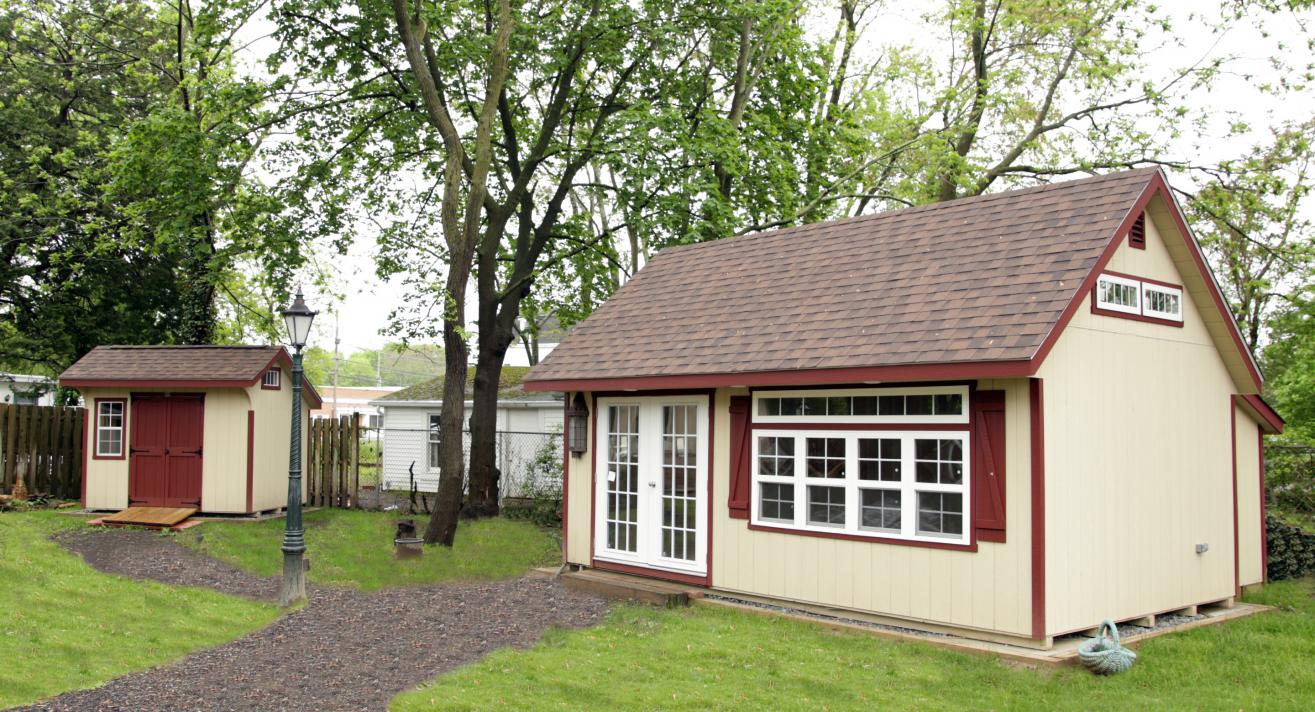 Zoning laws may vary between states and depends on how big your shed will be. No one wants a yard with no space. Therefore, you should make sure you have that extra space to enjoy your yard without too much clutter.
Why get a 12×20 storage shed?
A 12×20 storage shed provides you with 240 square feet which is enough to have 2-3 lawn care machines and also space to have a workbench or a loft! The 12×20 shed is a great option if you are looking for a medium-sized storage building without breaking the bank. If you need a shed larger than 12×20, a 12×30 shed is a great option!
WHAT FITS IN A 12X20 SHED?
The Dutch Barn as seen on the left is one of our more popular larger style sheds. This shed is big enough for most lawn care equipment including riding lawn mowers, most general storage, sports equipment for a sports shed, and also patio/pool supplies. It could also be used for a bike shed. Learn more about bike sheds by reading this article. A 12×20 shed also works as a great ATV shed. This storage shed is even big enough to fit one car! Try the shed calculator tool to get a visual idea of what all could be stored in this shed.
How much does a 12×20 shed cost?
Our standard economy 12×20 Mini Barn shed is our cheapest option for this sized shed and starts at $5,676. We have other options of styles and designs for a 12×20 outdoor shed and their prices below: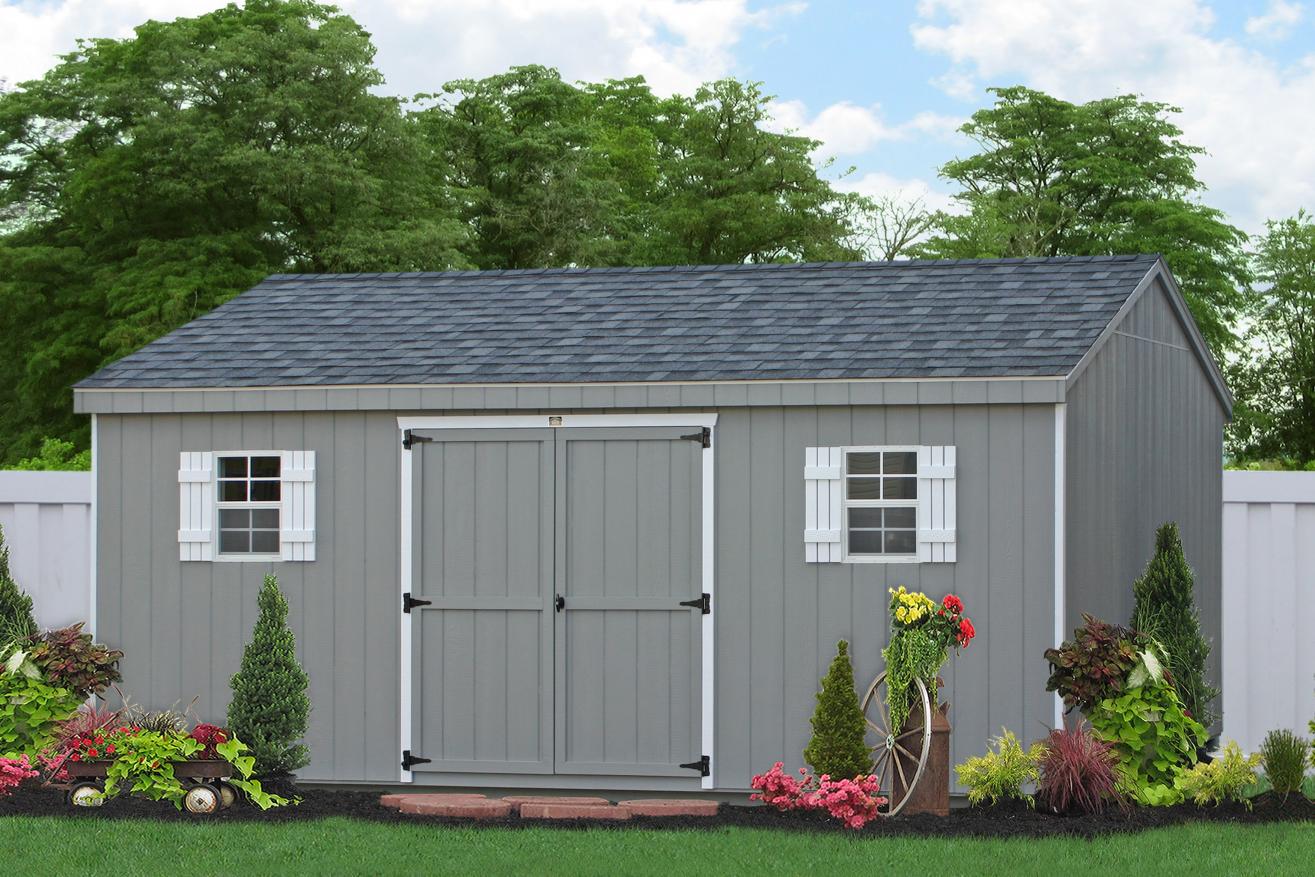 The Workshop Shed
The MaxiBarn Shed
The 2 Story Workshop Shed
The Saltbox Shed
Optimizing your Shed
The best way to get the most out of your shed, is to plan ahead. When deciding what to put in the shed, make sure to take measurements. You can also place labels on the containers you might be storing for easier access to the things you want.
Investing in some clear; see-through bins or containers is another helpful tip. You should also consider adding a few additional storage areas to your shed to ensure you get all the space you can get out of it.
INCLUDE LOFTS OR SHELVES WITH YOUR SHED
Want to add that extra space for smaller items, while at the same time saving the floor space for much larger ones? You might want to think about adding a loft, or a shelf. Adding either a loft or shelf can save you much more space than you think.
By placing smaller items on a shelf or placing them up onto a loft you become more versatile and instantly your shed will be more organized and spacious.
Add lighting to your Shed
You found the shed you want, now it is time to consider adding a little spark to it. With the addition of electricity to your shed, you can light up and see everything you need to see in the shed.
The electric package also comes with outlets once the electricity is installed so you can charge whatever you need! Whether you like using your shed for regulatory storage, or want to build an office inside of it, adding the electrical package will be very convenient for you.
INCLUDE AN EASILY ACCESSIBLE RAMP
Why might you want to include a ramp in your shed? I am asking the wrong question, why would you not have a ramp for your shed? Adding a simple ramp could make your life so much easier.
Ramps could be used for many large, and heavy products to be loaded onto your shed. Most of the heavier stored items in a shed are lawnmowers, knowing this a ramp could help with mounting the mower inside. Anything that can be placed on wheels and able to fit in your shed makes for endless possibilities.
DESIGN YOUR VERY OWN 12X20 SHED
Try our user-friendly 3D Shed Builder to design your own personalized shed. Choose from many different types of styles, any exterior options including doors and windows. Pick which color you would like your shed to be and also design your own flooring and interior!
That is not it, after you completed your design you will be able to view your quote for the shed you just built, how great is that?
When searching for your shed, your possibilities are endless. Check out our FAQ page for any questions you might have. We want to ensure that we will help you find whatever it is you are looking for in your shed needs. If you have any questions that have not yet been answered, be sure to give our sales team a call at 717-442-3281 for any inquiries you may have about our products. At Sheds Unlimited, we will provide you with your space for life!
Recent Shed Blog Posts...
Recent Shed Stories...
ready for more space in your life?
Create the building of your dreams by requesting a free estimate or customizing your own 3D design. You can also call us at 717-442-3281.
We're ready to assist you!