Free* Tread Plates Through Oct 1!
Sheds With Electricity: 5 Things To Know
This is what your shed probably looks like now.
This is what your shed could look like soon.
See the difference? It's what Benjamin Franklin proved to be true, and what Thomas Edison harnessed to be used. It's electricity. Of course, electricity can power your home and your office, so why not your shed? Not only would you be able to see better in your shed, but also electricity just makes the inside of your shed look a whole lot nicer. Of course, if you're wanting to make a guest house or gym shed with electricity, this article is just for you. In other cases, like storage, adding electricity to a storage shed would just be a whole lot nicer! This quick write-up is all about sheds with electricity, including common questions that people ask about sheds with electricity.
1. Can You Have Electricity In Your Shed?
The answer is yes, you can have electricity in your shed. However, you're going to have to investigate into getting a permit for you to get, for example, your office shed wired with electricity.
Now I know what you may be thinking, "I think I can find a way to slip by the permit laws." Well, there can be some unfortunate consequences if you're property is inspected, and you don't have a permit for the electricity in your shed. An annoying fine could be the result. But the good news is that a shed with electricity is possible with a permit and could greatly benefit you and your shed.
2. Can I Wire My Shed Myself?
Ok, this question is a can of worms. On the one hand, the answer is a resounding NO, you should not wire the shed yourself. Working ignorantly with electricity is extremely dangerous and has caused the death of some. Permanent injuries and future electrical dangers are also other dangers that could be avoided if you simply hired a professional.
But technically, if you have some foundational electrical knowledge, you could possibly do the electrical work yourself. From our perspective, we recommend that you hire a professional to do the electrical work for you. One thing is for certain, if you DIY this project, make sure that you reach out to a professional for advice and have it safety checked and reviewed by a certified electrician before it's completed.
3. How Do You Get Electricity To A Shed?
There are several different ways that you can get electricity to a shed. Here are three ways.
Generator Hookup
Solar Panels
House Panel
Probably the best way to bring electricity to your house is through wiring up your house panel to your shed. You'll have to do some planning, dig a trench, run the conduit, and a lot more. But a great article to get you started on this DIY project is this detailed, step-by-step article.
4. How Much Does It Cost To Get Electricity To A Shed?
On average, a broader look at the cost to get electricity to a shed is from $100-$5,000. The real factor depends on if you get a hired professional to do the project for you or if you do it yourself.
Or, maybe you're thinking of going a step further and having a shed with electricity and plumbing. Sheds with electricity and plumbing are needed if you want to install a kitchen or living quarters, for example. Plumbing a shed adds another $500-$1,500 to the shed cost.
This brings your totals to anywhere from $600-$6,500 for your portable building with electricity and plumbing. Although this is a rather broad range, understand that whether you DIY these projects or not is a huge factor in understanding the price cost for you to install your shed with electricity and plumbing.
5. Is It Possible To Have An Insulated Shed With Electricity?
Absolutely, an insulated shed with electricity is often needed for office sheds with electricity, an Airbnb shed, or some other shed function. You can just cut some insulation out for your electrical box and slit the insulation for the cords to run along the walls.
What We Offer
Here are a couple of the different shed types that we offer.
Premier Workshop Shed
These Amish storage sheds feature eight windows and a roof pitch that will make your garden shed a great storage space, home workshop studio, art studio, or much more. All you've got to do is install your Premier Workshop shed with electricity, design the interior, and there's your workspace!
Premier Dutch Barn Shed
The Premier Dutch Barn Shed uses a Gambrel-style roof to maximize space efficiency. Plus, these sheds are perfect for hanging lights if you decide to install your shed with electricity.
Standard Saltbox Shed
With the Standard Saltbox Shed's unique design adding a bit of New England historical charm to your backyard, it's only fair to deck out these portable buildings with electric and plumbing and then create a quaint office shed, man cave, or she shed.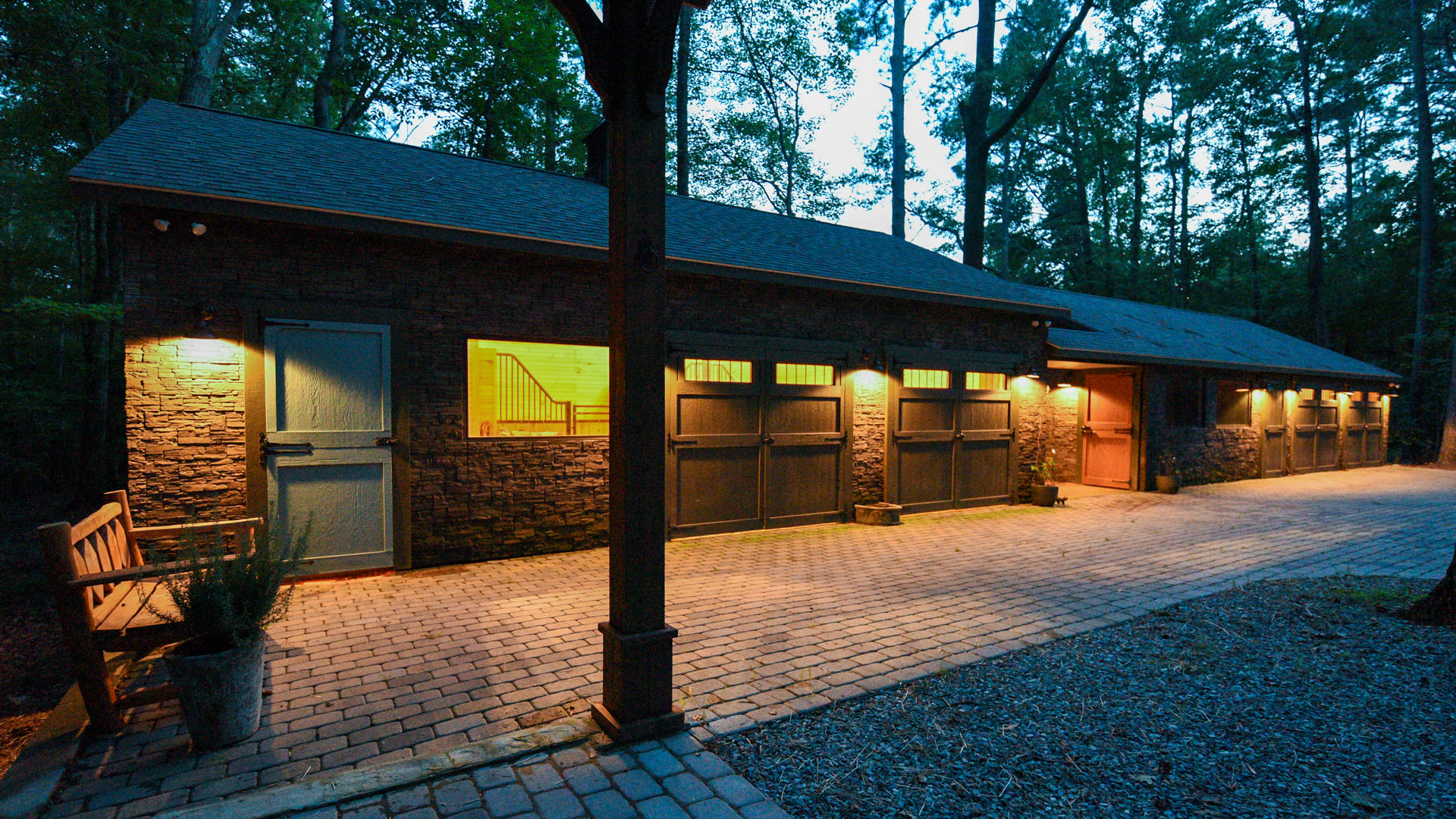 What Our Customers Have To Say…
Maybe your like, "I want to have a shed with electricity, but I don't even have a shed yet." Although we do not have sheds with electricity for sale, here are a couple of stories of people who have added electricity to a Shed's Unlimited shed and been extremely happy with the result.
Pam's Story
Pam wanted a she shed that she could call her own; so, Pam decided to buy a 12×20 Premier Garden Shed from Shed's Unlimited. After receiving the shed, she got to work wiring and setting up the interior of the shed. Finally, the job was completed, and Pam couldn't have been happier with her she shed with electricity. You can read Pam's full shed story here.
Frank's Story
Frank decided on a 2-story garage shed from Shed's Unlimited so that he could have a workshop to work from during the winter months. He was convinced that Shed's Unlimited was the best option because of "the people, process, detail, communication, and schedule." After adding electricity to the shed, Frank's shed was well on its way to becoming his dream office space.
These are just a couple of the many customer stories who have loved their sheds with electricity. Here are a couple of great options if you're thinking of purchasing a shed to add electricity to.
Wrapping It Up…
We hope this article was a helpful guide in helping you answer your questions about sheds with electricity. Want to design your own shed? Check out our 3D Shed Builder to build your own. Although we do not have sheds with electricity for sale, we offer a quality shed shell that you can purchase; from there, you could plan the interior and add the electricity.
If you have any questions, just let us know!
But, until then, we hope that you can fill your shed with light and life!
Recent Shed Blog Posts...
Recent Shed Stories...
ready for more space in your life?
Create the building of your dreams by requesting a free estimate or customizing your own 3D design. You can also call us at 717-442-3281.
We're ready to assist you!