20×20 Garages: How Much Will They Hold?
If you are looking to buy a Two Car Garage and are wondering what fits inside a 20×20 Garage…
Here is your answer.
As you know, many people today use a garage for more than vehicles. Before you build a 20×20 garage, make sure it gives you the space you need for all the extra things you'd like to store. Since a 20×20 garage is the minimum sized two car garage we recommend, you might think about going larger or higher so you don't crowd yourself out the first day!
A 20×20 Garage can hold two smaller cars, but you will have very little extra space around the cars for getting in and out and for storing extra items. See your options for a 20×20 garage below.
Single Story 20×20 Garages
We start with the basics. These Single Story 20×20 GARAGES give you space for two cars and not much more. Sure, you can stack a few things along the back wall if you have small cars, or you can use one bay for a car and the other for storage, but your space is limited to one floor.
20×20 One Car Prefab Garage
If you only need room for one vehicle in your 20×20 prefab garage, you can use the rest for a shop area, or to store smaller things like a push mower, etc. There's also plenty of room for a workbench or two in this design. This 20×20 garage is a modular garage that is delivered in two sections.
20×20 Prefab Garage
Here is a very simple two-car garage with a single door instead of two 9×7 doors. It is built on a concrete pad on location so is really a permanent garage solution. If all you need is space to keep two vehicles out of the weather, this is a good choice in a 20×20 prefab garage.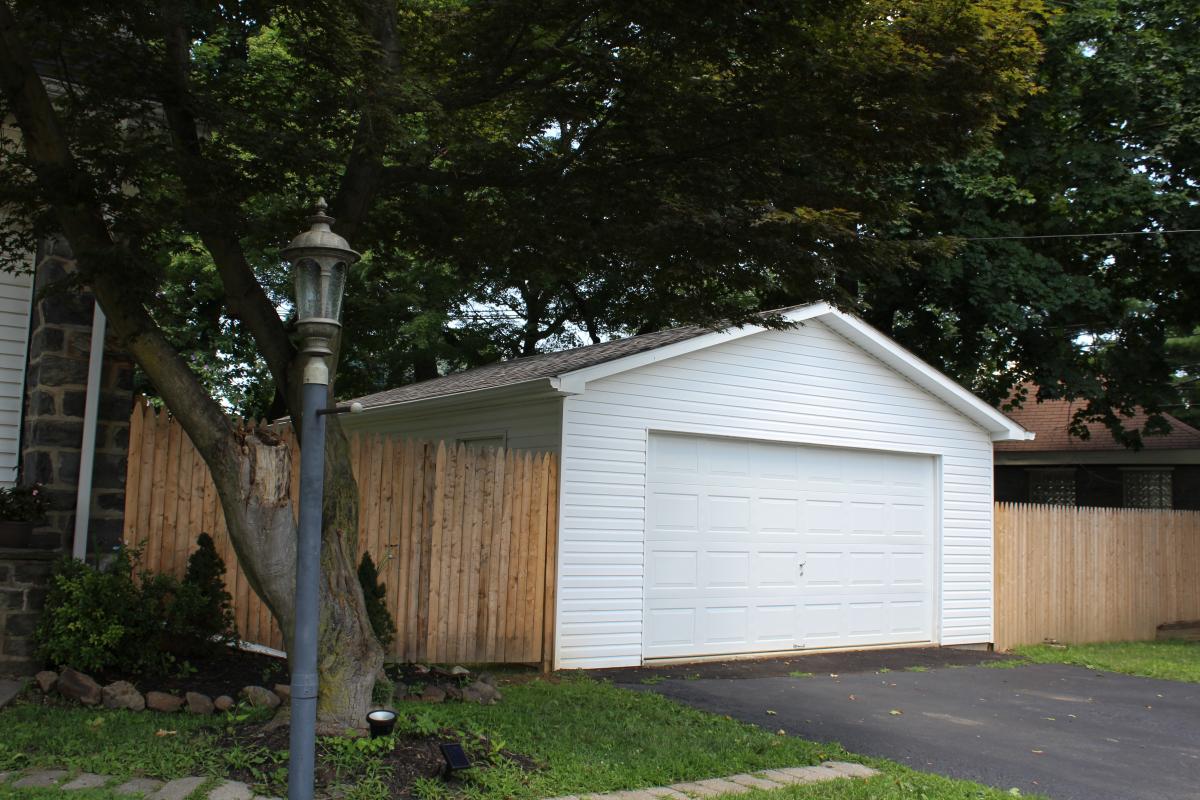 20×20 Garage w/ Steeper Roof
To be honest, this garage is actually a 20×22 Garage. But we showcase it here to highlight the steeper roof pitch. If you want a 20×20 garage building with a few fancies, just go with a steeper roof pitch and add battens as seen here.
20×20 Car Garages with Attic Space
When space on the property is tight, but you have a lot of stuff, considering going up! You can add an attic space in the rafters or go with a Legacy Two Story 20×20 Garage. You'll have a 20×20 Car Garage plus an upstairs space for whatever you need.
20×20 Garage with Attic Space
These neatly designed 20×20 Attic Garages go above and beyond with plenty more space. Store your lesser-used items upstairs, while keeping your vehicles, ATVs, or other larger items on the main floor. Upgrading to an Attic Garage is very cost-effective.
Inside a 20×20 Attic Garage
The attic space inside a 20×20 Garage with Attic Space looks something like this. This particular garage is longer than 20′, but it gives you an idea of the type of storage space you would have in the upstairs area. Our 20×20 attic garages have pull-down stairs for accessing the top level.
20×20 Garage with Man Cave
Now you're talking! Not only do you have upstairs storage, this 20×22 two-story garage actually has an upstairs man cave that is fully finished. The large dormers make the second floor very useful and roomy while the first floor is used for car and tool storage.
See another two-story prefab garage in VA that serves an Etsy Business owner on the second floor.
A Barn Two Story Garage
Ok, this is not a 20×20 Garage. The size is 24×24, but we wanted to show the roof style of our Legacy Two Story Barn Garages. With this type of a roof, you get maximum upstairs space whether you to with an Attic Garage or a Two-Story 20×20 Garage.
Other Ideas for a 20×20 Garage
So, to return to our original question, "What can I fit into a 20×20 Prefab Garage?" The simple answer is, A LOT if you go up, not so much if you stick with a single story 20×20 garage!.
Even though this may not be the ideal sized garage for two vehicles with a bit of ingenuity you can certainly make it work. And here are a few more ideas for making your 20×20 garage work for you. Add a Lean-To, a porch, a shed dormer, or a single door to make the entrance more accessible.
And one more thing!
You could buy a double-wide 20×20 garage and convert it into living space! This is based on our Modular Garage Designs but without the garage doors. It is an amazingly beautiful living space. Howe about half living space and half garage space? The options are limitless!
Find your garage now and then get a Free Quote!
Recent Shed Blog Posts...
Recent Shed Stories...
ready for more space in your life?
Create the building of your dreams by requesting a free estimate or customizing your own 3D design. You can also call us at 717-442-3281 from Monday to Friday between 8:00 am - 5:00 pm or Saturday between 9:00 am - 1:00 pm. We're ready to assist you!