10% off select add-ons through Oct 8!
4 Must-See Prefab Pool House Designs
When the sun is hot and you're looking for a way to escape the heat, the swimming pool is a great way to end (or break up) the day. There's nothing like a cool dip at the end of the day or the ambiance of a poolside firepit fire with family and friends.
But there's one thing… It's the pool house…
Adding a pool house design to your poolside experience turns your backyard into a place to host guests or a getaway from the hustle and bustle of life. How about adding a prefab pool house for a backyard office? Or a changing room? Or whatever you want it to be. There are countless ways in which a pool house can help create space in your life to breath more deeply, focus on relationships and enjoy the out-of-doors more often.
Well, to inspire your dreams for your poolside experience, here are 4 inspiring and beautiful Pool House choices that could spice up your backyard!
1. A 12'x18' Modern Pool House
Enter the backyard of Tony in Kennett Square, PA and you'll find an exquisite space where anyone would love to spend a lovely evening. Whether you love swimming, want to lounge on a chair and enjoy the sun, or roast marshmallows over the firepit, Tony's poolside offers it all. But the Modern Pool House gives it a special charm…
2. 10X16 CLASSIC EXPRESSIONS POOL HOUSE
The Classic Expressions Pool House was born out of a customer's design inspiration.
They came to Sheds Unlimited with a pool house design of their own, customized to fit with their swimming pool and their own taste Notice the bar under the overhang and the posts to add a unique touch as well as the dormer which combined give this Pool House a 5-star rating. Speaking of 5-star reviews, read what Everett said about her pool house from Sheds Unlimited: "The pool house came out absolutely perfect, it was exactly what we wanted."
3. Two 12×12 MODERN Pool Houses with Pergola
Why not buy two Modern Pool Houses and add a pergola structure between the two. Joann in Pennington, NJ dreamed up the idea and had two Modern Pool House Sheds built.
One provided a cover for the pool cleaning equipment and the other extra space for much more. Imagine how you could use these two 12×12 Modern Pool Houses in your backyard!
The Classic Pool House featured here also gives you a space to enjoy the cool evening breezes on the porch and away from the hot sun, plus provides space for storing the stuff that can so easily lay around the pool after the swim. Turn the enclosed space into a changing room or a small backyard kitchen for serving guests.
4. A 10×16 Modern Pool House with Outdoor Shower
After the swim, it's always nice to rinse off in the shower. This Modern Studio 1 has a finished interior and an outdoor shower built by the customer. When you want a Pool House which offers more than just storage space, then this will do!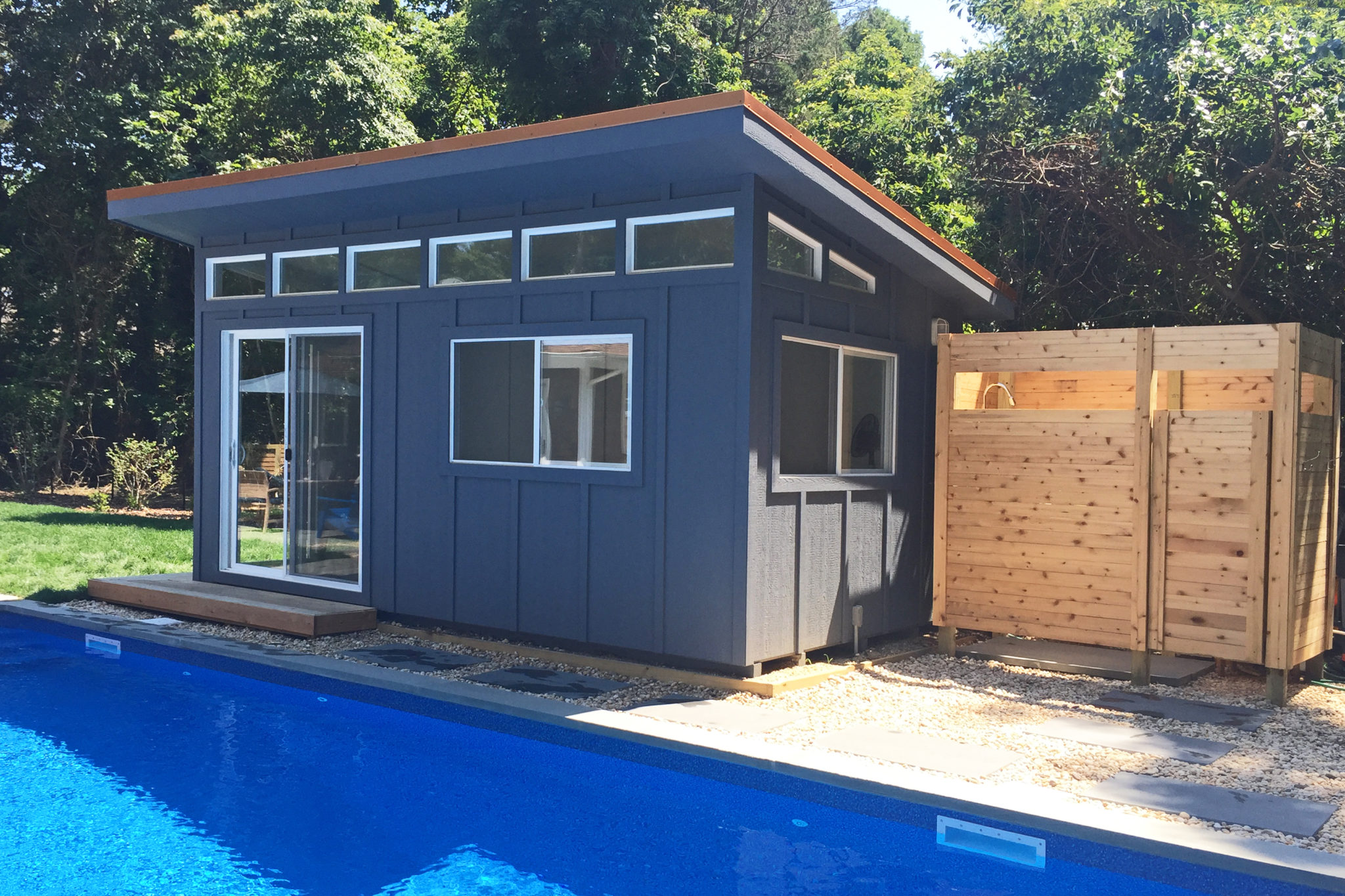 There you have it!
Four beautiful pool house designs for your backyard! Remember, there are countless ways in which one could use a prefab pool house. Get started dreaming, decide on how you'd like to use your pool house shed and then find a builder to get it done!
What is the Cost of a Prefab Pool House?
Thankfully, a portable pool house shed costs less than one that is custom built on site. You could have a beautiful backyard pool house for as little as $ or you can create a customized pool house with all the bells and whistles and spend much more! Another awesome backyard shed idea is to turn it into a shed photography studio.
Want to know what a pool house costs? Get a free estimate for the pool house of your choice or call our office for more information!
Recent Shed Blog Posts...
Recent Shed Stories...
ready for more space in your life?
Create the building of your dreams by requesting a free estimate or customizing your own 3D design. You can also call us at 717-442-3281.
We're ready to assist you!