10% off select add-ons through Oct 8!
How Much Does a Detached Garage Cost?
To put it simply, a detached garage can cost anywhere from $5,859 for a simple one-car garage up to $137,574+ for a customized multiple-car garage.
However, the question "What's it going to cost me to build a detached garage?" is about as easy to answer as the question: "How much will a car cost?" There are an incredible number of variables that go into any detached garage project, and without defining those variables, it's difficult to determine the projected cost.
From our experience building 1000s of detached garages over the past several decades, we can definitively say that fully- or partially-prefabricated garages offer the most bang for your buck. If you're considering a detached garage, be sure to at least compare pricing on prefab garages before making your final purchase!
Pros and Cons of a Detached Garage
It's important to weigh all the benefits and potential pitfalls of a major property upgrade before you invest your hard-earned cash in it! Here are both some pros and cons of detached garages (vs. attached garages):
Pros:
With a detached garage, you have much more freedom to customize your garage design to the layout of your property. Where an attached garage needs to match the design of your existing house, a detached garage can take on a design of its own.
A detached garage can be placed wherever property lines, topography, and driveways make it most convenient, whereas an attached garage must be…attached.
It's much easier to include a loft or second story in a detached garage without significantly changing the cost of the garage. Whether converted to a finished living area or simply used as storage space, a loft provides more versatility to your detached garage, as well as extra space. And come on, who doesn't need extra space!
A detached garage keeps dangerous carbon monoxide away from your home. While the risk is not high with an attached garage, a detached garage provides additional safety. Of course, never leave a vehicle idling in any garage!
Cons
Exposure to inclement weather. The further your garage is from your door, the further you'll be walking in the rain. So, if you're prone to melting…
Some estimates put the average initial cost of building a detached garage as slightly higher than building attached, mainly because you are building four walls instead of three. However, there is also extra work involved in tieing a garage into the house and making sure nothing leaks.
In general, however, the added flexibility of a detached garage more than pays for itself over time. You may want to consider pricing an attached and a detached garage just to compare.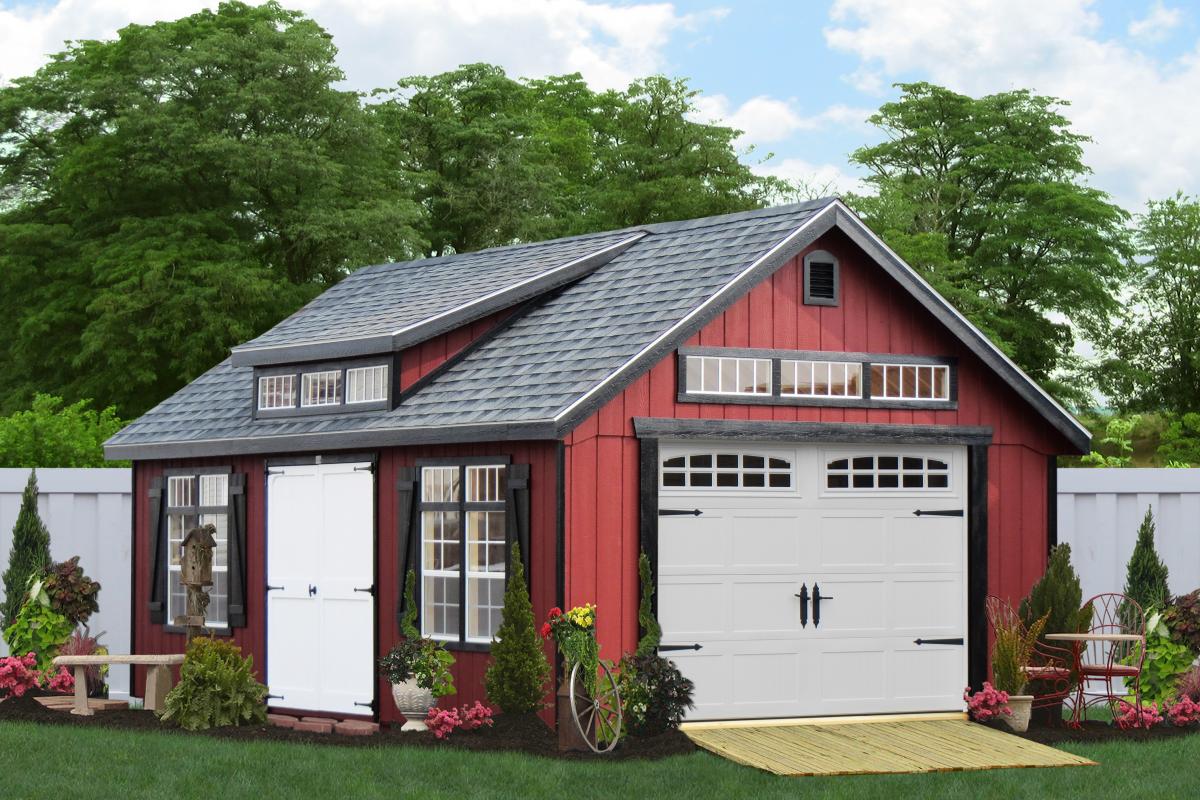 Detached Garage Costs Based on SIZE
These days, the sizes and configurations of garages are almost limitless. If you're planning to use your garage for vehicle storage, one of the biggest factors for determining how much it will cost to build a detached garage is how many wheels need a home in it.
WHAT IS THE COST OF A ONE-CAR GARAGE?
The cost for a 12×24 Single Car Garage ranges from around $8,338 for a Standard Garage with wood siding to around $25,654 for a Legacy Singular Modular with clapboard siding.
WHAT IS THE COST OF A TWO-CAR GARAGE?
The cost for a 24×24 Two Car Garage ranges from around $19,391 for a Standard Garage with wood siding to around $52,868 for a Legacy 24×24 Two-Story Detached Garage with clapboard siding.
WHAT IS THE COST OF A THREE-CAR GARAGE+?
Prices for a very basic 20×36 three-car garage start around $25,699. Prices for 20×48 four-car garages start around $30,777 and go up to around $83,155.
WHAT IS THE COST OF A TWO-STORY DETACHED GARAGE?
The rock bottom price for a 12×20 Legacy Workshop Two-Story Single-Car Garage is around $17,285.
Here's a quick overview of some of the common garage sizes that we offer along with their prices.
Pre-construction Expenses for a Detached Garage
Once you've decided what size of garage you would like and the cost of the garage, it's time to figure out how much it's going to cost to build a detached garage. But, like any major investment, diving in without carefully calculating ALL your potential garage building expenses is a sure way to get burned!
1. DRIVEWAY COSTS FOR A DETACHED GARAGE
What good is a garage if you can't get to it? You definitely don't want to go off-roading through your lawn every day!
Ideally, you'll be able to place your garage in such a way that you can maximize existing driveway space. However, you may need to extend your existing driveway or build a new one. There are several options to choose from based on property layout, existing driveway surfaces, and budget (there's that word again!).
COST OF A GRAVEL DRIVEWAY (CHEAPEST OPTION)
At the $2.00 per square foot rate, a 24×24 gravel driveway would cost about $1,152. Don't take my word for it though, check with local contractors for current prices in your area!
ASPHALT DRIVEWAY COSTS
A good asphalt driveway will last 15-20+ years and usually cost between $3-$13/sq. ft. At the median of $8/sq. ft, a 24×24 gravel driveway would cost about $4,608. Again, don't take my word for it, check with local contractors for current prices in your area!
CONCRETE DRIVEWAY COSTS
Based on the customizations chosen, a concrete driveway can cost anywhere from $4/ sq. ft. all the way to $12 or $18/sq. ft. At $8.00/sq. ft, a 24×24 gravel driveway would cost about $4,609. Please check with a local concrete contractor for prices in your area!
HIGH-END DRIVEWAY COSTS
At $10.00/sq. ft, a 24×24 gravel driveway would cost about $5,760. Keep in mind, this is the very low end of the price range. Please check with a local hardscape contractor for prices in your area!
2. FOUNDATION COSTS FOR A DETACHED GARAGE
As a wise man once said, "Your garage is only as good as what's under it!" It would be a shame to invest in a beautiful garage, only to have it begin falling apart in a few years because no thought was put into ground preparation. Key considerations for foundation selection include garage size/height and how prone your area is to frost.
COST OF A GRAVEL PAD
If you're on a budget, this is one part of the project that you could consider doing yourself to reduce the overall cost of your detached garage. Want to find a site prep company to install it for you? Click here for a Lancaster-based garage pad company.
A gravel pad for a 24'x24′ two-car detached garage will typically cost between $10,000-$14,500.
COST OF A CONCRETE GARAGE FOUNDATION
While there is certainly a higher cost of installing a concrete pad, there are several options depending on your personal preference, budget, and local town requirements.
OPTIONS FOR A CONCRETE GARAGE PAD
The big question, of course, is what does a garage foundation cost? For a 24'x24' detached two-car garage, a quality concrete floating foundation will be around $4,608 to $8,640, while a garage pad with a block foundation will run from $9,792 to $14,400.
But keep in mind, building a concrete foundation can save money during the actual detached garage construction process by eliminating the need to build a floor into the garage. The floor of the garage will be the concrete pad.
SOMETHING TO KEEP IN MIND…
3. PERMIT COSTS FOR A DETACHED GARAGE
Finally, make sure you remember to figure any required permits or licenses into the cost of a detached garage. While this is not a substantial cost compared to the overall detached garage cost, it's an important part of the project.
What are the Detached Garage Construction Costs?
Finally, we're ready to actually start planning for the detached garage itself!
And there are a number of things to plan for. Let's break down the major components of a garage project one by one:
FRAMING COSTS
This is the skeleton of your entire garage, so make sure it's good quality! 2x4s are the standard when it comes to framing up a detached garage but for larger garages, it would be a good idea to upgrade to 2×6 framing. If you plan to insulate the garage, going with 2×6 framing will cost a bit more, but give you much better insulating value.
ROOF TRUSSES
It's common to use trusses for framing in the roof area of your detached garage. But again, there are countless options. Want attic space in your trusses? That costs more! Need a stairway going to the attic area? Another cost. How about going with a full second floor as shown in the photo? Then you'll need a floor joist for the second floor which might include an I-Joist and a special order truss (I know, there's a loss of choices :).
And don't forget, it is generally a good idea to have at least a 12" overhang on all sides as this gives a better look and also keeps rain further from the sides of the garage.
EXAMPLES OF TRUSS OPTIONS FOR YOUR DETACHED GARAGE
What Are The Siding Costs?
There is an incredible number of options when it comes to choosing a siding for your detached garage. You will want to consider how best to match any existing buildings on your property, as well as factors of durability, maintenance, and budget.
WOOD SIDING
Installation costs can range between $3-10/sq. ft., depending on the difficulty of the project. Of course, there can be outlier prices as low as $1/sq. ft. or as high as over $14+/sq. ft. This is typically the least durable siding type and should be painted with quality exterior paint to protect it from the weather. Other examples of wooden siding include clapboard, tongue, and groove, or board and batten, each with varying degrees of cost and difficulty. At Sheds Unlimited, we use a wood panel siding with a 50-year warranty.
VINYL SIDING
$2-12/sq. ft. is the typical price range for having vinyl siding installed on a detached garage, depending on the quality of the product and the difficulty of the installation. You will also need to plan for OSB or plywood on the walls for the siding to be fastened to and possibly some type of house wrapping material.
OTHER SIDING OPTIONS
WHat ARe The Roofing Costs and Options
If your roof fails, the rest of your detached garage won't last much longer. This is one of the most important parts of your project since it protects the structural integrity of your building along with your precious belongings inside. Roofing options include:
ASPHALT SHINGLES
CORRUGATED METAL
STANDING SEAM METAL
OTHER ROOFING CHOICES

With shingles and some types of standing seam, you will also need to figure for the cost of plywood or OSB sheathing underneath the actual roofing, usually $1.00 to $1.50/sq. ft. Remember tar paper underlayment and any necessary trim and flashing components.
Garage Door Costs and Options
What good is a garage you can't get in and out of!? You'll want to put some thought into the best garage doors for your project. 9'x7' is a standard size for garage doors and will allow good access for most types of vehicles. Options range from a simple, non-insulated, white metal door for several hundred dollars (uninstalled) to handcrafted, wooden doors for several thousand!
INSULATED GARAGE DOORS
WINDOWS AND PEDESTRIAN DOORS
A detached garage should generally have at least one or two windows for natural light, even if you plan to wire the garage for electricity. If you plan to spend any amount of time in the garage on a regular basis, you will want to add more. There are a huge variety of window dimensions to choose from, with 18"x36", 24"x36", and 30"x36" being some of the most common sizes. There is a range of styles (such as transom windows), as well as insulated and non-insulated options.
Interior Finishing
The incredible customization that's possible if you decide to finish out some or all of the interior of your garage deserves an entire article of its own. To touch on a few considerations to chew over as you figure out your detached garage cost:
INSULATION
ELECTRICAL, PLUMBING, AND HVAC
Food storage or a workbench with electric tools are other options if you have an electrical connection. Plumbing and HVAC configurations can open an entirely new world of possibilities for your detached garage!
DRYWALL AND TRIM
If you plan to spend a lot of time in it, drywall and paint can be a nice touch for your garage interior, especially if you are finishing loft space, a recreation room, or a man cave. For the best look, pick out a nice trim and paint it an accent color!
Of course, the prices given here are all very general estimates for on-site construction. To be completely accurate, you will want to talk to local contractors to find out what the going rates are in your area.
Cost Variations in Building Techniques
Back in the old days, there was only one way to build a garage…completely from scratch! Nowadays, there are a few more, very cost-effective options, depending on the size and style of your detached garage. Let's break down the choices:
BUILD FROM SCRATCH
One of the downsides of building from scratch is the added cost (and/or trouble) of designing and executing a completely unique detached garage project.
PREFAB CONSTRUCTION
Then, all the pieces can be transported to the construction site and assembled fairly quickly. Customers generally choose a base design that can then be customized and reconfigured in virtually endless ways. With this model of the building, the inefficiencies of on-site construction are minimized (making for very reasonable pricing), while still allowing complete control over your project's final design. This is generally used for two-car garages and larger.
MODULAR CONSTRUCTION
This allows for increased efficiency, to the point where on-site construction time is reduced to less than a day for a two or three-person crew. With this configuration, the cost of a detached garage falls even further. Modular construction is most common with doublewide two-car and two-story single-car detached garages.
FULLY CONSTRUCTED
Wow! That was a lot! Now how much will my garage cost if I build it myself?
How much will it cost to build my own garage?
If you have some construction experience and want to save cash or have the satisfaction of working with your hands to improve your property, you may consider doing your detached garage construction yourself. We created this spreadsheet for a rough breakdown of the supplies cost for a very basic 24'x24' detached garage if you purchase from a local building supply store.
Some of the pros of going this route are (possibly) savings on construction costs, as you avoid any mark-up from a general contractor, as well as the fulfillment of seeing your own handiwork for years to come!
However, this list does not figure in site preparation, materials delivery, tools, or labor costs. As you can see, you will spend at least $5500 in supplies for the most basic two-car garage before they even get to the construction site.
By building yourself, you will lose the efficiency that comes with the experience of a specialized garage builder, as well as their reduced materials costs from purchasing in bulk. Depending on how valuable you consider your own time, there will be little to no actual savings with the self-construction approach, not to mention the added stress of managing a project of this scale.
HOW MUCH DOES A PREFAB DETACHED GARAGE COST IF I BUY FROM SHEDS UNLIMITED?
As mentioned previously, there are numerous savings available by purchasing a prefabricated detached garage from a specialized shed and garage builder (that's kind of what Sheds Unlimited is :). Some of the benefits and savings from going this route include:
BULK MATERIAL PURCHASING
EFFICIENCY IN GETTING A GARAGE BUILT
PEACE OF MIND
When you purchase a detached garage from an experienced fabricator, like Sheds Unlimited, you can have peace of mind knowing that your project is being handled by a company that has built literally thousands of structures similar to yours. You'll be able to plan any customizations ahead of time, then sit back and watch while your detached garage appears virtually out of thin air! Forget weeks of construction traffic on and off your property; just a few hours to a couple of days for a straightforward delivery and assembly process and your new detached garage will be ready for use!
Common Garage Sizes & Prices
Here's a quick list of some of the common garage sizes that we offer, along with their prices.
In-Stock Sheds
Whether you know what shed size you need or not, our Sheds By Size page displays practically every common shed size out there with plenty of in-stock sheds under each size. We have plenty of in-stock sheds under common shed sizes such as 8×12, 10×12, 12×24 as well as not-so-standard shed sizes such as the 14×22 or 16×22.
Browsing our sheds by size page could be advantageous because it shows the full extent of our inventory selection. In other words, you can browse buildings that are in stock and with a price tag right now. Rather than waiting on your shed to be built, it already is! Now it's your turn to just find that shed! Just click on the shed size that you need. Then just browse our shed collection on that specific size page until you find your shed! Here's an example of what a specific size page looks like.
As shown in the photo above, you can compare the different shed prices and styles underneath that specific shed size. Happy shed hunting!
In Conclusion…
We understand that getting a detached garage built is not a coincidence. It takes planning, budget analysis, design consultation, and much more. But with the right knowledge and assistance, you can do it!
We would love to have a free design consultation with you which would include a free estimate. We'll help you figure out much it will cost to build the detached garage of your dreams. Don't hesitate to reach out to our team for a free consultation.
Call us at 717-442-3281.
OR
Photo credits: Red sports cars here; driveway garage diagram here
Recent Shed Blog Posts...
Recent Shed Stories...
ready for more space in your life?
Create the building of your dreams by requesting a free estimate or customizing your own 3D design. You can also call us at 717-442-3281.
We're ready to assist you!