Additional 10% off* ALL In-Stock Sheds OR 7% off** ANY Custom Building!
How Much Does a 10×20 Shed Cost?
So, you've got that property!
Now to maximize the available space on it.
What better way to take advantage of extra space in the backyard than to get a 10×20 portable storage shed?
Whether keeping your lawnmower dry and rust free or storing those Christmas decorations until the snow flies again, the versatility of a portable shed is unmatched! But is it going to break the bank? Read on for some tips to figure out how to maximize backyard storage space on a budget!
There are a lot of factors that go into determining the cost of backyard storage space. We're going to use a 10×20 storage shed as our reference, so we can get a fair comparison of the options.
How are you planning to use your 10×20 portable storage shed?
What you plan do with your portable shed will have the greatest effect on the total cost of your project. Obviously, the most common use of a storage shed is for…storage! If this is the extent of your demands, you should be able to meet your needs with a fairly inexpensive, basic shed. ​
If you have a list of items you know for certain will be stored in your shed, you can measure them ahead of time to get a general estimate of the space you will need. A 10×20 storage shed will have 200 square feet of available space, approximately. Remember to figure for space to bring any lawn equipment in and out.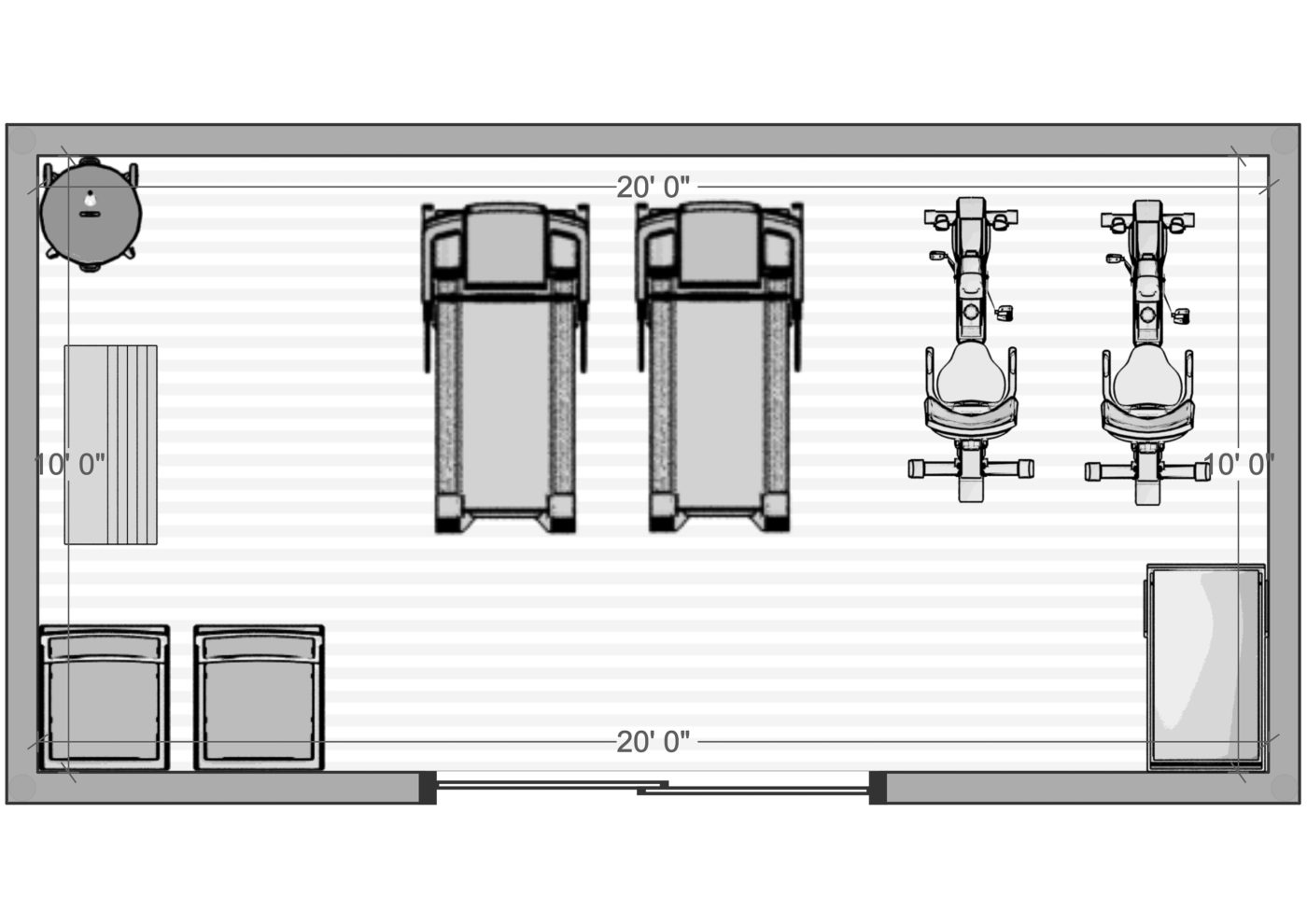 A 10×20 portable shed is also large enough to serve as a single-car garage. It is an especially attractive option if your house does not feature a garage and you want to avoid the cost of building a dedicated detached garage. A properly constructed shed with a garage door could serve this need quite effectively! If you need to store both a vehicle and other belongings, you may want to consider a 2-story 10×20 shed. Not only will you have another level of floor space, increasing the height of your structure increases the number of cubic feet available to you for storage! It should be noted that a 10×20 shed is the bottom end of what can be feasibly used as a garage since movement around the vehicle, etc. can be somewhat difficult. If your primary use will be for a garage, you may want to consider upgrading to a somewhat wider shed.
It is also becoming increasingly common to use sheds as office space or small dwellings, a.k.a. "tiny houses". If this is your intended use, you will also want to think about insulating your shed and consider any necessary electric or sewer hookups that will increase your cost. It is also important to check with your township or municipality to see what requirements must be met to allow you to legally live in your 10×20 portable storage shed.
Peripheral expenses to consider for your 10×20 portable shed
While the main outlay for your project will obviously be your 10×20 storage shed cost, there are usually some other expenses to keep in mind.
First, you will want to figure out the cost of filing any necessary permits with your local government. You don't want your half-completed project to be halted while you wait for paperwork!
Second, remember that your shed should rest on a gravel or concrete pad. While some people put their shed on concrete blocks, this is strongly discouraged as the blocks are difficult to level and can break or sink over time, causing doors and windows to bind. For your 10×20 shed foundation, you may be able to install a simple gravel pad and perimeter by yourself. A concrete pad is somewhat more difficult and will most likely require hiring a professional, although the final result should be a more solid and long-lasting foundation.
Can I build my 10×20 storage shed myself?
Once you've determined all the specifications necessary for your 10×20 shed to meet its intended use, you will need to think about how to get it constructed on your property. If you have construction experience or enjoy working with your hands, you may consider building your shed yourself. It is possible to download shed drawings and diagrams from the internet to use as a template and buy all necessary supplies at your local building supply store.
However, if you would like to avoid the risk of missing an essential component, you should think about assembling your shed from a shed kit. Going this route allows you the satisfaction of working with your hands to improve your property, while also taking some of the risk and dirty work out of assembling your materials.
If you start researching the tools and supplies needed to complete your project and decide to skip that extra stress, you still have the option of going with a fully constructed 10×20 shed. In that case, the shed will be pre-assembled by an experienced team at a construction facility and transported directly to your location. You will need to make sure that you have an access route on your property that is at least 2' wider than the width of your shed; for a 10×20 storage shed your access should be at least 12' wide. If your access point is not wide enough to allow entry of the fully constructed shed, contact Sheds Unlimited to review our options for on-site assembly.
It is especially cost-effective to buy Amish-built storage sheds from a factory direct company like Sheds Unlimited since they cut out much of the markup price of a middleman distributor. Since they are able to transport and deliver sheds directly from their construction facility, Sheds Unlimited has storage sheds for sale in Massachusetts, Rhode Island, Connecticut, New York, New Jersey, Delaware, Pennsylvania, Maryland, Virginia, and Washington D.C.
What Are the Current prices of 10×20 sheds?
Once you've taken care of the necessary peripheral expenses, it really depends on how many extra features you want your shed to have. Here are a few of our 10×20 storage sheds to give you an idea of the approximate starting costs for some of the different designs: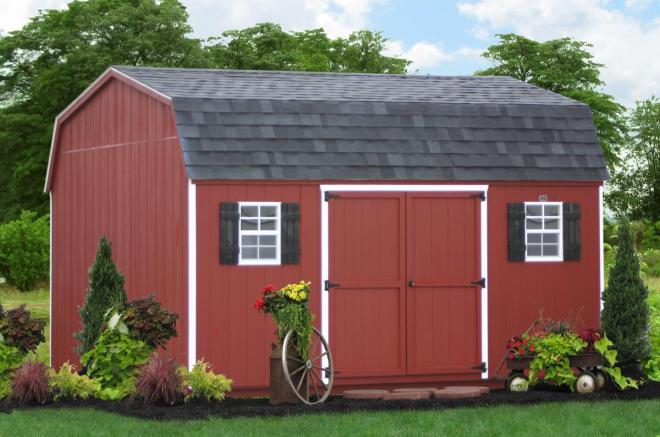 10×20 Standard MaxiBarn Shed ~ $5,478
The MaxiBarn is MiniBarn's big brother. Featuring higher walls, it allows for more cubic feet of storage with the same footprint.
10×20 Classic Workshop Shed ~$5,908
Offering more in the way of looks, the Classic Workshop Shed is a classy yet affordable storage solution.
10×20 Premier Workshop Shed ~$7,551
Beautiful and refined, the Premier Workshop Shed is storage with elegance. More windows provide extra light for projects in the shed and exterior touches put this shed's appearance in a class of its own.
10×20 Legacy 2-Story Workshop Shed ~$
The Legacy 2-Story Workshop Shed is literally on another level! A second-floor nearly doubles available storage space and the sharp overall look of this structure complements any property.
10×20 Studio 1 Modern Shed ~$17,160
Want to go for an ultra-hip vibe? A Studio 1 Modern Shed is good for way more than simple storage. Use it as an art studio shed, photography workshop, office space…or whatever your mind can dream of! These sheds feature LP SmartSiding with a 50-year manufacturer warranty to keep all your projects cozy and dry.
Whatever your budget, we can most likely help you find a 10×20 storage shed that can be customized to perfectly match your needs! Make sure though, you read up on how to keep a shed cool so that you have a well-ventilated shed during those hot, summer months. Check out our available colors and options. And don't hesitate to give our sales team a call  at 717-442-3281 if you have an idea you didn't see featured in this post that you would like to discuss. We want to help make your storage dreams a reality and increase your Space for Life!
Recent Shed Blog Posts...
Recent Shed Stories...
ready for more space in your life?
Create the building of your dreams by requesting a free estimate or customizing your own 3D design. You can also call us at 717-442-3281.
We're ready to assist you!