10% off select add-ons through Oct 8!
Garage Buildings: The Vehicle Storage Key
We all know that a vehicle is a big investment and one that we want to be sure to protect in any way possible. But there are many ways to protect your vehicle which offers different levels of protection. Some choose a very simple car cover and others a full-fledged prefab garage building to keep their vehicle safe. So, what degree of protection are you looking for with your vehicle and does it matter to you how it looks?
CAR COVER OPTION
This is one of the most inexpensive options that will provide a degree of protection for your vehicle. A car cover will help protect your vehicle from most of the elements but there are other options that provide a lot more. With a simple car cover, you will need to plan extra time to take it off and put it back on each time you use it.
Photo Credit: Auto Guide
AWNING OPTION
This is one way to help provide shade for your vehicle and protect it from rain and snow. This works if you have a driveway and can place one over it. It may be convenient for a time, but you probably want to consider the durability of it and how it may affect the curbside appeal.
Photo Credit: Auto Guide
CARPORT OPTION
This basically gives a 'roof' over your vehicle, which is helpful to keep the rain, snow, and other elements off of it. It also provides shade, and overall helps keep your car looking better. There are also options for a fully enclosed carport to keep your vehicle safe.
Photo Credit: The Tent Hub
GARAGE BUILDING OPTION
This option presents the best overall protection for your vehicle. With it being an enclosed garage, it protects from elements and other things that could potentially cause harm. It also provides the option of a more controlled climate for your vehicle. Garage buildings can be either attached garages or detached garages depending on your needs.
8 Ways A Garage Buildings Can Improve Your Life
1. Garage Buildings Can Protect Your Vehicle Investment.
Vehicles are a large investment second only to a house investment. If you are spending thousands of dollars on a vehicle, then it would only make sense to have a quality garage building to protect it. 12×24 portable garages are an affordable option to protect your vehicle.
2. Garage Buildings Protect Your Vehicle From The Elements.
Parking your vehicle in a garage building will keep it looking better. A garage will protect it from dust, bird droppings, nightly dewfall, and a range of other 'things' that are typical of an outdoor environment. The accumulation of these things on your vehicle will accelerate the deterioration process on the protective finish of your vehicle. If you keep your car in the garage, you also have little to fear from unexpected or crazy weather.
3. Garage Buildings Protect Your Vehicle From Theft.
If you keep your car in a garage building, you'll greatly reduce the chance of it being stolen. But you'll also help to protect it from acts of vandalism, and from people breaking into it to steal what's inside. If a vandal has to break in through a door to get to your vehicle, they are much less likely to do it.
4. Garage Parking Is More Convenient.
Vehicles parked inside a garage building won't need mounds of snow cleaned off them and ice scraped off their windows in the winter. They'll also warm up quicker, or not be as warm in hot weather. Your vehicle will be close to your home and save you small amounts of time daily. All of that will add up to many hours that will be collectively saved over the long term.
5. Garage Parking Improves Curb-Side Appeal.
Homeowners invest lots of time and money into improving curb appeal by upgrading their home and property's appearance. Certainly, an empty driveway compared to a driveway with one or more vehicles parked in it projects a cleaner, less cluttered look for a house. There are some really beautiful options for one and two-car garages built by the Amish in PA.
6. Your Vehicles Are Only Driven 5% Of The Time.
According to transportation experts, vehicles are typically only being driven 5% of the time. That means vehicles are sitting parked 95% of the time! If your vehicle is sitting parked for the vast majority of the time, it would make the most sense to have it out of sight.
7. A Garage Building Can Lower Insurance Rates.
Yes! Some insurance companies offer lower policies for people who store their vehicles in garage buildings. Saving money is always an advantage. Check into it.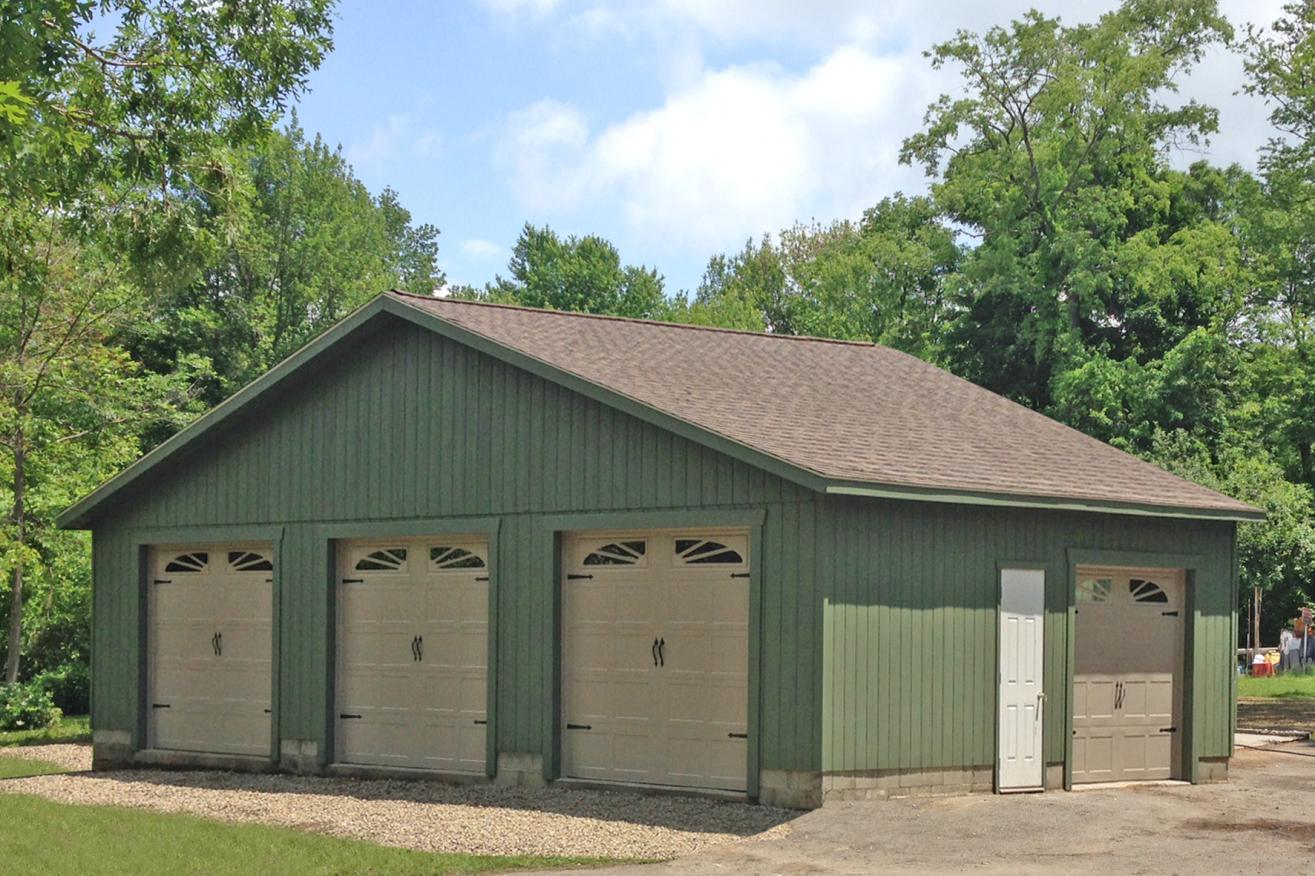 8. Helps Vehicles Startup And Run Better.
Because a garage keeps a vehicle warm, the fluid and oil are kept in a stable condition which leads to an engine that runs better than one that is kept outside. With a warmer car comes faster AC and heat. Extreme hot and extreme cold can both lead to deterioration of the inside and outside.
Getting Started with a Garage Building
Getting started with a garage building requires answering a lot of questions. Here are a few to help you in getting started.
1. Do you need a portable garage or a permanent garage?
Portable garages are an economical and quick way to get your vehicle inside. Even with portable garages, there are many options to choose from. You can start with a standard portable garage that gives you the most basic storage option or go further with a two-story garage to give you plenty of space.
2. What size of garage building meets your needs? How much space do you have for a garage building?
You can choose from: a 1 car garage, double wide (2 car garage), 2 car prefab garage, 3 car prefab garage, or 4 car prefab garage.
Keep in mind how many vehicles you have to park in it, as well as if there are other items that you've invested in which will need a place to protect them, such as boats, ATVs, gator, golf cart, etc.
3. Now, you get to choose the style.
Will a Workshop, MaxiBarn, or Saltbox style better fit your curbside appeal and/or personality? What type of siding will you want for your garage? If you want to learn about board and batten siding for your garage, our "Board & Batten Garages: A Premium Choice" article is a great resource. As a side note, you could read about different garage roof styles as well. You can also choose between a portable one-car garage or a more permanent garage building. If you would like to learn more about our Amish-built garages, feel free to read our "Amish Garages: Everything You Should Know" article.
Recent Shed Blog Posts...
Recent Shed Stories...
ready for more space in your life?
Create the building of your dreams by requesting a free estimate or customizing your own 3D design. You can also call us at 717-442-3281.
We're ready to assist you!