Double-Wide Sheds and Garages From PA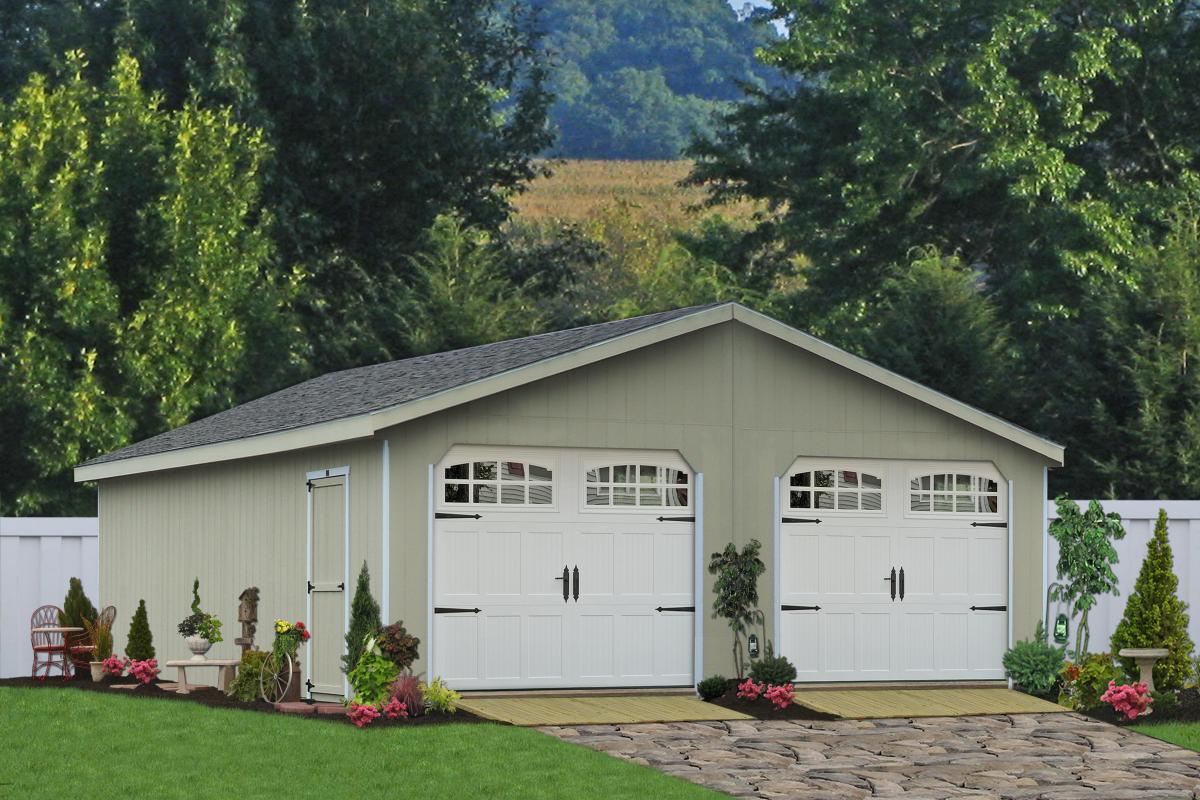 This week we are highlighting our Modular Garages and DOUBLE WIDE GARAGES AND SHEDS. If you are searching for a good-looking prefab car garage but want to save thousands of dollars, then consider a modular car garage from Sheds Unlimited. Read on to learn how to save thousands of dollars on modular two-car double-wide garages by buying directly from Sheds Unlimited in Lancaster County PA. Read on to learn how a modular garage can save you money.
COST SAVINGS for Double-Wide Sheds and GARAGEs
Double-Wide two-car garages come at a lower cost than the standard Sheds Unlimited two and three-car garages for a number of reasons.
By buying modular Double Wide Garages you will not need to spend thousands of dollars installing a concrete pad and foundation for the building to set on. Rather, simply build a stone pad (which drastically lowers the site prep cost for a shed). A monolithic concrete pad (no foundation) costs around $6.00 to $8.00 per square foot; a concrete pad with footers can cost $12.00 to $16.00 per square foot.
Modular sheds and garages also offer savings because of the reduced labor. When Sheds Unlimited can assemble a modular building in their manufacturing facility in Lancaster, PA, the cost of labor is greatly reduced. Rather than sending a crew on the road to your property, we can ship the building as a double-wide garage and save you dollars! We pass these savings on to customers in reduced modular garage prices.
We also offer two-story modular buildings which have plenty of upstairs space to make a modular garage with an apartment. You will love the space on our two-story modular garages and sheds.
Buy a Double-Wide Shed or Garage Today
Call us today to find out how you can begin the process of getting a modular or double-wide garage from PA or a prefab double-wide shed on your property. For a modular garage with an attic, find out more about our Two Story Legacy Sheds and Garages.
Call us at 717-442-3281 or email us for a FREE ESTIMATE.
Recent Shed Blog Posts...
Recent Shed Stories...
ready for more space in your life?
Create the building of your dreams by requesting a free estimate or customizing your own 3D design. You can also call us at 717-442-3281 from Monday to Friday between 8:00 am - 5:00 pm or Saturday between 9:00 am - 1:00 pm. We're ready to assist you!