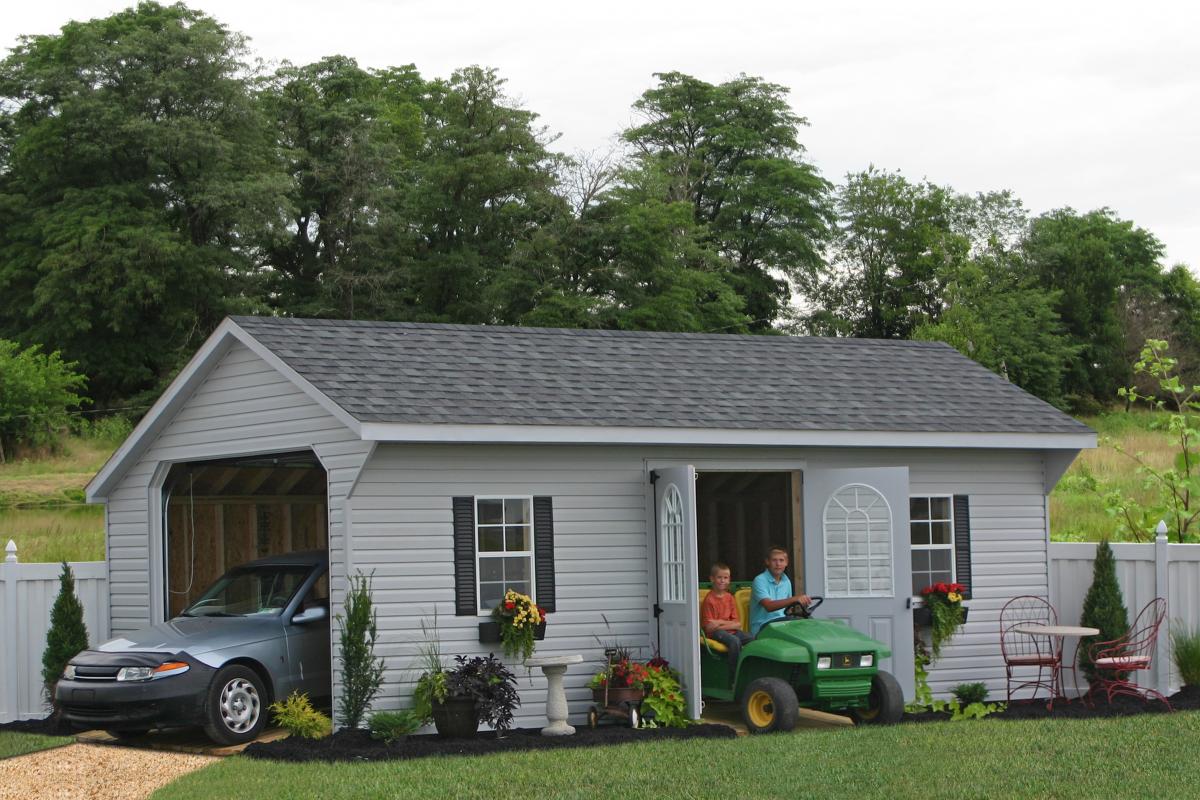 It's springtime and just the time when you want to bring out the ATV that has been in storage for the winter. But where will you store the ATV when it is not in use? Sheds Unlimited storage sheds built in PA can also serve provide ATV Storage Sheds for your all terrain vehicle. We offer simple and cheap ATVstoragesolutions in our economy sheds line. Step up a bit and experience the classic cycle storage sheds or the ultimate Premier Cycle Storage Units. Whatever your need, we offer ATV STORAGE solutions of one or two story sheds and garages.
Motorcycle Storage Sheds For Sale
Buy a backyard storage shed from Sheds Unlimited for an ATV STORAGE SHED. Any of the dozens of models of STORAGE SHEDS and prefab car garages from Sheds Unlimited can serve as a great place to store your cycle, scooter or ATV. We offer simple CYCLE STORAGE SHEDS at cheap prices. Check out our discounted storage sheds which could serve as perfect motorcycle storage sheds.
Scooter Storage Sheds
Maybe it's just a simple scooter that you need a place for. We have sheds that will work as storage for a scooter cycle to protect it from the elements and from other damage when it is not on the road. The dirtbikes will even look great inside one of our ATV STORAGE SHEDS throughout PA, NJ, NY, CT, DE, MD, VA, WV and beyond.
Buy a Cycle Storage Shed Today
Visit our storage sheds and barns website and peruse the different models. Then call Sheds Unlimited today at 717-442-3281 and find out how we can help you solve your motorcycle, scooter, or ATV storage needs. You can also email us with any questions or for a free shipping quote. Why pay the rental storage company all that money when you can invest that money into a building that will serve as more than just HOME CYCLE STORAGE. Sheds Unlimited buildings are good for many uses and are customizable for whatever the need might be, even something as small as ATV Storage Sheds.
Where to Buy an ATV or Cycle Storage Shed
At Sheds Unlimited, we specialize in selling our sheds and barns direct to folks in PA, NJ, NY, CT, DE, MD, VA, WV and a few other surrounding states. Delivery for the first 20 miles is free and we bring the Amish Built Sheds to your home and place them right where you need them. Visit our shed building facility in Lancaster County and get a first-hand view of the sheds, prefab one car garages and other storage buildings in our lineup.
Other Creative Uses for Storage Sheds
Storage sheds can be used in 1001 different ways. Combine your ATV Storage Shed with a writing space just for you. Create a man cave at one end. Buy a shed for an art studio. We can't list all the creative uses for storage sheds, but we have listed and shown 101 uses for your portable storage shed. You'll love it! See the 101 uses of storage sheds and then add yours to the list by sending us your ideas.
Recent Shed Blog Posts...
Recent Shed Stories...
ready for more space in your life?
Create the building of your dreams by requesting a free estimate or customizing your own 3D design. You can also call us at 717-442-3281 from Monday to Friday between 8:00 am - 5:00 pm or Saturday between 9:00 am - 1:00 pm. We're ready to assist you!