10% off select add-ons through Oct 8!
8×10 Sheds: Small But Superb Storage
What is an 8×10 shed? Well, the simple answer is that an 8×10 shed is an 80 square foot storage unit that is fairly standard to a traditional shed you would see in a backyard.
However, what separates an 8×10 storage shed from any other shed? What are the benefits and drawbacks of the 8×10 shed? Let's look more into it below.
Pros and Cons of an 8×10 Shed
Every shed has its benefits and drawbacks, the key to finding the shed for you is figuring out which shed has everything that you are looking for. Below you can find the pros and cons of the 8×10 shed and determine if it may be something you would be interested in.
Pros
IDEAL FOR BACKYARDS
Being an 8×10 shed, this is an ideal size for the average backyard space which has approximately 10,000 square feet average. Placing an 80 square foot shed into a 10,000 square foot lawn will not look too odd and also will provide sufficient space for all your storing needs.
Affordable
In contrast to some other larger storage sheds, the 8×10 storage shed is highly affordable for anyone looking for a quality structure for storage. We build Amish-made wooden 8×10 sheds ranging from $2,618 – $21,588 depending on the features included; you can reference prices below.
Customizable
When looking at an 8×10 shed, remember to look at the possible customization options. This may include custom coloring, optional features like a loft, and second-floor space. You can build your custom 8×10 shed using our free quote form or our new 3D Shed Builder. Visualize the shed you are building to see what your future storage space will look like.
Cons
Limited Options
The options you would get on an 8×10 shed are limited to options you would be able to get on a larger shed. For example, a second-floor option would not be possible on the 8×10 shed because of the size.
SUFFICIENT SPACE FOR LARGER ITEMS
Even though an 8×10 shed would be ideal for most backyards if you desire a large space for storage then this may not be for you. According to LP's Shed Size Calculator, an 8×10 shed would be able to fit only about 2 fuel cans, 2 garden tools, a generator, a propane grill, a ladder, a lawn, mower, a miter saw table and a sawhorse, and a small drivable vehicle. Depending on what you plan on storing inside your 8×10 shed, you may need to explore other sizes.
8×10 Shed Prices
Looking at different options of an 8×10 shed is a great way of determining which shed is right for you and your budget. The two main factors in the 8×10 shed price are the siding you put on and the style. The siding options you can choose from are vinyl and wood. You can other siding options of your choice for an additional cost. The shed styles in which you can choose from is the Workshop, MaxiBarn, Saltbox, MiniBarn, and Modern sheds.
Below you can find the price difference depending on the siding and style. Although it's important that you get a shed that fits your property, it's often a good idea to have some landscaping done for the ground around your shed.
STANDARD WORKSHOP SHEDS
Wood: $2,827
Vinyl: $3,674
STANDARD MAXIBARN SHEDS
Wood: $3,032
Vinyl: $3,940
STANDARD SALTBOX SHEDS
Wood: $3,032
Vinyl: $3,940
STANDARD MINIBARN SHEDS
Wood: $2,618
Vinyl: $3,410
STUDIO 1 MODERN SHEDS
Smart Siding: $11,238
Not Available in Wood or Vinyl
8×10 Shed Options & Features
The 8×10 storage shed has many options and features that may be included for an additional cost. Some of those options may include a ramp, siding color, dormers, and cupolas or weathervanes.
Let's take a closer look below at what these options are why you may want to add them to your 8×10 shed.
RAMP
A ramp is a great addition to add to your 8×10 shed because it allows for ease of access for larger or heavier items on wheels. Instead of lifting the heavy items which could cause serious injury, a ramp gives you access to pull the item out of the shed freely and the same goes for putting it back inside the shed.
Interior & Electric
There are interior options you always may be looking to add to get the most out of your 8×10 storage shed. Some of these options may include a loft area, a shelve or workshop bench, and also electric! These three options provide plenty of benefits including adding extra space to store items, having a space to work at, and finally providing lighting so that you can see clearly inside of your shed at any time of day!
DORMERS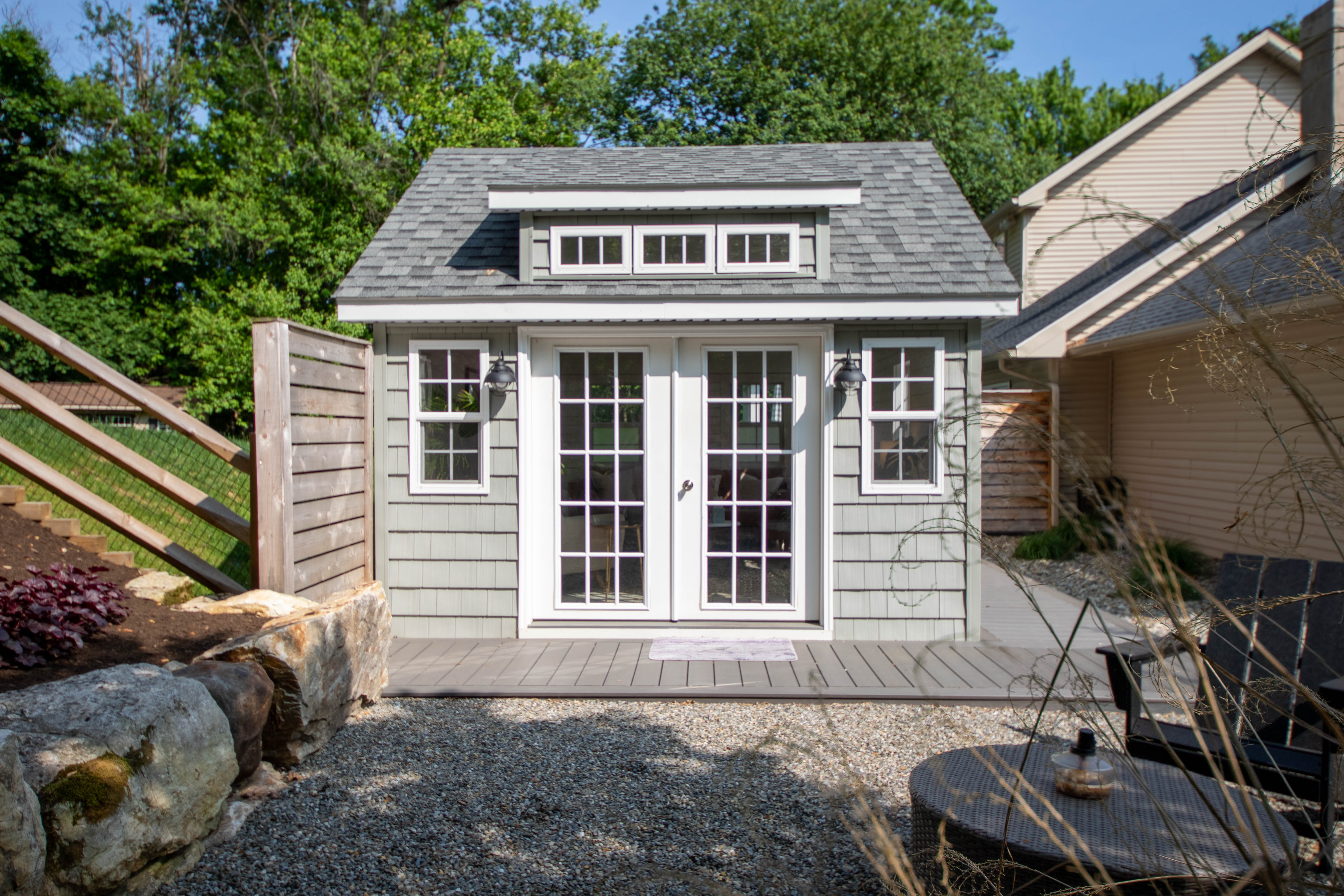 Another great addition to add to an 8×10 shed would be a dormer. Although it may be one of the smaller dormers, it still adds aesthetics and natural lighting from the sun. There are three total shed dormers from which you can choose for your 8×10 shed including the premier shed dormer, eyebrow dormer, a-frame dormer.
Cupolas & Weathervanes
The final option to consider adding to your 8×10 shed is a cupola or a weathervane. Cupolas and weathervanes are a very popular feature that goes on top of the roof. In the past, cupolas were used to provide a lookout or admit light onto an area. Weathervanes were used to show the direction of the wind. In today's world, they are typically used for aesthetics to add a more vintage look to their 8×10 storage shed.
Get Started on Your 8×10 Shed
There is an 8×10 shed out there calling your name, find yours today. Submit a free quote or build your 8×10 shed in 3D using our 3D Shed Builder!
If you're concerned about extra shed maintenance down the road, we have another article about how to keep your vinyl shed maintenance-free.
Have any more questions? Contact us directly by phone at (717) 442-3281 or by email at office@shedsunlimited.net, we cannot wait to get you the storage space you are looking for.
Recent Shed Blog Posts...
Recent Shed Stories...
ready for more space in your life?
Create the building of your dreams by requesting a free estimate or customizing your own 3D design. You can also call us at 717-442-3281.
We're ready to assist you!