Outdoor Barns and Sheds

Backyard Buildings to Enhance Your Life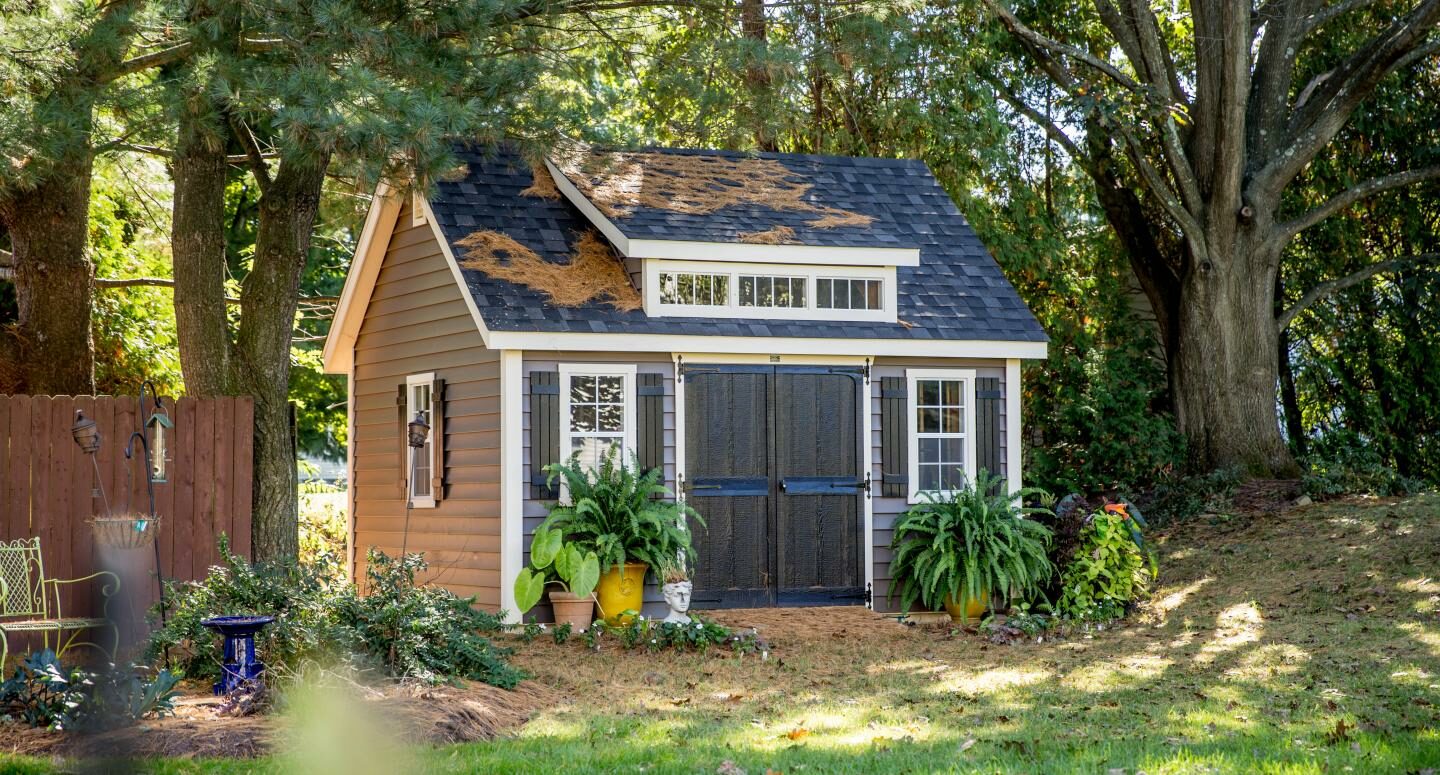 Size: 12×14
Starting At $8,869

Starting price is shown. Building displayed in photo may include optional upgrades.


0 Saves
#15862
Outdoor Barns and Sheds come in all shapes and sizes plus every shed or barn can be customized to fit your property. If you like a simple and cheap shed or barn, then begin with our Economy Wooden Sheds or Vinyl Sided Storage Sheds. Looking for a bit more class? Try our Classic Wooden Amish Storage Sheds or the Classic Outdoor Vinyl Sheds. For an, even more, eye-catching look, consider our Premier Garden Sheds or the Two Story Sheds that come in a modular unit
Standard Barns and Sheds
The Standard, also known as Economy Storage Barns and Sheds from Sheds Unlimited combines quality Amish Storage Shed building techniques with economical storage solutions. Each one of the Economy Storage Sheds and Barns is carefully handcrafted to protect your lawn and garden equipment from the elements.
Here you get a better price on Storage Sheds with the same quality guarantee you can expect from all of Sheds Unlimited buildings. Buy these SHEDS AND BARNS when you want a good storage solution without a huge cost.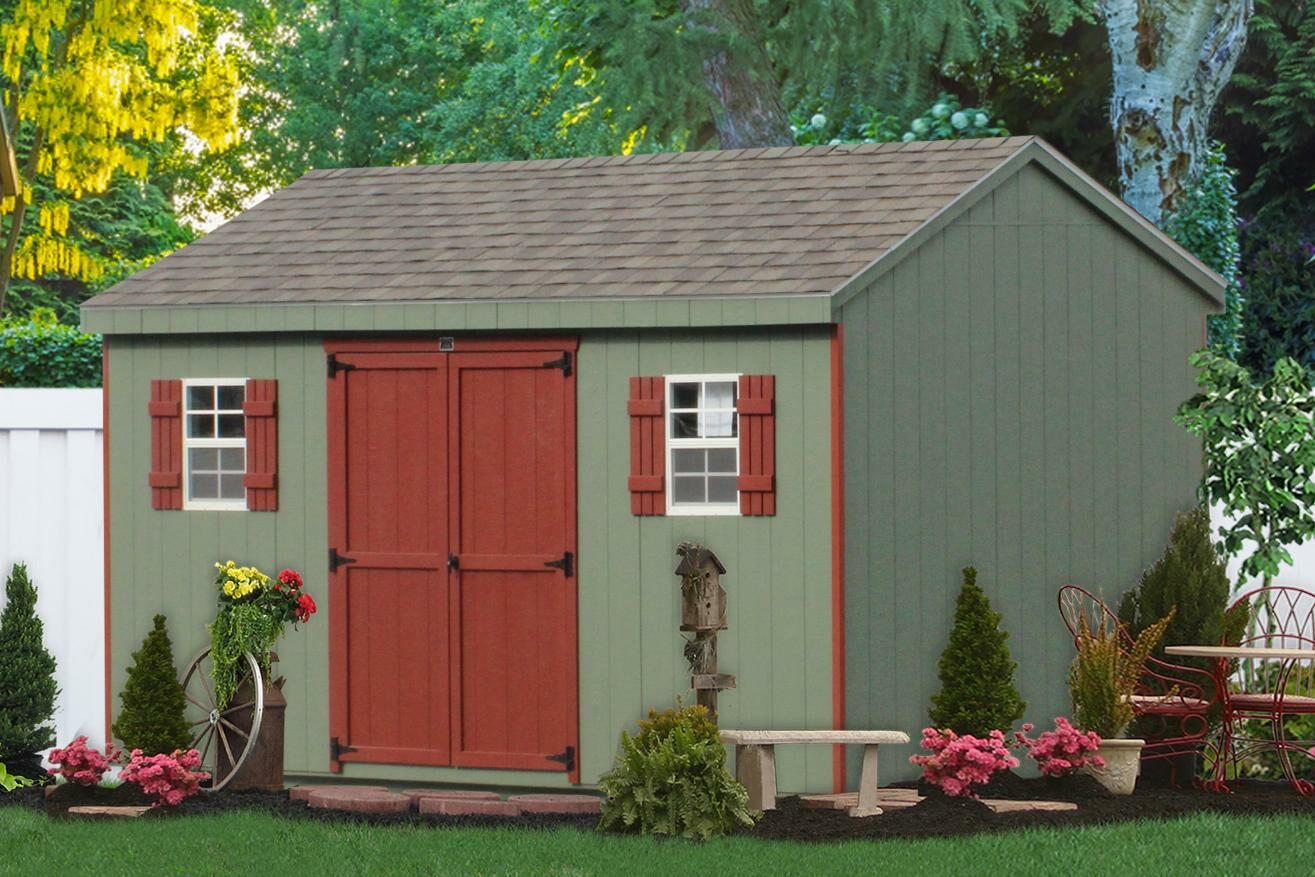 Size: 10×14
Starting At $3,771

Starting price is shown. Building displayed in photo may include optional upgrades.


0 Saves
#15860
Classic Storage Barns and Sheds
The Classic Sheds and Barns offer the same quality construction as economy Amish shed models with an added aesthetic touch to make your outdoor spaces even more attractive. With the Classic Outdoor Sheds and Barns, you get wider overhangs, fancier doors, and larger windows. Each aspect of our Classic Amish Storage Sheds adds to the beauty you can enjoy on your own property.
They come as Classic Wooden Sheds and Classic Vinyl Sided Sheds and Barns. As with all of our outdoor sheds and barns, the Backyard Classic Buildings can be customized in many ways to meet your specific needs.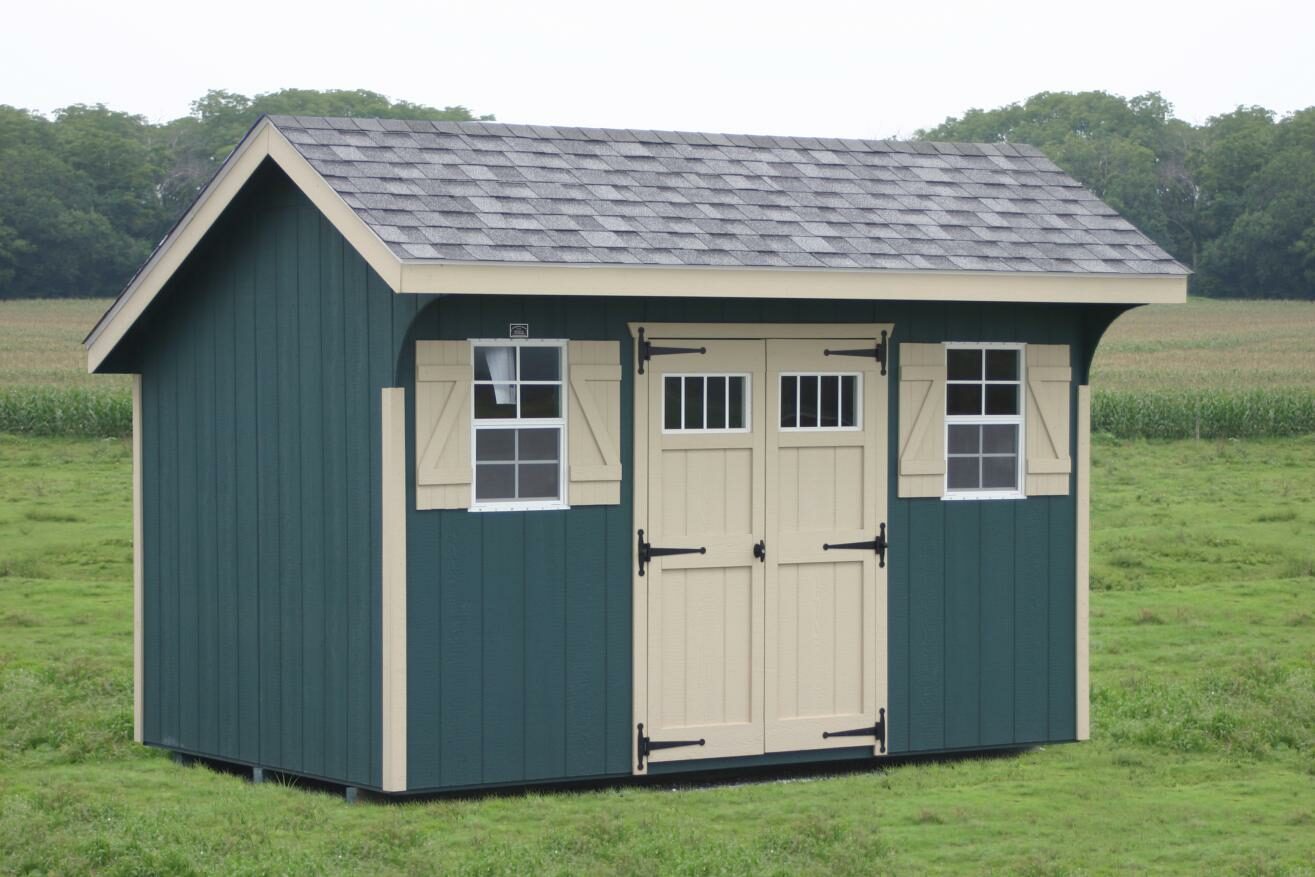 Size: 8×12
Starting At $3,632

Starting price is shown. Building displayed in photo may include optional upgrades.


0 Saves
#15866
Premier Garden Storage Sheds
Here you will find some of the most attractive garden storage sheds and barns available in our line and across the shed and prefab garage industry. Every Premier Garden Storage Shed comes with an aesthetically pleasing design and plenty of room for overhead storage.
Add a loft to any of the Backyard Garden Barns and Sheds or upgrade to a Premier Single Car Garage. And don't forget that our delivery area reaches PA, NJ, NY, CT, DE, MD, VA, and beyond.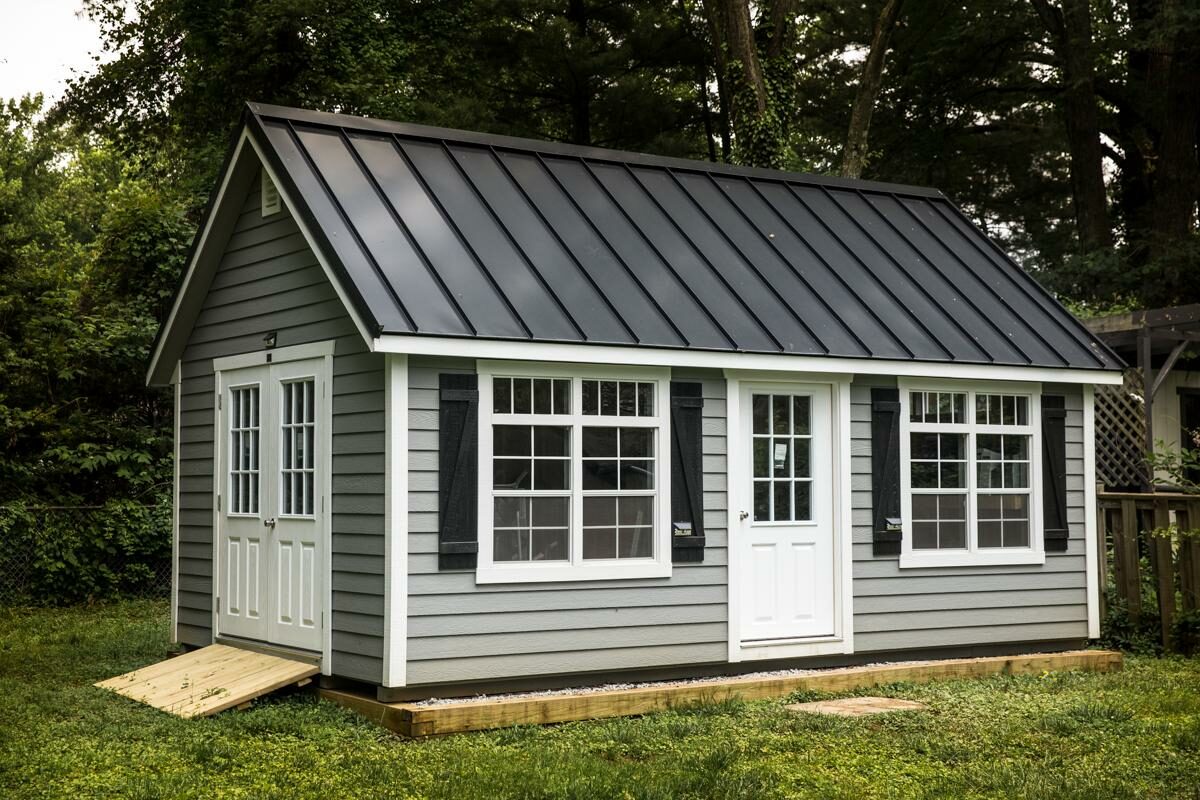 Size: 12×20
Starting At $12,667

Starting price is shown. Building displayed in photo may include optional upgrades.


0 Saves
#15863
Two Story Barns and Sheds
Two Story Barns and Sheds from Sheds Unlimited take your backyard storage shed to an altogether new level…literally. These Legacy Two Story Sheds and Barns come with subfloor with plenty of space to the second floor. Create a Man Cave or an extra bedroom and enjoy your backyard like never before!
We offer the Two Story Barns and Sheds in the Two Story Workshop Sheds and the Two Story Barn Sheds. The Two Story Barns and Sheds are assembled in our manufacturing facility in Lancaster County, PA, and brought to your location in two sections. They are then put together by crane within a few hours.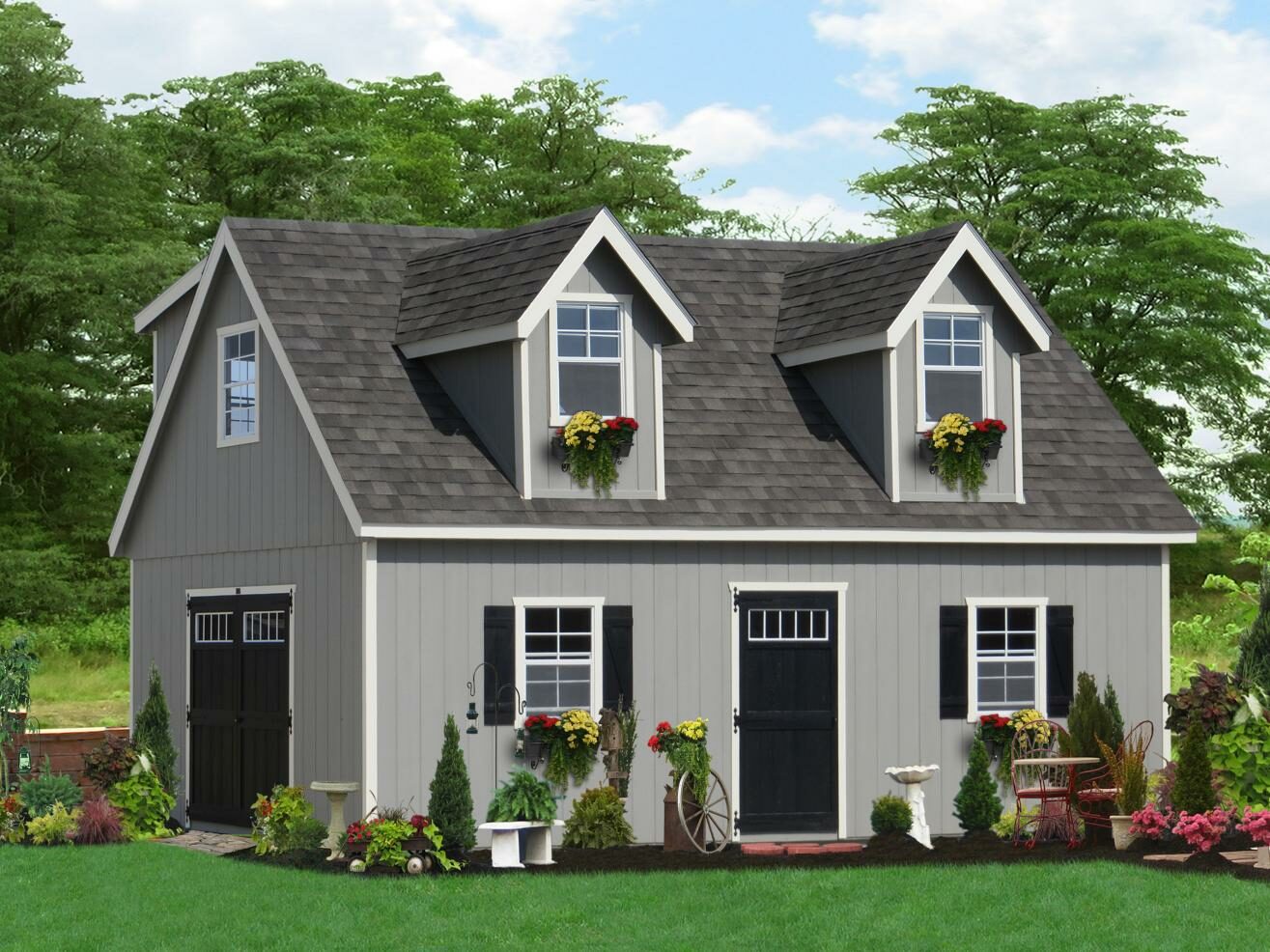 Size: 12×24
Starting At $16,566

Starting price is shown. Building displayed in photo may include optional upgrades.


0 Saves
#15865
Modern Sheds
Modern Sheds incorporate the clean look of the contemporary design and make it a useful Modern Studio Shed, Modern Office Shed, or Modern Poolhouse.
We offer Modern Storage Shed models to fit within your style and budget. The Modern Studio 1 includes a 50-year wood grain wood siding with battens at 2′ center and the Urban 360 comes with Modern Clapboard Siding or Rain Screen siding and an exotic wood accent. All modern sheds come with standing seam roofing materials to ensure a long life for your Modern Sheds For Sale in PA.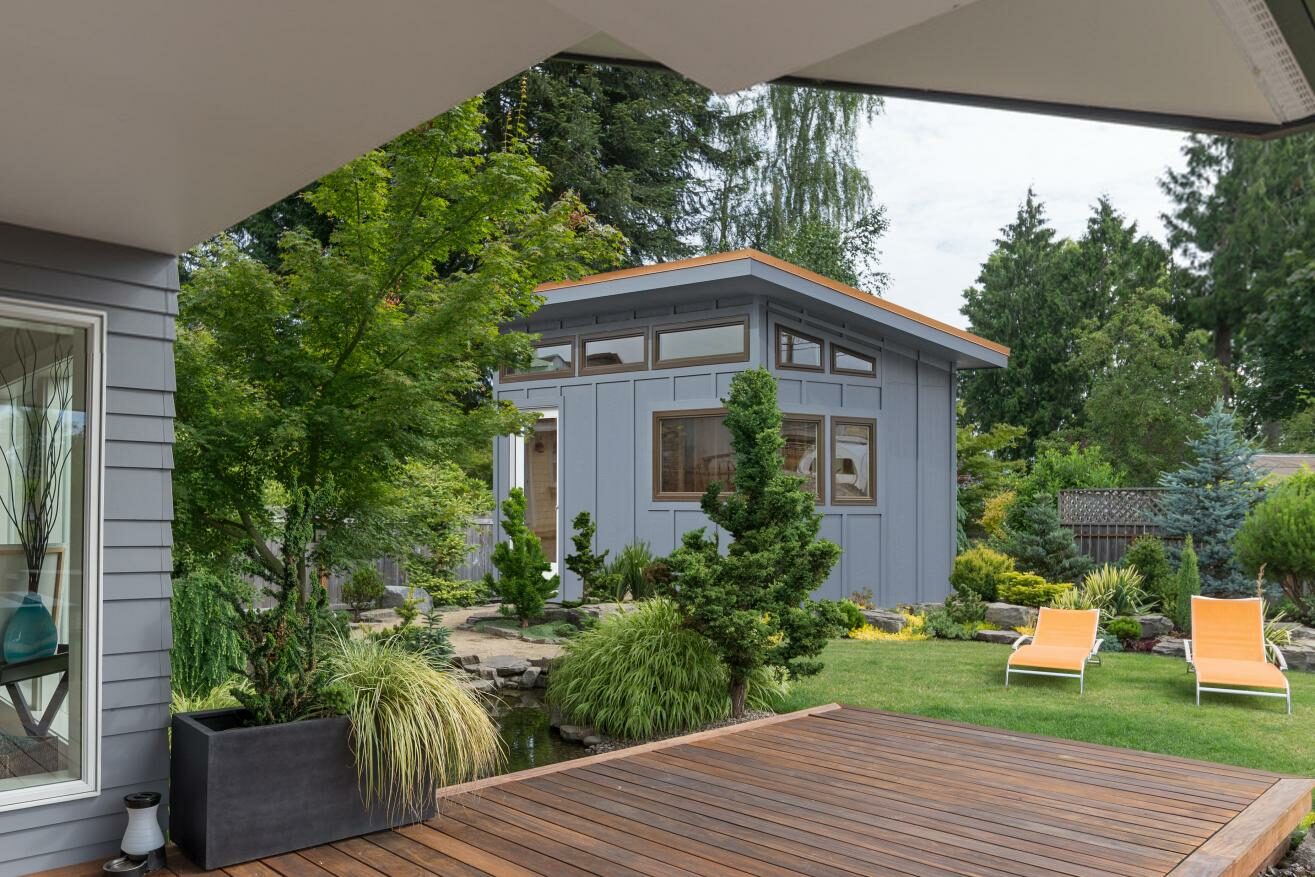 Size: 10×14
Starting At $14,934

Starting price is shown. Building displayed in photo may include optional upgrades.


0 Saves
#15861
Custom Sheds and Garages
Not everyone has the same needs of design taste when it comes to backyard sheds, barns, and garages. While nearly all of our portable buildings are customized for space they will fill, we offer more extensive custom storage sheds and custom and luxury garage designs. Our design team and quality workforce will strive to provide a customized backyard building or a custom garage to your own unique taste and to fit with your one-of-a-kind landscape.
In addition to the countless storage shed customizing options, we serve Pennsylvania, New Jersey, New York, Maryland, Delaware, Virginia, and Connecticut. And don't miss the 101 Storage Shed Ideas to begin dreaming of ways you could use your shed or barn. You might decide on a larger model that would be a two-in-one building!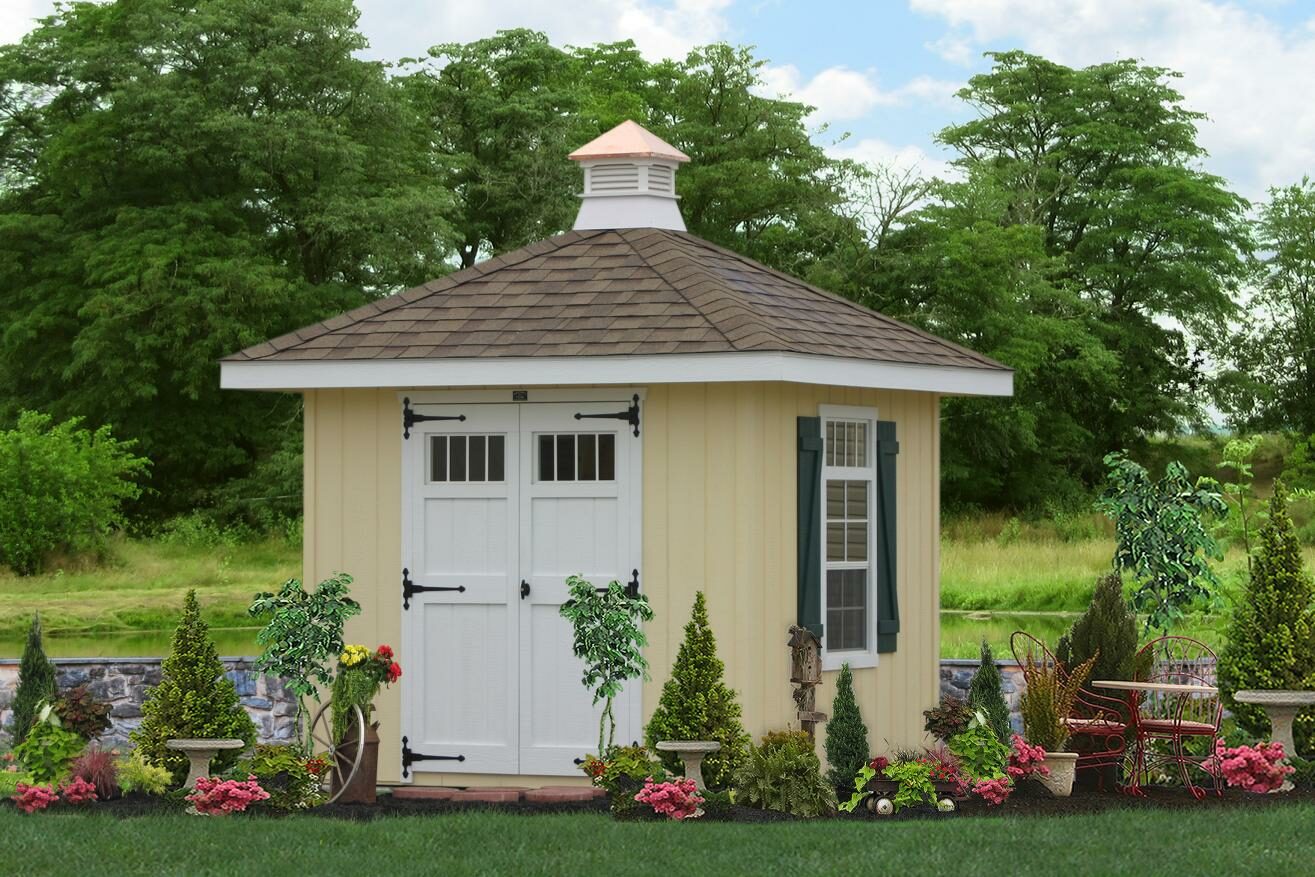 DIY Barn and Shed Kits
If installing a completed portable storage building into the backyard is not an option or if you are simply a handyman at heart and would like to try your own skills, then a DIY Storage Shed Kit might be for you. However, please be aware that a DIY shed kit is not for the faint of heart! If you have a tight space and need a storage shed built on-site, we can send our Shed Kit team to assemble the building on your prepared pad.
Sheds Unlimited provides a "How to Build a Shed Kit" DVD plus a detailed "Do-it-Yourself Shed Kit Assembly Instructions" document to assist with the assembly of the storage shed kit building.
ready for more space in your life?
Create the building of your dreams by requesting a free estimate or customizing your own 3D design. You can also call us at 717-442-3281 from Monday to Friday between 8:00 am - 5:00 pm or Saturday between 9:00 am - 1:00 pm. We're ready to assist you!