Additional 10% off* ALL In-Stock Sheds OR 7% off** ANY Custom Building!
100 Sq Ft Sheds: What Can I Do With Them?
The question really should be, "what can't I do with a 100 sq ft shed?". In today's world, what you can do with a little extra space is only limited by your imagination. Here are a few tips, uses, and benefits to sprucing up your backyard with a 10×10 shed.
100 sq ft shed: Where We Begin
One of the things that people often forget when buying a shed is how to truly read the dimensions. A 100 sq ft shed is going to be shown in a few different ways. If you want the exact specs for the outer walls, a 10×10 shed is going to give you exactly 100 sq ft. However, a 10×12 shed will give you closer to 100 sq ft of space on the inside because of the thickness of the walls. We want you to know exactly what you are buying so that you can tailor your purchase to your needs!
a 100 Sq Ft Shed for Storage
Let's kick it off with an easy one. Your backyard shed can be used to store things that you can't or don't want to store in other places. It could be a way to help clear up the clutter that has been plaguing your house! Maybe it's that lawnmower you are dragging up from the basement. It could be the decorations that get shoved behind your washer every year. Or maybe it's the bike that you keep forgetting about because you never go in the attic. Or think about things you may not want in the house such as…
Pesticides
Weed Killer
Gas
From lawn care machines to family memories, a simple 100 sq ft shed storage shed might be the way to go! Or, a 100 sq. ft. shed with electricity would even be better! If you're concerned about extra shed maintenance down the road, we have another article about how to keep your vinyl shed maintenance-free.
a 100 sq ft shed as a workshop
If 2020 taught us anything, it's that working from home has never been more attainable. Whether it is honing your trade, sending emails, or editing photographs from a wedding…an outdoor 100 sq ft shed creates an environment where progress can happen. Imagine a space away from the chaos of a normal workday. A space away from traffic, energetic kids, and the distractions that come from working from your kitchen. A 100 sq ft shed is an easier and more affordable way to create a workshop over hiring a company to build an addition to your home.  From tables, shelves, or a complete home office…a shed is a great space to get things done. And don't worry, we will talk about the cost.
a 100 sq ft shed for entertainment
You might not have thought it, but sheds can create unique and fun ways to cultivate relationships.
Remember the community poolside concession stand? Now it can be more than a memory with a poolside shed space created specifically to feed hungry guests!
Are you partial to just lounging around and watching a movie? Grab a beautiful wood shed to turn into a full-blown entertainment room. Watch movies, play games, and make memories with family and friends. If you want your shed to be a hangout place, you might want to consider insulating your shed.
Learning an instrument can be a challenging and long-term commitment. A 100 sq ft shed could be just what you need to have a private rehearsal studio. Whether it's the power of the drums or the uniqueness of the violin, give your family a great space to practice, practice, practice.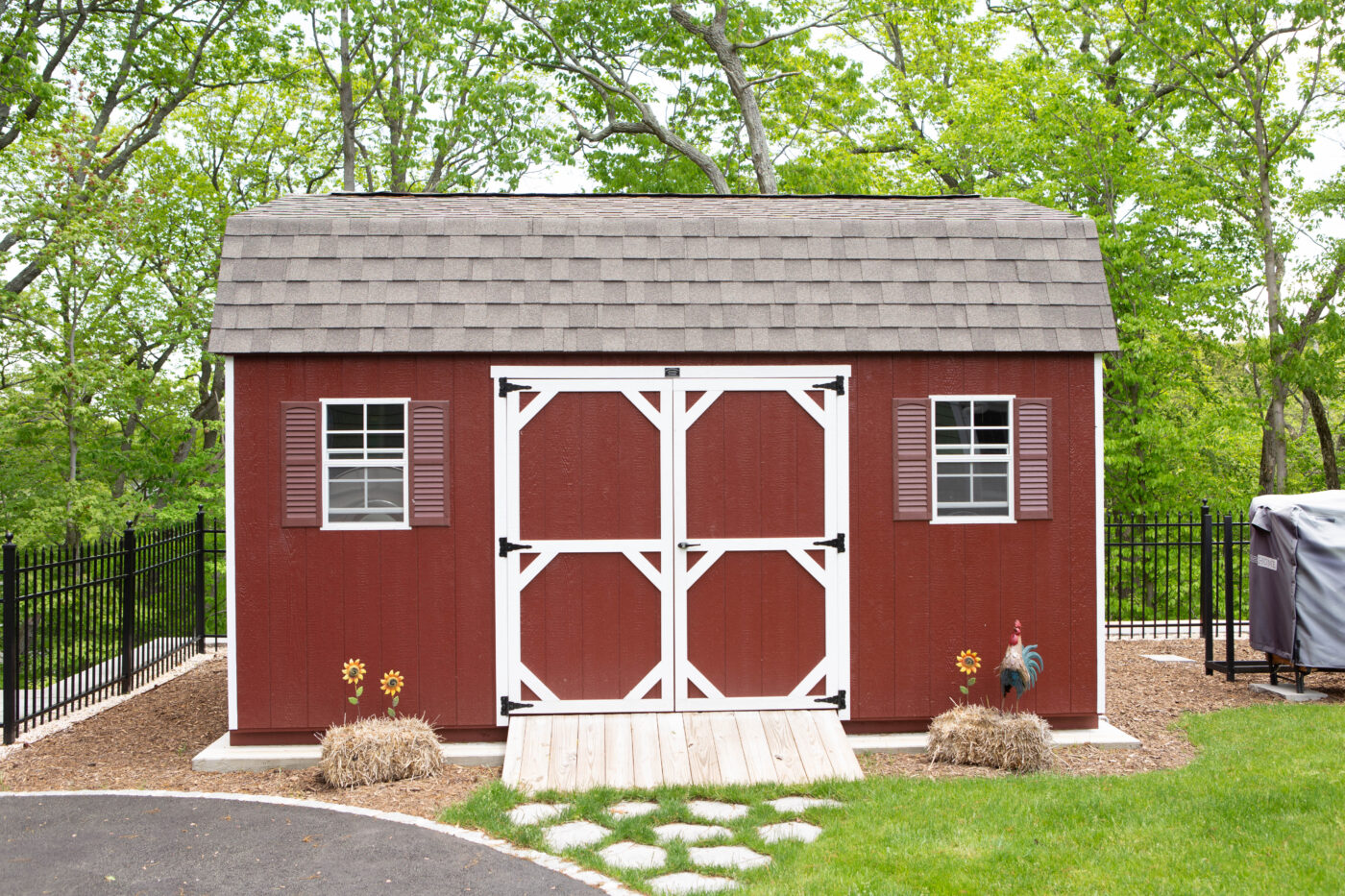 a 100 sq ft garden shed
Some people just know what it means to have a green thumb. Whether you are growing vegetables to feed family and friends, or flowers to make your home look stunning…a garden shed can give you the space and ability to care for your property well. A backyard garden shed offers a place to house all of your spades, seeds, shears, shovels, and supplies. Not only can it hold all of the resources needed to create a beautiful garden, but it can be a part of the scenery as well. A 100 sq ft shed is a great way to tie together the area you have worked so hard to build with a structure that gives it a little pop.
Looking for more examples? Alright! We will give you one more. But first…do you love animals?
a 100 sq ft shed for animal shelter
An outdoor shed can be home to a plethora of animals. It is important to give your animals a place to rest and recharge while staying protected from the elements.
Do you love fresh eggs in the morning? A 100 sq ft shed is a great way to create a secure space for your chickens.
They say dogs are man's best friend. What if you had a whole space to raise puppies? Or just a space away from the house when you need a little time away from your "best friend". A shed can make an ideal home for any household animal.
But let's get down to business. How much is this going to cost?
Cost
When we start thinking about the cost of a 100 sq ft shed, the first question we want to ask centers around prefab vs DIY. Prefab is anything that is already built, whereas DIY is all about doing it yourself. Both of these options have pros and cons, and the final decision will be different depending on the buyer.
Prefab
A prefab 100 sq ft shed can cost anywhere from $2,000 and beyond depending on what you want to do with your new space. If you are looking for something well built without a large number of bells and whistles, $3,000-$5,000 is a great starting point for your shed. The cost of prefab is seen not only in the quickness of use after delivery but also in the craftsmanship and quality control of each backyard shed.
DIY:
If you like undergoing bigger home projects, this could be the project for you. You will want to consider the cost of time, supplies, and level of skill you have when attempting this project. This can be a great way to save money, but with the size and the ability to add on later, could also be more of a headache than some are ready for.
It is also important to remember that you are responsible for the foundation of the outdoor shed as well as making sure that you have the zoning ability to put a shed on your property. Find out what your local zoning board requires and allows!
Examples
Here are a few examples of 100 sq ft sheds that we offer.
1. Standard Minibarn Shed 10×10
2. Standard Workshop Shed 10×12
3. Standard Maxibarn Shed 10×10
4. Premier Dutch Barn Shed 10×12
Now what?
Big purchases can be tricky, especially if you haven't made one of this kind before. Check out what our customers thought here about the sheds they received from us! Purchasing a 100 sq ft shed will leave you without headaches from DIY confusion, and allow you to get exactly what you are paying for. There are a lot of options when it comes to buying a shed; you can see the full lineup of our sheds for sale here. You can also explore our selection of in-stock sheds or request a free estimate. If you have any questions, don't hesitate to reach out for help!
Recent Shed Blog Posts...
Recent Shed Stories...
ready for more space in your life?
Create the building of your dreams by requesting a free estimate or customizing your own 3D design. You can also call us at 717-442-3281.
We're ready to assist you!