5% off all 2-, 3-, and 4-car prefab garages through February 28, 2022!
Dori's Mosaic Retreat 10×12 Shed
Dori Schatell works as an Executive Director of a non-profit Medical Education Institute, which is known for spreading awareness and educating people about kidney disease. With such a predominant and demanding job, Dori hardly has had any time to relax. However, when she finds just a bit of free time she invests that time in doing art projects.
Dori's Need For Additional Space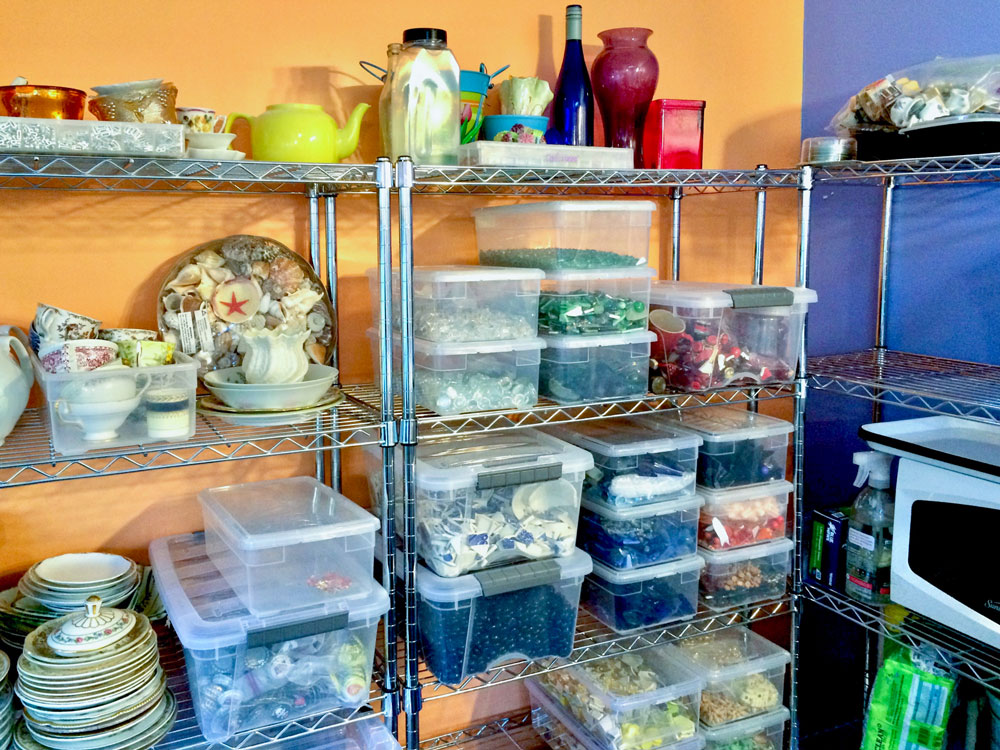 Eventually, her art projects turned into much bigger projects as she began making mosaics out of broken glass, glass dishes, seashells, and other found objects. As her hobby began to thrive so did her projects, she was met with a difficult situation when she ran out of space in her home to complete her much bigger projects. Her in-home mosaic hobby became too hazardous as it became too difficult for her and her family to walk around the house without possibly hurting themselves from any remaining glass shards on the ground.
Dori finally came to the conclusion that she would need to completely relocate her projects and create a dedicated crafting space that would result in a storage shed.
Discovering Dori's Mosaic 10×12 Shed Builder
It was easy for Dori to decide that the space in her backyard would make for a doable area that would accommodate any larger upcoming projects. Dori envisioned a small studio shed that would complement the garden space with a hammock, brick patio with a fire pit, and a whimsically painted garage.
Dori began brainstorming construction techniques with her husband Jim Johnston. However, they decided that buying an already built shed would be much easier for them and hassle-free. Committing to that decision their focus was now steered to avoid applying for a building permit. The couple was required to stay within a 120 square foot footprint, which a 10×12 shed would do just that. With an idea already in mind, all she needed was the right company to turn her vision into a reality.
The search for a company was on, Dori had contacted and visited a vendor that unfortunately had a hard time communicating with the couple and their idea. But that did not stop her from wanting to find the right company. They continued their search online and stumbled upon Sheds Unlimited. Dori and her husband noticed Sheds Unlimited were located in a different state, however, they were so interested they still pursued the company.
It would be a decision they would not regret. Dori contacted the company immediately through phone and email where she was connected with a customer service representative that assisted her throughout the whole process of discussing the design and build of her future Mosaic shed.
Dori's Mosaic 10×12 Storage Shed Preparations
Due to a narrow driveway, the new studio ended up at 9.5×12.5 instead of the 10×12 Dori had hoped for. However, the new studio was small enough to deliver with the mule and big enough to hold lots of mosaic supplies. The site where Dori made the decision to locate her Mosaic shed needed some work before the official placement. The site was then leveled to add gravel. They laid concrete piers and pressure-treated beams to keep the structure off of the ground. The couple preferred to construct it this way to prevent any floods that may occur in the future.
Mosaic 10×12 Shed Delivery
Dori was more than thrilled when the delivery day rolled around. She was pleased with the look of the 10×12 shed as it was dropped off at her home. The whole drop off process was quick and easy as it only took approximately 15 minutes! She was amazed at how quick the Sheds Unlimited delivery team was able to put the shed together in her backyard.
Dori's Mosaic 10×12 Shed Finishing Look
With the new shed in place, Dori could now begin redesigning it. She had hundreds of ideas she could do to her 10×12 storage shed but needed one she knew she would not regret. Once she finally got the design in place, she was ready to get her storage space to look just the way she has always dreamed of.
Mosaic 10×12 Shed Interior
Dori worked with her husband by insulating the stud spaces with rock wool. The couple then hired someone to work on the dry-wall and run electricity for lights, heater, and window air conditioners. Once that was completed, the couple finished the remaining work and painting themselves. They even laid out the tile flooring themselves for the first time.
Dori was more than pleased that she was able to paint and design the Shed any way she wanted. She chose to paint the shed colors that she admired and added fun little decorations that she liked. Not only was Dori satisfied with the design of the Shed but she was also happy with the size and space. The back wall had plenty of room for crockery, stained glass sheets, bins that were sorted by color, a microwave for glasswork, and many more supplies.
Mosaic 10×12 Shed Exterior
Outside of the shed, steps were needed to get inside due to the fact that the shed was raised up off of the ground. Dori's contractor was able to find them someone who was hired to pour a foundation and build a half-round step for the studio. Once the studio and brick stairs were completed, their final project was to add a walkway and outdoor lighting to fully bring together the new space into the backyard. Dori hired Mark's Landscaping, which had worked with Dori and her husband previously installing the backyard brick patio and firepit.
They were able to beautifully connect the patio and studio by installing brick and flagstone to create a path that connected the two in the shed landscaping. In this final step, Dori was able to see the beauty of her garden designs and studio build successfully come together.
10×12 Shed Finishing Touches
After building, installing, designing, and decorating; Dori's dream Mosaic Shed is completed. As she intended, the new studio provides Dori with a dedicated crafting space as well as a relaxing environment to enjoy during her much needed "me-time." Not only does Dori use the new space for her needs, but her daughter has also taken an interest in working with Dori and her art projects in the shed. Dori was thrilled that one small idea turned out to be something more.
Storage sheds are more than just storage space, they can provide a space for you to work and do tasks you love to do. Begin creating a space that you will love for the many years to come by contacting Sheds Unlimited today at (717)442-3281 or by email at office@shedsunlimited.net.
Recent Shed Blog Posts...
Recent Shed Stories...
ready for more space in your life?
Create the building of your dreams by requesting a free estimate or customizing your own 3D design. You can also call us at 717-442-3281 from Monday to Friday between 8:00 am - 5:00 pm or Saturday between 9:00 am - 1:00 pm. We're ready to assist you!