10% off select add-ons through Oct 8!
Milton's 3 Car Detached Garage in Frankfort, ME
Last year, Milton and his wife decided they have had enough shoveling snow off their cars every winter. Living in Maine meant that it was a frequent occurrence, so they began searching for a builder to erect a 3-car detached garage on their property.
On the Hunt for A 3 Car Detached Garage
Milton and his wife began looking for contractors around March of 2019 and had received two or three quotes after sending out a half dozen inquiries. Some builders have not even gotten back to Milton because they were so busy. All the quotes they have submitted have been held off until the following year so then they began searching online which is when they discovered Sheds Unlimited.
Since Milton was an engineer, he had drawn up the plans for what he was looking for in a 3 car detached garage. After contacting Sheds Unlimited, he sent the drawings and requested a free quote.
Milton's 3 Car Detached Garage Builder
Sheds Unlimited
After Milton submitted his drawing plans, Sheds Unlimited contacted him with the suggestion of an enhanced 3-car detached garage. Most importantly, the project would meet Milton's deadline. He contracted Sheds Unlimited to build a 24×36 Saltbox 3-Car Detached Garage. Milton had been a bit skeptical at the beginning seeing as Sheds Unlimited is in PA which is hundreds of miles away from his home.
Milton even went as far as checking out the company using flyover on Google Earth. He then realized that Sheds Unlimited was no "fly by night" small company and that the facility is quite impressive. After doing his research, he was sold and had Sheds Unlimited begin working on his 3 car detached garage.
The people at Sheds Unlimited were extremely helpful and told me that they would build whatever I wanted.

3 Car Detached Garage Preparations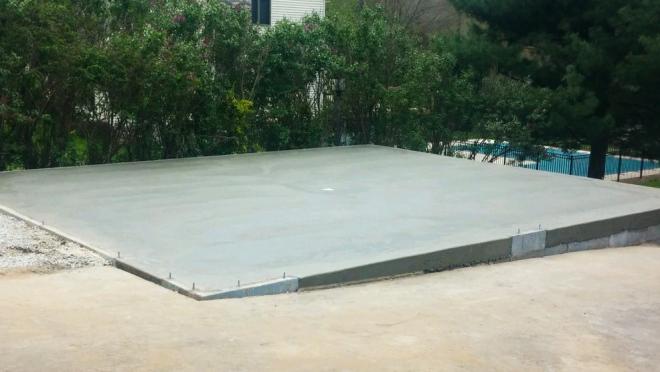 Milton handled all the ground prep work at his end and had originally thought a laid-out slab would suffice. The concrete company Milton worked with then suggested that he may want to add a stem wall. He contacted Sheds Unlimited to see if this change was able to be made since they had already begun construction of the wall panels.
Sheds Unlimited was happy to do this for him, the design was changed to accommodate the additional wall height. Shortly after the change was made, the new dimensional drawings were sent to Milton.
3 Car Detached Garage Delivery Day & Construction
On July 15 and slightly ahead of schedule, Sheds Unlimited called Milton to inform him that the garage would be loaded on a truck and be leaving the night. The next morning he awoke to a large truck coming up the driveway. Upon arrival, a three-man crew who had been driving all night set out to organize the construction of this 3 car detached garage. They had everything available to work with: crane, generator, power tools, etc.
While the crew was working on the 3-car detached garage, Milton told us he saw a new wall go up approximately every two minutes which he called "impressive." Roof sheathing went on and the roof shingles along with the cupola. Milton stated that the crew seemed to be working on all aspects of the building at the same time. After about 11-12 hours of working, Milton offered to take the team out to dinner, but they would not stop working. They wanted to finish before the day was done.
I insisted they would never be able to finish. They insisted they would. I was wrong.
As the sun went down, the work lights came on and the siding and trim went up. Milton was absolutely amazed at the work ethic the Sheds Unlimited team had. At one point Milton had asked the team "who is the boss in charge of the job?" To his surprise, he heard no one was. They all just knew what needed to be done.
What does Milton Think of His 3 Car Detached Garage?
Milton could not be happier with the result of his 3 car detached garage. From start to finish it could not have gone smoother. He now has a beautiful garage where he can store his three cars. He says that Sheds Unlimited was an extremely easy and reliable company to work with saying "they were always available to answer questions."
I highly recommend Sheds Unlimited for anyone considering a shed, garage etc. If you want a stress-free building experience give them a call.
In his closing remarks, Milton states that he is in fact happier he could not find a local builder because it gave him the opportunity to work with Sheds Unlimited.
Recent Shed Blog Posts...
Recent Shed Stories...
ready for more space in your life?
Create the building of your dreams by requesting a free estimate or customizing your own 3D design. You can also call us at 717-442-3281.
We're ready to assist you!