Watch a 20×20 Prefab Garage Building Being Assembled
20×20 Prefab Garage Building in Lehighton, PA
This Two Car Garage Building in Lehighton, PA features a 10'x20′ Attic Space with a full-sized stairway. Other features include. This garage is the minimum size for a two car garage.
8ft High Walls
Metal Roof with Snow Guards
12/12 Pitch Roof
24inch Cupola with Weathervane
Advantage Classic Garage Doors with Cascade LP Glass
A 45-degree angle on Garage Doors
Built-on-Site in Lehighton, PA
Custom 20×20 Prefab Garage in PA
Watch this fast-paced video of the Sheds Unlimited crew erecting a two-car-garage with an attic area. The 20×20 Prefab Garage Building project began on a bright sunny morning in June of 2011. After a two-hour drive to northern Pennsylvania, the three-man garage building team began the long day of work. This particular project continued throughout the long day and was near completion around evening. One more day with two men and the 20×20 prefab garage was ready to go.
20×20 Prefab Garage Available Sizes
1. DOUBLE WIDE 20X20 PREFAB GARAGES
This amazing double wide 20×20 prefab garage has a wider body than a standard 2-car prefab but still can fit 2 regular-sized vehicles. Sizes for a double-wide garage start at 20×20 and are built with great quality and arrives in two sections for a quick build!
2. 2 Car 20×20 Prefab Garages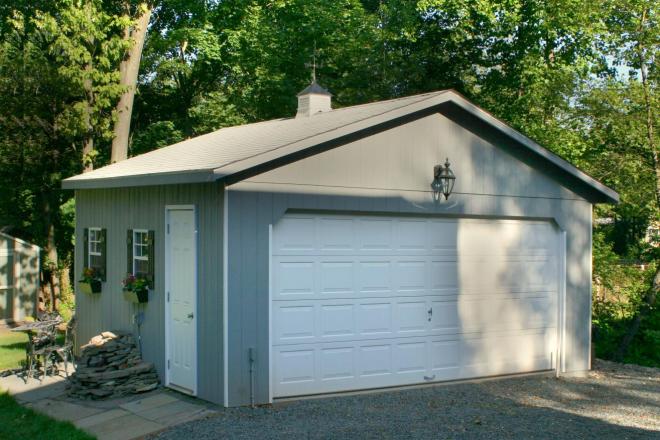 If you're looking for something that will protect your two vehicles for decades to come, then you're at the right place. The 2-car prefab garages start in sizes 20×20 and are a great option for two vehicles with plenty of room to spare.
The 20×20 Prefab Garage Construction
Free Garage Building Plans with Purchase
All Sheds Unlimited Two Car Garage Buildings in PA come with a set of FREE Two Car GARAGE PLANS. The plans include a floor plan, views of all sides of the building and a set of engineered truss plans. Our plans are professionally designed but DO NOT include an engineers stamp.
If a stamp is needed for your local township or city, we work with qualified engineers to get the stamps needed. The extra cost for engineered plans varies by job complexity but typically runs between $1,300 to $1,800.
Call us at 717-442-3281 to get started on a set of plans.
Steps To Get Your 20×20 Prefab Garage
Building a Two Car Garage on your property requires a lot of coordination between Sheds Unlimited, your pad contractor, the local municipality and more. We do all we can to make the process as streamlined as possible. Here are the basic steps to getting your Two Car Garage Building in place.
Request a FREE ESTIMATE for the garage you wish to have built.
Place a small deposit for a set of FREE GARAGE PLANS
Get estimates from concrete contractors to install the pad (See our Options)
Take the plans to the municipality and apply for a permit
Place the order for the garage with a 30% deposit. The charge for the plans will be credited towards your building. At this point, Sheds Unlimited will order the supplies for your building
Two weeks prior to beginning production, our office will contact you for an additional 30% deposit
Schedule a setup time for your detached garage
Sheds Unlimited will send their team to your location and assemble the two, three or four car garage on your prepared concrete pad
Make the final payment and enjoy your new garage!
Get Your 20×20 Prefab Garage
Call Sheds Unlimited at 717-442-3281 for a free estimate on a two or three car prefab garage. Sheds Unlimited will provide free shed plans, advice and any help needed in making your dreams become a reality. See the Attic Two Car Garage Prices or consider an upgrade to a two story two car garage. All of our custom prefab car garages can be set up at the location of your choice. No matter if you are from PA, NJ, NY, CT, DE, MD, VA, WV and beyond, we would love to serve your specific garage building needs.
Email Us or visit our garage manufacturing facility at 2025 Valley Rd, Morgantown, PA 19543.
Recent Shed Blog Posts...
Recent Shed Stories...
ready for more space in your life?
Create the building of your dreams by requesting a free estimate or customizing your own 3D design. You can also call us at 717-442-3281 from Monday to Friday between 8:00 am - 5:00 pm or Saturday between 9:00 am - 1:00 pm. We're ready to assist you!