The Guide to 12×20 Portable Garages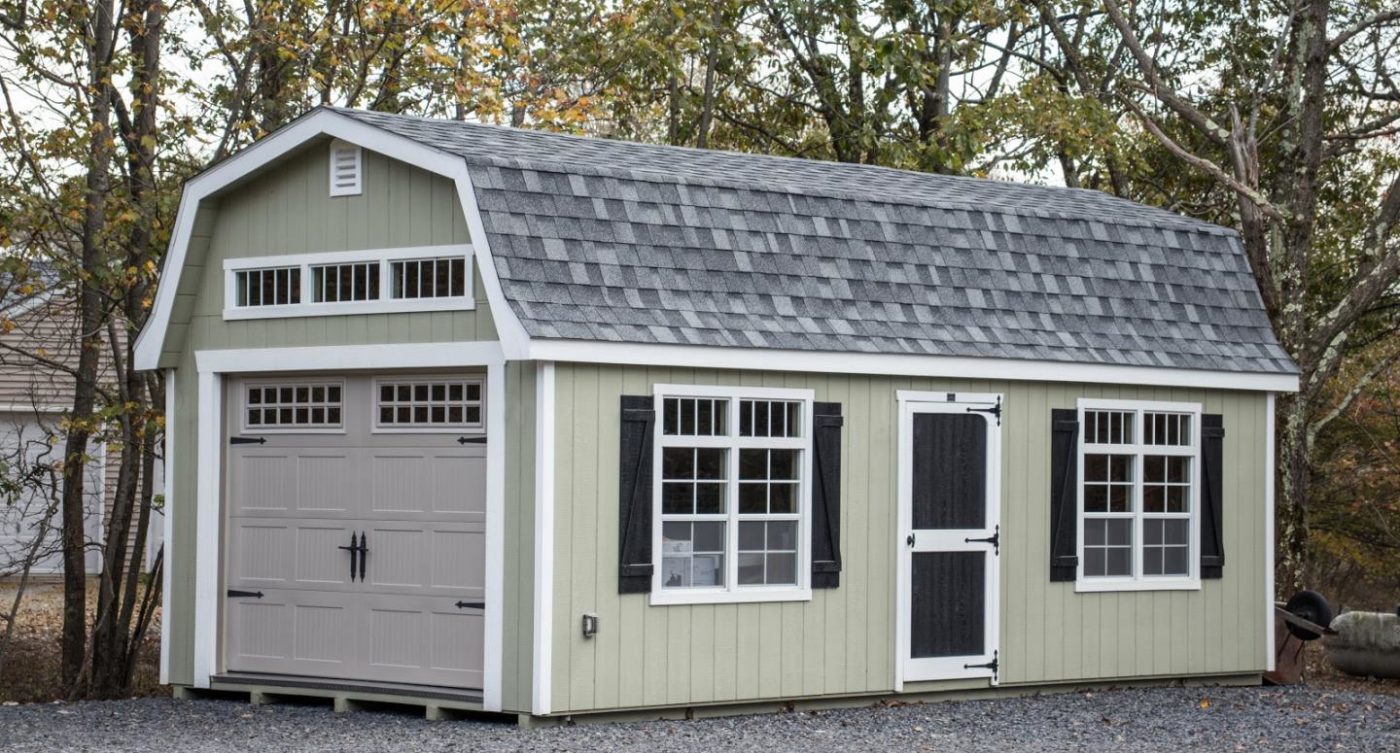 Let's face the facts…you either thrive on organization and clean space or you aspire to grow in this area of your life. This responsible desire now drives you to search for added space. You want to ensure adequate space for all the items that you have invested maintenance, time, and money into. Which is why you have started to think about your vehicle.
Maybe you just bought a brand-new car, or you experienced a recent storm during which damage occurred to your good Ole Faithful. Your classy, antique car or hot rod needs to be kept in tip top shape, steered clear away from any obstacles that could weather or scratch them. Whatever your situation you realize you need a safe space for this important financial investment.
Photo Credit: Cool Material
With every important realization, you wonder, "where do I go from here?" What about affordability, efficiency, and quality? Well, if you are looking for a space for an average sized car (plus a spot to organize some of your favorite tools), a 12×20 portable garage is your answer.
What exactly is a 12×20 portable garage?
A 12×20 portable garage is a one-car garage with a heavy-duty floor. The structure includes a garage door, an entrance, and usually two windows. This single garage can be transported from any location while adding a permanent feel to your home. Its size can functionally house a normal-sized car and a few tools.
You may not be ready to jump on the bandwagon just yet and park inside one of these garages. Understandably, you want to know more, so let's answer some questions and equip you with some facts to know why a 12×20 portable garage would be a perfect fit for your car (and even some of your tools).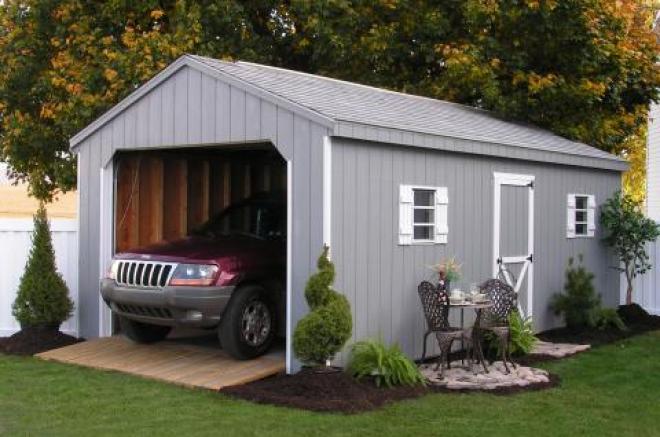 Why Not a Plastic Portable Garage or Carport?
If you google search portable garages, you will find the quickest and cheapest portable garage solution. While this structure affords a space for your vehicle and is cheaper overall, this fabric, portable garages are limited in what they can offer your home in investment and appearance. They lack the ability to create permanency and can only offer limited protection from burglary or from extreme weather elements.
So, what about a carport? Carports can give a more aesthetic touch to your outdoor environment but are incapable of offering full protection from the weathering forces of nature. Carports do not have four walls, which allows for great ventilation, but fails to shield your snazzy Porsche from the heavy winds and rain. Carports have even less to offer in keeping unwanted trespassers away from your prized vehicle.
Photo Credit: Amazon
In contrast to fabric portable garages and carports, a 12×20 portable shed garage offers you four walls, security, and a beautiful structure in which to house your car. This one-car garage is portable, which means if you ever move, you can take it along with you. It's hard to believe, right? This garage gives the appearance of always being around. It leaves a sense of permanency that makes your home feel like home.
Photo Credit: Wiki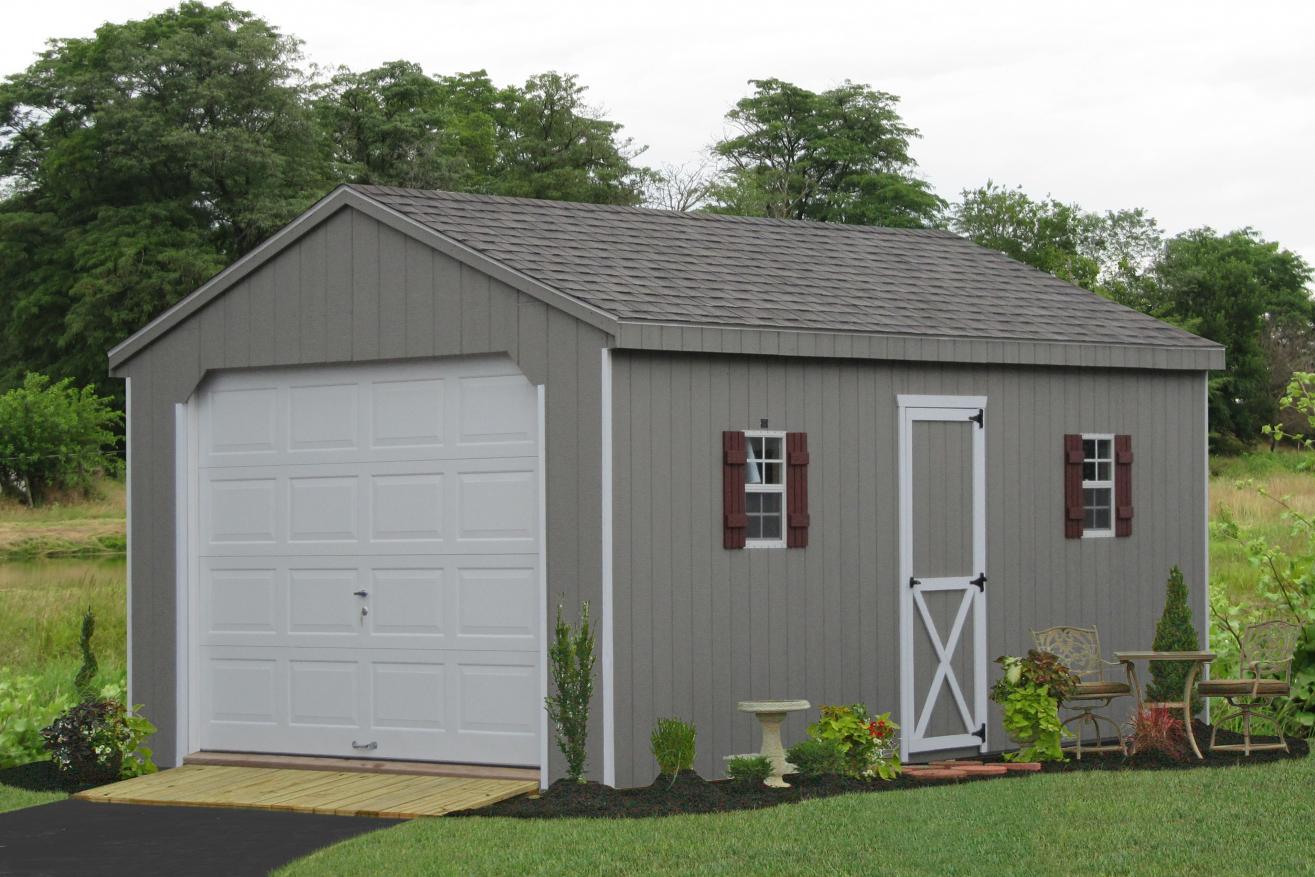 How much can I store in a 12×20 portable garage?
This is a fair question; you want to know what other possibilities for storage this 12×20 one-car garage offers.  While this single garage was specifically designed to house your vehicle comfortably, there are still some space options left to get more organized with your favorite tools. It is about time your hammers, nails, and screwdrivers had a spot to call home. How rewarding to have a consistent place to return your tools after heroically changing the lightbulb for your wife or after finishing setting up the bunk bed for your children. Maybe you enjoy gardening and need a spot for some of your gardening tools where they can be kept from rusting or from being lost among your beautiful flower beds.  Whether you are a handyman or a gardener, there is space for the tools that matter the most to you.
For more storage and design considerations, read 10 Things to Consider When Buying a Portable Garage.
How much does a 12×20 portable garage cost?
These shed garages are quality built and can be customized to your personal style or preference. Get a sneak peek at some of the 12×20 portable garages available to you with the prices right below in our standard workshop single car garage photo gallery. Roughly the prices for these 12×20 garages start anywhere from $4,500 to $13,000 depending upon the detail, style, or customization you wish to add. You have the option to choose between wood or vinyl, and while wood is cheaper by about $1,000, vinyl will require less maintenance in the long run. Does the cost = the benefits? Yes, investing in a 12×20 portable garage is worth the money you'll pay because of all that you get in return.
1. You will add value to your home.
2. You will have a safe, secure spot for your vehicle and your tools.
3. You will have the option to take your garage with you when you move.
4. You will add a beautifying touch to your outdoor landscape.
These are just some of the benefits of the return on your investment found in 12×20 portable garages. Once you own one yourself you will discover many more practical and financial benefits unique to your personal needs and experience. One of the chief benefits might be having your current garage cleaned out. Learn more about garage organization tips here.
How can I customize my new 12×20 one car garage?
Whether you enjoy simple, classic beauty or you desire a fancy, vintage-style garage, you have options. Customization should be one of the most enjoyable steps in the process of buying your own 12×20 garage. You can customize your garage by choosing whether you want a workshop, maxi barn, or saltbox style. Choose your preference between wood or vinyl siding. Customize your windows to add more light or a beautiful touch. And finally, choose your colors, either to match your house's exterior or to add a new splash of color to your outdoor landscape. Enjoy walking through the customization process yourself to get a better idea of all the possibilities available to you through Sheds Unlimited.
Need more answers to your questions or want a quick, free estimate? You are welcomed to call us at 717-442-3281. You are only a phone call away from a clean, safe, and organizationally sound decision.
Recent Shed Blog Posts...
Recent Shed Stories...
ready for more space in your life?
Create the building of your dreams by requesting a free estimate or customizing your own 3D design. You can also call us at 717-442-3281 from Monday to Friday between 8:00 am - 5:00 pm or Saturday between 9:00 am - 1:00 pm. We're ready to assist you!