Amish Garages: Everything You Should Know
In many ways, the Amish take us back to the simplicity of life and show us what is really important: God, family, and hard work. Throughout the world, the Amish are well-known for not having electricity or driving cars. However, the Amish are also known for being excellent builders and craftsmen.
In this write-up, we'll try to answer some questions you may have about Amish garages and give you an overview of some of the different kinds of Amish-built garages out there. So let's get started.
How Much Does It Cost To Have The Amish Build A Garage?
This depends on a multitude of factors including the roof style, building style, type of siding, size, and more. The cost of our Amish garages ranges from $5,859 to $137,574.  We'll take a look at a couple of roof styles that we build and also how our building sizes are constructed.
Amish Garage Siding Options
One thing that you'll have to decide on before purchasing an Amish garage is what type of siding you will want on your garage. Here's a couple of the options that are out there.
Wood (Engineered Wood/SmartSide)
Wood siding is generally the most cost-efficient and gives a more traditional, classic look. Although a fresh paint job might be needed every 5-7 years, wood siding does not require much maintenance otherwise.
Metal
Metal siding is another popular choice that will provide extreme durability and strength to your Amish garage. Some perks of metal siding include simple maintenance and fire resistance. 
Vinyl
Vinyl siding can give a more modern, low-maintenance look. Advantages for vinyl siding include little maintenance, extreme diversity, and weather resistance.
Clapboard
Although clapboard siding may be more on the pricey side, clapboard siding has been used for many years and can withstand the attacks of water and insects.
If you want to learn more about different types of siding, click here to read further. "The Top 5 Exterior Shed Wall Materials" is another great article to learn more about several different types of siding. Or you could read this article about garages with board and batten siding. One aspect to also consider is insulating your garage shed.
Garage-Size Construction Methods
Although this may not be completely the same across the garage industry, the way we build our garages depends largely on what type of garage shed you purchase. In general, we have four main ways that we construct our Amish garages.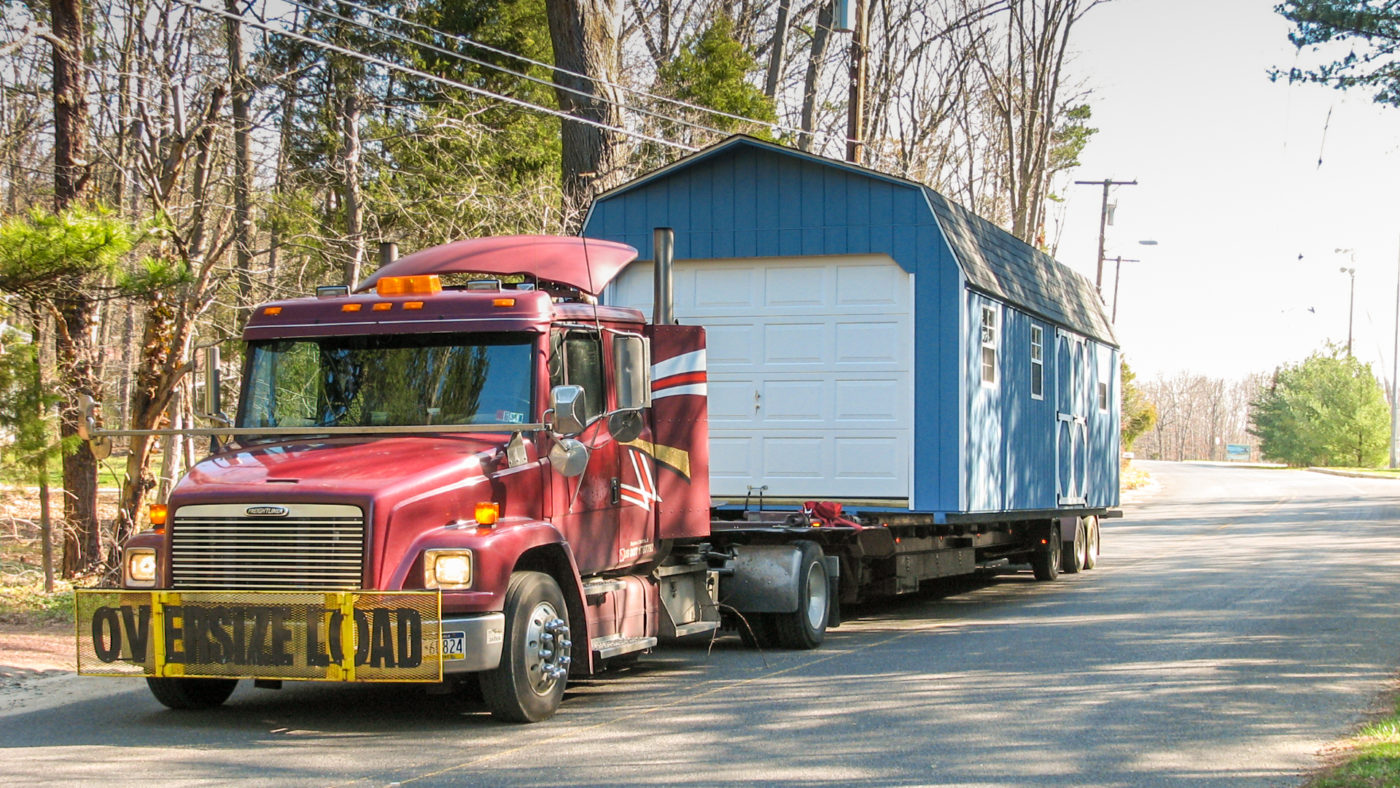 Fully Prefabricated
For a fully prefabricated amish garage, we simply deliver it to your property and set it on your shed pad. Most of our single-car Amish garages are delivered this way unless a two-story (Legacy) single-car garage is ordered. Here's an example of a prefab Amish garage that we would deliver directly to your shed pad.
Example: Premier Workshop Single-Car Garage
The Premier Workshop Single-Car Garage could be best described as the best of the simplest. It's just a single-story Amish garage with an A-frame roof, but beautifully constructed and well-designed to house a car or truck.
We offer the Premier Workshop Single-Car Garage from $8,877.
Modular Amish Garages
Although these two methods may not be the only ways to deliver modular garages, we will highlight two ways that your modular amish garage could be delivered by.
Top/Bottom Modular Construction
If a Legacy single-car garage is ordered, most times the first story will be delivered and placed on the shed pad. The top story will then be set on top of the new base of your Amish garage. Here's a little more on the Legacy Two-Story MaxiBarn Single-Car Garage.
Example: Legacy 2-Story MaxiBarn Single-Car Garage
To put it simply and literally, the legacy Amish prefab garages are just built differently. Not only is there a bottom floor that can easily house 1-4 vehicles at a time, but there's also a spacious second floor that can even be expanded if dormers are added to each side. Although a bit more on the pricey side, as you can imagine, Legacy garages give bounds of space and allow for limitless ideas on how to use that space.
More specifically, the Legacy MaxiBarn garages give extra overhead room because of its roof design. We mentioned this before, but the Gambrel roof design is double-sloped, giving extra overhead space as compared to a simple A-frame structure.
The base price for our Legacy 2-Story MaxiBarn Single-Car Garage is $20,783.
Side-by-Side Modular Construction
For our double-wide Amish garages, we simply deliver the building in two halves and put the building together on-site. The Standard Workshop Double Wide Garage is an example of what a modular Amish garage looks like.
Example: Double Wide (Modular) Workshop
Another simple and affordable Amish garage is the modular workshop. Although not a prefab garage, the double wide workshop can house two vehicles comfortably without spending thousands of extra dollars on a 2-car prefab garage. As mentioned earlier, the construction process for a double wide workshop garage is somewhat different than how we normally deliver/build an Amish garage. Although this may not be completely the same across the board in the modular garage world, we deliver our modular garages in two halves and attach them on-site.
Our Standard Workshop Double Wide Garage is currently running at a minimum of $15,862.
Prefab Amish Garages
For our prefab garages, although the garage is mostly built at the shop, the building is constructed on-site. However, we will often build the prefab garages on-site, especially if the garage will be resting on a concrete pad. The Attic Workshop 2-Car Garage is a great example of a prefab Amish garage.
Example: 2-Car Attic Workshop Garage
Keep in mind that the 2-4 car garages are prefabricated; however, as we highlighted earlier, most of these garages are built on-site. Although you may be led to think that the 2-car garages are always smaller than the 3 or 4-car garages, all the prefab garages we offer have the same size charts. The main difference lies in how many garage doors are in each garage.
The Attic Workshop Garage is a healthy medium between extravagant and simple. Built with a second story attic, this Amish garage gives added room for overhead storage while also not spending a lot more for a complete second story. In general, attic garages provide for a great multi-functional purpose because of the added storage space above the actual garage.
Currently, our Attic Workshop 2-Car Garage costs at least $28,925.
Stick-Built Amish Garages
Generally, constructing a stick-built Amish garage is the most expensive option, but the overall look of a stick-built Amish garage may be more appealing to you than a prefab garage look. What sets stick-built Amish garages apart from prefab garages is that stick-built garages are built on-site from scratch. Rather than having the garage come in pre-cut, ready-to-be-assembled pieces, stick-built garages are measured, cut, and built on-site.
Amish Garage Roof Styles
Several of the roof styles that we have on the market are the A-frame, Gambrel, and Saltbox. At Shed's Unlimited, the A-frame style is called the "Workshop" and the Gambrel style is named the "MaxiBarn".
Workshop Amish Garage (A-frame)
The workshop Amish garage is more of a standard garage that features an A-frame (gable) roof style and can be built as a single-story, as a single-story with an attic, or as a two-story garage. Our two-story garages can be customized further to have dormers on both sides of the garage in order to create a larger second-story space. Our Workshop Amish garages cost between $5,859 and $113,472.
MaxiBarn Amish Garage (Gambrel)
This style truly lives up to its name by utilizing more space with its Gambrel roof design. Instead of a simple A-frame, the Gambrel roof is double-sloped, allowing for additional overhead space while still not adding overall height to the building. Our MaxiBarn Amish garages cost anywhere from $5,900 to $137,574.
Saltbox Amish Garage
The Saltbox is a very unique type of garage that features a wide front overhang and a fairly affordable budget. As featured in the above photo, the roof design is the main factor that distinguishes the saltbox from other designs. The price range for our Saltbox Amish garages is from $8,828 to $81,041.
How Long Will An Amish Garage Last?
Traditionally, Amish garages are known to stand the test of time. One variable that affects an Amish garage's life is whether your garage is a simple garage with a wooden floor or a prefab garage that is built on concrete like a traditional garage. Although this can vary from company to company, another factor may be the warranty length on your Amish garage. Of course, there are many other ways that will help make sure your Amish shed will last a long time.
For our company, we offer a 5-year limited warranty on all materials and parts. This warranty will also cover labor for the first three years.
Again, on their own, Amish garages should last a long time, but check the specific company that you are buying an Amish garage from, to see what their insurance policy is for their garages.
After being in business for over 30 years, we've had many, many happy Amish garage customers. For example, one customer wrote, "Amazing service and seamless delivery of our fully assembled custom garage." This is just one example of a happy customer who has been totally satisfied with his Amish garage.
Are The Amish Good Builders?
Of course, this is an extremely relative question and can vary from person to person. Overall, the Amish are generally known to be incredible builders and hard workers. Our very own CEO and owner, Steve Stoltzfus Jr., was instilled with those Amish and Mennonite values of hard work, honesty, and business acumen from a young age.
What's more is our company has over thirty years of experience, giving us the ability to build excellent structures, including Amish garages. Of course, we also are dedicated to providing quality work; additionally, being a business that is trustworthy and full of integrity is very important to us. If you want to learn more about who we are, check out our About Us page, or you could also read more about our team.
To Sum It Up…
Although there's no set-in-stone, across-the-board prices for Amish-built garages, hopefully looking at some of our Amish garages gives you a picture of what you could expect to pay for one of them. Plus, we hope that we answered some of the questions that you may have had about Amish-built garages. And one more thing: if you're interested further in looking at Amish garages, go check out our Garages page to see the complete overview of what kinds of Amish garages we offer. Or click the button below to design your own Amish garage on our 3D Shed Builder.
Recent Shed Blog Posts...
Recent Shed Stories...
ready for more space in your life?
Create the building of your dreams by requesting a free estimate or customizing your own 3D design. You can also call us at 717-442-3281.
We're ready to assist you!