Amish Outbuildings For Sale In 2021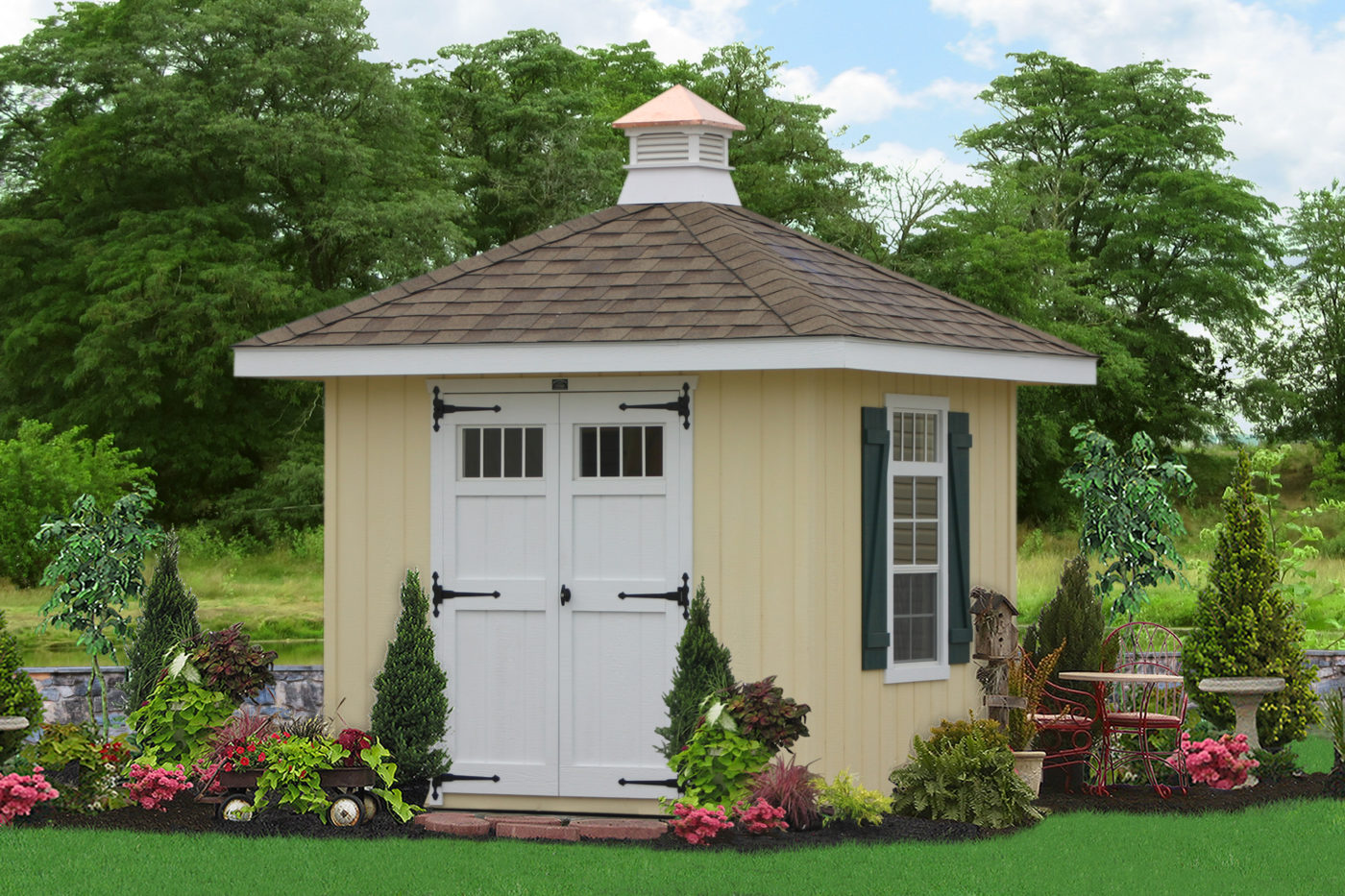 Buy Sheds Unlimited Amish Built Custom Outbuildings and enjoy both the beauty and quality of Amish storage sheds in NJ, NY, PA, DE, CT, VA, WV, and other surrounding states. Our custom-built outbuildings take outbuilding storage shed design to another level with extreme customization levels, many collection choices, and more.
See our basic model of custom outbuildings by the Amish in our economy storage sheds for sale from our PA shed building facility. If you are interested in more than the standard outbuildings at Sheds Unlimited, you might consider our Classic Amish Sheds built in PA. We also offer an amazing outbuilding in our Premier Garden Storage Sheds. This line of Amish Built Outbuildings offers a touch of class like none other. But we cannot stop there. Aim even higher with our Two Story Sheds and Garages. With a full subfloor and plenty of space for a man cave, garage with apartment space or simply a backyard art studio, you will find these CUSTOM OUTBUILDINGS can serve many different purposes.
Fully Finished Custom Outbuildings for Office Space
With more and more people working from home due to a changing global world, Sheds Unlimited has developed a line of custom outbuildings to be used for office space. Buy one of our outbuildings and have it customized as a backyard office shed. The Sheds Unlimited Lancaster-based Marketing Firm works from a small backyard office in their Lancaster, PA facility. See the options for our finished portable office spaces, small home art studio sheds, writing studios for home and small summer and hunting cabins from Sheds Unlimited. Take our custom outbuildings even further and take a look at our portable small house designs from Sheds Unlimited.
BTW: If you don't like the idea of a backyard office shed, maybe you will like the idea of co-working as found at The Candy Factory in Lancaster, PA.
Get Pricing on Custom Outbuildings in PA, NJ, NY, CT, DE, MD, VA, WV and Beyond
Looking for pricing on Sheds Unlimited custom built outbuildings? We have most of the portable outbuilding prices online for you to preview. If you want a custom quote on any size from a 10×14 backyard shed to a 10×20 storage shed to a 24×48 prefab garage including delivery, then consider filling out our form and get an outbuilding price within 24 hours. We offer free price quotes on all our custom sheds, prefab car garages, and outbuildings. If you need a quote really fast, call in now and you might even get a custom quote over the phone!
Call us now at 717-442-3281!
Recent Shed Blog Posts...
Recent Shed Stories...
ready for more space in your life?
Create the building of your dreams by requesting a free estimate or customizing your own 3D design. You can also call us at 717-442-3281 from Monday to Friday between 8:00 am - 5:00 pm or Saturday between 9:00 am - 1:00 pm. We're ready to assist you!