Garages For Sale in Rome, NY
When the snow falls or the sun shines bright, having your vehicle and garden tools sitting outside is hard on the pocketbook. We all know that the elements cause decay and rust and having them outside year after year can be devastating. Imagine the feeling of having your car safely stored in a prefab garage along with the tools that would rust all summer and winter!
But finding the right garage for your home in Rome, NY requires some attention to details. Here we outline first of all a list of Garages for sale in Rome, NY, and then add a few portable sheds for sale here as well.
Single Vehicle Garages
We're going to start simple and show off a single car garage built by the Amish and delivered as a unit to your home or business in Rome, NY.
Even with the one-car garage, you have options. Choose a standard (and really economical) garage if you want to save money. If you're looking for class and style then choose a Classic or Premier One Car Garage.
The one featured here is a Classic 1 Car Garage that is available in wood, vinyl or other customer siding choices.
Modular Garages in Rome, NY
Modular garages are your cheapest solution when you need a two-car garage. They come in two sections and are delivered to your location. At the site, they are assembled into one unit which gives you an (almost) instant garage for two vehicles.
Don't miss the video of this garage that was built in 6 hours!
Two Car Garages
Two car garage buildings are great for someone who is looking for a place to store a car, tractor or lawnmower. Your vehicles are kept in much better condition when stored in a two car garage which means a better resale value when you go to sell. More than that, keeping cars in a garage building can help makes the engine run better than one that is kept outside.
There are a host of options for your two-car garage. Choose between three roof styles and then decide if you need a single story or an attic two-car garage. In addition, you can choose your colors, upgrade the garage doors and much, much more.
Three Car Garages
Having a big garage gives you extra space to store and play. Whether it is storage for three cars, a golf cart, garden tractor or the perfect man cave you've been dreaming of, a three-car garage will do it for you!
Add a second floor and you'll have room for a ping pong table inside the garage and space for birthday parties and other gatherings. You can use the extra space for items you seldom use at home.
Four Car Garages for sale in Rome, New York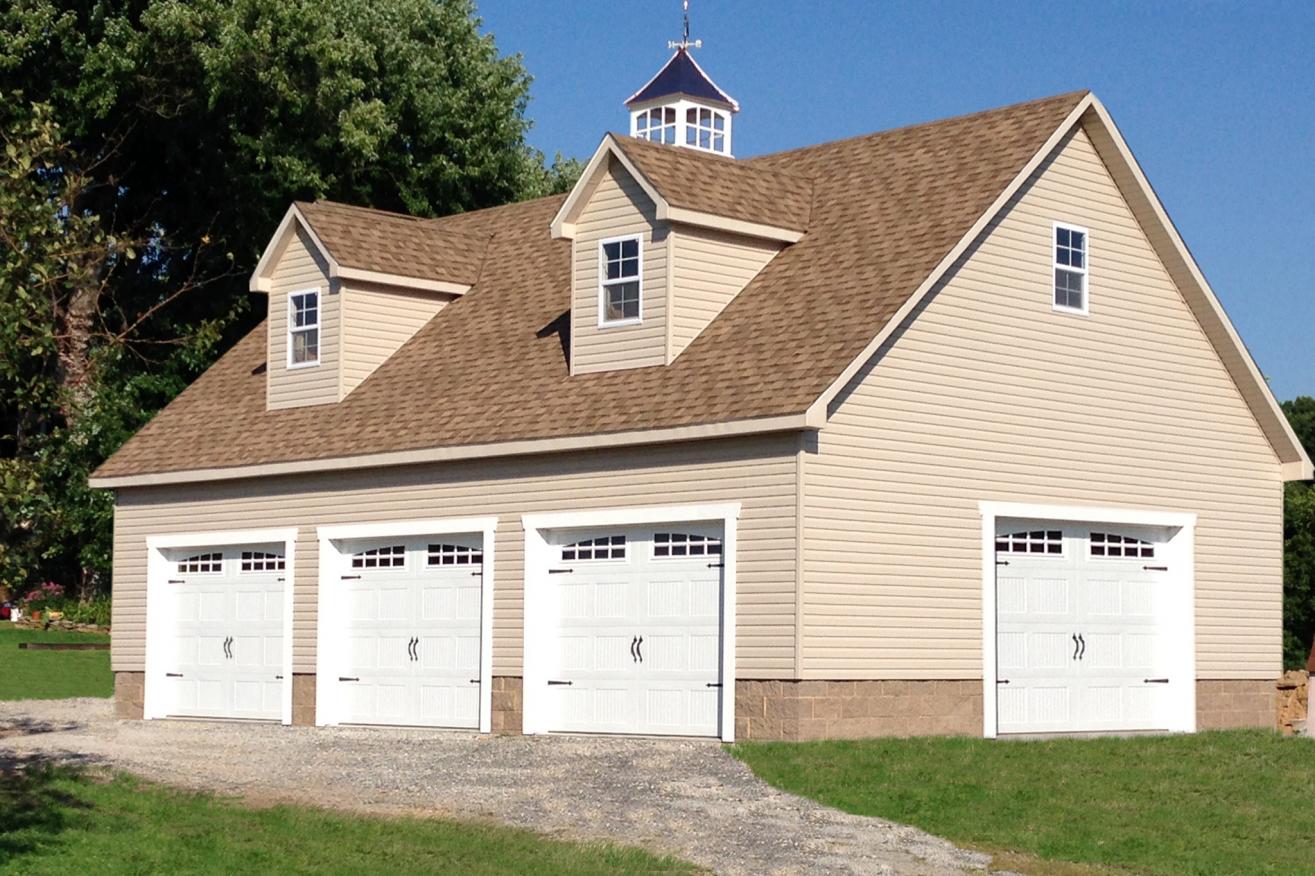 Add a four-car garage to your New York home and create space for fixing your vehicle and also room for bigger vehicles. Go with custom-sized garage doors and higher walls to store a van or other large vehicle. Or get a four-car garage for sale in New York and have plenty of space for those antique cars you have somewhere else in storage.
Looking for a garage with lift space? We can help with that as well!
Custom Built Garages For Sale
If you don't see here what you want, we offer highly customized garages to match your home in Rome, NY. Get custom garages doors, add a shed dormer, more windows, matching siding and much more. Make your New York garage your very own! You can design your own single car garage or modular garage in our 3D Garage Builder or request a free quote for a larger prefab garage.
A Trusted Garage Builder
When looking for prefab garages for sale in Rome, NY, you want great quality and a team you can trust. Sheds Unlimited has been in business for over 30 years with many happy customers in NY and surrounding states. Read customer testimonials or visit our building facility in PA.
Why Buy From Sheds Unlimited?
At Sheds Unlimited, our team thrives on giving you and your family exactly what you are looking for in a garage. Whatever style, budget, size storage shed or garage you are looking for, we work with you to find the one for you. Here are some more reasons why Sheds Unlimited is the garage builder for you:
Wide range of options to choose from.
Heavy-duty quality material that lasts a lifetime.
Amazing customer service with one-to-one help every time.
100% FREE quotes every day.
Save money by purchasing from a trusted manufacturer instead of a shady third-party dealer.
Thousands of happy customers along the east coast.
Absolutely NO hidden fees.
We work with contractors to build your dream garage.
See What Our Customers in New York Are Sharing About Us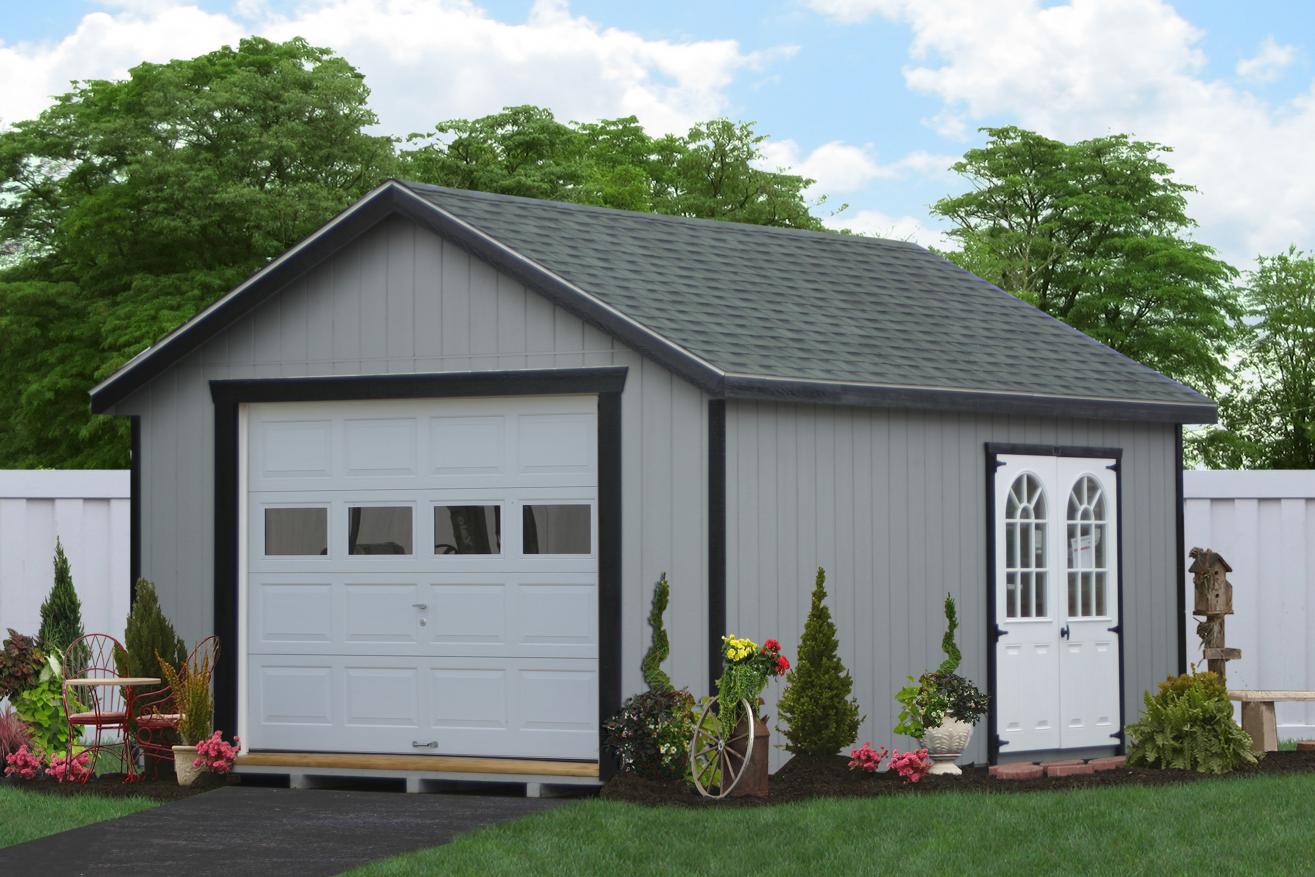 I needed to build a single garage for my car for the longest time, but wasn't able to find a good and affordable option, everything I looked for the size I wanted being at least 1k higher than here, let alone with higher shipping and installation cost. I was able to order my garage right over the phone in 15mins, they came 2 weeks earlier than the time they quoted me, and the installation was amazing. came 5 mins earlier to when they said they'll be here, got it done in less time than they estimated, and finished with an amazing job. they left the work site with no trash or any sign that they been there except for the garage.
My Architect provided Drawings. Sheds built my 4 car Garage. These guys are amazing, professional and quick. If you need a shed/garage these are the guys to do the job. Thanks, Sheds Unlimited!!!

-Jim S.
Find A Garage for your Home in Rome, NY
It's time for your dream to become a reality with the perfect Amish garage building for you. Please contact our team at (717) 442-3281 and shop our selection of prefab garages, or request a FREE quote today!
Storage Sheds in Rome, NY
Not looking for a garage in NY? Here are a few storage sheds for sale in Rome, NY. Please note that this is only a small sampling of the many choices for a shed delivered to your home or business.
Premier Sheds in Rome, NY
The Premier Sheds are truly that. Our Premier Line of portable sheds available for delivery in Rome, NY. This collection of buildings combines lots of windows, siding choices and rooflines that give you more interior storage space. The steep roof pitch on the Garden Shed and the Dutch Barn both give plenty of overhead storage space.
Add options such as a shed dormer to accent the premier shed and you'll have a masterpiece sitting in your backyard!
Outdoor Storage Saltbox Sheds
Saltbox sheds come in two main styles. The standard Saltbox is your most economical choice and the Classic Saltbox Storage shed adds a bit of New England style class to your backyard. If you want to have a storage shed that can keep your stuff safe for years in your backyard, and you would like to do it with a different style, a Saltbox style shed is a great idea.
Two Story Outdoor Storage Sheds
If you need lots of space for storage, check out the two-story storage sheds. These outdoor sheds come in different sizes starting at a 10×20 all the way up to 16×36. If you add a full shed dormer to this two-story shed, you will have a very useful space in the second floor.
Check out this design studio in a two-story shed.
Modern Sheds for New York
Modern sheds stand out from the rest. They are great for many things including a changing room beside the pool, a place to store your swimming things or a backyard storage shed. our Modern sheds come in two amazing styles to fit your taste.
Build Your Own Custom Storage Shed
There are many more choices for your shed or garage in Rome NY. At Sheds Unlimited, we will work with you to design and build a shed or garage that will be just right for you. Get in touch today by requesting a free estimate or give us a call or speak to one of our team at (717) 442-3281.
ready for more space in your life?
Create the building of your dreams by requesting a free estimate or customizing your own 3D design. You can also call us at 717-442-3281 from Monday to Friday between 8:00 am - 5:00 pm or Saturday between 9:00 am - 1:00 pm. We're ready to assist you!