10% off select add-ons through Oct 8!
Garden Sheds: 7 Top Questions Answered
You want to keep your backyard looking spectacular and tidy at the same time. That means a place to store garden tools, pulling weeds at the right time and keeping the flower beds in tiptop shape. A portable garden shed can help keep your backyard looking good (sorry, it can't pull the weeds!)
However, trying to find the perfect storage shed can be time-consuming with all the options out there. But with the right answers to your questions, it doesn't need to be too difficult. Here are some questions to ask before pulling the trigger on purchasing a garden shed.
#1. How do I build a garden shed?
There are basically three ways to get the Garden Shed of your dreams. You can build a shed yourself, buy a DIY shed kit or purchase a fully assembled building for your backyard. Let's go through the options one by one.
BUILD THE STORAGE SHED YOURSELF!
Yes, you can build a shed yourself. There are plenty of resources on the web on how to build a backyard garden shed step by step. You need the materials, a plan, and creativity. When you build your own garden shed, you get to enjoy the sweet satisfaction of building something with your own two hands.
Photo credits: The Family Handyman
Keep in mind, that building a shed is not for everyone! Be prepared to spend plenty of days working on your storage space as they are not as simple as they look. If you're not too familiar with the building, you might want to consider other options.
Need some ideas for your new garden shed? Check out our Unique Storage Sheds Uses article for some ideas and features you could add to your new shed!
Buy a DIY Garden Shed Kit from a Shed Builder
If you know a bit about building, but don't want to take the time for a full-fledged building project, a shed kit is a great way to get it done. You will get your hands dirty without having to figure out all the details. This is how it works. You pick the storage shed you want, many of the parts are assembled and stacked (walls, rafters, doors, etc), then the package is delivered so you can assemble the garden shed yourself. That's it! Shed kits give you the freedom to build when and how you want while also providing quality from a trusted company like Sheds Unlimited. You can learn how to assemble the outdoor shed with our storage shed kits video.
HAVE THE STORAGE SHED BUILT FOR YOU!
The easiest choice is simply buying a prefabricated garden shed that is simply delivered to your home and placed on a prepared shed pad. You'll simply find a local shed builder, figure out which garden shed you want, place the order and wait for delivery. You can still get some of the satisfaction of making it yourself by using a 3D Shed Builder to fully customize your own garden storage building!
Having a storage shed built for you may cost slightly more upfront, but it will save you plenty in terms of time and stress!
#2. What type of Garden Shed is best?
Ok, this is a question that can really only be answered by the size of your yard and your preferences. At Sheds Unlimited, Garden sheds come in multiple styles and sizes including 5 different style storage sheds, a 2 story storage shed, and 3 different styles of siding! Depending on the size of your yard and the style you like best will be the main influencer of your decision! As far as size, style, color, and options, here are a couple of examples of the many outdoor sheds you may choose from:
MINIBARN GARDEN SHEDS
If you are looking for something low-cost to store your basic garden equipment, this may be the one for you. This MiniBarn shed offers you:
Low cost
21+ color options
5-year warranty
PREMIER WORKSHOP GARDEN SHEDS
This shed is great if you want a bit more eye candy in a backyard shed that also provides you with the storage space you desire. A few highlights include:
Four 24×36 windows plus four transom windows
Metal or wood grain trim options
The option of a dormer for an extra fancy touch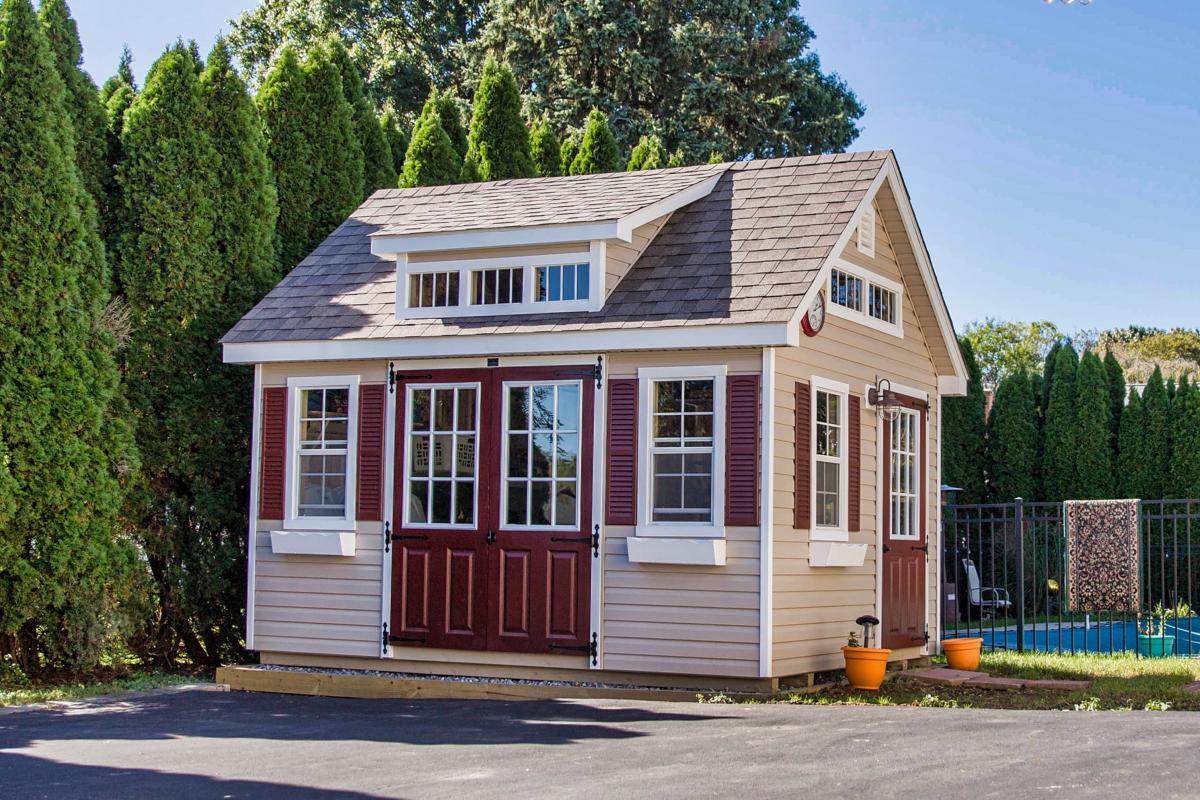 DUTCH BARN GARDEN SHEDS
The Dutch Barn Shed is a popular, beautiful, and spacious outdoor shed that will provide you plenty of room for general storage but also extra storage as well with its high roof.
Lots of Overhead Storage space (with loft)
20 Miles Free Delivery
Old-fashioned Dutch Look
TWO STORY GARDEN SHED
The two-story shed provides workspace, comfort, and storage. This custom shed also gives you:
Choice of a Barn style or a Workshop Style
Full second floor and Stairway included
Nearly 2x regular storage shed space
#3. How much to build a garden shed?
The pricing of your garden shed really depends on the size and style of the storage shed you choose plus any options you want to add. Quite simply, building a garden shed can cost anywhere from around $ to $49,826+. For example, the pricing for a Premier Workshop Garden Shed ranges from an 8×8 for $4,033 to a 16×48 for $40,571 depending on the type of siding you get.
Listed below are a few garden sheds in our collection along with their prices:
MINIBARN GARDEN SHED
This awesome-looking Barn Shed is one of the lowest-cost outdoor sheds out there. The starting price for an 8×10 MiniBarn garden shed is around $2,618.
This shed could fit general storage, lawn care equipment, one riding mower, etc. This is a really good choice if you are in need of a storage shed and tight on money.
STANDARD WORKSHOP VINYL GARDEN SHED
If you want a shed that is maintenance-free, this will do the job! This storage space is one of the most common, and one of the favorites amongst the other sheds.
The workshop shed provides plenty of space for your backyard or outdoor life at a great price. A 10×14 standard garden shed starts around $4,148
CLASSIC SALTBOX GARDEN SHED
The Saltbox provides a unique "New England History" design that will have your backyard looking pleasing and also tidy with plenty of storage room to stock it up.
Keep in mind, this outdoor shed has a lower back wall than the front meaning less headroom. The starting price for an 8×12 Saltbox Garden Shed is around $3,325.
MODERN GARDEN SHED
The modern-styled shed is a beautifully designed storage shed that offers the desired space you are looking for and also a great look to your yard. This magnificent storage space comes in 2 different styles: The Studio 1 modern shed, and the Urban 360. This shed starts at around $11,983 for an 8×12.

#4. Where can I buy a garden shed?
There are multiple ways to find the perfect garden shed. You can find a shed builder online (like you just did :) or visit a local builder. Many areas also have resellers who buy from the manufacturers and then resell garden sheds in Maryland, Delaware, New Jersey, and many other states. Buying a shed directly from the manufacturer could give you a better ROI than going purchasing a shed through a dealership.
SHEDS UNLIMITED
Speaking of the manufacturer… Sheds Unlimited has been selling directly to consumers for decades. We're a premium provider of storage sheds, backyard barns, prefab car garages for PA, NJ, NY, CT, DE, MD, VA, and some other surrounding states. We've been building people their dream sheds since 1988 and we've built up a loyal fanbase of happy customers. Read our reviews.
"We were incredibly impressed with Sheds Unlimited. They were super organized, extremely hard-working, and did a great job. The quality of the shed is excellent, and we are very happy. – Michelle Curran"
If you do choose Sheds Unlimited, we can either build you a custom shed or you can choose from a wide variety of different sized storage sheds in our inventory.
Search for a Garden Shed on the Internet
Yeah, that's a generic answer, but the internet is a great spot to look when in the market for basically anything. The internet provides many market platforms to buy sheds from, like Craigslist (great for used sheds), HomeDepot.com (good for low-cost options), and Amazon, to name a few. However, purchasing a shed online can be risky because anybody can post anything online and it can be hard to know what you will actually be getting. As previously mentioned, always make sure to check the reviews of sellers and specific products!
That being said, we do recommend going to a physical store or storage shed manufacturer as the smartest idea. Make sure to check the shed reviews of any company you choose to buy a shed from. You want to make sure you buy from a trusted, well-known storage building manufacturer or dealer that will stand behind their products.
#5. How do I supply electricity to a garden shed?
SOLAR POWER
Solar energy is an option for getting electric power into your shed. This is done by installing solar panels either on top of or beside your garden shed. Using solar energy is cleaner and could save you a lot of money in the long run. There are other benefits though, like lower power costs and environmental impacts.
UNDERGROUND POWER
Many people get power to their shed via an underground cable from the electric panel in their home. They connect the panel to a wire that runs all the way underground to their backyard shed. Be sure to hire a licensed professional, as this is a very dangerous job if done wrong.
#6. Is planning permission or a permit required for a garden shed?
So, you're thinking about buying a shed for your backyard, but what does your local town have to say about that idea? Well, in some cases, you should not need a permit for your shed. Some towns require a permit over a certain side. However, even if you don't need a permit, there may be a possibility you will need a storm and water plan. That being said, make sure you follow all of your state and county rules for planning and zoning!
A couple of things to be aware of: be aware of setback regulations (how close buildings can be to property lines), restrictions on buildings that will be lived in, and any local regulations on electricity and plumbing (if applicable). Always be sure to check with your local municipality for specific regulations!
#7. Does a garden shed need a concrete base?
The answer is no, a concrete base is not required for any type of storage shed. Nevertheless, a garden shed should have a stone shed pad to make sure it holds up. As shown in the picture, the base used for this shed was gravel. In fact, we have an entire tutorial on how to prepare a gravel shed pad for your convenience.
Thank you for joining us! We hope this helps you answer some of your outdoor shed questions. A garden shed is an amazing building to have in your backyard, get started toward owning yours today!
Recent Shed Blog Posts...
Recent Shed Stories...
ready for more space in your life?
Create the building of your dreams by requesting a free estimate or customizing your own 3D design. You can also call us at 717-442-3281.
We're ready to assist you!