50 miles of Free Delivery with all purchases through Dec 9!
Olwen's Writing Shed in Leesburg, VA
Olwen Woodier was in the process of writing her sixth book, a cookbook about pesto, when she concluded that she needed a private place to write. The search for the perfect writing den led her to Sheds Unlimited.
Writing Cookbooks
Olwen Woodier's love of making food began when she lived in Switzerland for eight years. She worked for an American company while also taking cooking classes. She moved to America in 1971 and began to work for a publishing company, where she met her husband, Richard Busch. He worked for the publishing company as a writer and photographer.
Olwen and Richard moved into a renovated barn-house in the country after living ten years in the city. The move caused Olwen to decide what she wanted to do for a job, and she realized that her cooking and writing skills qualified her to write for a living.
I can cook, and I can write… I will become a freelance food and travel writer.
Writing cookbooks began when Storey Publishing approached her to write a book about apples. She wrote The Apple Cookbook, which has now been revised three times. She went on to write four more cookbooks and one book on gardening.
Olwen says her latest book, The Pesto Cookbook, was one of her favorites to write. She could quickly and easily develop pesto recipes, unlike The Apple Cookbook. Olwen also enjoyed that she could use her homegrown herbs and vegetables in her pestos.
Ricotta and Garden Greens Pesto Recipe
The following Ricotta and Garden Greens Pesto Recipe is one of the recipes in The Pesto Cookbook.
This pesto is the perfect way to use baby chard, kale, spinach, or romaine lettuce greens that need thinning. Young beet greens are also a good option. Mature chard, kale, or beet greens can be tough, so avoid leaves that are bigger than your hand. Adding basil or cilantro will give the pesto a good sweet flavor; however, you might want to add a bit of honey, too, if the garden greens lack sweetness.
Ingredients:
About 1 ½ cups
1 cup immature garden greens
1 cup packed basil leaves or cilantro leaves with tender stems
½ cup snipped chives or scallions (green part only)
½ cup walnut halves, toasted if desired
⅓ ricotta cheese
⅔ cup olive oil
1-3 teaspoons honey
4-5 large cloves garlic
Sea salt and freshly ground black pepper
Place all the ingredients in a mini food processor and process until nearly smooth, scraping down the sides of the bowl as necessary. If the texture seems a little thick, add up to 2 tablespoons of lemon juice or water.
Carrot-Top Option:
If you grow carrots or buy them whole, the young tops are also fair game in his recipe, but they do have an assertive flavor. Add a few at a time, and keep tasting to see how you like them.
A Private Space for Writing
Olwen used the library in their renovated barn-house as her writing room for her first five books. While finishing up her pesto cookbook, though, Richard observed that Olwen needed a private space to write.
 [Richard] said to me " 'I think you need your own space,' and I said, 'Yes, that would be really nice.'
Searching for a Good Shed
Olwen and Richard decided a shed would fit Olwen's needs, so they started looking for a shed. They went to some local shed companies first but did not find what they were looking for. The sheds were expensive, with expensive delivery and set-up fees.
Olwen and Richard decided to buy an "Amish-made" shed instead. Richard went online to check out different shed dealers in the Gettysburg area, and his research led him to conclude that Sheds Unlimited would be their best option.
[Richard] said, "Sheds Unlimited has the best shed for you. I think they look like a really good company.'
First Impression of Sheds Unlimited
They drove directly up to Sheds Unlimited. Olwen says her first interaction with Sheds Unlimited was very positive, and they were "lovely people." She was impressed that the sales representatives didn't try to push her into a bigger shed than she needed. They helped her decide which size would fit under some spruce trees on Olwen and Richard's property.
The salespeople were…catering to us. They were really interested in what our needs were.
Installation Process
When Olwen and Richard bought their shed, Sheds Unlimited explained how to prepare a gravel pad for the base of the shed. So, Olwen and Richard were ready when the installation crew came to their property. The installation crew parked their truck in their lane and put the shed on a mule. It was then maneuvered into place and slid onto the prepared gravel pad. Olwen says the installation crew did not run into any problems and finished in a couple of hours.
They [installed the shed] so easily! It was quite remarkable, actually.
Olwen's Writing Den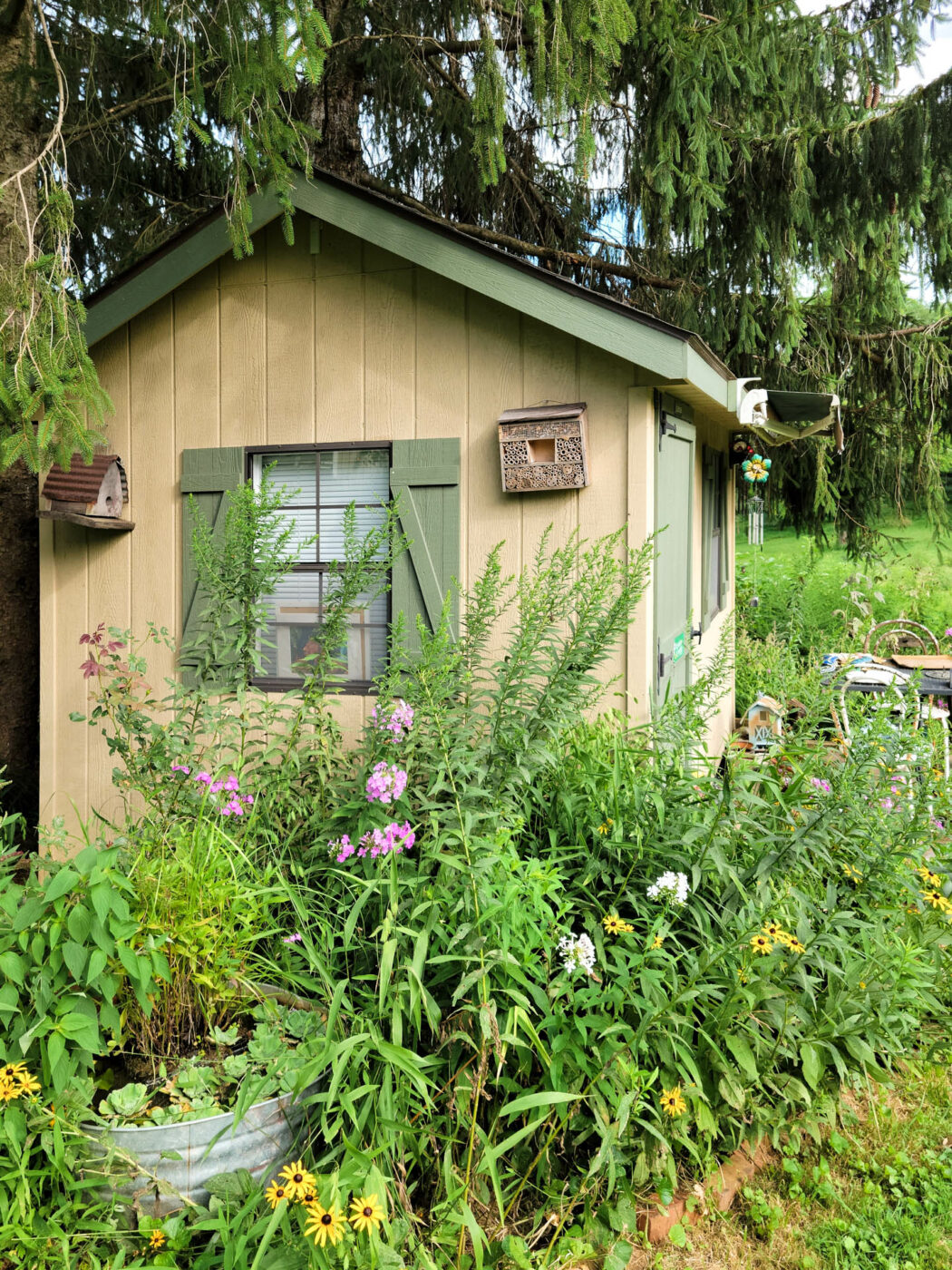 Olwen and Richard bought the shed in 2017. Olwen says that even though they haven't painted it, several years later it still looks like new. The Woodier-Busch family installed an awning and a little patio to make it feel like a little home. They insulated it and installed an A/C to keep it cool in the summer, and she has a space heater for the winter. She can work in her writing shed year-round.
Olwen says her shed has been more than what she expected. She bought it to be able to write in it, but it has become much more.
It has exceeded my expectations. I thought it was going to be a nice little place to work, but I have made it… almost into a tiny house.
Olwen and Richard liked her writing shed so well that they bought another shed to store firewood in. Olwen highly recommends Sheds Unlimited to others, especially if they are writers who want a quiet space to write.
It's my writing den…my yoga shed…my escape place. It's my private place, and I love it!
Cookbooks and Writing Sheds
Olwen Woodier's cookbooks are available on Amazon and Storey. Check them out if you want delicious recipes on apples, peaches, pasta, pesto, and more! If you are a writer and want a private place to think and write, check out our selection of sheds. You can design your perfect writing den with our 3D Shed builder or get a free estimate.
Recent Shed Blog Posts...
Recent Shed Stories...
ready for more space in your life?
Create the building of your dreams by requesting a free estimate or customizing your own 3D design. You can also call us at 717-442-3281.
We're ready to assist you!