Only 17 Hours to Build a Three Car Garage in Raymond, ME!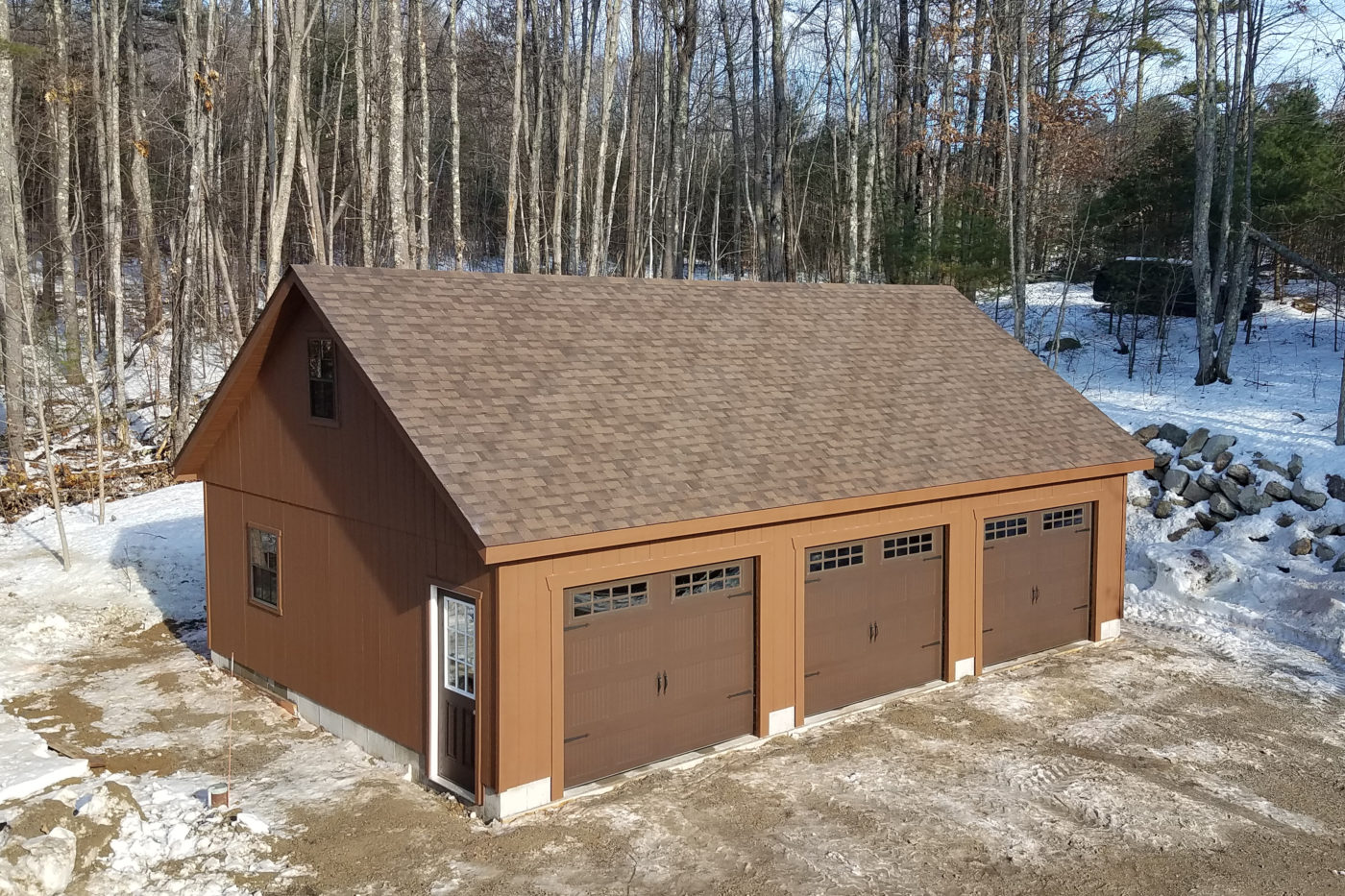 How a Garage in Raymond, Maine, was Erected in ONLY 17 Hours
When Ed and his wife Nicole bought a beautiful log home in Maine it was lacking just one major item: a garage for their three vehicles. Their new log home was designed in such a way that it wasn't feasible to attach a garage to the house. So they began looking for an attractive and functional, free-standing 3 car garage that could be built in a reasonable time frame and within a reasonable budget.
When the day came to build the garage on their site, it only took 17 hours to get the job done! That's right! Only 17 hours of hard work until the three car garage with attic space and a stairway was completed!
But before those hours of hard work on site, Ed and Nicole began the arduous process by researching garage designs and options online. First, they thought that a rough-sawn timber frame building would blend in nicely with their log home. That would have been a valid option if the cost had not quickly exceeded their budget.
They also found several projects on local garage contractor's websites. But when they inquired about the buildings, they were given vague information and sensed a lack of interest in their small garage project.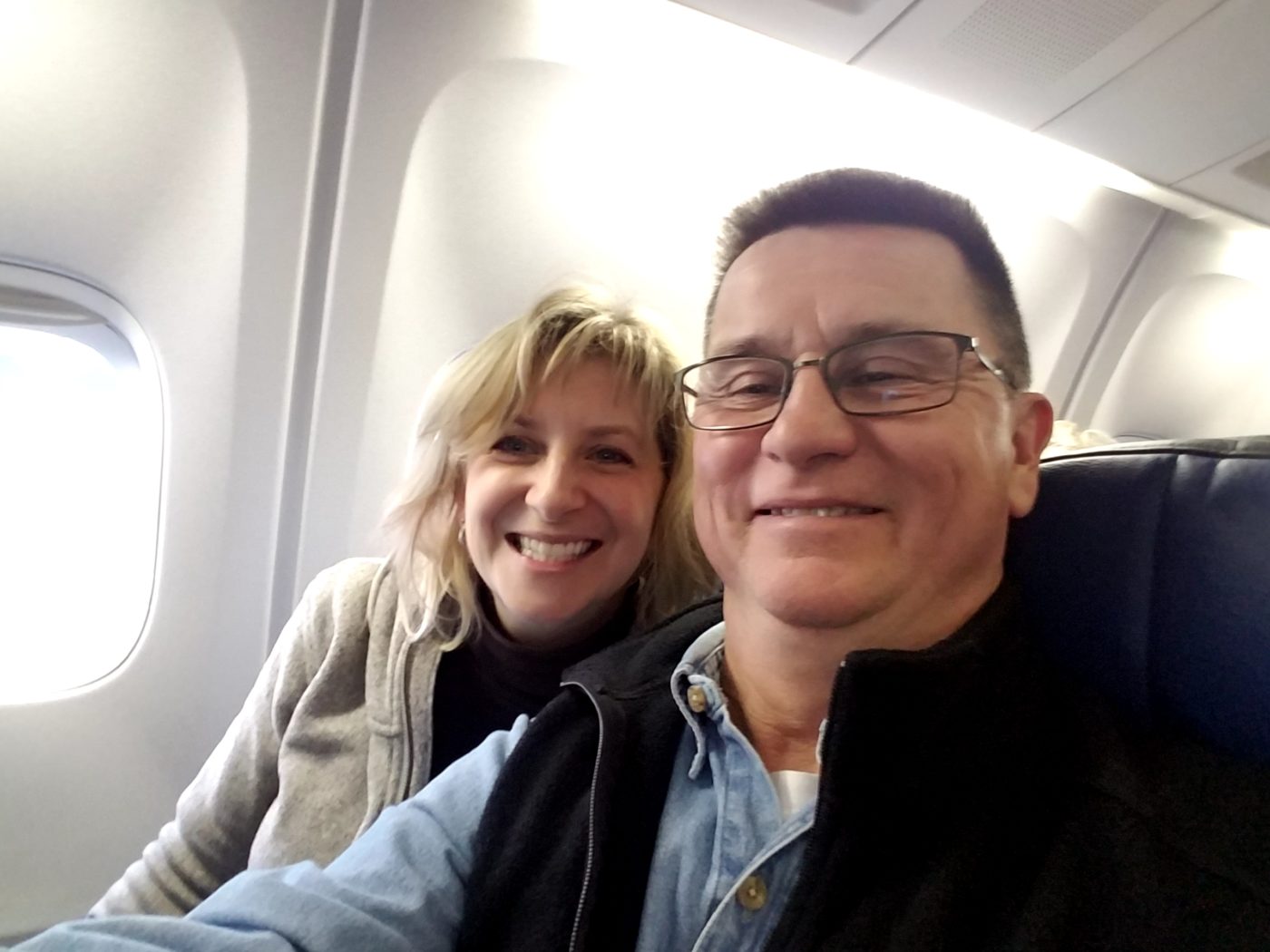 The next step was to search for prefabricated garages. This led them to the Shed's Unlimited website as well as some other prefabricated home builders in Maine. They found the Shed's Unlimited website to be a powerful research tool that allowed them to see photos of a variety of prefab two and three car garage designs and sizes. They also found general pricing on many garages which gave them an idea on how their desires aligned with the cost.
A Few Examples of 3 Car Garages on the Sheds Unlimited Website
The fact that they could search and view their prefab garage choices on the Sheds Unlimited website without having to fill out inquiry forms was very appealing. In addition, they found the garage reviews and comments from past customers as well as no BBB complaints to be reassuring considering that their location was 500 miles from Sheds Unlimited.
Plans for the Three Car Garage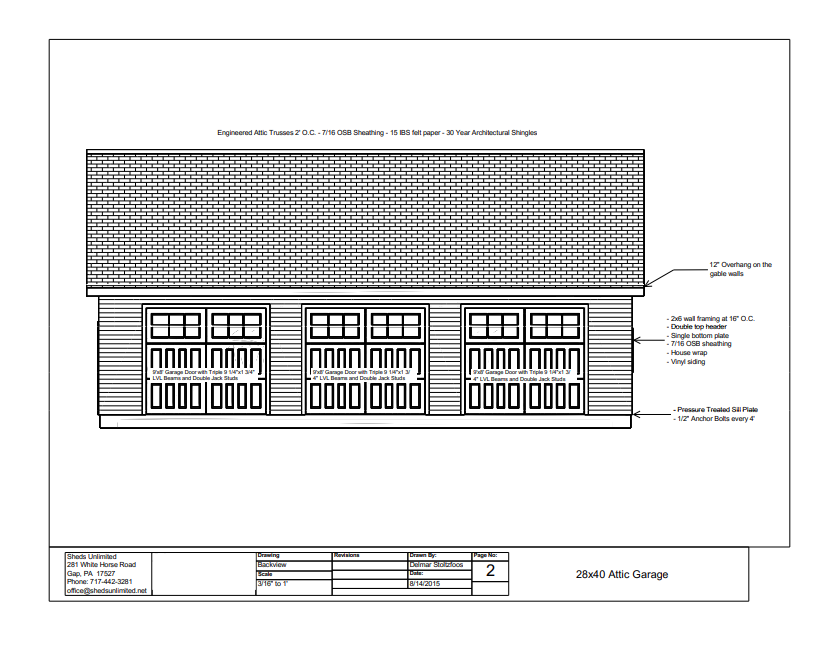 Once they found a few designs, they reached out to Sheds Unlimited via email and requested stock garage plans and approximate costs for a 3 car garage design they liked. The building they selected initially exceeded their budget but it started the more detailed process of narrowing down a final size and design of their new 3 car detached garage.
The detailed interaction began with Mark in the sales department. Ed says,
Mark was extremely helpful in providing quotes, details, and advice as [we] worked through multiple revisions for size, design, doors, windows, siding, etc.
After quite a few conversations via phone and email, they settled on a three-car garage with attic space and placed the order with Mark.
Building the Garage Pad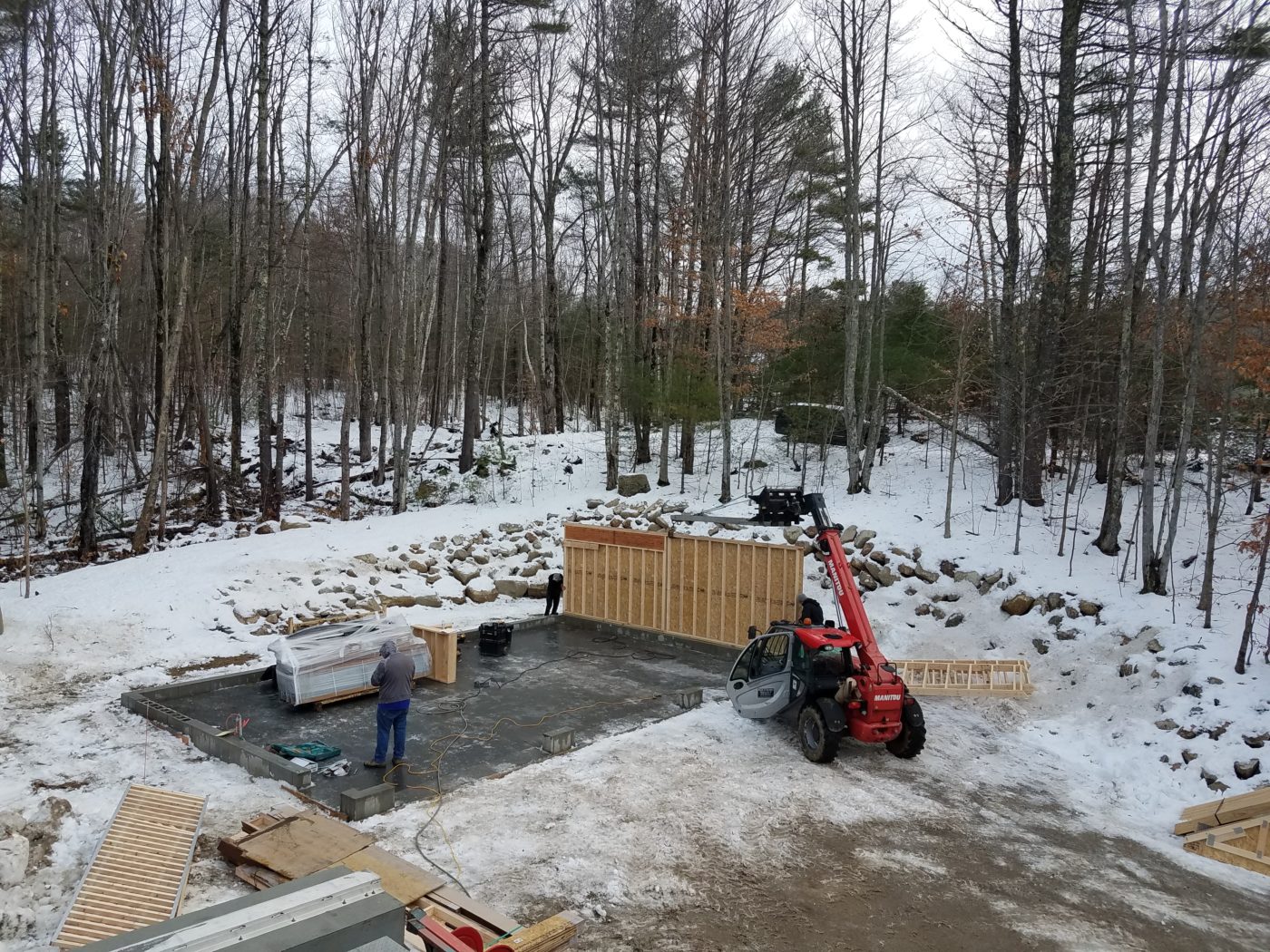 The next phases in the garage building process progressed as smoothly as the sales process. They worked on selecting items like roofing, paint, garage doors, etc. While those items were being worked out they applied for permits for the garage and hired a garage pad contractor to complete the site work. This included excavation and a frost wall foundation with a poured concrete floor in order to give Shed's Unlimited the exact final dimensions and door layouts.
Shed's Unlimited then provided them with a set of fully engineered and stamped garage drawings which added to their confidence that they had made the right decision. Most local contractors would have required huge additional fees for this service (Note from Sheds Unlimited: Plans are included for all Sheds Unlimited multiple car garages, but there is typically a charge for an engineered plan).
One of the biggest challenges in getting the detached three car garage completed was timing. Winter was coming in Maine and the Keoughs needed to coordinate the timing of the site work with the installation of the car garage and the arrival of snow. Unfortunately, the first snow arrived early in November which meant that they had to spend several days clearing the garage foundation and surrounding area in preparation for the build which they expected to take only a few days.
The build was one of the most amazing and efficient things I've ever seen.
Says Bob,
"Sheds Unlimited arrived at 7:00 AM as scheduled with a crew of three, their 40-foot trailer, the building components, a four wheel drive lift, and an assortment of custom-made tools designed for efficiency and speed. The walls were in place within 3 hours and the roof trusses were set by mid-day. All of the walls, panels, trusses, attic stairs, flooring, and roof sheathing were pre-cut at the factory and fit like a glove. There were no wasted materials and no mess."
Building the Detached Garage in 17 Hours!
Ed also said, "work continued past dark with the three guys working like a well-trained army unit. Plus they were happy and friendly! At 2 PM on the second day we were shaking hands and they were packed up to head back to PA for a well-deserved rest. 17 total hours on site! Amazing!"
Since completion, the Keoughs had the 3 car garage wired and their three cars stayed out of a record snowy Maine winter. They highly recommend Sheds Unlimited and their "awesome team".
Recent Shed Blog Posts...
Recent Shed Stories...
ready for more space in your life?
Create the building of your dreams by requesting a free estimate or customizing your own 3D design. You can also call us at 717-442-3281 from Monday to Friday between 8:00 am - 5:00 pm or Saturday between 9:00 am - 1:00 pm. We're ready to assist you!