50 miles of Free Delivery with all purchases through Dec 9!
A Backyard Design Studio for Swoon Sewing Patterns
The Journey of a Backyard Design Studio
Today we have a journey to take and a story to tell. The stroll won't use expensive fuel and you can remain planted in your favorite chair for the duration! As you may have guessed from the title, the story is one about sewing patterns, design, and a creative couple turning a shed into a design and sewing studio.
Are you beginning to swoon?
Alicia started Swoon Sewing Patterns after experiencing frustration trying to use existing, hard-to-follow sewing patterns she found here and there. Her goal was to create patterns that were easy to follow and produced a very beautiful end product that the seamstress could show off proudly. With a background in graphic design, the move from design to making easy-to-follow sewing patterns came naturally. She soon had a following.
At first, she held on to her job in graphic design but was surprised at how quickly her newfound side job became successful. Within a short time, she was able to quit her full-time job and throw herself into what she loved doing most. What Alicia enjoys most is creating patterns that others can use to make beautiful bags. In an interview she explained her passion for sewing saying:
It's not so much about what I can do but what I can help other people do.
Alicia Meets Sheds Unlimited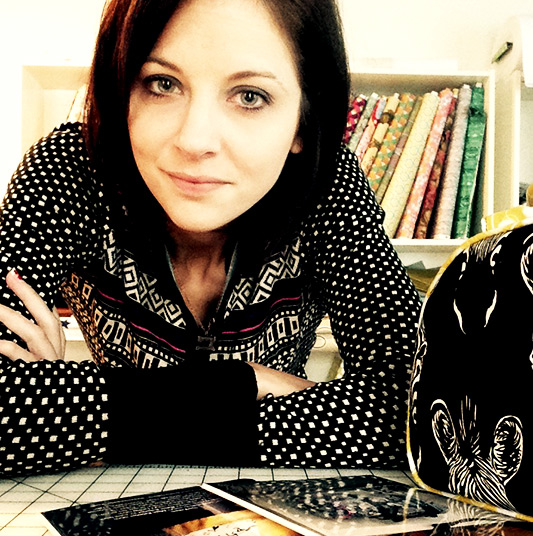 Her story and that of Sheds Unlimited converged when her husband was trying to convince her to move to a new home. She finally agreed to move if he would help her build a small workspace to continue her rewarding work.
They soon decided that tackling a sewing and design studio alone was not the best choice and began searching online for solutions. That was when Alicia discovered the Two Story Legacy Sheds at Sheds Unlimited.
Alicia ordered a Two Story Shed and within weeks the production phase began in the shed manufacturing facility in PA. At the same time, Alicia was busy preparing a sturdy concrete pad where the portable storage building would sit when it arrived. There's no substitute for a sturdy level spot for a shed of any kind, but this was especially important since she would be spending lots of time in the studio and this building should last her a lifetime!
When the time came for delivery, the setup of the two-story shed only took around 4 hours to complete, says Alicia. Everything for the Backyard Design Studio was prefabricated and ready to set in place in two sections with a crane. Then the corner stairway was installed and a few finishing touches were added to complete the deal! It all seemed like a breeze to assemble with all the precision work done ahead of time by the Sheds Unlimited designers and builders.
Alicia saved herself (and her husband) much hard work by simply buying a ready-to-go building!
Finishing the Backyard Design Studio
Now came the hard work for Alicia and her husband. Everything they could do on their own, they attempted to do. Her husband went to work with electrical, insulation, and installing a mini-split for heating and a/c and Alicia worked painting doors, etc. Electric was brought in a via ditch-digging machine rented from a local rental store. It was amazing what they found at local stores to complete such a project. Slowly the pieces were coming together!
After installing the drywall, a friend Chris offered a willing hand and finished the drywall. A mini-split unit was a great and economical way to heat and cool this backyard design studio. It does the job of keeping Alicia's Design Studio (and did we mention a soap-making shop) comfortable year-round.
Step-by-step the sewing and design studio took shape and each step brought Alicia closer to her own lovely She Shed where she could think, dream and create! After months of hard work and attending to the many details, Alicia was itching to get back to the real work which she loved most. It was an exhausting project, but finally, the happy day came when it was time to move in! Although she had plans to build a little deck off the patio doors, keep working on the grass, and install a gutter with a rain barrel, the studio was now calling her name! 
Moving in and Setting up Shop in the Design and Sewing Studio
It was a smashing success! The mix of a prefab 14×24 Legacy Two-Story Shed and the DIY skill set she and her husband brought to the table has changed her life! Alicia's finished studio is enough to make a serious designer swoon…almost…
The small backyard studio now helps Alicia serve her 60,000+ Facebook followers with new bag pattern designs that make any person who enjoys sewing feel good about the finished product. Alicia says what she likes best about her job is the satisfaction that she gives others when they finish a gorgeous bag.
Click on any of the studio photos to see a larger version (careful not to swoon).
Another one of my hobbies is soap making and the upstairs space is my new soaping room.
A Backyard Design Studio and Soap-Making Shop in One
Alicia also has other hobbies and one of them found a home on the second floor of her design and sewing studio. Walk up the beautifully finished stairs and you will find a hobby soaping room where Alicia mixes and makes soaps just for fun!
What about a Home Studio for You?
Are you cooped up in a small area working on your hobby, or perhaps earning money on the side from home? Have you dreamed of having a quiet place in the backyard where you can focus on designing and creating? We'd love to help you get started on a BACKYARD DESIGN STUDIO of your own. 
You can choose from a wide range of buildings and customize one for your very own needs. 
Start here and find the building of your dreams. Or see Art Studios, She Sheds, Home Office Sheds a Man Cave, and much more around our site. 
Can't wait to see what you dream up!
Recent Shed Blog Posts...
Recent Shed Stories...
ready for more space in your life?
Create the building of your dreams by requesting a free estimate or customizing your own 3D design. You can also call us at 717-442-3281.
We're ready to assist you!