5% off all 2-, 3-, and 4-car prefab garages through February 28, 2022!
Have you ever thought about what are some things you can do to your current shed or maybe one you hope to get in the future? Well we are here to give the some she shed ideas you may find helpful. Sheds Unlimited thrives in giving men and women a place they can unwind, and relax. We construct storage sheds and garages that the customers can choose and build their own custom building right in their backyard.
See our previous customers she shed ideas below:
Home Art Studio
Margaret began pondering the idea of a TWO STORY ART STUDIO after a dream awakened a new passion within her. She dreamt that she met Jesus and he asked her "Where are all the paintings?" A bit bewildered she awoke from the dream and soon discovered a new passion for art. She enrolled her sons and husband into art school but not until later did she discover her own passion for art.
After some time Margaret began pursuing the new venture by learning to paint and discovered a passion which had been dormant for decades! Painting became a the joy of her life as she spent countless hours creating masterpieces of her own. At first, she painted from her home in Perkasie, PA. But when that became a bit tight, she discovered Sheds Unlimited on the web and began dreaming of her own TWO STORY HOME ART STUDIO.
Sewing Shed Studio
There was a day when portable storage buildings were just that, storage buildings! But times have changed and so have the uses of outdoor buildings. From she sheds to man caves and tiny houses in a shed, the use of backyard buildings has expanded significantly in the past decade.
Read on to see eleven backyard buildings that have been transformed into small sewing studios. They are amazing! Make sure you don't miss the very tiny 4'x6' garden sewing studio in the Isle of Wight. It is super tiny! After seeing that, you will not be able to say there's no space for a sewing studio in the backyard!
Lee Joo Needed a Studio to Dream and Imagine…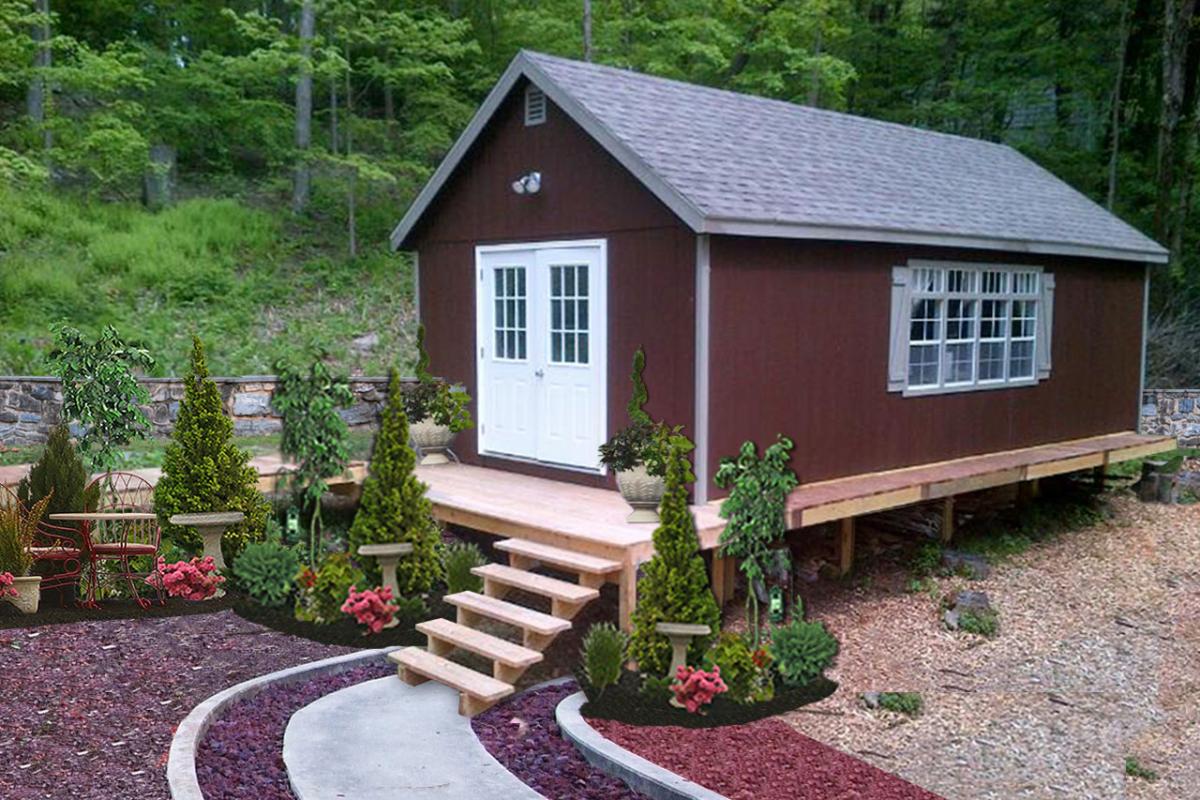 Here are another one of Sheds Unlimited's Dream Backyard Art Studio projects in Middlebury, CT. When artist Lee Joo ordered a 14×28 Premier Garden Shed to use as her Prefab Backyard Art Studio. Sheds Unlimited of Lancaster PA could customize the shed to fit her taste and needs. Within a few weeks, Lee got her Dream Backyard Art Studio built-on-site in her backyard. She has since been enjoying her art talent in her spacious, custom art studio shed.
If you are looking for a small backyard studio for work, an in home art studio, photography studio or even at home recording studio, then check out the many options in our line of backyard storage sheds. We offer Two-Story Sheds and Barns which could be transformed into a beautiful backyard art studio and smaller outdoor storage sheds and barns which could serve as a lovely backyard studio shed for work or play. Call Sheds Unlimited at 717-442-3281 to learn more about creating your own BACKYARD RETREAT or workshop.
Pam's Backyard Relaxation Haven
This shed that was built for Pam Mabus was designed to be a place where Pam could get away from the outside world and just relax on her own. When Pam started looking for a shed to build her ultimate She Shed, she stumbled upon Sheds Unlimited and knew that was the builder who was going to builder her she shed. After looking around at she shed ideas, Pam knew the exact design she wanted for her own and immediately picked the shed she wanted to have.
If you are looking for your own relaxation haven space, we would love to help you find it. Sheds Unlimited has many she shed ideas that can be used to inspire your potential she shed. We also have a selection of storage sheds you can choose from so you can easily just find the one you like the most and let us know. Owning a backyard relaxation space is very exciting, we think it is time you get yours!
Dori's Mosaic Retreat
Another great she shed idea was one that our previous customer Dori had. She was looking for a space to do what she loved most, which was mosaic craft. She needed a space that could fit her designs, space to be able to do the work, and space to also relax and enjoy her work. She wanted a shed that was not too big but also not to small, luckily she got in contact with Sheds Unlimited and found the perfect she shed idea that she would still love to this day.
If you are looking for a small workspace outside your home, Sheds Unlimited can provide you with just that. Our she shed ideas are inspired by previous customers and what they do with their current sheds or garages. If you are ready to begin the process of purchasing your own she shed, please contact us and we would love to get started. We would love to turn your she shed ideas into a reality!
Looking through she shed ideas and finding which you may want to do for yours can be a big help to some. We hope this has given you some idea of what you can do to your next she shed. Once you found exactly what you are looking for, contact us to get started at (717) 442-3281 or request a quote online.
We want to get you the space you desire. Whatever you are looking for, she shed, man cave, or a basic storage space, Sheds Unlimited wants to get you your Space For Life.
ready for more space in your life?
Create the building of your dreams by requesting a free estimate or customizing your own 3D design. You can also call us at 717-442-3281 from Monday to Friday between 8:00 am - 5:00 pm or Saturday between 9:00 am - 1:00 pm. We're ready to assist you!