50 miles of Free Delivery with all purchases through Dec 9!
Custom Prefab Garages in Watertown, New York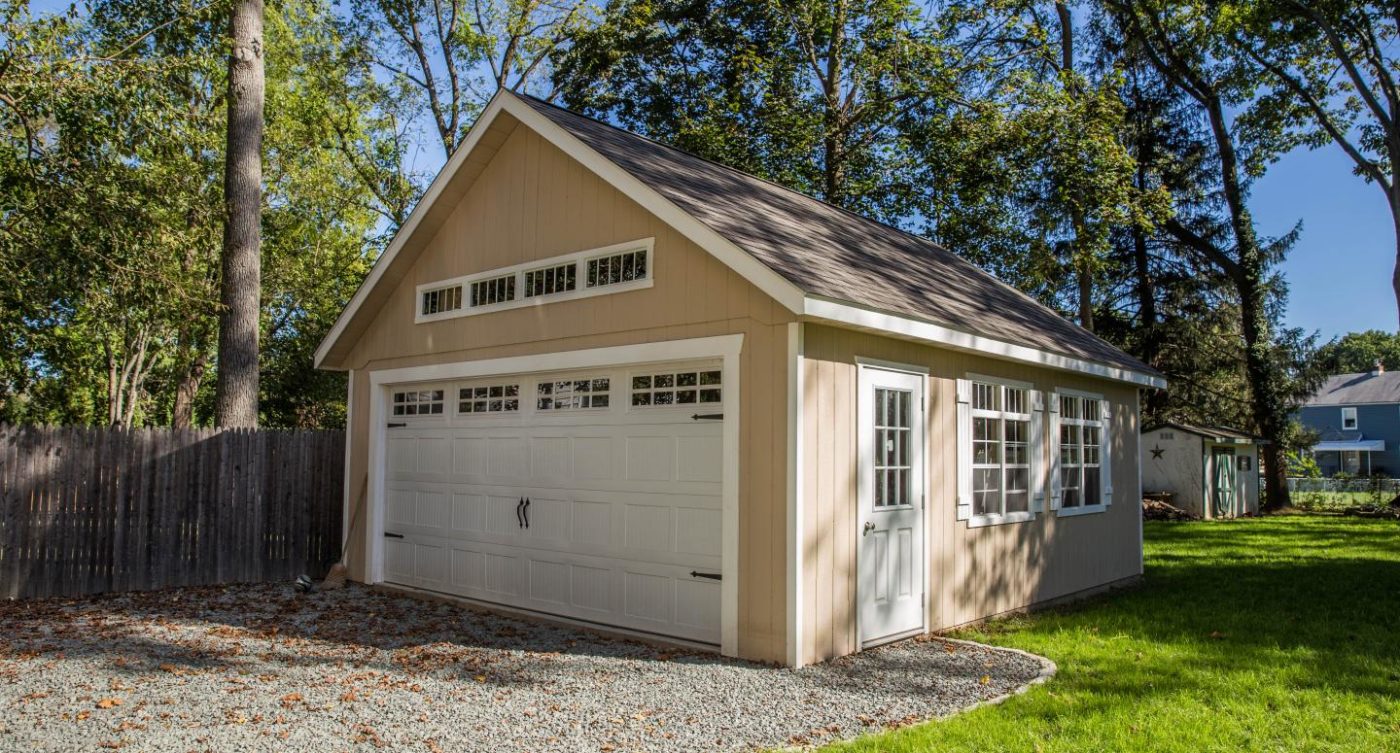 Do you live in Watertown, New York, or any of its surrounding cities including Utica, Rochester, or Syracuse, New York? Are you constantly looking for a space for storage and have no options left? Then you should consider a Prefab Garage. Prefab garages are great for anyone looking for a large storage space in their outdoor space. Prefab garages in Watertown, NY are also built right at our shop in Pennsylvania so delivery and installation is quick to give you access to your new vehicle space within days of delivery.
See some of the top selections of a Prefab Garages in Watertown, New York below:
2 Car Prefab Garages in Watertown, NY
If you are in the Watertown, NY area and are in need of a large vehicle and storage solution, a 2 car prefab garage is a great option. This garage size offers three styles within itself to give you a wide variety of options for your New York home. Give your outdoor space a look that can reflect and match your home with a 2 Car Prefab Garage. 
There are three different types of sheds you can acquire with a Workshop style. This includes the Workshop, the MaxiBarn, and the Saltbox. Each of these garage styles has its different options, from dormer windows to a whole second floor, which prefab garage will you choose?
3 Car Prefab Garages in Watertown, NY
Want to add a large vehicle storage building to your property? A building that will complement your home and satisfy your storage dilemma? A three-car prefab garage may be for you. These prefab garages in Watertown, NY add a great amount of aesthetical beauty to a home and as well as the storage and safety of your vehicle.
The three-car prefab garages come in three styles as well. You can choose from either the Workshop, the MaxiBarn, and the Saltbox. These prefab garages are sure to give your home a much more appealing look and value.
4 Car Prefab Garages in Watertown, NY
In need of a secured parking space for the entire family? Well, we got the perfect solution for you. A four-car prefab garage! These massive buildings provide sufficient space for four vehicles while also providing space for a workshop, small storage, and more. Upgrade your garage even more with an attic or go double the space with a second story!
The four-car garages also have three styles within themselves to offer your property a unique look. Choose from the Workshop, the MaxiBarn, or the Saltbox design to find your dream four-car prefab garage in Watertown, NY today.
Custom Prefab Garages for All Your Vehicle & Storage Needs in Watertown, NY
At Sheds Unlimited, we sell a wide array of custom prefab garages to fit your lifestyle and property. Explore our countless builds to get inspiration or contact us if you already have one in mind. Getting the custom prefab garage you've always wanted is easier than ever, call or submit a free estimate today.
A Trusted Prefab Garage Builder in Watertown, NY
With over 30 years of experience, Sheds Unlimited offers buildings that are made just the way you want them. From the door of the garage to the cupola on the top, we have an ultimate selection of features and options so that you can build the prefab garage you've always dreamed of.
Why Buy Your Garage from Sheds Unlimited?
We love getting our customers exactly what they want. Whether it would be a larger garage, an extra door, more windows, whatever the case, we love working with our customers to build their dream shed or garage. From the moment we speak to you, to delivery day, we are determined to find exactly what you look for in a shed or garage.
Here are some other reasons why you should choose Sheds Unlimited to be your next prefab garage builder in Watertown, New York:
2 to 4 garage door options
Top-notch material
We're always ready to help and answer questions
Free estimates
Save money on third party dealers
No hidden fees
What Customers in New York had to Say About Us
The garage has become a place where I spend time bonding with my sons. We have enough spaces not only to park our cars but work on them as well, with room to spare. Thank you Sheds Unlimited!

-Jim S.
Time to Get Your Prefab Garage in Watertown, New York
If you live or near Watertown, NY and you are in search of a prefab garage for your home, contact us today. We want to help you find your next vehicle storage space. Explore our various sizes and styles and find which garage you like best, then contact us or request a free estimate to get started.
Finding your new prefab garage can be difficult, let us help you find exactly what you need and want today. Ready to speak to somebody about your desired building? Give us a call at (717) 442-3281. At Sheds Unlimited, we thrive in giving you, your family, and your vehicles a Space for Life.
ready for more space in your life?
Create the building of your dreams by requesting a free estimate or customizing your own 3D design. You can also call us at 717-442-3281.
We're ready to assist you!