5% off all 2-, 3-, and 4-car prefab garages through February 28, 2022!
Frank's 2-Story Garage Workshop in Maine
Francis, also known as "Frank," began looking for a prefab garage with a second story so that he could have a workshop to work from during the winter months. He started looking at local companies that would construct his future 2 story workshop garage, but he states they never returned his calls or showed much interest in the project he wanted. After hours of researching the right company, Frank went online and began searching for trusted builders who would create custom designs just the way he wanted.
The Search for the Right Prefab 2-Story Garage Builder
Before Frank had found his actual prefab 2 story garage builder, he looked around and contacted several garage builders; however, he stated that some never returned his calls or showed much interest in his project.
After searching through a few different websites and companies, Frank stumbled upon Sheds Unlimited. After going through the site a bit, Frank was impressed with the different styles and options of garages he saw and the custom built garages that could potentially be his one day.
After weighing his options on potential garage builders, he had decided that he would want Sheds Unlimited to construct his dream garage. He states the reason he was sold on Sheds Unlimited was because of "the people, process, detail, communication, and schedule."
Once Frank was set with Sheds Unlimited, he gave them a call and spoke with Mark Beachy (a representative at Sheds Unlimited), who helped him with his questions. Frank describes his experience with Sheds Unlimited customer service as excellent.
He was extremely helpful in quoting several designs based on my site footprint.
Frank says choosing his final design was a toss-up. He was weighing his options with the full dormer garage or a straight side garage with a facade dormer. After some thinking and compromising, he decided to go with the facade dormer because it would ultimately give him more room in the shop.
Scheduling and Preparing for His Prefab 2-Story Garage
Once Frank made the down payment, the project was set to go, and Frank could not have been more excited. He tells us about the five steps he had to get through to get the new prefab 2 story garage.
Step 1: Tearing down the existing garage
Step 2: Pouring foundation on the ledge
Step 3: Measuring all the dimensions for the foundation for Sheds Unlimited
Step 4: Approval of the Plan
Step 5: Building the Garage
The Challenges of Building the Prefab 2-Story Garage
During the construction of Franks prefab 2 story garage, he came across some challenges. He stated that the biggest issue was the prefab 2 story garage size. Due to Maine's restrictions and regulations, he could only build a garage that was the same size as the original footprint.
He went on to say that Sheds Unlimited had easily adjusted the plans to accommodate the original footprint restrictions and knee wall. Once Frank had sent the additional measurements, Sheds Unlimited immediately got to work with the planning and preparation.
Delivery Day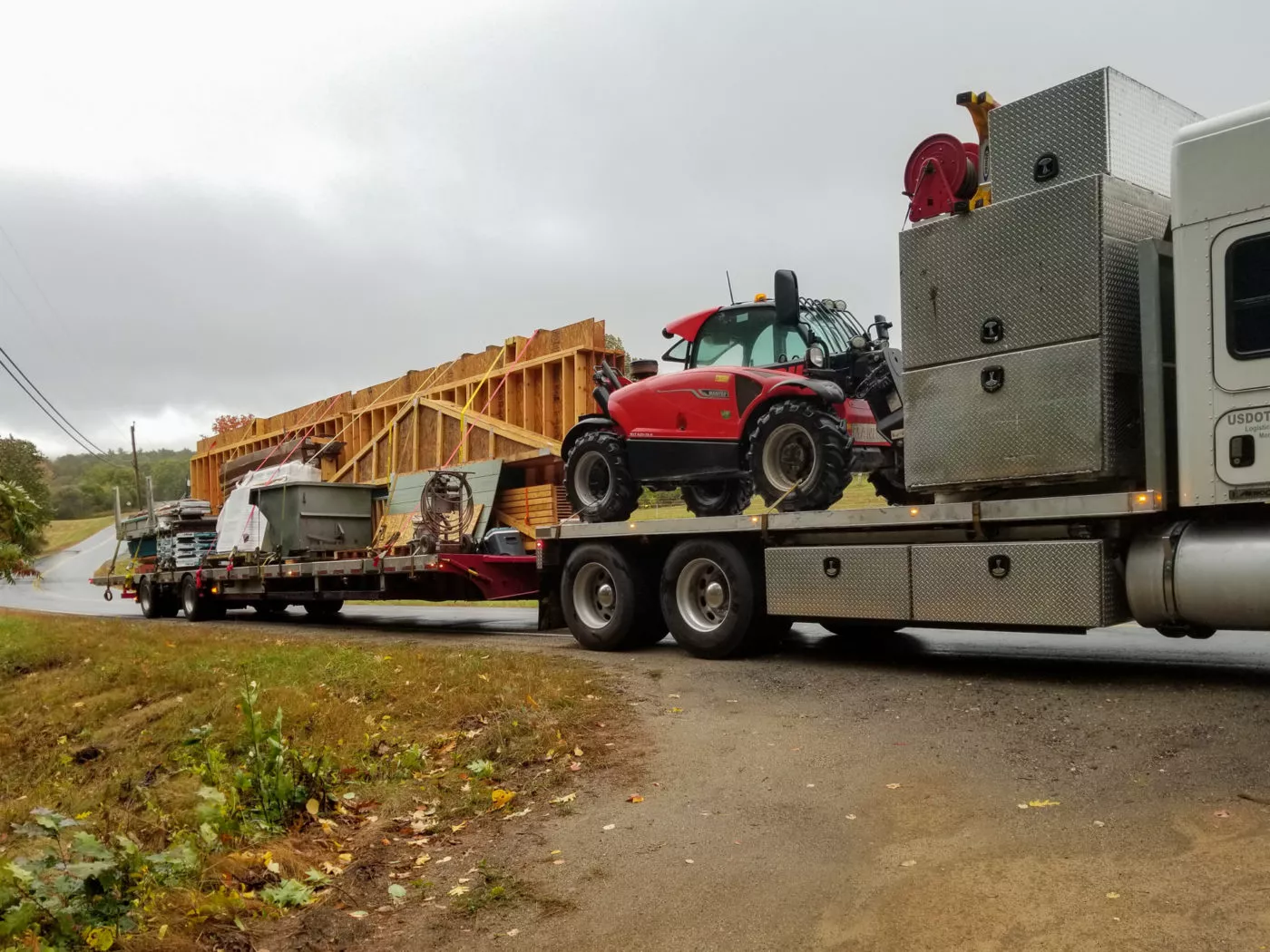 Once the delivery day had come, Frank was in a heap of excitement. He was taking plenty of pictures of the construction up to the final product. The entire crew spent a total of two days erecting the prefab 2 story garage from the ground up. Frank was in shock at how fast the team finished putting together the new building.
Frank's Stunning New Prefab 2-Story Garage in Maine
It's been a couple of months since Frank has owned his prefab 2 story garage, and he has nothing but great words for it.
The garage exceeded my expectations and impressed many contractors doing insulation, sheetrock, and heating.
He says that everyone comments on how well the prefab 2 story garage was built and are blown away with the detail and the amount of time it took to erect the prefab 2 story garage.
Prefab 2-Story Garage Build Timelapse
Here's What Frank Has to Say to Anybody Looking for a Prefab 2-Story Garage in Maine
"Without a doubt, I would not hesitate to purchase a garage from this company. You will be delighted and impressed with the ease in which the garage is built." Frank had nothing but nice words to say about the crew who set up the prefab 2 story garage and the sales team who got Frank set up with his new garage.
A Word From Sheds Unlimited
Frank, we thank you for giving us the opportunity to construct your prefab 2 story garage. We are glad you believed in us, and we hope you continue to love your garage for the many years to come. It has been a pleasure working with you, and everyone at Sheds Unlimited wants to thank you for your kind words.
If you are interested in their own prefab 2 story garage, please contact us today. Our team is ready to get you the help you need to build your dream prefab 2 story garage. Request a free estimate today to get pricing on your next shed or garage space.
At Sheds Unlimited, we thrive in giving our customers space where they can be themselves. Whether it'd be a she shed or a man cave, we can create a structure just for you. Let us create your next Space for Life.
Recent Shed Blog Posts...
Recent Shed Stories...
ready for more space in your life?
Create the building of your dreams by requesting a free estimate or customizing your own 3D design. You can also call us at 717-442-3281 from Monday to Friday between 8:00 am - 5:00 pm or Saturday between 9:00 am - 1:00 pm. We're ready to assist you!