50 miles of Free Delivery with all purchases through Dec 9!
Amish-Built Storage Sheds in Maryland
If you are in the market for a new storage shed in Maryland, then you're at the right spot. Sheds Unlimited builds storage buildings all the way from general stock to completely customizable! We work with you to create a beautiful storage shed that's built to your taste. With over 30 years of experience, we can give you the shed you won't regret purchasing at an affordable price. End your storage struggle today with a brand new storage shed from any of our 5 style selections below!
Workshop Sheds in Maryland
A great selection when looking for a storage shed in Maryland. A workshop shed provides adequate space for general storage with a classic A-Frame structure to give your home a classic look. Choose from many different colors, options, and styles including 4 tremendous yet unique looks. Shop our selection or customize your own dream workshop shed and get started on your storage shed in Maryland today!
MaxiBarn Sheds in Maryland
The elegant MaxiBarn shed is a great option for anyone looking for a storage shed in Maryland because of its offered overhead space and style. The MaxiBarn has a unique Dutch Barn Roof shed look which is perfect for anyone who is looking for this type of look to add to their home. The MaxiBarn is also available in 4 different styles to choose from giving you a wide variety to choose from.
Saltbox Sheds in Maryland
If your backyard or outdoor area is in need of a touch of color then a Saltbox Storage Shed might do the trick with its wide array of different color options. Enjoy the feel of New England History with this beautifully designed and New England inspired shed. The Saltbox shed offers more overhead room in the front in comparison to the back due to the design. Choose from 2 different style Saltbox sheds for your next storage shed in Maryland.
MiniBarn Sheds in Maryland
If you are looking for a sturdy barn style storage shed in Maryland for a low cost then the MiniBarn shed is the one for you. The MiniBarn shed or the "little brother" of the MaxiBarn shed provides a standard yet traditional look and makes a great addition to any home with your choice of siding including classic wood or modern vinyl. Protect your garden or home tools today on a budget with a classic MiniBarn style shed. 
Modern Sheds in Maryland
You are looking for that final piece to finish your backyard storage shed in Maryland, we got you covered with the modern shed. The modern shed provides a beautiful design and amazing look to any home. Store all your backyard or pool equipment in the modern storage shed which comes in 2 styles to choose from. The modern sheds provide many unique sidings to give you the decision on the look.
Design A Shed in 3d For Your Home in Maryland
Designing your own storage space has never been easier. Now with the 3D Shed Builder, you can fully customize your preferred shed to your complete taste. Start by choosing your style shed, move into the size of your desired shed, then you select the doors, windows, and exterior options, exterior colors, and finally flooring and interior.
Once you're completely finished customizing your shed, you end with a quote in hand! Moving forward you may accept the quote and expect a call from us or make some changes to better fit your budget. Start designing your storage shed today to make your way to Space For Life.
Your Trusted Shed Builder in Maryland
Purchasing a storage shed for your home from Sheds Unlimited gives you peace of mind knowing a trusted builder constructed your shed. Not only do we use the best and most durable equipment for your storage shed in Maryland, but we also take complete care when putting together a shed for a customer. At Sheds Unlimited we treat our customers like family.
Why Should You Buy From Sheds Unlimited?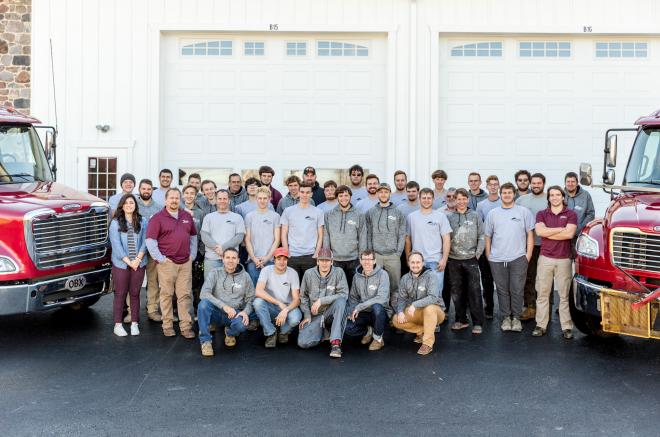 Tons of options to choose from including some very low costing sheds.
Quality buildings built by the Amish.
Excellent customer service and communication throughout the entire process.
Free quotes for every shed including the 3D custom builds.
Save your money by purchasing from a trusted shed manufacturer and not a third-party dealer.
Plenty of happy customers and growing.
Never any hidden fee's
We work with you and other companies to get you the desired dream building you want.
Listen To What Our Customers in Maryland Have to Say About Us
My shed build was a challenge as it was hard to pin down Baltimore's' zoning rules. Ben and his crew worked great with us to make sure we adhered to all zoning laws by making changes as we needed to. Ben was right on the money with the build-out date and handed things over to Austin. Austin worked around my work schedule and the bad weather we were having in our area as well as theirs. Delivery was right on time and was proficient as could be. We have a thin but long backyard and the driver (I really wish I had his name so he could get the recognition he deserves) had no issue wedging our new shed in with ease. I just can't say how pleased I was with the communication and build from the 1st. day of contact until today's finish. Thanks, Sheds Unlimited Crew.

-Terry M.
I needed a 10×16 shed placed in my backyard where a truck would not fit for delivery.  The mule was the perfect solution. On his first delivery of the day the driver caught a low telephone wire that caused some shingle damage to my shed roof.  The very next day the company had someone at my house to make the needed repairs and the shed looks great.  Love the shed and have already given SU recommendation to neighbors.  Thanks to Sergey and Austin for making the process so easy.

-Eileen
Prefab Garages For Sale in Maryland
Whatever your storage space needs call for, you can assure that Sheds Unlimited has your back. Our business in Maryland grows every day because more and more people search for storage solutions and easily find them with our help. We look forward to serving all of our future customers and answering all the questions you may have. Contact us today to learn why people in Maryland began trusting Sheds Unlimited on finding their storage space.
One Car Garage in Maryland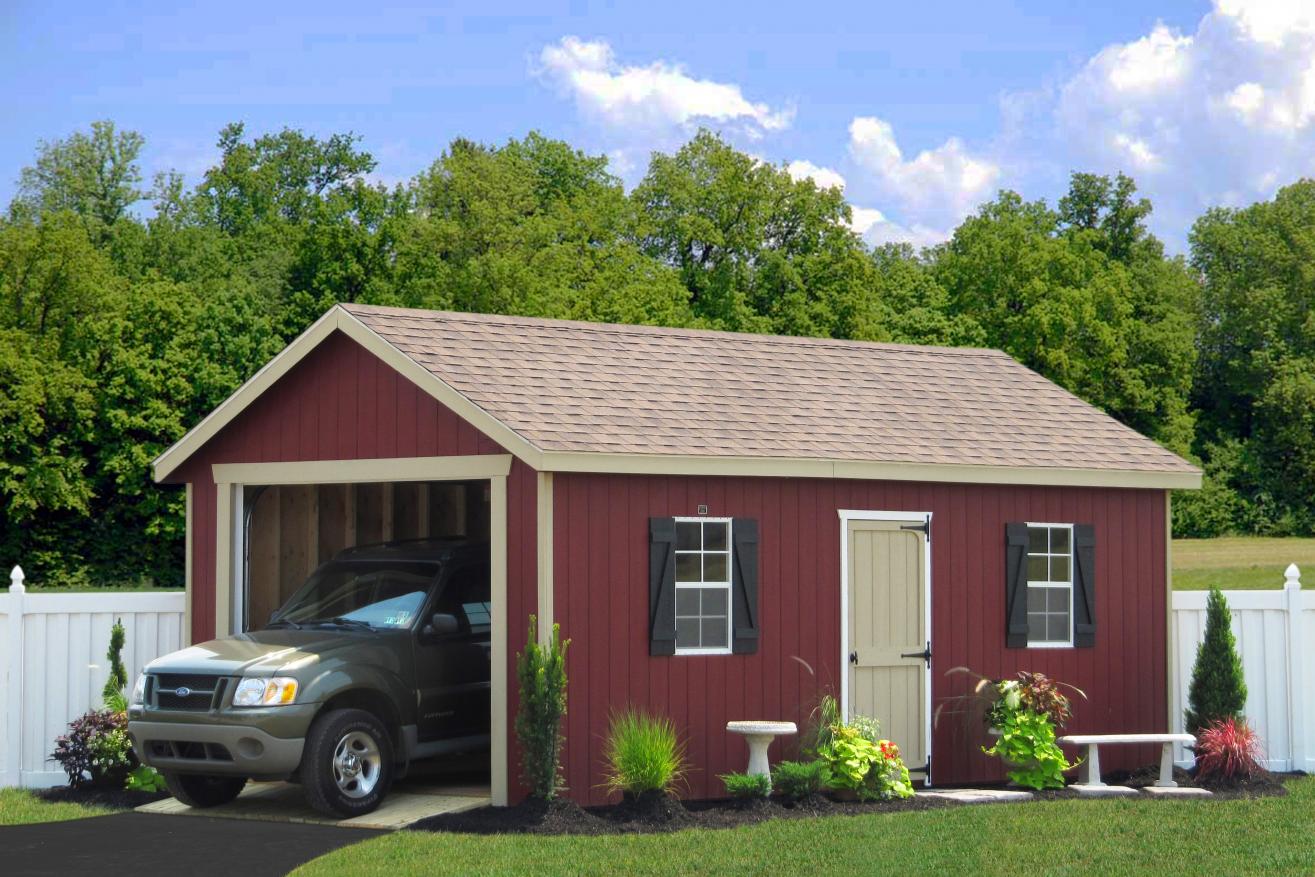 A standard one-car garage would be a perfect fit for a small home in Maryland. Many areas in Maryland including Baltimore, Ocean City, Frederick, and many more are bigger cities that don't provide much room for a large garage but are perfect for a small one-car garage.
You can get a one-car garage in 3 different styles including the Workshop, MaxiBarn, and the Saltbox. Each style has a unique look, but all provide the same protection for your car. Give your home the added value with a one-car garage! See our selection of one car garages in Maryland below.
2 Car Garages in Maryland
A 2-car garage in Maryland would be a great fit for a bigger home in a more suburban area in Maryland including Rockville, Hampstead, Poolesville, and many more. Cities or towns with more room would be a more ideal place to have a 2-car garage or even a one-car garage.
The 2-car garages come in 2 sizes, double wide and 2 car prefab. The double-wide garage only comes with the workshop-style, unlike the 2 car prefab which comes in three which are Workshop, MaxiBarn, and Saltbox. Check out our options on 2-car garages below and begin your journey to one today!
3 & 4 Car Garages in Maryland
You're in the market for a 3 or 4 car garage in Maryland. 3 & 4 car garages in Maryland are very popular in rural areas with large open spaces including Garrett County, Caroline County, Kent County, and many more. Areas with open space and typically the higher-end housing are where the 3 and 4 car garages would be ideal. Auto shops and personal car collectors are other people who might own a 3 or 4 car garage.
Both the 3 and 4 car garages come in three of the same styles including the Workshop, the MaxiBarn, and the Saltbox. A protective and stylish look to any home is what the 3 and 4 car garages have to offer. Check out these garages today to begin protecting your vehicles.
Garages and Sheds For Sale in Maryland
Maryland is a great place to live, why not make it better with a storage shed or prefab garage? Get a storage structure your tools or vehicle is going to thank you for. Whatever your reasoning, let us help you build the shed or garage of your dreams. 
Call our office at (717) 442-3281 or visit our website for a FREE quote and get started on your future storage building today.
ready for more space in your life?
Create the building of your dreams by requesting a free estimate or customizing your own 3D design. You can also call us at 717-442-3281.
We're ready to assist you!