50 miles of Free Delivery with all purchases through Dec 9!
A Total Guide to 3-Car Garage Dimensions
If you're tired of parking your extra vehicles outside, squeezing around your spare freezer whenever you want to climb into your car, and having no extra room in your garage for your lawnmower, you may want to consider buying a three-car garage.
But how big should your three car garage be? You might be asking. Whether you're looking for a three-car garage in Maine, NY, or any other state, you don't want the garage built only to wish it had more space for things besides cars! Let me walk you through all the things you should consider when deciding on the dimensions of your three car garage.
How big is a three-car garage?
The size of a three garage can range from 20'x30′ to 30'x60′ but keep in mind that going with the smallest size will limit space for storing other things. You will want to consider how much space you have, how big your cars are, and what else you intend to do with your new garage space.
Read on, and we'll help you find the three-car garage size that is right for you. The one in the photo is a 24×30 Three Car Garage with attic space. 
Minimum three-car garage size.
At the bare minimum, a three-car garage is 20X30. You might choose this size if you have limited land space, and your cars are very small. Another reason you might go with the minimum size is if you need a place to park small equipment, such as lawnmowers and golf carts. However, if you want to park three cars, you should consider going for something no smaller than 24×36 or even bigger. You may be able to squeeze all three of them into a 20×30 three-car garage, but it won't give you much wiggle room or extra storage space.
The average size of a three-car garage.
Your average, everyday 3 car detached garage will be about 22×32, with those couple extra feet offering just enough breathing room to snugly fit your three cars.
However, many people opt to go even larger, in order to comfortably give you space to open the doors without hitting the walls or the car in the next bay. It's also handy to have extra room for bicycles, or a workbench, or storage space.
What size should my three car garage be?
The first step in deciding how big to make your garage is to look up the dimensions of your vehicles. You should leave at least two feet of space in front of and behind your longest vehicle, two feet between each of your vehicles, and two feet between your vehicle and the wall.
Not the drawings below that show a 24×36 three car garage design. 
See one of our customers' prefab 3 car garage story for a better understanding and full procedure.
However, sliding in a few extra feet will make things more comfortable for everyone. A width of 36 feet will provide a nice amount of space for three vehicles side-by-side, leaving space to open doors without scratching the vehicles next to you, and room to walk around the vehicles.
Go even bigger to a 24×40 three car garage and I'm pretty sure you won't regret it later. Those few extra feet will be very nice when you need to get in and out of the vehicles sitting inside your three car garage. 
Vehicle length varies much more than width does, so the depth of your garage will vary a lot more depending on the length of your vehicles. You should also consider the size of the largest vehicle you could see yourself driving in the future, even if you don't currently own one that is that long. The depth of a garage varies anywhere from 20 to 30 feet.
Other 3 car garage size considerations
What do you want to do with your garage? How you answer this question will also help you determine how large your three car garage should be.
How many cars do you want to park? If you only have two cars, you can use the extra bay for your storage needs. But if you have three cars, make sure to add extra space for storage!
Will you need extra space to load or unload a wheelchair?
Do you want to add storage shelves? Where would you like to place them?
Do you want to add an extra freezer or refrigerator?
Do you want space for a workbench?
How much lawn and garden equipment will you need to store? Do you have a lawnmower? How about a snow blower? How many wheelbarrows do you want to store?
What sports do you enjoy? Your garage will be a great place to store your sporting equipment, so make sure you have space for it.
A Luxury Three Car Garage for Antique Cars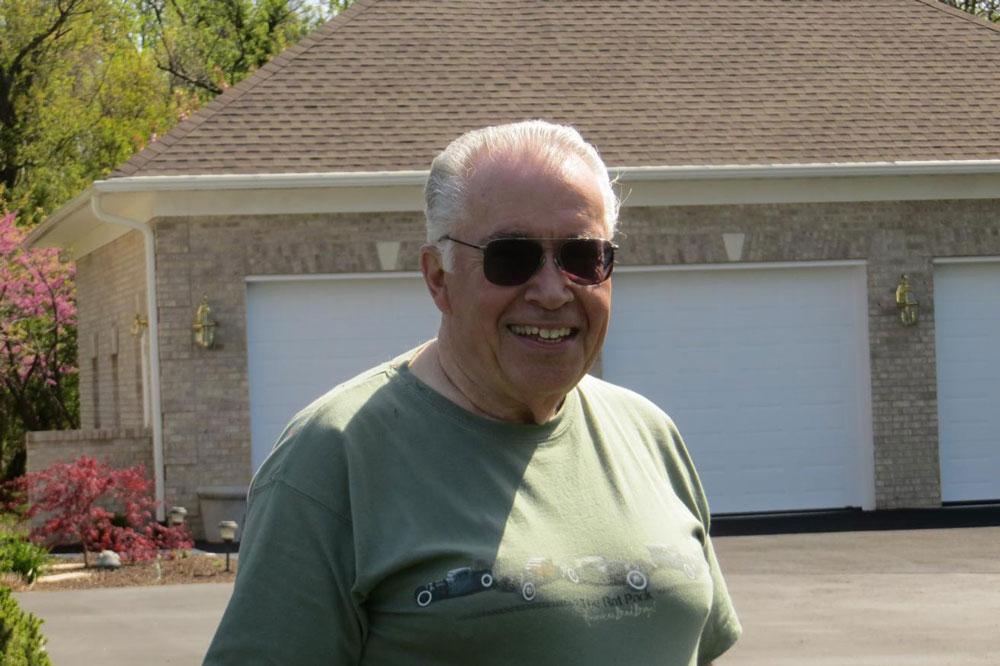 Final thoughts on the size of your three car garage
As you look into your three car garage options, remember to allow two feet of wiggle room on all sides of your vehicle, and add extra room for storage as necessary. With your new three-car garage, you will finally have room to store all the things you've always needed garage space for, as well as protecting your vehicles from the weather.
Whatever you decide on, we have a three-car garage that will suit your needs. Take some time to read our prefab garage reviews, and then fill out our online form and get a free quote today! Or if you'd rather speak to someone in person, call 717-442-3281 to speak to a friendly sales rep about your three-car garage options.
Recent Shed Blog Posts...
Recent Shed Stories...
ready for more space in your life?
Create the building of your dreams by requesting a free estimate or customizing your own 3D design. You can also call us at 717-442-3281.
We're ready to assist you!