10% off select add-ons through Oct 8!
Garage Builders: The Guidebook for 2022
There are many steps that go into purchasing a garage, and sometimes it can feel a little overwhelming. As a garage builder, we understand this. However, we also know that the process can be made much more simple with the right information and tools to help guide the process. That's why we have created this complete guide to give you helpful insight and considerations in every aspect of the garage buying process. Let's get into it!
How to Find a Reputable Amish Garage Builder Near You
DEPEND ON THIS DEFINITION FOR GARAGE BUILDERS
rep·u·ta·ble
/ˈrepyədəb(ə)l/
Adjective
'Having a good reputation, well thought of, highly regarded, well respected'
These exact descriptions should be characteristic of any business or company with which you desire to do any transaction or deal. In this extended post, we're going to cover in detail how to find a dependable custom garage builder.
A few opening thoughts…
First, we are focusing primarily on Detached Garage Builders. While much of what we cover will also apply to garage builders who build attached garages, that will not be our focus.
Secondly, there are two main categories of a prefabricated garage. One is a fully assembled prefab garage that is simply dropped in place on a prepared concrete garage pad or a stone pad. The photo you see here is a prefabricated single car garage that was fully assembled in Lancaster County, PA and delivered to a nearby state our county.
The second method is a partially prefabricated garage. Not all garage builders offer this as an option. This is mostly useful when building a two, three or four car garage that is too large to deliver as one unit. This can be done by delivering in two sections or a prefab garage builder might partially assemble a large garage in a facility where Amish garage builders do the hard work and then bring the pieces to your home to assemble.
Either way, you want to be sure you are dealing with a reputable garage builder as you begin the search.
T. A. C. is the Formula for a Successful Purchase
One way to know if you are indeed dealing with a reputable garage builder is to look for these three qualities:
1. Is the Garage Builder Transparent? – Are they an open book? Do they talk straight about their products? Do they sugarcoat or deflect attention away from questions of price or fine print?
2. Is the Garage Builder Willing to Answer All Your Questions? – Be wary of any garage builder who is reluctant to answer even one of your questions. Every question should be met with patience, genuine interest, and a straight answer.
3. What do the Garage Builder's Previous Customers Say? – Actions speak louder than words. If you have narrowed down your list of detached garage builders to just a small handful, a non-negotiable will be a long line of previous customers who are happy, impressed, and devoted to the company. Look for reviews of the garage builder you are considering or speak with previous customers who would consider returning to the garage builder for more products in the future.
Think T.A.C. in your search for a reputable Amish garage builder near you: full Transparency, All questions answered, and previous Customers satisfied.
Now on to Your Next Smart Move!
As you narrow down a trusted Amish Garage Builder or if you have secured one already, now is the time to figure out what exactly you are looking for in your dream garage, such as purpose, size, style, design, and special customization.
An experienced Garage Builder will be able to guide you to a perfect garage match and help bring your dreams and ideas to reality.
The Essential Garage Considerations to Ask Yourself
Now that you know what to look for in a trusted garage builder, it's time to figure out the details of the garage you want.
THE PURPOSE BEHIND YOUR DREAM GARAGE
During this quest for the perfect match, consider the purposes for your aspiring garage. Take a moment of purposeful reflection. Are you solely looking for a garage to protectively house your car(s)?
Are you hoping to have an enough space for a car, work bench, and mini workshop?
Do you want an adequate space for your car plus a generous space for organized storage, a hobby center, or extra living space?
Are you considering a future home business, partnering with Airbnb, or expanding the space for your personal restoration of antique cars?
When you have a plan in place, bring your ideas to the reputable garage builders on your list, and they should be equipped to help you accomplish what you have envisioned.
"An experienced Garage Builder will be able to guide you to a perfect garage match and help bring your dreams and ideas to reality."
Yes, There are More Possibilities Than Imagined
You may have only one, or perhaps four cars, but the possibilities that your garage provides can supersede merely the effective protection of your vehicle(s). Armed with this knowledge, discover which floor plan is right for your scenario.
THE SINGLE CAR PORTABLE GARAGE
Are you looking for the most economical garage? If so, there are portable garage builders or resellers in your local area who could likely have one in place within a few weeks. If you actually find a prebuilt garage that is ready to go, you might be able to get it delivered very soon. Check out the Prebuilt and Ready-to-go Garages here at our garage-building facility.
Your Portable Garage Options from Sheds Unlimited
The Amish-built Standard, Classic, and Premier One Car Garages will bring a smile to both you and your bank account. Each garage option is built with one floor and a comfortable elbow room. In addition, each option increases a bit more in roof height. Make no mistake, a single car portable garage from an expert garage builder is a perfect match for your one lucky vehicle!
These garages are built in Lancaster, PA, and delivered right to your home or business. As a detached garage builder, we offer three main garage styles: the Workshop, the MaxiBarn, and the Saltbox. Each style is fully customizable to any design ideas or additional add-ons. Check out the blogs on a Homeowner's Guide to a 12×20 Portable Garage and Buying a 12×24 Portable Garage: What You Should Know to understand more about these portable garages and whether one is a right fit for you.
DOUBLE-WIDE MODULAR CAR GARAGE
Do you have two cars and a shoestring budget? Double-Wide Modular Garage builders manufacture this garage in two sections and have them joined together on site. Double-wide garages give you that essential space for your two vehicles (or workshop, etc.), while still fitting into the economical category.
Unlike most modular garages (built with flat roofs), the Double-Wide Modular Car Garage is built with an attractive peaked roof. Double-Wide Modular Car Garages are available only in the Workshop style, but special customization options are offered to make it a dream, economical garage. Check out this short blog on Double Wide Garages to find out more about this Amish-built garage.
2 CAR PREFAB GARAGES
The 2 Car Prefab Garage offers a classy home for your 2 cars or extends your garage into another space solely for your personal hobby. The 2 Car Prefab Garages are more intricately designed and built by garage builders than the Double-Wide Modular Car Garages. They are partially assembled in the garage building facility, and then brought to your location and assembled on site.
3 CAR PREFAB GARAGES
Need a three-car compatible garage? Try a 3 Car Garage from a prefab garage builder. This 3 car garage can be an attractive home for your extra toys, snazzy sports cars, or vintage antiques. It is similar to a 2-car garage, but with an extra bay for car number 3. The 3 Car Prefab Garage is also available in the Workshop, MaxiBarn, and Saltbox styles. Find out more when you read How Big is a 3-Car Garage? (or How Big Should It Be?).
4 CAR PREFAB GARAGES
Did you recently add more vehicles to your driveway? A 4 Car Garage from a residential garage builder could give you the space you need. This garage is a great combination of space and affordability, and it features the high-quality craftsmanship expected from a reputable garage builder. Similar to the 2 and 3 car garages, the 4 car prefab garage is available in the Workshop, MaxiBarn, and Saltbox styles.
How Many Floors?
Time to decide exactly how much you want to raise the roof on your garage. Remember to take into consideration your personal purposes for a garage. Think about present and future possibilities!
SINGLE STORY
If you are seeking merely a protective structure for your car(s) and/or hobby, choose a single-story option from a residential garage builder. Simple, yet irresistibly classy. No reason to leave your Good Ole faithful out in the rain or snow any longer!
ATTIC
Craving more organization and storage space, yet not interested in spending more on square footage? If so, choose an Attic Garage from an Amish garage builder. An attic garage will provide you with attic space in the engineered truss area. Happy storage, happy garage, happy you. Find out which garage styles offer the Attic storage option in Car Garages with Attic Space Built by the Amish.
LEGACY TWO STORY
If you want to take your garage to a whole new level (literally), the Legacy Two Story Garage is for you. Crafted by our expert garage builders, a Legacy Two Story Garage is a multi-purposed option that provides you with an extra floor of space. This floor can be remodeled into a small guesthouse, Airbnb, mancave, apartment space, or whatever you desire!
What's Your Garage Style?
Your style of garage reflects your aesthetic preference, your budget, and/or your personal needs. As a reputable garage builder, we suggest considering these factors when choosing a garage-style. Before we get into the different garage styles, you can also read about different garage roof styles in this article.
WORKSHOP
The Standard Workshop style offers a single floor plan and is the most economical style available. Rest assured that economical does not constitute less quality. There are no cutting corners with our Amish-built garages, regardless of the style or price. The Standard Workshop garage typically comes with a single floor, but customization is available.
Attic space, lofts, or a full second floor are always available to add onto the Workshop styles. Our Workshop Garages are simple, efficient, and tasteful; exactly what you would expect from a premier garage builder.
MAXIBARN
If you get claustrophobia easily, consider a quality-built MaxiBarn garage. The MaxiBarn features a high ceiling, leaving plenty of room for both you and your vehicle to breathe. The Standard and Premier MaxiBarn styles offer the perfect spot for a loft, and the Legacy two-story will afford you a complete extra floor. Another charming aspect of the MaxiBarn garage is its resemblance to a barn.
A MaxiBarn truly is the perfect combo of class and country. With a MaxiBarn from a prefab garage builder, your John Deere tractor will finally dwell in a space worthy of its legacy!
SALTBOX
A unique name and unique style describe the Saltbox garage. Crowned with a vintage flair and darling overhang, the Saltbox garage is a perfect fit; especially if you are drawn to architecture that is standout and creative. The Saltbox garage is built with two doors and plenty of space for your vehicle and storage. Even the wide overhang provides plenty of space and shade for those flowerpots.
Make no mistake, the unique sloped roof of the Saltbox garage puts this style into a class of its very own. If you are looking for the very best that quality garage builders have to offer, the Saltbox definitely meets the criteria.
"Your style of garage reflects your aesthetic preference, your budget, and/or your personal needs."
What is Your Ideal Material Siding?
The material of your garage is important because it is a determining factor for maintenance, aesthetics, and price. Keep these three factors in mind as you talk with a custom garage builder about the ideal material to use.
WOOD
Wood is the most natural and environmentally friendly material. If you are looking to keep your garage purchase as economical as possible, wood is cheaper by $1,000-$8,000 (varies from garage size to style). Our wooden garages leave a wood-grain appearance behind the paint color of your choice.
If you love anything wooden, a wooden Amish-built garage would fit your aesthetical choice quite well. However, more regular maintenance will be required to promote upkeep and maintain its natural beauty.
VINYL
Vinyl delivers a clean and smooth appearance to the exterior of your garage. Vinyl is a more expensive option for garage siding and is typically between $ 1,000-$8,000 more in price (varies from garage size to style). However, vinyl garages are virtually maintenance-free. If you have an appreciation for a more modern appeal, tell your garage builder you want vinyl siding on your custom prefab garage.
WOODEN CLAPBOARD
As a custom garage builder, we also offer Wood Clapboard as a siding option. Our garages are built with top of the line Clapboard siding partnered with a lifetime manufacturer's warranty. While Clapboard siding shares a similar appearance to vinyl, it is a few notches higher in its durability. Therefore, it is also the most expensive material siding option of the three.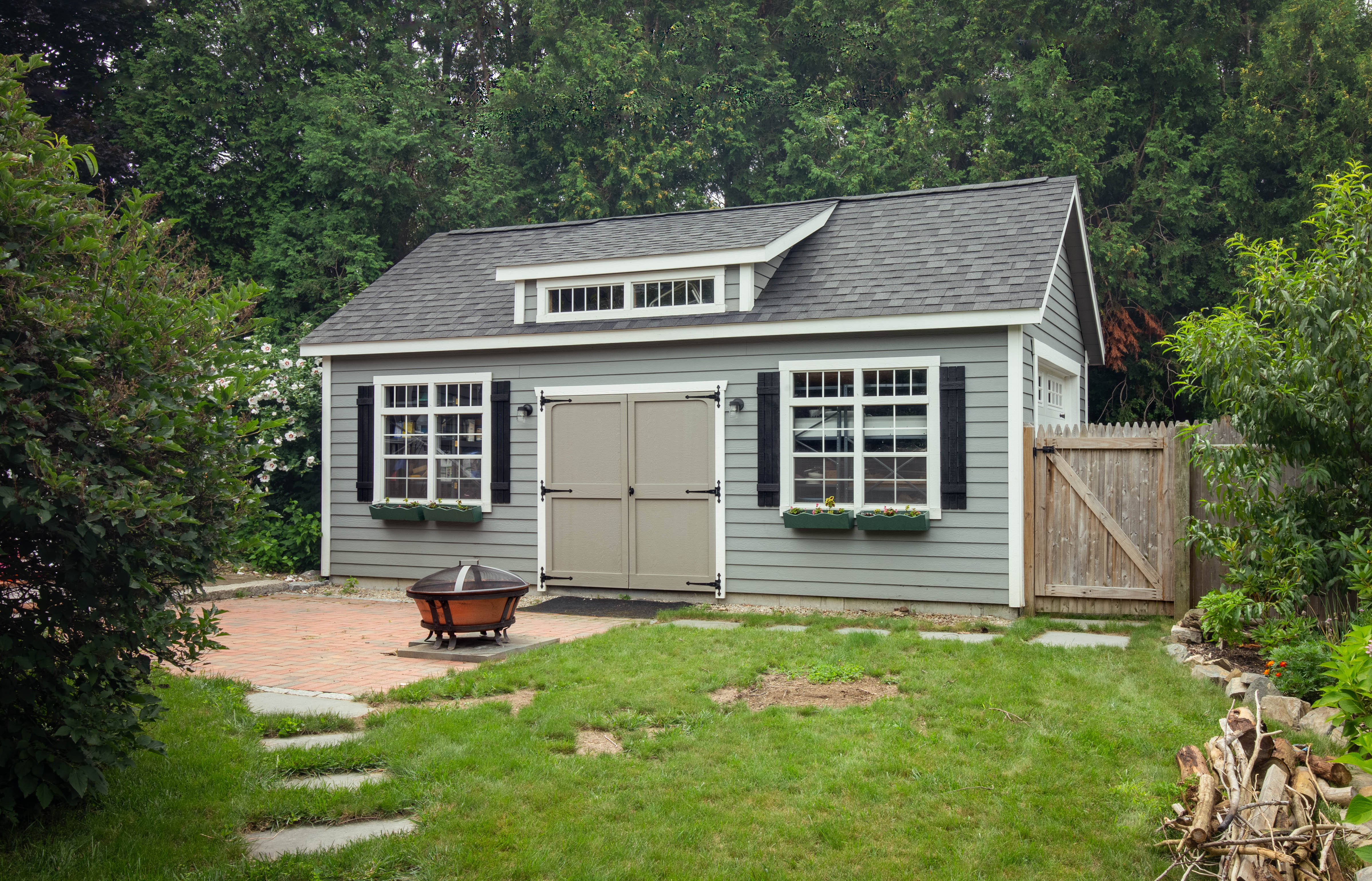 However, Clapboard siding only ranges approximately $ 1,000-$2,000 more than vinyl siding. If durability is a nonnegotiable for you, then Wood Clapboard "fits the bill".
Or, if you're not satisfied with these siding options, you could read about board and batten siding for garages.
What's Your Perfect Size Dimensions?
Now we are getting down to the nitty gritty of your garage's evolutionary details. What will be the exact dimensions of your garage? Prior to contacting your residential garage builder, think about the following two questions:
Where are you hoping to place your garage?
Does your ideal garage fit those measurements?
If you are limited to certain locations or committed to one spot, you can always remove any obstacles or surrender to smaller dimensions.
Note: If you are concerned about whether or not a garage can be delivered to your ideal location, do not worry! Our trained Amish Garage Builders are equipped to build your garage onsite.
The following is an infographic listing the garage widths that are offered by Sheds Unlimited. As for length, we are a custom garage builder and are more than happy to do whatever length dimension you provide.

Note: For a complete listing of all the available garage sizes check out the preferred garage of your choice and see what all sizes are available in between the indicated sizes above.
Additional Note: Upon request, larger dimensions can be built to provide you the size of your ideal garage. Also, depending on the size of your garage and your desired location, it may need to be built onsite. The final price of your garage includes assembly onsite. Get Your Free Estimate or contact us directly at (717) 442-3281 for any questions, especially regarding your garage's potential size dimensions.
Attached Garages vs. Detached Garage Builders
What is the Difference Between an attached garage and a detached garage?
An attached garage is built into the side of your house and access is made available through a door connecting your garage and house. On the other hand, a detached garage is a stand-alone structure often set in close proximity to your home. So, what will it be? Would you like an attached garage from your garage builder, or a detached garage? Perhaps you are riding the fence on whether you should go with one or the other. Before you make a final decision on either of these garages (specifically, an attached garage), make sure you understand the pros and cons of an Amish-built detached garage.
Pros of a Detached Garage
A quality detached garage from a residential garage builder is ideal for the following reasons:
-If you are interested in special customization, or a unique design that is set apart from your existing house.
-If you need more room for your cars and your personal hobby.
-If you wish to keep noise (from your vehicles, equipment, or woodworking adventures) from easily wafting into your home.
-If you want to be 100% preventative against the possibility of carbon monoxide building up in your home accidently (this is rare, but an unfortunate reality. Friendly Reminder: Never leave your car running in a closed vicinity.).
-If you are hoping to one day build onto your garage, it is easier to do so on a detached garage.
-If you are aspiring to find a cheaper permit to build onto your garage, with detached garages you will usually find cheaper building permits to do so.
Cons of a Detached Garage
However, a detached garage from your residential garage builder may not be the ideal fit for the following reasons:
-If you need direct access to your car from your home due to physical disability or personal preference.
-If you want to avoid walking through the snow, rain, or wind to reach your car during foul weather.
-If you have extremely limited property space.
-If your Homeowner's Association forbids detached garages.
-If you are searching for the initial starting cost to be slightly cheaper.
"Overall, a detached garage from an Amish garage builder offers you the greatest level of flexibility for present and future possibilities, along with a greater potential for long-term investment."
Ways to Aesthetically Enhance Your Garage
By this point, your custom garage from your detached garage builder is really coming together! Already the aesthetics look fabulous with the flooring level, the style, the siding, and the size. Put the cherry on top by checking out these aesthetically enhancing ways to make your fabulous-looking garage a jaw dropper! Perhaps your neighbor's grass is bit greener, but they will surely turn green with envy after you add some of these beautifying additions to your already stunning garage.
Charming Cupolas
Tell your custom garage builder that you want to top your garage with a beautiful, ornate cupola. Cupolas add a charming and stylish accent atop your garage. Plus, with multiple options available, you can find the perfect match for your garage's style. Check out just how cool cupolas are by reading, Charming Cupolas, The Features, Uses, and History of Cupolas.
Weathervanes, the Cherry on Top
Weathervanes are epic, eye-catching wonders! These attractive wind catchers are the cherry atop your cupola. Together, a weathervane and a cupola offer an outstanding combination, drawing admiration far and wide! Choose from a variety of options offered by your garage builder, such as roosters, dogs, eagles, horses, and more!
Dormers Distinguish Your Roof
A dormer is a structural addition to your roof that stands out beyond the plane of the pitch on the roof. A dormer has a window and adds plenty of beauty and style to your garage. In addition, it also adds extra space to your attic. Instead of a plain roof, ask your custom garage builder to complement your roof with stunning dormers. Check out the four available dormer styles and choose the one that captures your visual appetite.
Additional Windows
Windows beckon the rays of the sun into your garage. The more sunshine the better! So why not allow the interior of your new garage to be as sun-kissed as possible with the addition of multiple windows? Windows add beauty simply by inviting sunlight into your garage, but they also have an attractive design that is delightful to behold.
Accenting Shutters
Shutters are a charming accent to your windows. They can give your garage's exterior windows a homey, inviting feel or a classy, modern touch. Shutters are designed to leave permanency to your garage that creates feelings of peaceful stability and completeness. Talk with your detached garage builder to decide which shutters best enhance your garage's style.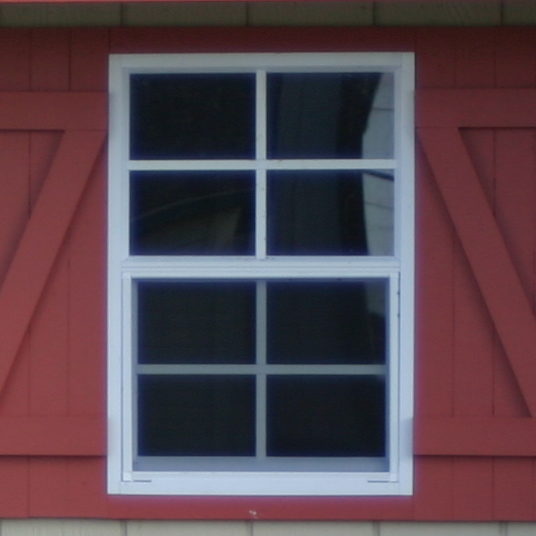 Flower Boxes
No need to just dream about adding flower boxes below your windows anymore! As a custom garage builder, we will create your flower box, to be an endearing addition below your sparkling new garage windows. Spring and summer just got more exciting with your very own flower boxes to fill with your favorite seasonal flowers.
And More Customization Awaits!
There are more ways to design and add your own personal touches to the garage of your choice. Check out all the Options and Colors for a complete listing of all other detailed customization available to you. Keep in mind that the list of options and colors are only helpful possibilities.
"We are a custom garage builder and welcome your own ideas or customization suggestions."
What are You Waiting For?
Your perfect garage is all but delivered to your house! Contact your garage builder and go for it! Become a happy and satisfied Amish Detached Garage owner today!
Our Amish Garage Builders are Ready to Serve You
At Sheds Unlimited, we are a team dedicated to our heritage of skilled craftsmanship and working intricately with our hands. For over 32 years, Sheds Unlimited has been in a full operational swing. Our Amish garage builders are not only knowledgeable about their trade, but they are thoroughly thrilled to be assembling and delivering your Amish-built garage. Hear the whole story about our family-owned and operated business by checking out, From Ponies and Carts to Sheds and Garages! We love what we do and we feel honored to include you as part of the Family at Sheds Unlimited.
Sheds Unlimited Garage Builders Go Near and Far
Although we are Amish garage builders located in Lancaster, Pa, our garages are a sought-after commodity far and wide! Our valued customers span the Northeastern part of the USA and our Amish garage builders service the states of Delaware, Maryland, Virginia, West Virginia, New Jersey, New York, Ohio, Maine, and the surrounding states. Check out some of our previous customers' garages from varying Northeastern states and get a reassuring taste of their complete satisfaction.
2 Car Garage with Lift Completed in Falmouth, Maine
Tom Bannen of Falmouth, Maine relishes his new 2 Car Garage with a lift, where he can efficiently and comfortably work on his hobby of restoring antique cars and trucks. After 25 years of working out of a single bay garage on his driveway, Tom's dream garage finally became a reality after partnering with Sheds Unlimited. Tom Bannen's experience is summed up in his own words, "The garage not only meets my expectations, but it passed the 'quality test' of my friends, family, and even the nosy neighbors. Not one critical remark has been made. The garage-built speed fit/finish has impressed everyone." Hear Tom Brannen's whole experience of his interaction with our Amish garage builders in Maine.
Paul's Stunning Prefab 3 Car Garage in Souderton, PA
Paul of Souderton, Pa loves spending time in his new 3 Car Garage from Sheds Unlimited, where he now can freely store and work on his prized vehicles. Before Paul discovered his Sheds Unlimited 3 Car Garage, he had been renting a garage from a nearby neighbor. Once his neighbor decided to move to San Diego, Paul recognized the need and benefit of owning his own garage. Sheds Unlimited empowered Paul in his pursuit of a perfect garage when he chose one of their stunning 3 Car Garages. Paul's own words describe his satisfactory experience with Sheds Unlimited: "Exceeded my expectations." Hear Paul's whole experience with our Amish garage builder's in Pa.
2-Story Legacy Prefab Garage Provides a Home for a Virginia Grandma
Rebecca and Anthony's dilemma was solved once and for all with one of Sheds Unlimited's 2 Story Prefab Garages. It was time for Rebecca's mother to find a safe and comfortable place to retire and the best housing option was to move in with Rebecca and Anthony. But… Rebecca's Vintage Online Business operated out of her basement, the ideal spot for her mother's living space. After extensive researching and waiting, Rebecca partnered with Sheds Unlimited despite 5 hours of distance restricting her from visiting the Amish garage builder in person. The excellent customer reviews gave her enough faith to put her trust in Sheds Unlimited despite the distance. Once Rebecca's garage arrived, all her previous fears disappeared: "Fortunately, we ended up with an amazing structurally sound garage, just as promised!" Hear Rebecca's whole experience with our Amish garage builders in Va.
Creating a Retirement Haven with Sheds and Garages in Farmingdale, NJ
Robert and Carol Gleasons' years of hard work culminated in the creation of their dream retirement home. The Gleason's renovation of a spacious property in Farmingdale, NJ sent them on a hunt for their dream structures, where they both could cultivate their hobbies and enjoy their spacious backyard to the fullest. Sheds Unlimited helped the Gleasons "unearth" their desired structures, which included two sheds and a One and Two Car Garage, which Sheds Unlimited attached to form one building. The Gleasons were left with "absolutely no regrets" and gorgeous outdoor structures to accent their spacious retirement haven. Hear the Gleasons' whole experience with our Amish Garage Builders in N.J.
Bill's Hot Rod 3 Car Garage in Maryland
Bill shares his new Hot Rod Garage from Sheds Unlimited and sums his final garage result in the following words: "I couldn't be happier!" Click the video below to watch Bill's experience with our Amish Garage Builder in MD.
Jim's Prefab Garage for his Classic Car Collection in Poughkeepsie, NY
Jim needed a bigger space to house his beautiful collection of cars and decided upon a 24×50 4-car prefab garage from the garage builders at Sheds Unlimited. He was very surprised to see how quickly his dream garage came together, stating that the Sheds Unlimited team "worked tirelessly" to complete it. Even Jim's neighbors came over to comment on how quickly the job got done! Check out Jim's full story for yourself.
Ready to Contact a Reputable Garage Builder?
As we stated above, there are plenty of benefits in having a custom garage from a reputable garage builder. Are you ready to add a detached garage to your property? If so, why wait any longer? Many people have had amazing experiences working with our Amish garage builders, and you can too! Purchasing a garage is a big step in life, but it is also an incredibly exciting and worthwhile one. We understand the process may look overwhelming and complicated, and that's exactly why we've created this definitive guide to help you find that perfect garage. Should you have any questions, feel free to go back and reread a portion, or contact our helpful staff.
"Are you ready to add a detached garage to your property? If so, why wait any longer?"
Recent Shed Blog Posts...
Recent Shed Stories...
ready for more space in your life?
Create the building of your dreams by requesting a free estimate or customizing your own 3D design. You can also call us at 717-442-3281.
We're ready to assist you!