Watch a Two Car Modular Garage Building Assembly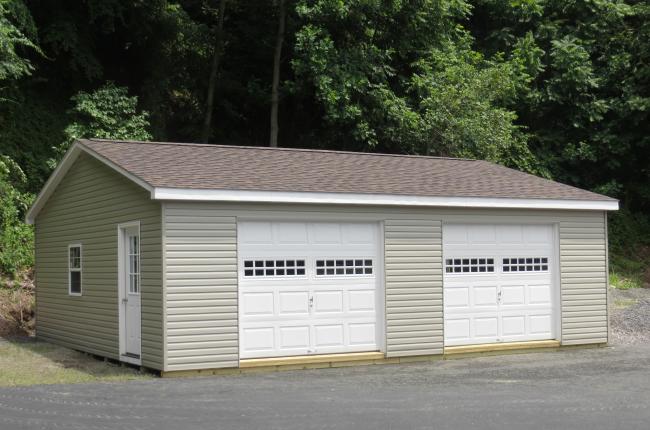 Temporary and Portable Two Car Garages Modular Design
The Modular Two Car Garages come with the following standard design features:
4/12 Roof Pitch on Buildings up to 28′ Wide
Two 9×7 Garage Doors Solid
Two 24×27 Windows with Shutters
One 3'x6'8″ Entrance Door
85.5″ Sidewalls framed with 2×4's at 16″ Center
6-inch Overhangs all around
12″ Center Heavy Floor – 2×4's and Ten 4×4 Skids
Double LVL Beam over the inside opening
30-year architectural shingles
Our Modular Temporary Car Garages and Double-Wide Buildings are a good solution for one looking for a temporary 2 car garage. These portable garages are pre-manufactured in our facility in Lancaster County, PA and delivered in two modular units. The two halves of the double-wide garage are then assebled and bolted together as shown in the video below. If you ever need to move the modular garage, a few hours is all it should take to have it ready to move.
The minimum size of a modular two car garage is 20'x20′ and the maximum is huge 30'x48′.
In addition to saving on a temporary 2 car garage, you save on the foundation and have the option of moving the garage in the future. Call us at 717-442-3281 for more information or REQUEST A FREE ESTIMATE including delivery. See the modular garage pricing.
Email Us or visit our garage manufacturing facility at 2025 Valley Rd, Morgantown, PA 19543.
Watch the Temporary Garage Assembly Video
Steps to Getting Your Temporary Prefab Garage
If you are looking to built a Modular Car Garage as a permanent structure or a temporary car garage, we work closely with you on the details. Following are the directions of how the process works. If you have any further questions, please feel free to contact our office at 717-442-3281
Request a FREE ESTIMATE for the Temporary and Modular Garage you wish to have built.
Prepare a solid stone pad for your TEMPORARY GARAGE
Take the plans to the municipality and apply for a permit
Place the order for the detached garage with a 30% deposit. The charge for the plans will be credited towards your building. At this point, Sheds Unlimited will order the supplies for your building
Schedule a time for delivery of your Modular Garage
Sheds Unlimited will send their team to your location with the garage. It will arrive in two sections and within a short time, it will be fully functional!
Make the final payment and enjoy your new garage!
Recent Shed Blog Posts...
Recent Shed Stories...
ready for more space in your life?
Create the building of your dreams by requesting a free estimate or customizing your own 3D design. You can also call us at 717-442-3281 from Monday to Friday between 8:00 am - 5:00 pm or Saturday between 9:00 am - 1:00 pm. We're ready to assist you!