Free* Tread Plates Through Oct 1!
The Ins and Outs of Using Your Shed As a Rental
In light of the current times with remote work becoming the norm, Airbnbs have also become increasingly popular and can be a great way to earn extra money on the side. This has led to many people getting creative and using their spaces for rental opportunities. Some choose to rent out a room in their dwelling while others invest in a separate property solely for this purpose. However, with the term "shedcation" beginning to trend, you might find you have the perfect opportunity right in your backyard. Here are some ideas to keep in mind to help you get started with shed rental.
Check Local Guidelines
Using your shed as an income source can be a very exciting new project to take on. However, before jumping in, you should know there's a lot more planning involved than one might think! Every local area and county has different regulations when it comes to zoning, coding, legal requirements, and rental guidelines so you want to ensure you're double-checking these before you begin the process. Once you've completed this and know you're within all the specific parameters for your area, you're set to start creating the rental shed of your dreams.
Organize Your Budget
When beginning the process of incorporating the rental shed into your yard, you'll want to consider your finances and establish a budget for yourself. Before getting into the nitty gritty of designing your space and deciding how extensive you want this project to be, you need to look at the costs associated with it. Some expenses you can expect are customizations, renovations, maintenance, furniture, and more. At the end of the day, the ultimate goal is to utilize this building for a profit, so you want to really dive deep into the projected costs ahead of time to make it worth your while.
If you aren't looking to spend all of your hard-earned savings or completely drain your wallet for this project, there are other options to acquire the necessary funding. One great solution is using a tax-deductible home equity loan that allows you to borrow against the equity you've already built up in your home over time. You can receive this money in a lump sum to use at your leisure while paying it off at a much lower interest rate than you would traditionally see if you were to put this on a credit card or take out a personal loan.
Another resource worth looking into is the use of a secured or unsecured loan to gain the appropriate funding. While these benefits are different from those previously mentioned, it gives you another option to utilize the collateral you already have to back this up. Be sure to double-check you meet the necessary requirements before pursuing this route.
These choices certainly aren't the only ones available to you, however, they're ones that are proven to work for similar projects and renovations!
Choose Your Shed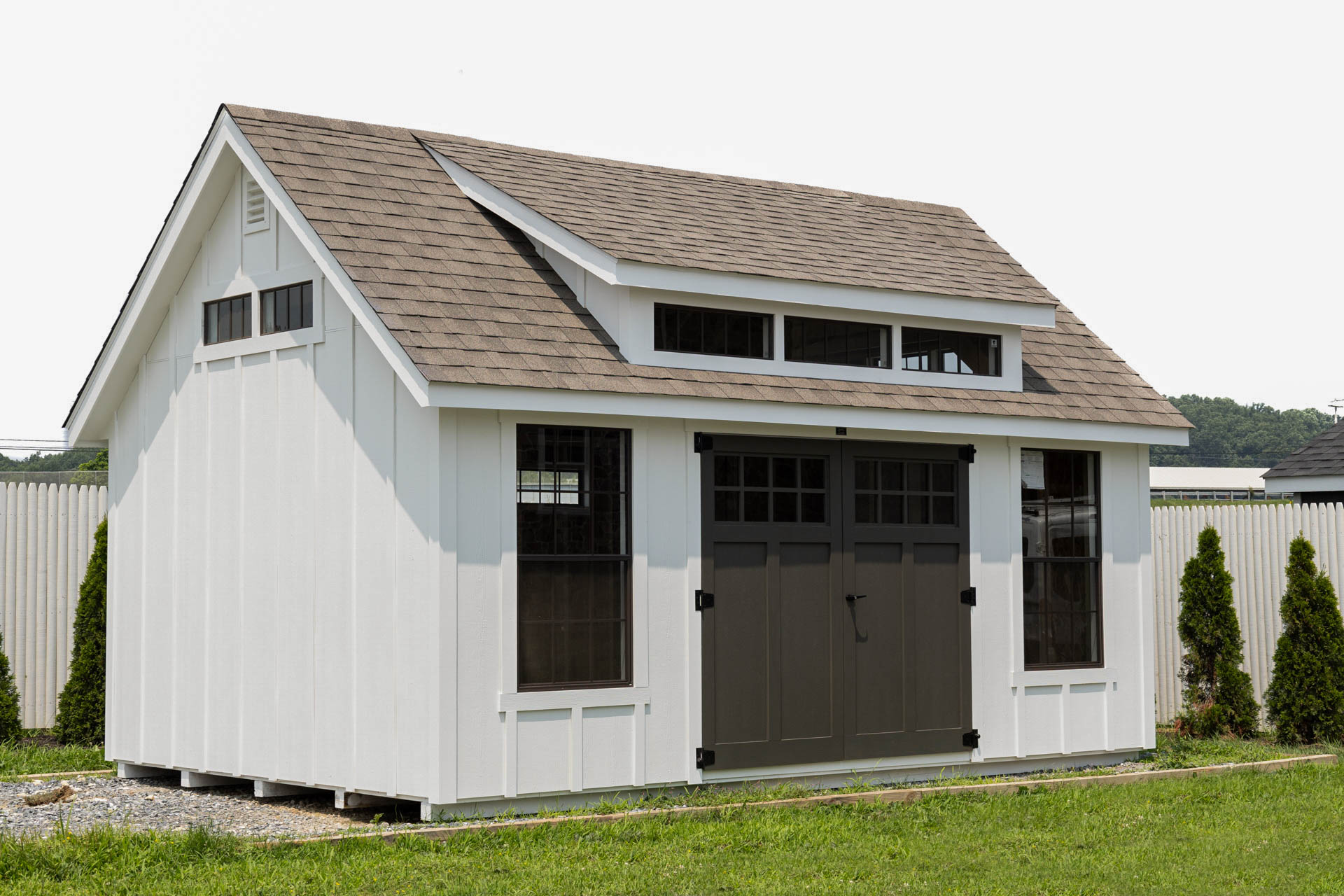 Now comes the fun part of choosing the right shed for your rental space. Even if you already have a shed, it may not be one that's best suited for this sort of conversion. Be honest with yourself about what you're working with. If you can't envision your current shed as a livable space, then you may be better off starting from scratch. There are many different options available, so you'll want to have a good idea of what your goals are, and how you want your rental shed to be set up. This is your chance to make the shed unique, in the hopes that it'll stick out to your potential guests when they're looking for a place to book their stay.
You'll want to evaluate and measure the area you have available and get a good idea of what kind, size, and shape of the shed is going to work best for you. Once you have those numbers figured out, you can begin to look at the design portion of this process and get more creative when it comes to selecting things like paint colors, trim, windows, roofing styles, flooring, and more. If you're more of a visual learner, you can utilize this interactive 3D shed builder tool to see your design ideas come to life before your eyes. This is a great way to test out different concepts before fully committing to one and making the purchase.
Is your vision for this rental shed to be more of an elaborate escape for your guests? Or is it a simple "no frills" space for them to sleep before departing and continuing on with their adventures? Regardless of what it looks like for you, there are a plethora of opportunities and styles of sheds to choose from to make it the most ideal space for both you and your guests.
Renovate the Space
Renovating your shed to be a conducive space for guests to rent is the most important part of this process. Of course, you'll want to complete all the major must-haves in a rental shed such as plumbing, power, heating, electricity, a kitchen, bedroom, and bathroom area. However, something else that might really make your rental unique and attractive to potential tenants is the interior design aspect and the theme you choose to implement inside.
Perhaps your rental shed is located in a mountainous, cabin getaway town where people can escape the busy lifestyles they typically lead, or maybe it's in the midst of a bustling city filled with things to do. This is a great opportunity to decorate and make the shed more of an immersive experience that tells a story that suits its location.
There are many different ways to make your rental shed stand out from the rest of the crowd, and taking the extra time and thoughtfulness to pursue more customized touches will benefit you and your guests in the long run. This doesn't have to be some overwhelming project to take on; there are plenty of little ways to spruce it up a bit – and you'll be glad you did.
Nomadic Lifestyle Popularity
With remote work being the new norm for many professionals, the popularity of the nomadic lifestyle has skyrocketed. The digital nomad can work from anywhere as opposed to the confines of a physical office location and typically moves around to different states, cities, or towns multiple times a year, sometimes even monthly. You and your rental shed may be able to benefit from this cultural shift by pursuing a long-term or short-term rental agreement depending on what better suits you and your renters.
According to recent studies, there are more than 11 million digital nomads in the United States and this number is only continuing to increase. Nomads are constantly traveling looking for the next place to explore and need a space to stay with good Wi-Fi to ensure they can still get their work done during their daily hours. This is a perfect opportunity to dive into owning and operating your own rental shed for these purposes.
Lower Maintenance
Now that you have your shed all set up to rent, you'll want to ensure you're performing the routine maintenance and cleaning in between tenants. Since the shed is a smaller space in square footage compared to an entire investment property, these tasks shouldn't take up too much of your time or money. But regardless of size, you should be treating it as you would your own home by scheduling checkups on the water, heating, air conditioning, air filters, and more. However, you'll also need to develop your own cleaning and sanitation process to perform after your old renters have departed and before your new ones arrive. Ideally, this can be done in a day's time and set you up for success in your next booking. Here's an article on lowering your shed maintenance.
Include Additional Amenities
It's important to consider some additional amenities that would be useful to your renters and in turn, increase the nightly rate you charge. Of course, ensuring your space has a fully equipped kitchen, linens, and cleaning supplies is a given. You'll also want to think about potentially adding some increased security measures, so your guests feel safe during their stay. When it comes to remote work like we previously mentioned, these guests are looking for a strong and stable Wi-Fi connection and a dedicated workspace, so be sure to keep this in mind when setting up your space.
Furthermore, you might want to think outside the box and include some more niche amenities such as recreational equipment. If your rental shed is located near an area with a lake or beaches, maybe a couple of kayaks, paddles, and beach chairs would be a nice touch! Even adding something like a fire pit or a luxury hot tub will help you stick out. At the end of the day, people are more than likely choosing where to rent based on what it offers them. Anything else you can do to solidify their choice in using your space for their shedcation destination is a win!
Now that you have a good idea and solid plan for what you want your rental shed to look like, it's time to check those guidelines, establish a budget, and start creating the rental opportunity you've envisioned. Good luck!
Recent Shed Blog Posts...
Recent Shed Stories...
ready for more space in your life?
Create the building of your dreams by requesting a free estimate or customizing your own 3D design. You can also call us at 717-442-3281.
We're ready to assist you!