5% off all 2-, 3-, and 4-car prefab garages through February 28, 2022!
The Top 10 Garage Organization Ideas
A garage is a roofed structure that is used to store vehicles but unfortunately often ends up being a dumping ground for everything. Whether you own a one-car portable garage, or a two-car garage with a second floor, over time, this garage turns into a storeroom. You start storing home equipment, kids' toys, gardening tools, along with, of course, your vehicle and soon there is little room to move around. The clutter makes it difficult for you to find the things you want when you really need them. Upgrade this messy place with these organizing techniques. Here are ten ways to organize your garage smartly.
Photo Credit: Abby Lawson
1. STACK BINS FOR ORGANIZING YOUR GARAGE
Plastic storage options are great for holding the tools in your garage. You can first segregate the items according to size or type. Categorize them as garden tools, home supplies, sports gear, and cleaning items. It will give you an idea of the number of plastic bins you need and the size of the containers to purchase.
Photo Credit: Driven By Decor
Next, you need to decide on the type of bins you want to purchase. Transparent boxes make it easy to see the things inside without opening them. On the other hand, you can opt for opaque bins that will prevent showcasing the clutter but possibly make it more difficult to find the things you need when you need them.
Purchase heavy-duty bins for storing items that are heavy for better support. Storage bins for your detached or attached garage are available in different price ranges depending on lightweight to heavy.
Some bins even come with wheels for smooth movement.
Remember to label these boxes once you have arranged them and place the most frequently used boxes at your reach as compared to others.
2. STORE MORE ON THE GARAGE WALLS
Maximizing your garage space is essential for a garage. Wall-mounted racks and shelving are excellent methods to save space. They expand floor space, increase visibility, and make floor cleaning easy.
You can install plywood over the wall and put your hooks on it. You can now arrange your hardware tools on these hooks.
Photo Credit: Pixabay
For bikes, strong bike hooks are available that lets you move your bikes smoothly without lifting.
To make sure all your stuff is secure and safe, make sure you install a good quality garage door too. You can look for garage doors online and order yours' that suits the aesthetics of your garage.
3. WALL SHELVES
These are a smart way to organize the things that you require often. They provide secure and quick access to your stuff without making a mess. You can DIY two tiers or three-tier baskets using reusable bags or umbrellas..
4. CEILING STORAGE IN YOUR ONE CAR GARAGE
If you own a single-vehicle garage then this storage method is most suitable for you. You can save floor space by making some room in your ceiling. The most important thing you can do in a single-car garage is adding loft space in the ceiling area. This allows you to store smaller items up and out of the way.
5. RECYCLE PEANUT BUTTER JARS
Clean and recycle your peanut butter jar with hardware essentials. They are good for storing things as they can hold heavy materials and won't break either. Connect the lids of these jars under a shelf using two screws. Once done, you can fill the jar with pins or screws or stuff like these and crew it with the lid.
Photo Credit: Boredwiki.com
You can also hang your bike on the ceiling using bike hooks or a bicycle hoist system. Overhead storage with adjustable ceiling racks are best for storing paddle boards or canoes.
For ease of access, fix a pull-down loft ladder, which you can fold back up when not in use.
6. Corner Shelves in your Garage
Corner shelves are one of the most efficient ways to utilize the corners of the garage. When your garage doesn't allow you to use extended vertical shelves, then install a heavy-duty corner shelf for extra storage space.
You can DIY by using a pair of wooden racks to build an L shaped storage. Recycle the scrap plywood, fix them using 1*1 cleats. You will have a classic corner shelf which is suitable for storing tiny items like wax, oil, glues which you might lose otherwise.
7. Add a Kids Toys Storage Area in the Garage
Families with kids will know that children's toys, costumes, and other gears occupy most of their garage space. You can start by dedicating a section of the garage for your kids to play, organize, and tidy up their things. It will teach your young kids tidy habits. Arrange their shelves for their toys at eye levels, to make it easy for them to tidy up. You can paint these dedicated sections with colored lines to add a fun twist.
8. Adjustable Drawer Partitions (if you have drawers)
Put the things in your drawer in order by putting dividers. With the help of plywood for partitions and self-adhesive tape, you can create barriers in the drawer. These drawers are excellent ways to organize your screwdrivers and tapes. You can also purchase small boxes, put labels on them, and arrange them in the drawer.
9. Fishing Rod Organizer
It is frustrating to see the lines of the fishing gear tangled up. There are many ways in which you can organize fishing gear. Instead of buying a fancy rack, you can screw short wire shelves to the ceiling of your garage. It makes a fishing rod holder which looks very neat and organized.
Another technique of storing fishing rods is by using PVC pipes and a pool noodle. Pierce, the PVC pipe to make holes, line at a distance of 4 inches. The holes must fit the handle of the fishing rod. Similarly, make slight skits to the noodle distanced at 4 inches. Fix them both on the wall on top of each other. You have a stylish fishing rod holder.
10. PEGBOARD ON YOUR GARAGE WALLS
Pegboard is an excellent way of hanging the garage tools skillfully on a grid. They are very versatile and depending on your tools, there are a variety of things that you can display on pegboard shelves. Arrange all small things that make your garage look messy and display them on a pegboard.
Photo Credit: Ugly Duckling House
Pegboard is an excellent way of hanging the garage tools skillfully on a grid. They are very versatile and depending on your tools, there are a variety of things that you can display on pegboard shelves. Arrange all small things that make your garage look messy and display them on a pegboard.
Get a New Garage!
Last (but not least), if you still can't find enough space in your garage to store all the stuff, you might want to consider upgrading your garage. Here are a few prefabricated garages for sale to help you think about how you can expand your garage space. Some of them give you a lot more space without expanding your footprint.
A ONE CAR TWO STORY GARAGE
If you only have a limited amount of land area, then a two-story single-car garage can do amazing things for you. With the addition of two shed dormers, this two-story garage can give you a full second floor of storage space leaving the first-floor area for your vehicle storage.
A TWO CAR GARAGE CAN GIVE YOU MORE SPACE
Upgrade to a two-car garage and you'll double your space. Even if you only have one car to store in the garage, you can use the second garage bay for lawn equipment, a workshop, or about anything else you want to use it for.
GARAGES WITH ATTIC SPACE
A garage with attic space can double the amount of storage space in your garage. There are basically two ways to think about a garage with attic space. First, add a small room in the roof area of your prefab garage. The second gives you a full second floor and with the addition of Shed Dormers, you can enjoy a wide-open space on the second floor.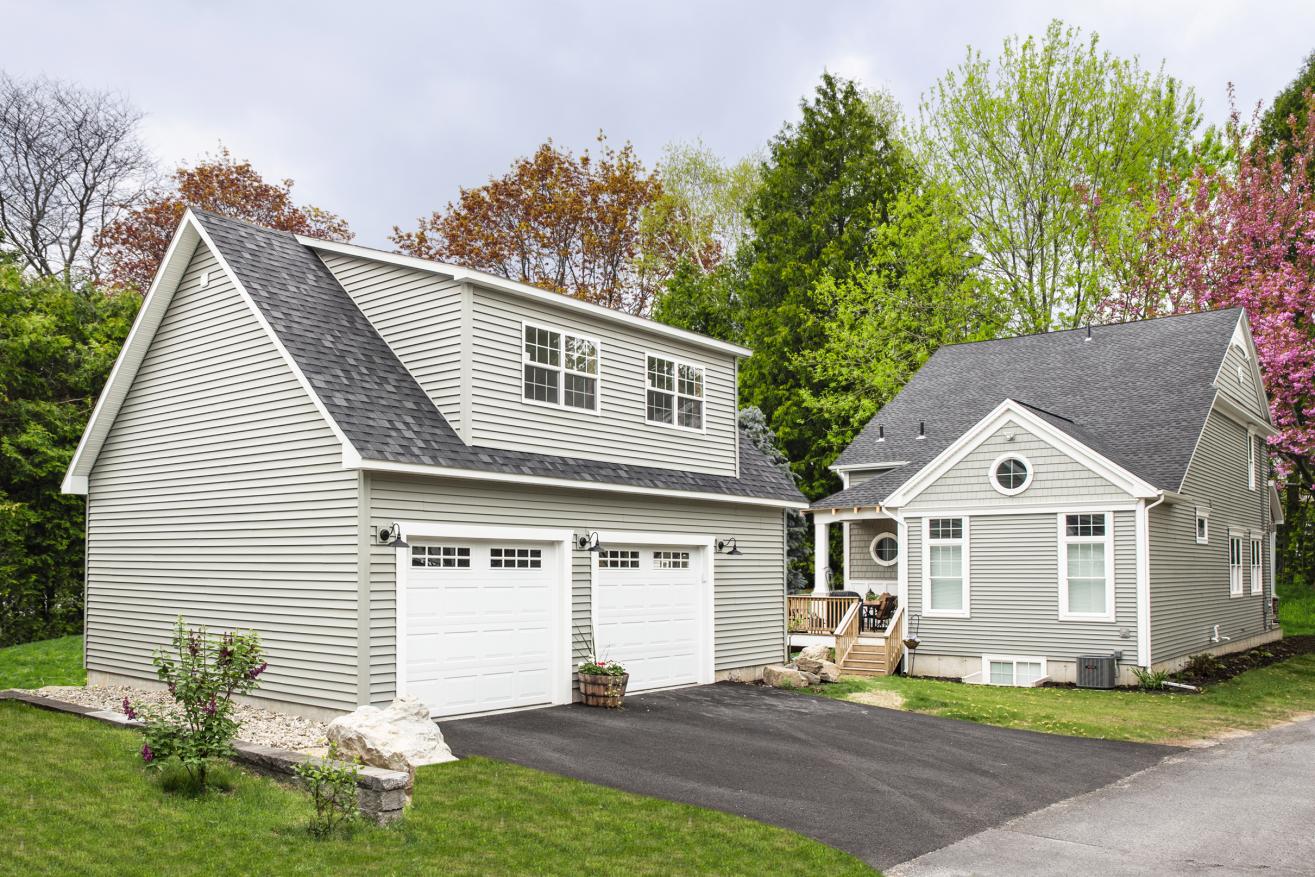 All in All
The above are the ten ways to organize your garage smartly. But, if you just can't make the garage you have work, you can add a new garage. Or, choose a shed in the backyard to open up more space in your current garage. A neat and orderly garage gives a pleasant feeling to the work environment. Also, you have a higher chance of finding any item quickly when you have a dedicated space for it.
Recent Shed Blog Posts...
Recent Shed Stories...
ready for more space in your life?
Create the building of your dreams by requesting a free estimate or customizing your own 3D design. You can also call us at 717-442-3281 from Monday to Friday between 8:00 am - 5:00 pm or Saturday between 9:00 am - 1:00 pm. We're ready to assist you!