Free* Tread Plates Through Oct 1!
10×10 Sheds: The Mighty Mini for Storage
Small Backyard? You Have Room for a 10×10 Storage Shed
You have a small backyard and the house is running over with stuff like in the photo above. Maybe there's no room for the great big storage shed of your dreams. One where you could have a workshop, storage space and car garage all in one.
Don't worry, you still have many options for a shed that will be practical and even stylish! Here we are going to focus the 10 x 10 storage shed. This small storage shed comes in many styles that can all be customized to your own liking (See the list at the end of the blog).
The 10×10 Storage Shed is a small storage shed that I like to call the Mighty Mini. While these sheds are small, you may be surprised at the storage options one of these small sheds will give you!
First, Tips for Organizing 10×10 Storage Sheds
Maybe it's your budget that leads you to consider a 10×10 shed or maybe it's your small backyard. What's amazing, is how much one can fit into a small shed if it is organized correctly. You don't want to join the 32% of people who cannot enter their shed because its full to the front door!
With a shed, the size of a 10 x 10 storage shed you'll want to make the most of your space. Here are a few organizing ideas to get your brain rolling.
Add Tool Hangers in your 10×10 Storage Shed
Garden tools can take up a lot of space and clutter the floor of your outdoor storage shed. And if you are going with a 10×10 storage shed, then keeping the floor clear must be a priority.
It won't take long at all until you can barely walk into the portable storage building to find what you need. Hanging the garden tools up like shown in this photo will be one way to keep your 10×10 backyard shed organized.
Thanks to Instructables for this great idea!
Add Shelves in your 10×10 Storage Shed
Imagine a 10×10 shed without shelves. If all the gas cans, power tools, and boxes would simply be on the floor, finding what you need would be a disaster.
In this case, the shed owner has a larger workbench/shelf which could work great for a small area to do small projects. On top of that, we find two narrower shelves that are a lifesaver in terms of organization.
You can either build these shelves yourself or order them from the factory when your order the 10×10 shed.
Organize the Tools in your 10×10 Storage Shed
There are 1001 ways to organize inside your 10×10 storage shed. Head over to Funky Junk Interiors for great ideas to turn those junk pallets into useful storage inside your 10 x 10 storage shed.

You could also simply take a power screw gun with long screws and make hangers on the framing studs for tools, cords and many other things. With a very small amount of work, you can keep your small 10×10 shed decluttered.
Hook Up with Home Depot… Hooks for your 10×10 Storage Shed
Hose hooks, bike hooks, tool hooks, you name it. You can find them all at your local Home Depot.
You can install them to the rafters of your 10×10 storage shed and hang things to keep them out of the way. There's no reason to have things laying around inside your 10 x 10 storage shed! The more organized your walls are, the more space you'll have to store the rest of your stuff.
More Storage Ideas for your 10×10 Storage Sheds
Want more ideas? Head over to digsdigs.com for 33 Practical Garden Shed Storage Ideas. You'll have so much room on your hands you'll wish you had downsized your 10 x 10 storage shed!
How much will your 10×10 storage shed cost?
Now comes the big question, how much does a 10×10 Storage Shed cost?
That depends on the level of quality you want or the style of your 10×10 shed. Keep in mind that some sheds give you much more cubic interior space than others. For example, the 10×10 Premier Dutch Barn might give you 50% more interior storage space than a 10×10 Minibarn Shed.
Some factors that you may also want to consider is cost for landscaping around your shed. Of course, this is optional, but if you are interested in shed landscaping, our "Shed Landscaping: 8 Styles, 8 Steps & More" article is a helpful resource.
In most cases, you get what you pay for in a shed.
Standard 10×10 Workshop Storage Shed
Starting Price for the 10×10 Standard Workshop: $3,568

We'll start with the Sheds Unlimited line of workshop sheds. This is our most popular style shed and may work nicely into your budget for a 10 x 10 storage shed. No frills, just plain old-fashioned sturdy Amish workmanship at a great price!
The 10×10 Workshop Shed gives you includes two windows with shutters and a 5' double door. Please note that this photo is actually a 10×14 so the actual layout of the building may vary on a 10×10 shed.
This may be a plain Jane shed, but don't let its looks fool you. It has the same quality workmanship you'll find in all our 10 x 10 storage sheds.
The Classic 10×10 Workshop Shed
Starting Price for the 10×10 Classic Workshop: $4,237
The Classic 10×10 Shed edition is just that… classic! Extra touches like a wider A-Frame overhang, classic doors, and Z shutters make this economical 10 x 10 storage shed a beauty!
This building also includes a slightly steeper roof pitch which means you have more space to store things in the roof with an added loft. Buy this 10×10 Classic Shed if you want a shed with a bit more style to enhance your backyard.
Premier 10×10 Workshop Shed
Starting Price for the 10×10 Premier Garden Shed: $5,505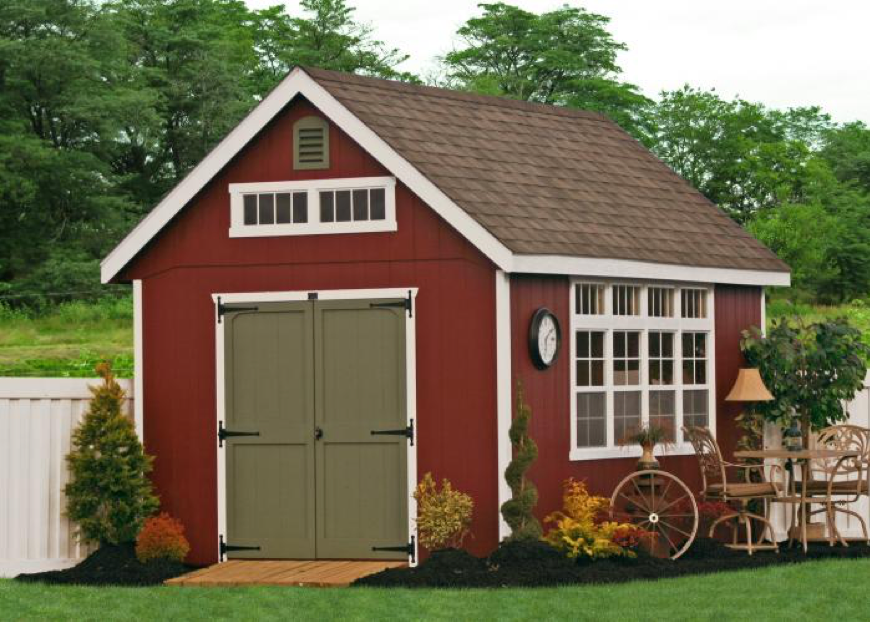 Our Premier edition gives you a 10 x 10 storage shed truly in a class of its own. It offers a really steep roof pitch so you can hang things from the ceiling (literally), and still have space to walk around without bumping your head. The Premier 10×10 Sheds also include more windows and the same old top-quality construction as all of our buildings.
Keep in mind that you can add as many extras as your budget allows.
Standard 10×10 Maxibarn Shed
Starting Price for the 10×10 Standard MaxiBarn Shed: $3,887
Back to our economical line of Standard Sheds, we encounter the Maxi Barn Sheds. This building, like the Premier Garden Sheds, give you a high roofline with more interior space. The roof style of the MaxiBarn Sheds makes them ideal for adding loft space so you can keep the floor space in your 10×10 MaxiBarn Shed open and clear.
Buy this shed if you want economy and lots of interior height.
Classic Gambrel 10×10 Backyard Shed
Starting Price for the 10×10 Classic Gambrel Sheds: $4,818
The Gambrel Sheds are a unique feature of the Sheds Unlimited collection of storage sheds. Here you get the Barn Shed roof style with the Saltbox Shed front overhang. What you really get is the ultimate in interior storage space. If you think the MaxiBarn gives you a lot of interior storage, this one takes it to another level.
The 10×10 Gambrel Sheds also include larger windows than the Standard which means more light and more ventilation. Don't forget to add a loft and some shelves so it's ready to go when it arrives.
Premier 10×10 Dutch Barn Portable Sheds
Starting Price for the 10×10 Dutch Barn Sheds: $5,941
Another unique 10×10 dutch barn Portable Shed option. This fits in our Premier Sheds Collection for a reason. It gives you another option for plenty of height for a loft and some shelves. Notice the small windows above the door. They are Transom Windows and come standard on this building. Now your loft area can even have plenty of light and make it much easier to find the stuff stored there.
You can see why this series is called the Premier!
Standard 10×10 Saltbox Storage Shed
Starting Price for the 10×10 Standard Saltbox Sheds: $3,887
Out of the saltshaker, into the… Saltbox 10 x 10 Storage Shed. This uniquely shaped Saltbox Storage Shed will add a touch of New England charm to your backyard.
Wonder why this roof design is called a Saltbox? Supposedly, it comes from New England homes where a two-story home had a lean-to addition which reminded people of the boxes where they kept their salt to keep it dry.
So if you want a bit of New England charm, then this is a great choice!
Classic 10×10 Saltbox Shed
Starting Price for the 10×10 Classic Saltbox Sheds: $4,625
Speaking of New England charm, for just a few hundred dollars more you can dress up your 10×10 Saltbox Shed to be a classic! It gives you a wider overhang and larger windows to make your Saltbox truly stand out.
As with all of our sheds, you get to choose the right combination of paint colors to match your taste or your home. See the prices for these Saltbox Storage Sheds and get a free quote today!
Standard 10×10 MiniBarn Storage Shed
Starting Price for the 10×10 Standard MiniBarn Sheds: $3,290
We're going to end this 10 x 10 storage shed blog where the shed industry all began…an Economy Amish MiniBarn. Simply built; built to last. No frills; pleasing to the eye.
Remember when all portable buildings looked the same? The same barn-style roofline, with doors at the most appropriate place. Our wood standard MiniBarn harks back to those days and still offers our most affordable 10×10 storage sheds. No doubt, they won't give you the interior space you'll find in a Premier Dutch Barn Shed, but they will give you space for the lawnmower and more.
Vinyl Sided 10×10 MiniBarn Shed
Starting Price for the 10×10 Standard MiniBarn Vinyl-Sided Sheds: $4,270
At this price, why not add some extras to your 10×10 MiniBarn Shed?
Vinyl siding will give your backyard shed longevity as almost nothing else can. No more painting, no worrying about the siding rotting etc. You might also consider a pressure-treated floor so you have a really long-lasting 10×10 minibarn shed.
Other custom features on a vinyl storage shed might be vents in the gable, custom painted doors, and a 6" overhang to make your 10 x 10 storage shed stand out.
Custom and DIY 10X10 Storage Sheds
Have a lot of ambition and want to try a DIY Storage Shed? Many of the 10×10 storage sheds in this blog are also available as shed kits that could be assembled in a day or two.
Just so you know, our storage shed kits come with all the major parts needed to build the shed. No need to go out and buy shingles for the roof. The only thing you might need to supply are screws and for assembling it and nails to install the roofing.
On top of that, we offer customized 10×10 Portable Sheds much like you see here in this photo. This customer wanted a unique siding to compliment his backyard. Doesn't it look great!
Get Started with your 10×10 Shed Today!
No matter what style 10 x 10 storage shed you choose you can be assured it will be built to last you for years to come. If you're wondering how to keep your shed cool in summer, this article will show you how. Get rid of your storage clutter and add some class to your backyard at the same time… with a Mighty Mini 10 x 10 Storage Shed!
Recent Shed Blog Posts...
Recent Shed Stories...
ready for more space in your life?
Create the building of your dreams by requesting a free estimate or customizing your own 3D design. You can also call us at 717-442-3281.
We're ready to assist you!