5% off all 2-, 3-, and 4-car prefab garages through February 28, 2022!
Modern Garden Shed Designs for 2022
When you want a shed that is more than a shed, then choose Modern Garden Shed Designs to accent your backyard. These modern garden sheds for sale in PA, NJ, NY, CT, DE, MD, VA and WV are especially built to match the contemporary architecture. The Modern Garden Shed Design offers a unique look among Amish Sheds sold throughout the USA. When you want a storage shed that offers a unique and modern statement, then choose Modern Garden Sheds from Sheds Unlimited.
Make Your Home Office a Modern Garden Shed
There are countless uses for a Modern Garden Shed Designs from Sheds Unlimited. But one popular use in the USA is for a Modern Home Office. Take the Urban 360 as an example of a modern office shed that tells a story of the careful design and specially chosen materials to make your office space more than a shed.
At Sheds Unlimited, we will begin with a Modern Garden Shed Design, and custom builds the interior to match your modern design instincts. Below you can find the two styles Sheds Unlimited offers to its customers:
Studio 1 Modern Garden Shed
The Studio 1 Modern Garden Shed delivers a very unique design to make your backyard stand out from the rest. A look you always dream about, that doesn't break the bank. The Studio 1 Modern Garden Shed is a great place to have as an office or use for general storage. This modern garden shed can even be used as a small party room when friends and family get together.
Urban 360 Modern Garden Shed
The Urban 360 Modern Garden Shed combines elegant cement siding and exotic wood made from high quality. When space calls your name to think and design, you know the Urban 360 Modern Garden Shed will do the trick. Check out our gallery of Urban 360 Modern Sheds for a better look!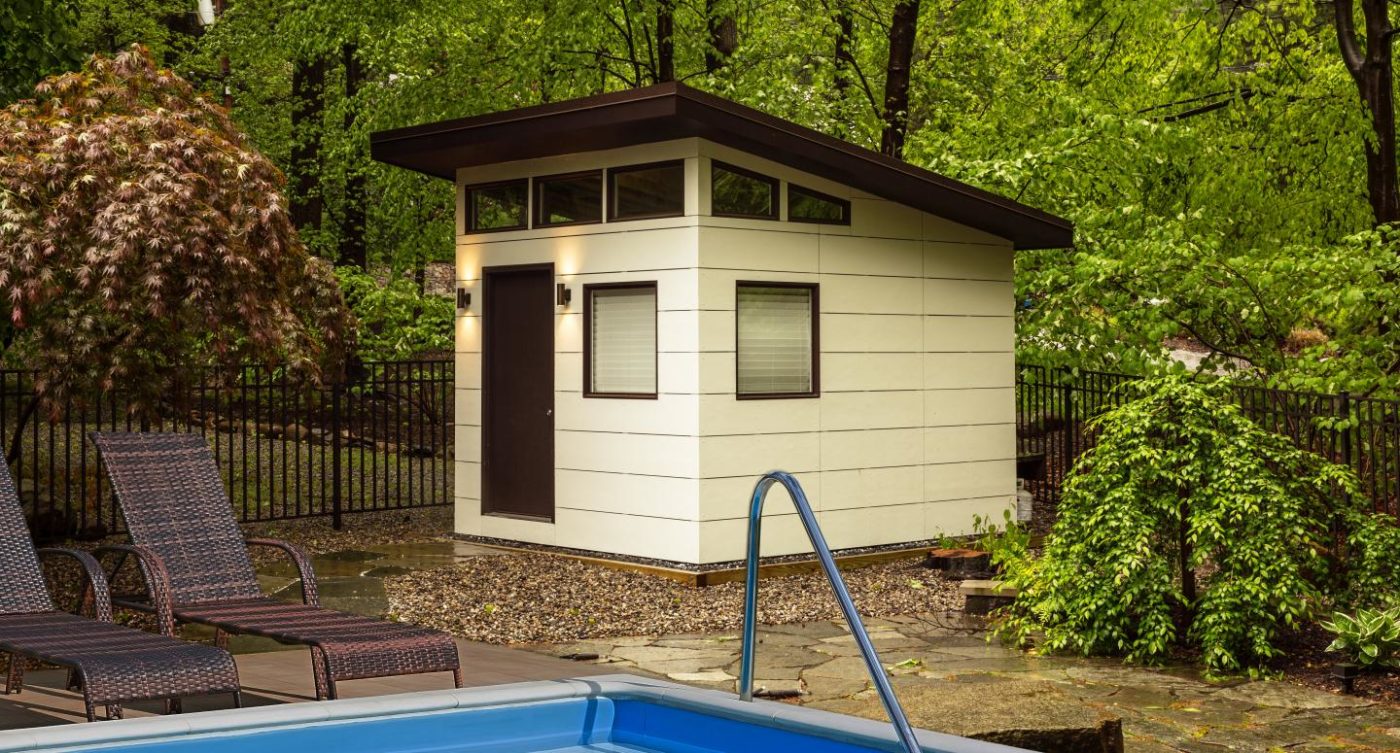 What Could A Modern Shed Be Used For?
A modern shed could be used for many different purposes. Have work to do but nowhere to do it? A Backyard Office Shed is your spot! Need space to gather and store all your summer outdoor pool equipment until next summer? Then a Modern Pool House Shed is calling your name, Feeling crafty and adventurous? A Modern Art Studio Shed is sure to give you what you're looking for!
Deciding what to do with your modern shed is completely up to you, custom building it and delivering it to you is our job.
A Modern Art Studio Shed
Are you tired of painting in dimly lit space in the house or basement? How about adding a Modern Studio Shed to the backyard and enjoying a well-lit space for dreaming, thinking, and painting? You could buy one of the Modern Studio Sheds and have it fully insulated, wired, and finished for your own quiet space.
A Modern Pool House Shed
You're looking for a modern garden shed to store all your summer equipment away. A pool house shed is where you'll find your answer. These amazing pool house sheds come in 4 different styles for you to choose from! Go original in style with the Classic Expression Pool House, or vacay with the Caban Pool House, better yet a sleek Modern Pool House, or a Custom-Built Pool House shed just for you!
A Modern Home Office Shed
Now has never been a better time to work remotely all on your schedule. With the home office modern garden shed, you can give yourself a flexible schedule and save on all the travel costs with just footsteps outside your home! Avoid all the distractions from a busy cubical with a modern office shed today!
Modern Sheds Designs for sale in PA, NJ, NY, CT, DE, MD, VA, WV, and Beyond
Like all of our other storage sheds and prefab car garages, the Modern Garden Shed Designs are available for delivery within 300 miles of our location in Lancaster County, PA. And when you buy a storage shed, one, two or three car garage with an Attic, Two Story Sheds and Garages or a Modern Prefab Shed, you get 20 miles of free delivery and we use the best tools in the industry to get the modern shed into the right place.
Modern is the New Amish
With the newest line of modern sheds from Sheds Unlimited, you can see why we say "Modern is the new Amish." Watch out for Modern Tiny Homes coming soon and get your FREE ESTIMATE today by calling (717) 442-3281 or click here for a free estimate.
Recent Shed Blog Posts...
Recent Shed Stories...
ready for more space in your life?
Create the building of your dreams by requesting a free estimate or customizing your own 3D design. You can also call us at 717-442-3281 from Monday to Friday between 8:00 am - 5:00 pm or Saturday between 9:00 am - 1:00 pm. We're ready to assist you!