Home-Based Business: An Ideas Guide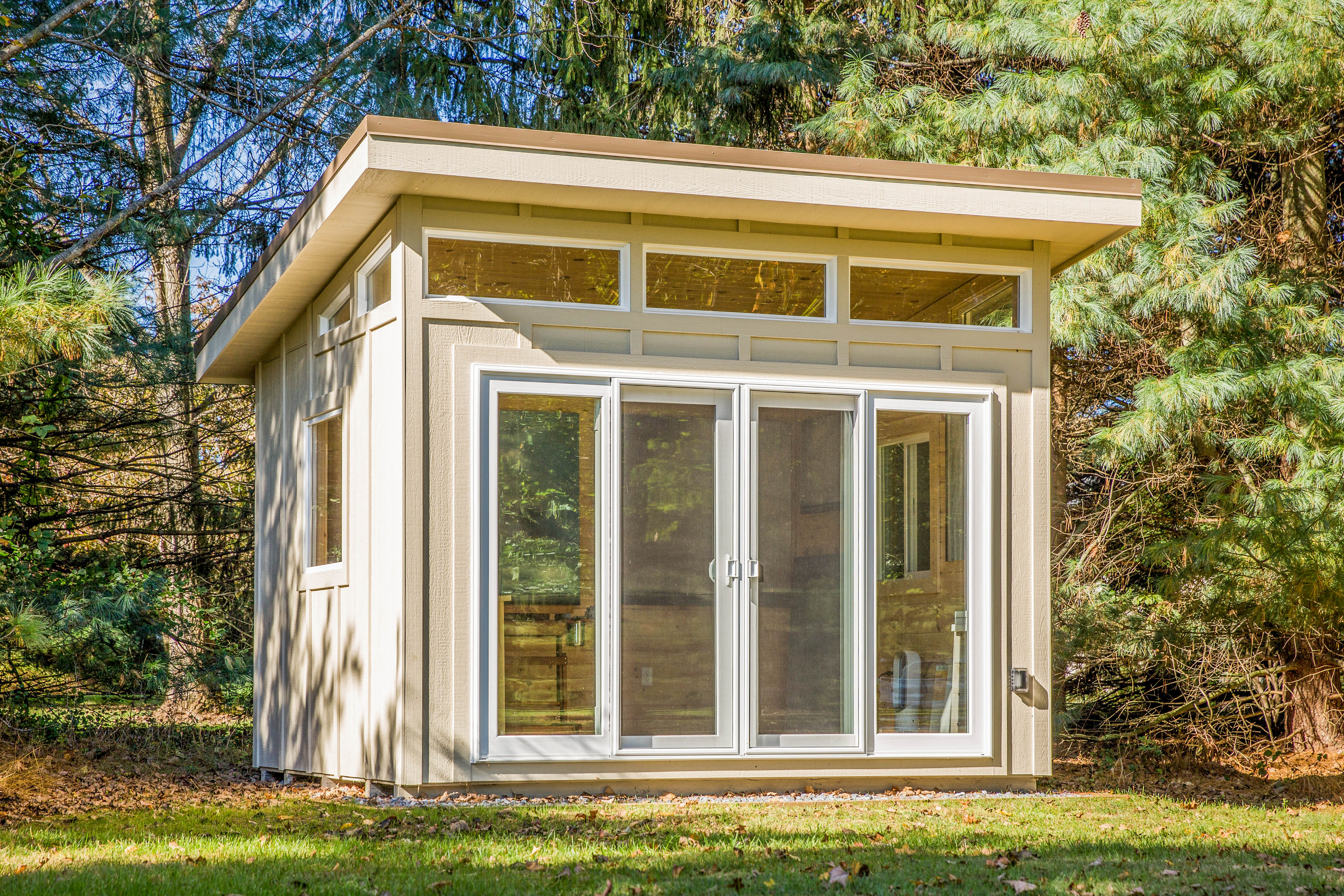 It's no secret that working from home is an increasing trend. Whether it is tech companies offering their employees remote work options or a stay-at-home mom finding a part-time gig on the side, the options for home-based work and business are growing more every day.
In this guide, we're going to go over how to start your own home-based business (or create your own quiet workspace for remote work). We will start with why it's such a popular idea, give you tested ideas for what kind of business to start, and show you examples of people who have done it (and are doing it).
Americans Working from Home in 2021
The past decade has seen an exponential increase in opportunities to work from home. According to a Gallup Poll conducted in 2016, 43% of Americans worked from home occasionally. That number was up from 39% in 2012 and has only been expanded with COVID-19 forcing millions of workers to work from home. From 2010 to 2018 the number of people who reported working from home rose from 5.9 million to 8.3 million.
REMOTE WORK VS HOME-BASED BUSINESS
While there are a thousand and one different ways that people work from home there is a distinction between working remotely (or from home) and starting a home-based business. Some work-from-homers actually shy away from the "home" connotation and prefer calling it remote work. One remote worker said it this way:
Photo: VenuesHigh
"I think working from home is kind of a misnomer, I do work from home sometimes. But sometimes I work while I'm walking about the city, other times from a coffee shop. And then to really take advantage of being remote, sometimes I'm leaving Chicago in the winter and going to LA and finding an Airbnb for a week there. So, I tend to work in a lot of places, not just at home."
And that is precisely what many people are after in today's digital world. They want a relaxed work environment and the freedom to travel and work from wherever they find themselves. Working remotely gives options for working in the house basement, a café, or working in a remote city.
Want to Join the Work from Home Trend?
Working from home does have its perks, but there are pitfalls to be avoided and lessons to learn from others. The process of getting a home business started can also look overwhelming and confusing.
This extensive article is here to help guide you through every step in starting your home-based business and making it a success.
Let's dive in and begin your journey of starting a home-based business!
The Pros and Cons of Starting a Home-Based Business
Why would you start a home-based business? Maybe a better question would be why should you NOT start a home-based business or choose to work from home even if you have the option with your employer? There are certainly advantages and disadvantages we should be aware of.
PROS OF A HOME-BASED BUSINESS
FEWER OVERHEAD COSTS
There can be considerable cost savings with a home-based business. When Alicia of Swoon Sewing Patterns wanted a place to run her sewing design company, she opted to buy a two-story backyard shed. After finishing out the space she had a lovely workspace without the cost of ongoing office rental space. A small building with proper insulation costs very little to heat and to cool. As a result, your overhead costs can be reduced considerably.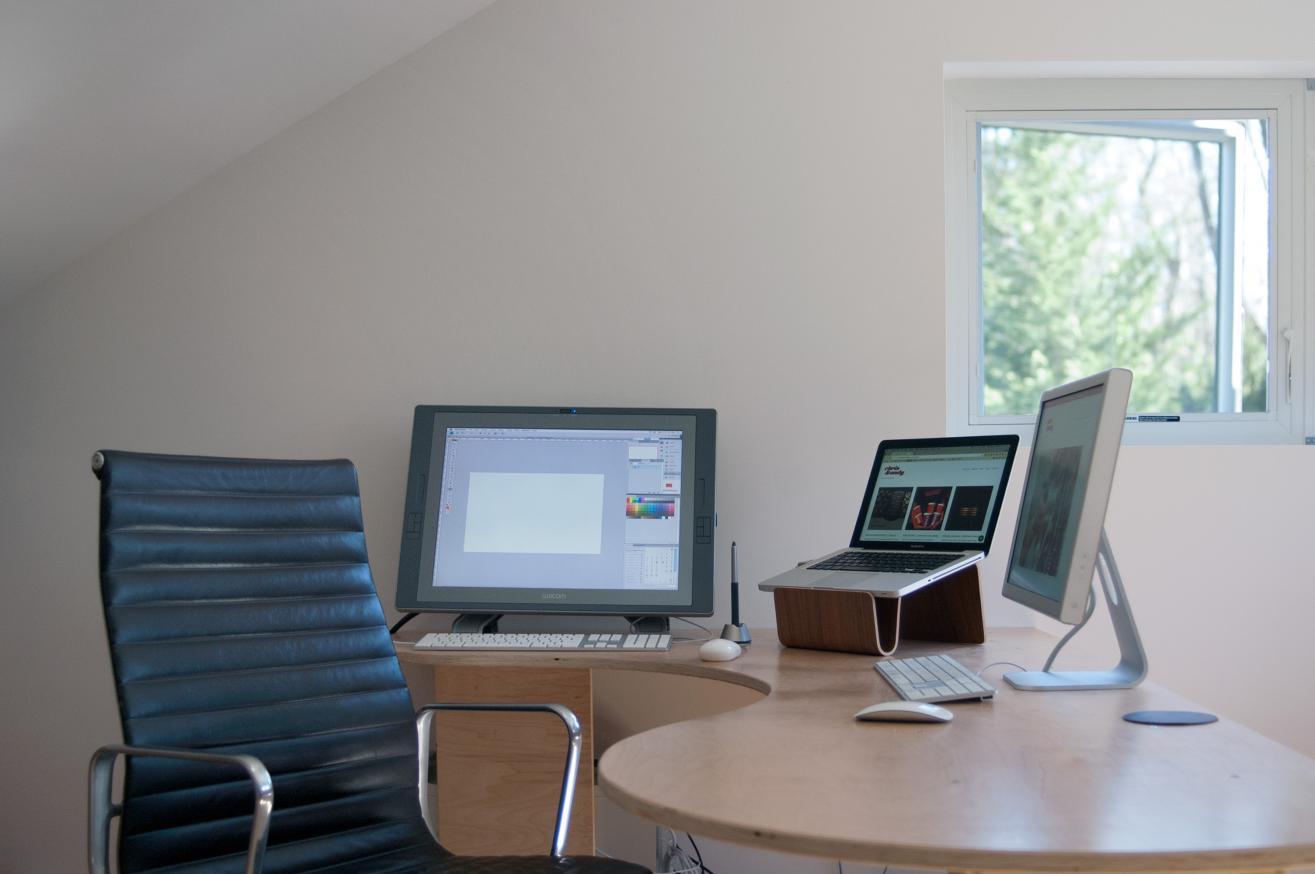 Remote workers typically save about $4,000 a year by working from home, according to a study from FlexJobs, an online job service that specializes in flexible jobs.
Tax Benefits
Your home-based business could qualify you for a reduction in income taxes. However, your office space needs to pass an "exclusive use" test. Even adding a backyard workspace in a shed can help offset your taxes especially if it fits in the "exclusive use" category. In other words, that section of your house (or backyard shed) must be used regularly and exclusively used for conducting an in-home business. Otherwise, the IRS won't grant you a deduction on it. Check the IRS website to familiarize yourself with all the rules and regulations pertaining to home office deductions.
"But that tax break was eliminated because of the new tax code," Bronnenkant says. And home office deductions for employees are usually only available to small businesses or self-employed workers."
No Commuting
A long commute to work every day can get quite wearisome, not to mention the cost savings in gas, insurance etc. Imagine the cost savings if you could own one vehicle versus two! Chris, the owner of E-Impact Marketing has been able to live life with a wife and family of four using only one vehicle. And even though the company has grown outside of his backyard, today he walks to work on many days or commutes with a small 50cc scooter.
Besides cost savings is the benefit of avoiding busy highways and traffic jams during rush hour. And let's be honest, there are few things more frustrating than being late for work because you got stuck in a traffic jam. But if you are a home-based business owner, your commute might simply be a walk down the hallway or across the backyard.
The graph below shows the US workers are increasingly working from home.
FLEXIBLE WORK/LIFE BALANCE
As a home-based business owner, the balance between work and family life can be more flexible. Working from home means more time with your wife and children. For example, if your wife needs to run to the store for groceries, you can help her out by watching the children while she is gone. Or, if you forgot to finish an important report for the next business day, you can quickly run to the office and finish it without leaving the house. In short, the flexibility that a home-based business presents is a nice advantage to have.
Cons of a Home-Based Business
To be honest, while remote work or working from home might sound romantic and modern, it has been fraught with problems. In 2009, 40 percent of IBM's workforce worked remotely. But in 2017, they began calling people back to the office. Many other large companies did the same including AT&T, Bank of America, and others. Marissa Mayer, the CEO of Yahoo, forced her employees back to the office in 2013. She said "best decisions and insights come from hallway and cafeteria discussions, meeting new people, and impromptu team meetings.
Converting Home Space
Depending on your plans for a home-based business, you may need to convert space in your home so that it meets your business needs. For example, you may need to create an in-home office, store equipment, or hold inventory. This can be a challenge, especially if you do not wish to disrupt your family's life at home.
However, this negative should not be viewed as a deal-breaker. There are alternatives, such as purchasing a backyard shed or a two story prefab garage. At Sheds Unlimited, we have seen many inspiring success stories of people who have started home-based businesses inside a prefab shed or garage.
Not Allowable in Some Areas
In some municipalities and particular neighborhoods, there may be regulations and limitations placed on home-based businesses. Some landlords may even frown upon it if you are renting. Be sure to first check around your area to see what regulations and limitations may be present.
Compliance with Normal Business Regulations
Even though your business is home-based, you still need to comply with the normal regulations that pertain to business. In other words, you still need to obtain the correct licenses/permits and purchase industry-standard equipment.
ISOLATION AND LONELINESS
The freedom and self-reliance associated with a home-based business can look very appealing. However, some people also miss the interactions and camaraderie with fellow coworkers. If you are a person who needs plenty of interaction with people, then a home-based business may not be the best option.
Photo: The Economic Times
Interference with Family Life
While some may say that a home-based business promotes more flexibility and family time, others argue that it can actually interfere with it. A home-based business can potentially cause a blurring of the line between work and family. If you do plan to start a home-based business, make sure to keep family as the top priority. Be careful not to let business needs usurp your family time.
What Type of Home-Based Business Should You Start?
Now that you've looked over the pros and cons, it's time to decide what type of home-based business you would like to start. There are a host of different home business ideas to consider, and we have broken them down into three categories: general home business ideas, profitable home business ideas, and home business ideas for stay-at-home moms.
General Home Business Ideas
Freelance Studio
Do you have a special talent or training in a certain field? Then maybe freelance work is the right option for you! It seems that high-quality freelance work is constantly in demand these days. Business owners are usually busy with the demands of running their business, and they are more than happy to outsource marketing collateral and content development.
This is where you come in. If you enjoy graphic design, photography, videography, or writing, you could start a successful home-based business in freelancing. All you need is that perfect space to turn into a beautiful freelance studio. Maybe it's a garage attic space or a backyard shed? Maybe it is an unused room or a basement. The choice is up to you!
TEACHING AND TRAINING
There are a host of options within teaching and training, all of which can be done from the comfort of your home. If you have a desirable skill to share with the world, chances are you will have an audience waiting to learn about it. For example, you may want to start teaching music or voice lessons? Or perhaps you may want to teach online classes or give online tutoring? There are so many possibilities, but the important thing is to create a space where your pupils can learn well with little distractions or noises.
Photo: Edutopia
Pet Care
Are you a person that loves animals? Then pet care might be an excellent option for your home-based business. One pet care idea is to offer a boarding facility or pet sitting services. Or perhaps you would like to try your hand at offering a pet grooming service. Whatever pet care idea interests you most is great, but make sure that you first check local zoning laws and regulations. In addition, you may also want to check in with the neighbors to make sure they are ok with some extra noise and activity in the neighborhood.
Airbnb Hosting
If you enjoy hosting family gatherings and parties at your house, then maybe a home-based business centered on Airbnb hosting is the perfect possibility for you. With the right planning and interior design, you can transform your backyard shed, garage attic, or extra house space into a beautiful and attractive experience for Airbnb customers. If you combine that with reasonable pricing and excellent customer service, you might just find your Airbnb hosting business begin to boom!
E-COMMERCE
Selling products online can be a very successful in-home business idea. There are two routes you could go with e-commerce. One route is resale, the reselling of products online to turn a profit. If you enjoy monitoring websites and live auction sales for bulk deals and steals, then you might find resale to be an interesting idea. Another route you could take with e-commerce is manufacturing and retail. With this route, you need to make sure you have enough dedicated manufacturing space, which might require a prefab garage or backyard shed.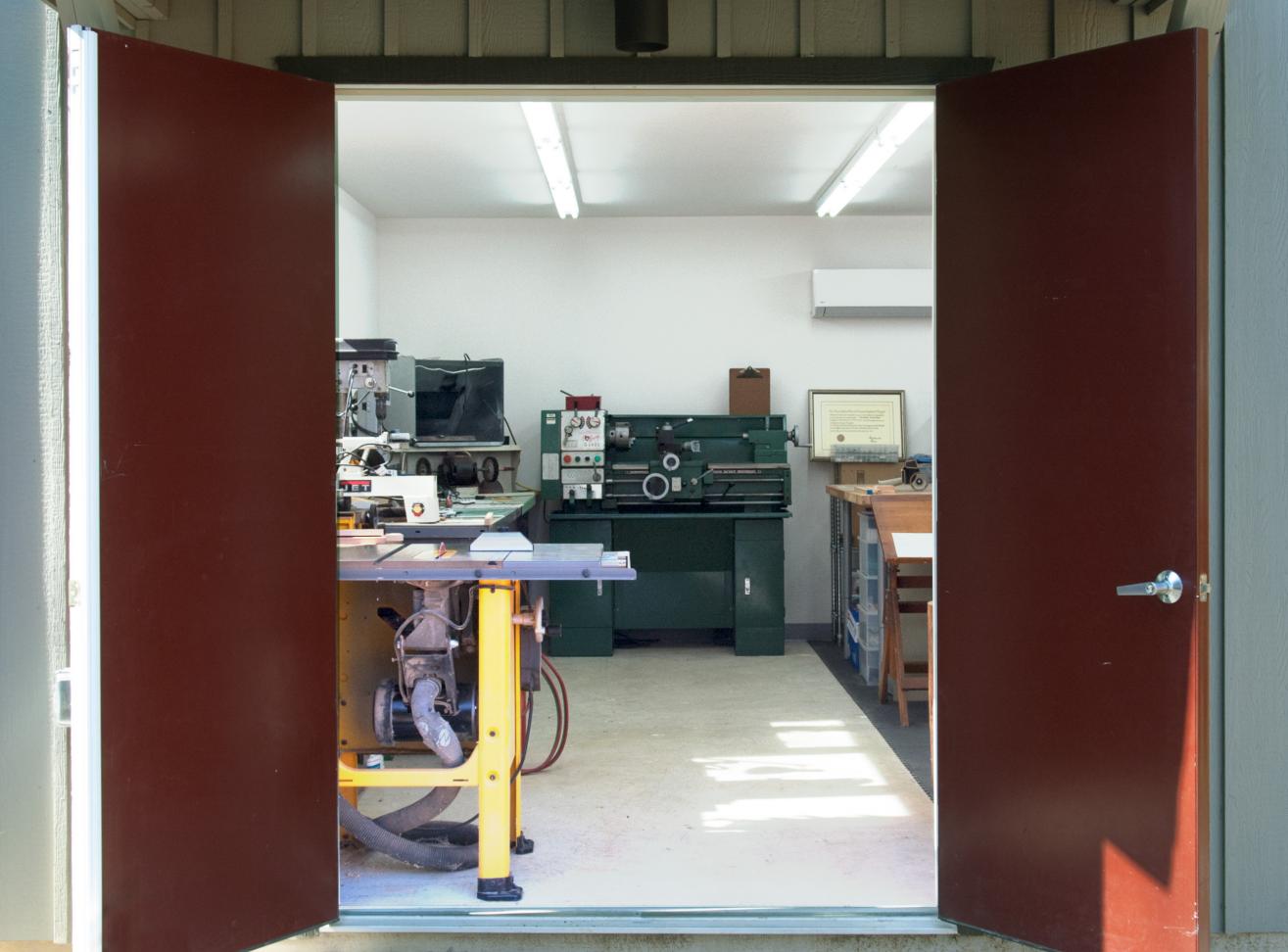 Mechanical
If you are mechanically minded, you might try a home-based business centered on mechanics and engine repair. People will always be looking for good, trustworthy mechanics to fix their cars or small engine equipment (such as lawnmowers, weed eaters, leaf blowers, etc). These objects are essentials that we use every day. Based on this fact, the demand in this industry should remain relatively constant. Keep in mind, however, that this industry will most likely require the use of a shed or garage for working space.
Profitable Home Business Ideas
Tax Preparation and Bookkeeping
This type of job involves plenty of numbers, calculations, and organization skills. But if that's your thing, then you should definitely consider tax preparation and bookkeeping services. This trade doesn't require a big fancy premise or expensive equipment, so your overhead is extremely low. With that being said, tax preparation and bookkeeping service can be quite a profitable home-based business if done right.
Athletic Training and Coaching
There will always be people who are looking to get slimmer, fitter, and healthier. As a result, personal athletic trainers are always in high demand. Before you begin, however, you need to earn yourself a qualification in personal training. But once that is complete, you can enjoy a job with a very low overhead cost. In addition, you may consider investing in fitness equipment and building your own workout gym for your clients? This again would require sufficient space in your basement or external building, but it would be well worth the investment.
WEBSITE DEVELOPMENT/MARKETING SERVICES
Businesses and organizations are always looking for someone to help boost their digital marketing and brand awareness. You can take full advantage of this by offering services in website development and marketing. This type of work can be done remotely, which makes it a viable option for a home-based business with low overhead. However, it does require some training and skills that will first need to be mastered.
Photo: E-Impact Marketing
Website Development/Marketing Services
Businesses and organizations are always looking for someone to help boost their digital marketing and brand awareness. You can take full advantage of this by offering services in website development and marketing. This type of work can be done remotely, which makes it a viable option for a home-based business with low overhead. However, it does require some training and skills that will first need to be mastered.
House Maintenance Services
There are some people who don't enjoy pulling weeds, cleaning gutters, mowing lawns, dusting furniture, and other house-related maintenance tasks. Lucky for you, they are more than willing to hire individuals who can do quality work and make their house look fabulous. If you are a handyman, this type of job is right down your alley. There will be some upfront investments, such as proper equipment and an external building to store it in. But once that is complete, you can enjoy a job with low overhead and high demand.
Technology Repair or IT Support
In today's age, people with technological skills are highly sought after. If that sort of thing excites you, then you might consider looking into technology repair services. There are sure to be plenty of people who need help fixing their phones, laptops, iPads, smartwatches, drones, and other techy gadgets. Another great home-based business idea could be IT Support. Nowadays every business is shifting to an online presence due to the increase in online shopping. Your technical skills could be just what they need to help them in managing their website and software applications.
Home Business Ideas for Stay-at-home Moms
SELLING ONLINE / ONLINE SHOP
eBay, Amazon, Etsy, or your own personal online shop… You get the idea. Selling products online is an excellent home-based business idea for a stay-at-home mom. If you are a crafty individual, you might try your hand at selling homemade products, soaps and lotions, jewelry, flower arrangements, gift baskets, and so much more. You may even consider starting your own roadside stand or shop to sell your products right at your house as well!
Photo: The Work at Home Woman
Salons
Every lady needs a good salon that they can trust to do good work. As a result, quality hairdressing and nail salons are always in demand. If you have some extra space, such as a remodeled basement or backyard shed, then you are well on your way to starting a home-based salon business. All you need yet is money for buying the necessary equipment and marketing your services.
Virtual Assistant
A virtual assistant or secretary is an excellent option for a full or part-time job. The best part is, it can be done all from the comfort of your home. As a VA for a business, you might be responsible for answering their phone calls, responding to customer emails, organizing their events, booking their calendars, and a host of other essential duties. If you like, you may even work as a VA for several businesses at once, which will increase your profit. Just make sure to have plenty of space to set up and organize your in-home office.
Blogging
All you writing lovers out there, listen up. Blogging is an excellent home-based business idea for any stay-at-home mom. If you have valuable content to share and an audience that needs it, then consider starting a professional blogging site. You can earn money by placing ads or sponsored content on your site. In addition, selling exclusive products and resources to your subscribers could also help earn you a greater profit.
CHILDCARE SERVICES
If you enjoy working with children, then offering childcare services to working moms could be a great home-based business idea. With more dads and moms working nowadays, childcare services are increasing in demand and importance. However, if you do want to pursue this, there are certain legality checks that you need to pass first.
Home Bakery
Who doesn't love the amazing smell and taste of freshly baked goods? If you have a baking talent, then why not share it with the world? Many people have found success in opening home-based bakeries, and you can too. Start your baking dream by setting up your own small baking shop in a remodeled shed or garage. You might also consider adding delivery services to broaden your possibilities.
The Steps for Setting Up a Home-Based Business
There are certain steps that must be followed in order to start your home-based business. To help you in this, we have compiled a complete 10 step process that you can reference as you put your home business idea into action.
Step 1: Conduct Research on Your Home Business Idea
The last thing you want to do is jump into a business idea ill-prepared. That's why it is incredibly important to do your research and ask the essential questions upfront. This will help determine if your idea is a viable option for you or not.
The first thing to conduct research on is your market. Market research involves asking some basic questions to better understand who your potential customers are and what the competition is like.
Market Demand: Do people need or want the product or service you are planning to offer? If this isn't the case, then your business is going to fail before it even starts.
Market Size: The next question to answer is how much of a desire there is. How many people will be interested in your product or service?
Business Location: Next, think about where your potential customer base lives. Will your home-based business reach them, or will they choose another option that is closer?
Market Saturation: Are there plenty of competing options in your area? If there are too many competing options that customers have already built trust with, it may be difficult to gain some of the market shares.
Pricing: You want to create pricing that looks attractive to the potential customer and will also turn you a profit. In order to do this, you need to ask two questions. First, what are customers willing to pay for this product or service? Secondly, what are competitors charging customers, and has it been successful for them?
There are several methods you can use to help answer the above questions. The following are some example options that you might try:
Surveys
Questionnaires
Interviews
Internet Research
Step 2: Create a Business Plan
Creating a business plan gives you a path forward on the long-term goals and plans of your business. Creating this plan will help you steer your business, grow, and it creates a "quota" that should be followed. Creating a business plan is simple but does require time and strategy. You need to create an overall plan and think about everything that goes into owning the business. One-piece includes finding a problem the customer may have and a solution in which your business will help them. Other pieces include financials, marketing, competition, etc. Figuring out the summary of your business plan is ultimately the "big picture" of figuring out what kind of business you are.
Step 3: Finance Your Home-Based Business
Once you have created a summary of your business plan, it is time to look at how you will be paying for the business. Obviously, before opening your business, you will need to have a decent amount of cash to invest in the company for opening costs, legal fees, equipment, etc.
Not everyone has a large amount of money they can invest in a new business, so they borrow it. Borrowing money also known as a loan is the process of lending money to one individual which incurs a debt in which you are liable too. Taking a loan to finance your home-based business is not necessarily a bad idea if you pay it back quickly.
The best way to finance your home-based business is by having the cash on hand. Saving months even years ahead prior to opening up can and will help you finance your home-based business and doing so avoids putting yourself in debt.
Step 4: Choose Your Legal Business Structure
Choosing the right legal structure for your home-based business is very important. According to the IRS, the most common forms of business are sole proprietorship, partnership, corporation, and S corporation. A Limited Liability Company (LLC) is a business structure allowed by state statute. The reason behind needing a business structure is for legal and tax reasons.
Now let's take a deeper look into which legal business structure you should choose for your home-based business.
Sole Proprietorship
Having a sole proprietorship means you own an unincorporated business by yourself. However, if you plan on being a sole proprietor to an LLC, this may not be if you treat the LLC as a corporation.
PROS OF A SOLE PROPRIETORSHIP:
Easy and affordable – It is quite easy to get a sole proprietorship for your home-based business as it requires less paperwork to file. All that is needed to register your sole proprietorship is a single government form.
Freedom – A sole proprietorship gives you a flexible business in which you can change when needed without much trouble. Change any business policies, business type without much cost. For the most complete individual control of a single business, a sole proprietorship is what you should consider.
CONS OF A SOLE PROPRIETORSHIP:
Hard to raise capital – Since your business is smaller and you are a sole proprietor, it is going to be more difficult to find investors and to raise capital. Investors typically do not look to invest in a business with no separate legal entity.
You are completely liable – Since it is only your business, that means you are the one in control of everything… even the debt. All of your property is linked with the business as collateral. This means if your business goes bankrupt, you may have a large hole to fill to pay back all debts.
Partnership
A partnership is a formal agreement between two or more parties to manage and operate a business, and share its funds.
PROS OF A PARTNERSHIP:
More people – You will have more people that you can rely on to help run your business.
Additional knowledge – They always say "two heads are better than one" which makes sense because it can bring new ideas to your business.
Less burden – Since there are others invested in the business, you can ensure that you are not alone. No one wants to lose money so having another person in the business will ensure they will do their best to make the business succeed.
CONS OF A PARTNERSHIP:
Less control – Since there are others in control, you are not the only one who has a say in the business. There are others who have a say which overall gives you less control over the business.
Split profits – All the income that is made is split into whoever you are partnered with leaving you with less profit.
Corporation
This is a legal entity that is separate from its owners. Corporations can enter contacts, loans, hire people, and pay taxes. The most important part of a corporation is the fact that it is limited liability. This means people who have shares in the company can invest and get in on returns but are not liable for the company's debt or downfall.
PROS OF A CORPORATION:
Owners are separate from liability – If you are an owner of a corporation, you are not entirely responsible when faced with legal issues or debt.
Selling stock – This gives you the ability to sell stock to investors which overall acquires your financial capital.
Employee stock benefits – Employees get to purchase stock at a fixed price and also receive stock benefits.
CONS OF A CORPORATION:
Process time – It takes a long time to get your business corporation. There is lots of paperwork and it is very pricey.
Rules – There are plenty of rules that must be followed which means not much flexibility.
Limited Liability Company (LLC)
An LLC is probably the most common small business structure that is used. This legal structure combines elements of the partnership, sole proprietorship, and a corporation to ensure that the owners of the business are not personally liable for the company's debts.
PROS OF AN LLC:
Limited liability – Members of the business are not personally liable for the actions of the company. The member's personal assets cannot be taken from creditors seeking to collect from the business.
Inexpensive startup – The paperwork for filing an LLC is relatively simple and inexpensive as well. Each state varies on filing fees however it is one of the more inexpensive business structures.
CONS OF AN LLC:
Tax – The IRS considers an LLC the same as a partnership for tax purposes unless members opt to be taxed as a corporation.
Now that you have learned about the different types of business structure possibilities for your home-based business, which sounds like the best fit for you? Once you have decided, the next step is naming and registering your home-based business.
Step 5: Create a Name and Register Your Home-Based Business
Choosing the name of your business is an easy step and you already probably have a couple of ideas. Whichever name you choose for your business, you want to make sure it sticks. Businesses that change names are usually the ones that fall off quicker, so keep one that everyone will know about. Secondly, you want your name to be catchy and relatable to your business. You want a catchy name so that it is easier to remember and relatable so first-timers will automatically know what your business provides. Once you decide on the name, you need to register that name along with the business structure you decide to the IRS.
Photo: IRS
Step 6: Get Tax IDs for Your Home-Based Business
Once you have legally registered your home-based business, it is time to get your tax ID numbers. An employer identification number or EIN is needed for all types of business entities in order for the IRS to be able to identify your business.
You can apply for a tax ID on the IRS website to get your home-based business registered.
Step 7: Apply for Necessary Licenses and Permits
Once you have received all your necessary tax ID information, it is time to look at the necessary business licenses and permits needed for a home-based business.
The first thing you will need is to acquire a general business license. This business license can be obtained at a local city or county office. The general business license allows you to engage in general business activities that are within the local jurisdiction.
Once you obtain the general business license you will need to also check with your local zoning ordinances. A zoning ordinance is a rule that defines how property in geographic zones can be used. If your home-based business is not approved with the local zoning ordinance, you may apply for an exception but must go through the proper channels to do so.
Secondly, you will need to obtain a professional license. There are many home-based businesses such as daycares, legal services, financial advisors, etc. that require professional licenses. So before going into the home-based business, you are planning for, just make sure you have a professional license if required.
The next is the health and safety permits. These permits may not be needed for your home-based business depending on the type of business. If you plan on having people inside of your home-based business whether that would be a home or shed, then you are required to have a health and safety permit in order to function. If your business provides goods or services online then these permits are usually not required unless you have an inventory of potentially flammable products at your home.
Step 8: Purchase an Insurance Policy for Your Home Business
Some people may confuse a home-based business insurance policy with a homeowner's insurance policy. Home-based business insurance and homeowner's insurance have different aspects in which they can cover and amount in dollars in which they can cover. A standard homeowner's insurance covers your home's structure and belongings in case of an event that causes destructive damage such as a fire. You can add "bundle deals" with your homeowner's insurance plan to not only cover the property but also your liability. This is a legal responsibility that covers injuries and property damage that may be caused by members of the family including household pets.
A home-based business policy provides more comprehensive coverage for business equipment and liability than a homeowner's policy. Depending on the company you insure your business with, these coverages can vary.
Why you may want to consider a business insurance policy if working from home:
Allows you to have customers inside your home for business service including tax preparation, hair services, etc.
You plan on having $5,000 or more worth of business property kept at your home-based business.
Rely on the business income to support your household.
Consult with an insurance expert to see which plan would be right for you. Home insurance experts could be found through insurance companies that provide home insurance including Farmers, Allstate, State Farm, and many more.
Step 9: Open a Business Bank Account
A business bank account is an account that helps business owners keep track of their transactions separate from personal finances. Business accounts are great and highly recommended for business owners because of the benefits that come with a business account.
Business accounts are great for record-keeping for your business as well as they do not intertwine with your personal finances. This can give you a full clear audit trail to see how good (or bad) your business may be doing.
Step 10: Brand Your Home-Based Business and Advertise
Once you have your business finance setup, it is time to open up a shop and put your business out there. Marketing is the number one moneymaker for a business, so it is important to invest in it. There are plenty of website and SEO companies out there that can improve your business presence and definitely improve your online sales and/or leads with a website. With marketing also comes advertising. Advertising is the activity or profession of producing advertisements for commercial products or services. There are many places that advertising can come into play. If you have a larger number of people who come into your home for business than possibly visual ads outside your business or around towns like flyers or billboards.
Another growing advertising outlet is online. Social media and google advertisements have been doing numbers for many people online and continue to play a big role in bringing in business to companies. Even bigger companies like Walmart and Tesla run Google Ads to generate business.
The final type of online marketing is "SEO" or search engine optimization. This is the process of creating content (like landing pages, blogs, or articles) on a website that generates "organic" or free traffic. SEO takes a bit more time to create, however, in terms of long-term, SEO is the way to go.
It is important to invest in marketing and advertising at least to get your business out there. Create a good and professional introduction to your business so that first-time visitors will get to know you and be comfortable with you.
Now that you have learned the 10 steps to opening a home-based business, let's look at these people who followed these steps and are still operating their successful home-based business.
Home-Based Business Success Stories
There are many stories that you may have heard about businesses like Amazon or Facebook that started out at their dorm, home, garage, or even shed. Starting a home-based business is popular because of the expenses people save by not paying the lease for a commercial property.
We have many customers who have started their own home-based business right from a shed they had purchased from us. From a marketing company to a sewing company, see how these people began their business right from home with a shed or garage.
Harley Davidson
Everybody knows about Harley Davidson. The American Motorcycle manufacturer is a staple for all motorbike riders in the US. However, nobody knows where Harley Davidson began its first manufacturing space. They started in a small 10×15 wooden shed in which they built their first production Harley-Davidson motorcycle.
Harley Davidson is just one of the many successful companies that started in a small shed and now are known around the US and some parts of the world. Harley Davidson now has three large factories in the US and three in other countries including Brazil, India, and a new plate in Thailand.
Photo: Harley Davidson
E-Impact Marketing
The year was 2015 and the Sheds Unlimited marketing man was launching out on his own. Chris had grown up in the business and was a part of growing the Sheds Unlimited digital marketing brand. But when he decided to move out on his own, we worked with Chris to get a tiny storage shed built and delivered to his backyard in Lancaster City, Pennsylvania.
The home office was tiny, truly tiny, and made to fit into his small city backyard. It was this tiny, sixty square foot office which became the launch of a home digital marketing company called E-Impact Marketing.
However, the house or the backyard office was often too confining. Many days, Chris and his co-worker took a walk to a nearby café where they worked for the afternoon or at times most of the day. The break-in work routine helped keep their minds keen and engaged.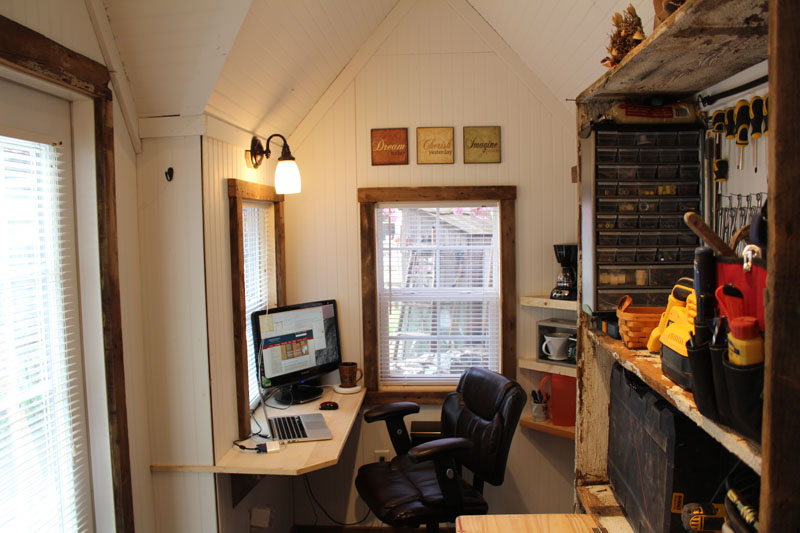 From the backyard office space, E-Impact Marketing moved to a garage and then in early 2019 into a three-story, 3,000 square foot office space. What started as a home-based business today provides employment to a growing team of shed marketing experts.
Scroll Saw Studio
Joe Tate is a fan of scroll saw art and even runs a small home-based business from the backyard of his home in his shed. He had purchased his shed from Sheds Unlimited without any hassle and received everything he had wanted with his scroll saw studio. He works year-round about 6-8 hours daily creating these art masterpieces. Joe created his own home-based business to do what he loves every day and is a big inspiration to many other future home-based business owners
Mosaic Studio
Dori Schatell is an executive director of a non-profit medical education institute and is known for awareness and educating people about kidney disease. She also does art projects on the side which is why she decided to purchase a shed specifically for her Mosaic art. Mosaic art is a pattern or image that is made of small regular or irregular pieces of colored stone. Even though this does not technically fall under the "home-based business" category because it is a hobby, this may give people an idea of what they could do to start their home-based business.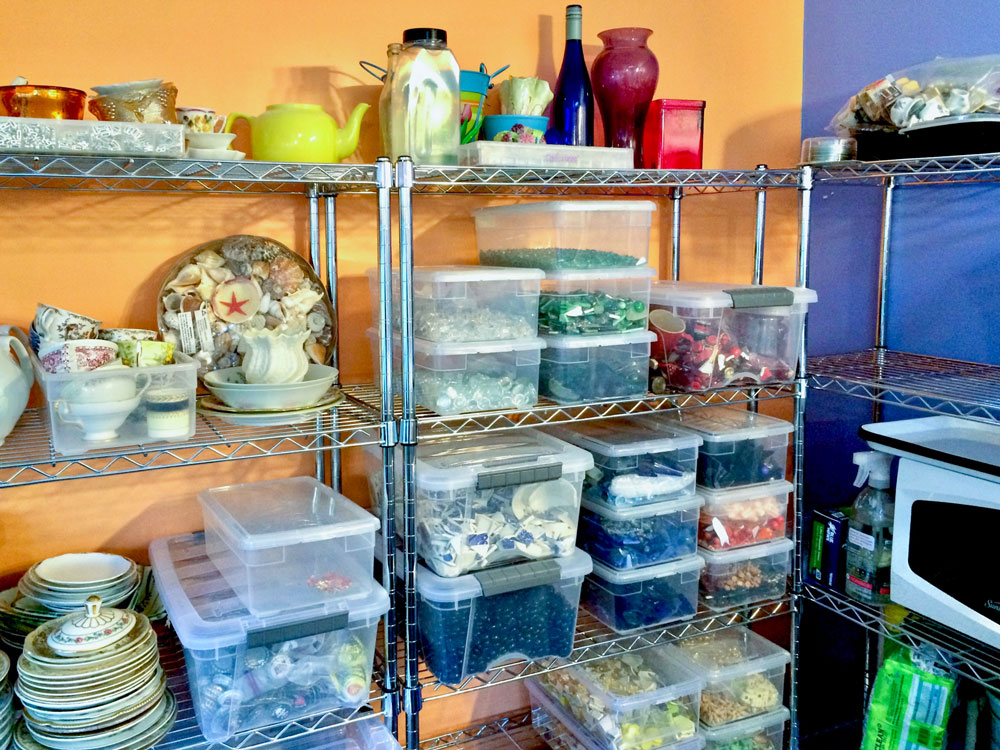 Art Studio
Margaret began her home-based business when she had a dream one day. She had a dream that Jesus asked her, "where are all the paintings?" Once she awoke, she discovered her new passion for Art. She enrolled her sons and husband into an art school but she wanted something more than that, she wanted a space where she can teach others how to paint. She found Sheds Unlimited and with only $5,000 in material and many hours of work, she had her new Art Studio right in her backyard.
Office Space
Christopher Raia is a customer who had ambitions of owning his own studio space to operate his branding and exhibit design. He came to Sheds Unlimited with what he wanted, how much space he needed, and Sheds Unlimited built him a shed that fit his exact building's needs. Christopher continues to use his office space to create designs and even has his own website.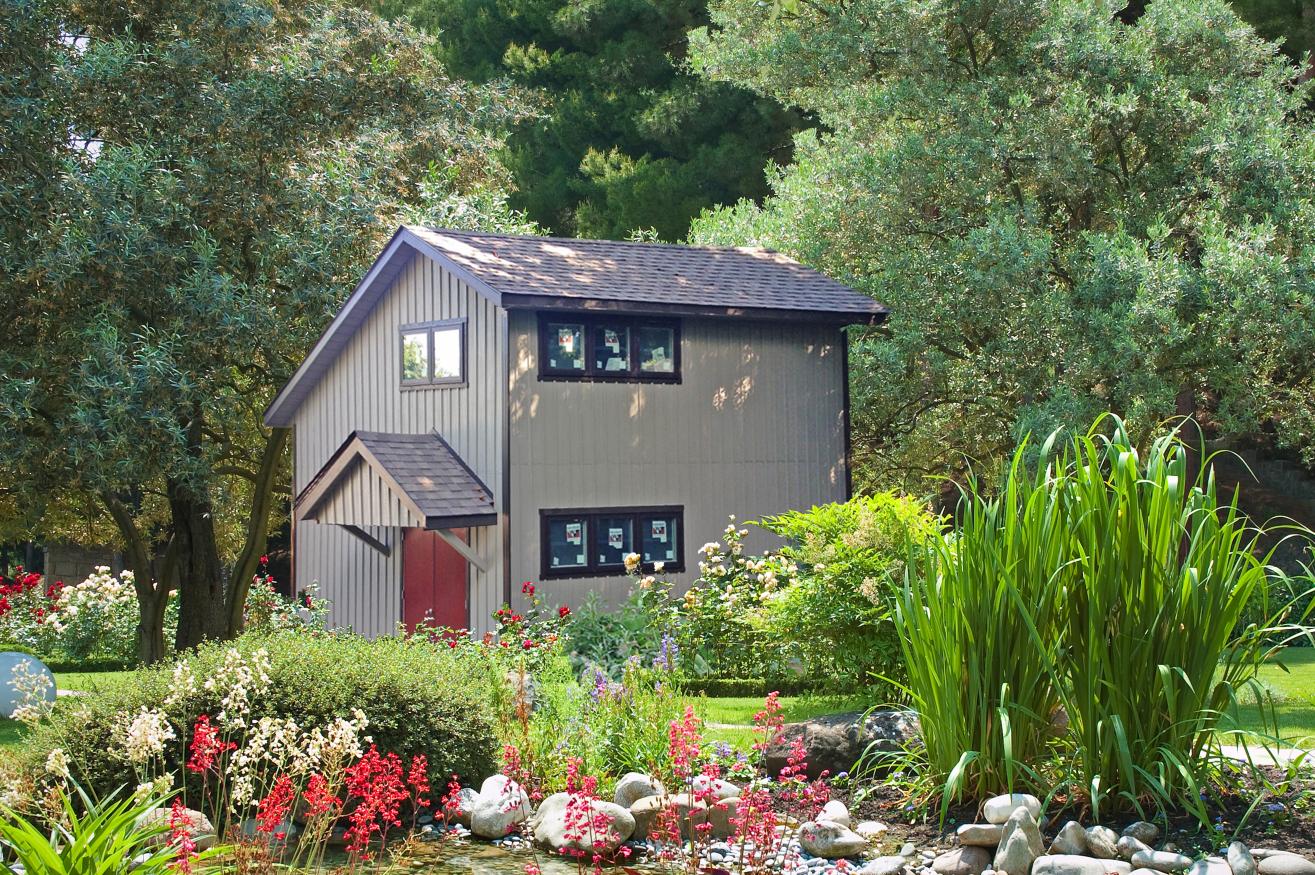 Airbnb
Airbnb is a vacation rental company that allows people to put their homes on the site or app for rental. This is a great way people who have homes can make extra money on the side. Airbnb is technically a home-based business because it takes place in your home. Some people have even purchased a shed that they converted into a home and posted it on Airbnb.
Get Started on Your Home-Based Business
Now that you know what it takes to start a home-based business, it is time to get started on yours. Gather what you need, get your business registered, licensed, and insured, and begin your future right from home. Need a small office space in your backyard or outdoor space? We have a wide selection of storage sheds and garages to choose from. Finding your home-based business space should not be hard, at Sheds Unlimited we find you the Space For Life.
Recent Shed Blog Posts...
Recent Shed Stories...
ready for more space in your life?
Create the building of your dreams by requesting a free estimate or customizing your own 3D design. You can also call us at 717-442-3281 from Monday to Friday between 8:00 am - 5:00 pm or Saturday between 9:00 am - 1:00 pm. We're ready to assist you!