10% off select add-ons through Oct 8!
Two-Story Prefab Garage Provides a Home for a Virginia Grandma
Life Decisions
What about adding a prefab garage so the basement can be cleared out and room made for grandma to spend her aging years closer to the family?
Rebecca and Anthony faced such a decision.
When Rebecca started looking for a place for her mom to live, she had no idea how difficult it would be. Her mother was nearing the age where living alone was no longer a good idea and new options needed to be explored.
When they visited a retirement facility, she realized that the retirement home facilities were very expensive, so Rebecca decided to research other options.
After looking at some possibilities such as community rentals and home care, it was decided that Rebecca's mom would move on to the homestead with Rebecca and her husband. But, where to find the room, was the big question.
At first, they thought a mother-in-law addition would work well but they discovered that it would be very time-consuming and cost over $300,000! The basement was where Rebecca ran her business of selling Vintage items on Etsy and eBay and that was not an option without creating room somewhere else to run her business.
Rebecca and Anthony needed something that would be affordable and wouldn't take years and mounds of paperwork to complete.
Operation Build A Detached Garage
As they were brainstorming, they stumbled across the idea that a two-story prefab garage would be the perfect alternative to a mother-in-law addition. It would cost less and require much less paperwork.
The detached garage built at their Virginia home would provide space for Rebecca's business and thus free up space in their basement. Then they could remodel the basement into a living space for Rebecca's mom.
Rebecca and Anthony also discovered that a two-story garage could add value to their property in the future and thus be an investment if they ever decided to sell the homestead and relocate.
With those decisions made, Rebecca was ready to take on the world (or at least a really big building project). But one step at a time.
For Rebecca, some of the necessary steps included:
Drawing plans
Finding builders
Waiting
Drawing more plans
Hiring builders
Waiting
Drawing even more plans
Waiting again
Installing the Garage Pad
Step by step, she pushed through the project until finally, she was ready to install a garage concrete pad. Due to bad weather, complications with ground elevation, and busy schedules, it took a very long time to get the foundation laid by the concrete guys.
After about a year, it was finished and ready for a two-story garage.
Purchasing the Prefab Two Story Garage
By that time, Rebecca had decided that she wanted to purchase a prefab garage. A prefab garage, she had discovered, is assembled at the factory into large pieces that are hauled to the construction site where it is then assembled into the full garage. This allows the garage construction process to be significantly shorter.
After waiting for almost a year to get to this point, Rebecca was not ready to wait another year for the garage to be constructed. She researched local prefab garage builders but was not able to find anything that suited her needs. She and Anthony wanted to finish out the interior of the garage themselves but most local builders insisted on doing it themselves.
Finally, she came upon Sheds Unlimited where they offered a Legacy 2-Story Workshop Garage that had an unfinished interior, perfect for Rebecca and Anthony's situation.
But not everything was rainbows and butterflies for Rebecca after this. Sheds Unlimited is located in Pennsylvania, about five hours away from where she lives in Virginia. This meant that Rebecca couldn't visit the business in person. All she had to rely on was internet reviews.
"Making down payments over the phone and not receiving any product in return was unnerving," she admitted.
After months of planning and many conversations with Mark, her sales rep at Sheds Unlimited, it was finally time for the garage to become a reality.
The Day the Prefab Garage was Built in Charlottesville, VA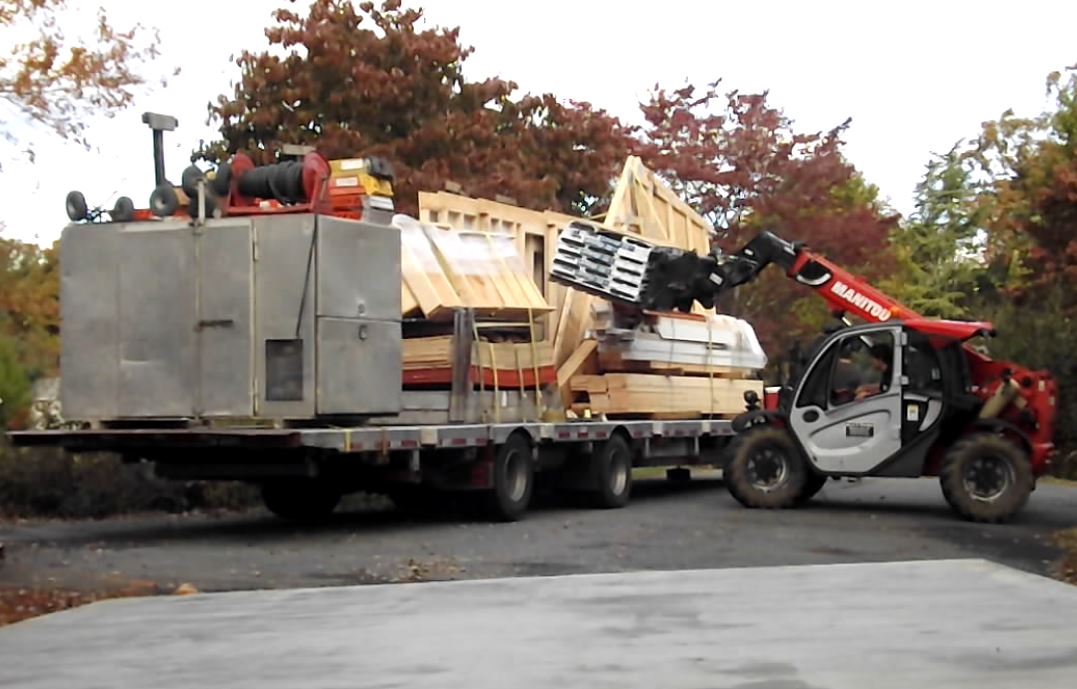 Three builders, AJ, Elmer, and David, arrived early one morning with a large flatbed truck loaded high with the prefab garage. Strapped to the back were the tools, equipment, a dumpster, and everything needed to assemble a garage in a very short time. The builders got right to work unloading and assembling the structure. They worked long and hard and within 2 1/2 days, the garage was finished!
Etsy Business Office Studio
After a lot of work, planning, and waiting, the garage was finally completed. Rebecca and Anthony were very happy with the garage and had this to say about it:
"Fortunately, we ended up with an amazing structurally sound garage, just as promised!" Rebecca said.
We adore our new cottage garage and thank everyone at Sheds Unlimited that helped this become a reality; Mark, Austin, Gideon, AJ, Elmer, and David (plus a few shop elves).
More Work and Some Marriage Advice
Even with the garage built, Rebecca and Anthony still had a lot of work to do. Because the interior was unfinished, there was electricity, insulation, drywall, trim, and flooring to install. Fortunately, this was exactly what they loved. Rebecca said, "Being big DIYers, this is what we call 'fun' here."
Over the next months, Rebecca stayed busy running wires and putting in outlets. Her husband Anthony, who has a lot of experience in construction, was able to hang and finish the sheetrock when he was not at work. Rebecca considers herself very lucky to be married to someone with such skills.
Other things that they worked on were bookcases and window ledges, oak laminate flooring, and a temperature control system. Most projects they were able to finish by themselves. However, they did hire some spray foam insulators to insulate the ceiling and an electrician to hook up a large wire from the garage to their main box.
Life After the Prefab Garage Build
Today, Rebecca runs her online Etsy business out of the prefab garage. She sells all kinds of vintage items ranging from books to home décor to clothing. The garage has racks and shelves for storing all of these items. There is also a small shipping station where she packages the goods before sending them out.
Finishing the basement for her mom to move into is the final chapter in this adventure. Rebecca and Anthony hope to knock it out in the next three months and thus truly complete this story.
When she's not building and finishing garages, remodeling basements, or selling on Etsy, Rebecca runs a Forsythia Hill blog among other things.
If you're interested in getting a 2-story garage for yourself, just hit the button below!
Recent Shed Blog Posts...
Recent Shed Stories...
ready for more space in your life?
Create the building of your dreams by requesting a free estimate or customizing your own 3D design. You can also call us at 717-442-3281.
We're ready to assist you!