50 miles of Free Delivery with all purchases through Dec 9!
Options for a Prefab Garage Apartment Space
Single Car Prefab Garage Apartment 
What if you were able to park your vehicle in your garage and only had to take the steps up to the next floor before grabbing a snack and crashing on your couch? Imagine being able to simply run down the stairs and rush off in your car when you wake up late. All this is possible with our Prefab Garage Apartment. This setup makes it so you can store your vehicle and tools on the first floor and have a functional living space on the second floor. With your creativity, you can use the second floor for anything from a Man Cave, to a library, or even a kitchen.  A Prefab Garage Apartment can be everything you need for a living space.
Two Car Prefab Garage Apartment
Expand your hosting abilities and increase your property value with the Two-Car Prefab Garage Apartment. This garage is the ideal space for a weekend visit from your in-laws. It has space for them to park their vehicle beside yours with a top-floor apartment to give them some privacy. The two-car Prefab Garage Apartment gives you more storage space for your valuables and helps eliminate the dilemma of deciding which of your vehicles to protect from the elements.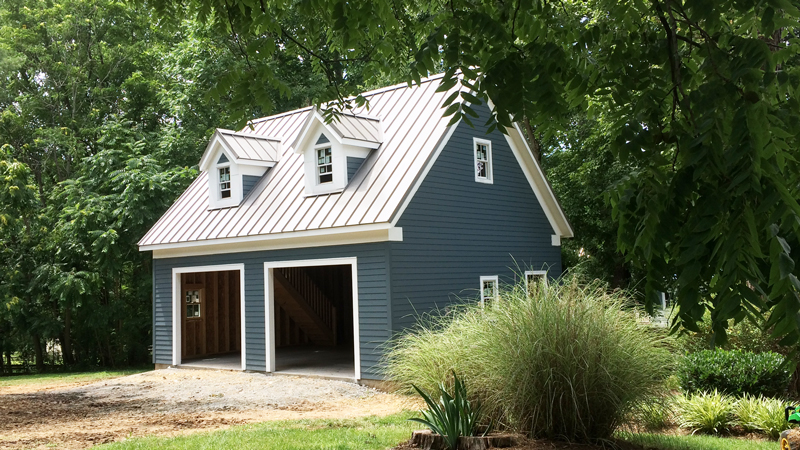 Three Car Prefab Garage Apartment 
These Three Car Amish Built Garages with apartments provide many possibilities. The top floor is large enough to use as a rental apartment for generating more income and the three-car garage is perfect for storing your vehicles and outdoor equipment. When the children get older and need their own car, this Prefab Garage Apartment has room to store the extra vehicles while also providing the extra bedrooms to give them their own privacy. Whatever your garage need may be, a Sheds Unlimited  Prefab Garage can be crafted to fill this need. Be sure to ask about our Garage Warranty when you get a Free Garage Estimate.
Four Car Prefab Garage Apartment 
The Four Car Prefab Garage Apartment is commonly used as a Commercial Garage by businesses who need parking space for their employees and want to use the top floor as a home office space. With these buildings, you can get a quality garage with an apartment or office without draining your wallet. We Build these Four Car Garage apartments on-site in PA, NY, NJ, and beyond.  Get an Estimate today
ready for more space in your life?
Create the building of your dreams by requesting a free estimate or customizing your own 3D design. You can also call us at 717-442-3281.
We're ready to assist you!