5% off all custom-built "Premier" sheds and garages through July 1st!
Custom Garages For Your Home in Ithaca, New York
Are you a homeowner that lives in Ithaca, New York and are looking for a custom garage to park your vehicles? If so, then you need to check out these prefab garages and find one that will compliment you and your home greatly.
These quality built Amish garages will sure increase the value of your home while at the same time providing an aesthetical view that you will never get tired of seeing.
Which Custom Garage is for me?
Choosing the custom garage for your home solely depends on your style, budget, and preferred size. Luckily for you, we have a ton of options to look through to find the specific custom garage for you.
See our selection of custom garage sizes and find the best option for your home:
One Car Custom Garages in Ithaca, New York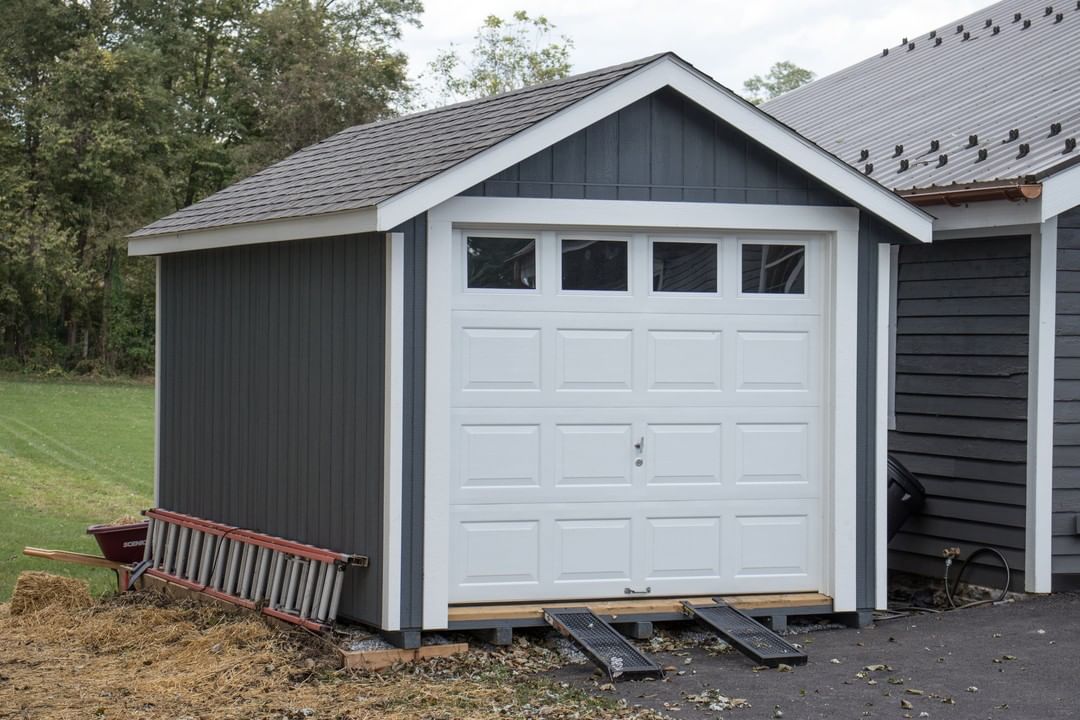 Do you own a smaller home and are looking for a single vehicle storage space? Then a one-car garage is for you. Our large selection of one car garages gives you the option to find a custom space to store and protect your vehicle in while at the same time giving you additional space. Never worry about not having a safe place to store your vehicle in your Ithaca home with a one-car prefab garage from a trusted builder.
See our options for one-car garages below to find the space for your vehicle.
Two Car Custom Garages in Ithaca, New York
Two-car garages are great for anyone looking for space for two vehicles with room to spare. Create a space where you can work on both vehicles and have space for tools and other storage items with your own custom 2 car garage. Give you and your other a space to safely secure and maintain your vehicle, and enjoy a nice reduction on your auto policy as well because of the avoidance of theft with a custom garage!
See our two-car garage selection below to find space for two of your vehicles.
Three Car Custom Garages in Ithaca, New York
So, you are in need of a large garage to store at least three vehicles? Well, you're in the right place! Sheds Unlimited constructs quality built storage spaces that are made to last a lifetime. Give your family a place to safely store their vehicles and have peace of mind while doing so. Maintain your car collection in a prefab three-car garage for your home in Ithaca, New York and witness what having a large space for your cars with plenty of extra room feels like.
See our three-car garage selection and find a custom garage for your three vehicles.
Four Car Custom Garages in Ithaca, New York
Are you looking for the largest custom garage available for your car collection, or even body shop? If so, then you need to check out these spectacular four-car prefab garages in Ithaca, NY. You need a space that is large enough to fit all four of your personal, business, or family vehicles, and a small garage isn't going to cut it. You need a four-car custom garage with options you want and need like an electric package, roof upgrades, and much more. Creating a large custom space never seemed so easy until now.
See our three-car custom garage selection and find the space they are missing for their New York home.
Custom Garage Styles in Ithaca, New York
Now that you have found the correct garage size for you, let's look at the possible garage styles you can combine your custom garage with. Having a unique garage-style can do numbers to your home including increasing the value, giving a greater beauty to your home, and finally giving you a reliable, and safe space to store your vehicles.
Sheds Unlimited currently has three styles to choose from to create the ultimate car garage for you. Which style will you pick for your custom garage?
Workshop
Probably the most traditional style garage you will see is the workshop. This style allows you to get that 4 car look you are searching for while also complementing your home nicely. Give yourself a space to store all your vehicles while also creating a matching look that reflects your home.
MaxiBarn
The MaxiBarn is another very popular garage choice that is starting to become even more trendy. This custom garage allows you to have an overhead storage space to store all your car equipment, tools, etc. right over your head! The MaxiBarn also comes with a selection of either a standard MaxiBarn, an Attic MaxiBarn, or a 2 Story MaxiBarn style.
Saltbox
The saltbox is a very unique prefab garage because of the roof design and how uncommon it is with most garages. That being said, the saltbox can be created into an ultimate custom garage that will fit your desired vehicle space with an additional space overhead. Get the unique vehicle storage space you desire with the saltbox custom garage.
Who can Build My Custom Garage in Ithaca, New York?
There are plenty of garage builders in central New York in which you can find. Typically, people search online or word of mouth for custom garage builders. Our advice to you is finding someone local who is trusted in the area with great reviews.
Luckily, we know a great company that manufactures great custom garages in the tri-state area. So, who is that company? Sheds Unlimited. We are trusted garage builders that manufacture garages all over New York including cities like Utica, Binghamton, Albany, Syracuse, Yonkers, and much more. Contact us today to get your dream garage built in New York.
Don't take our word for it, see what our previous custom garage customers had to say about their prefab garage buildings.
Get Your Custom Garage in Ithaca, New York Today
Now that you've learned about all of the custom garages you can possibly have, it's time to take the first step into owning your own. Start by requesting a free custom quote on your building and join our thousands of customers that have loved and still love their prefab garage.
If any of your questions were not answered above, we apologize. Contact us for all your questions, concerns, or inquiries. We cannot wait to hear from you. Now, let's get you that garage you want!
ready for more space in your life?
Create the building of your dreams by requesting a free estimate or customizing your own 3D design. You can also call us at 717-442-3281 from Monday to Friday between 8:00 am - 5:00 pm or Saturday between 9:00 am - 1:00 pm. We're ready to assist you!