Custom Built Garages in Albany, New York
When looking for a garage, quality and diversity are great qualities to keep in mind. At Sheds Unlimited, we would love to offer you these qualities with much more. Our prefab garage buildings in Albany, New York are built with care to give you a car storage space that will last decades. With 30 years of experience, you can have peace of mind knowing that your custom garage is being crafted by hard-working, dedicated, and experienced craftsmen. Each garage has custom styles you can choose from including an attic space and even a second story level!
You can start by choosing which garage size best fits your needs and style that best fits your taste with our amazing garage selection below:
One Car Garages in Albany, NY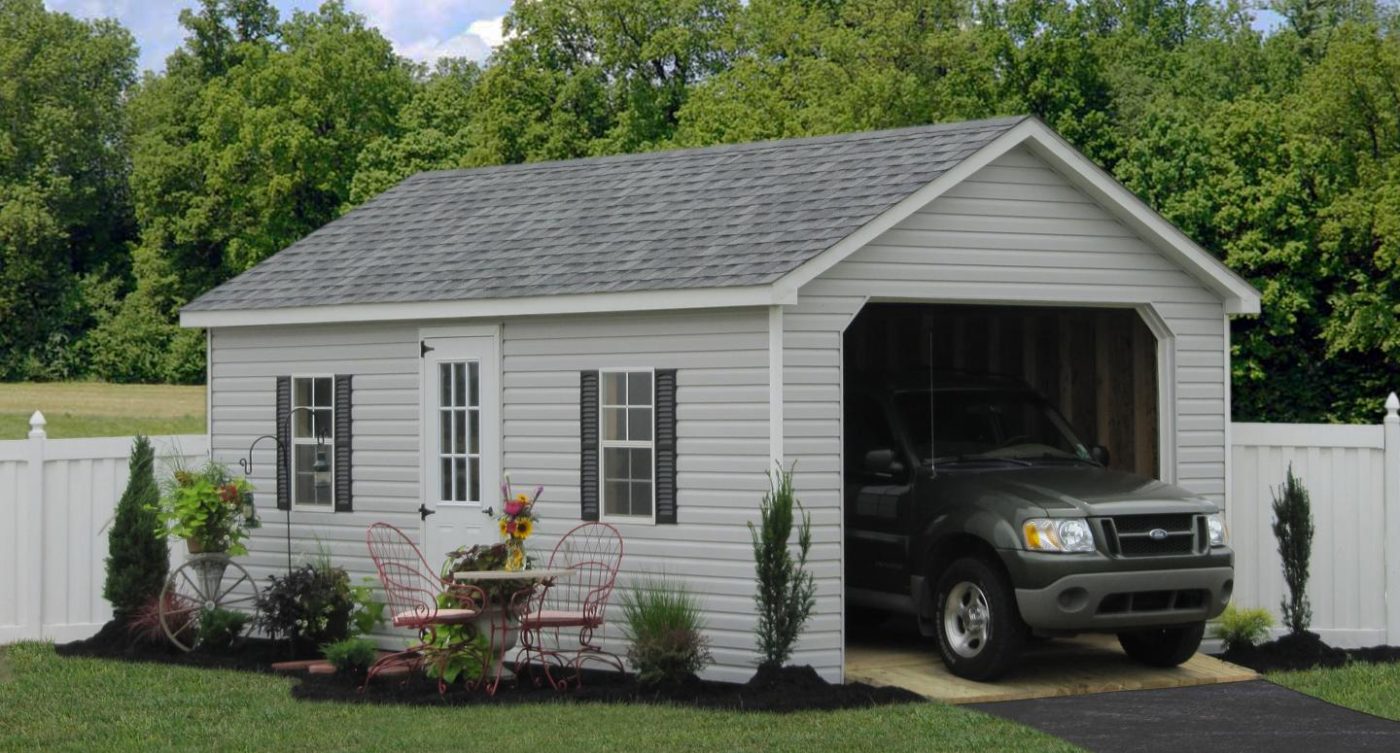 A one-car garage is a great option when looking for a single vehicle storage space in Albany, New York. This size garage provides adequate space for your personal vehicle with room to spare. If you do not plan on placing a vehicle in this garage, you may consider shopping for a storage shed instead of a garage for cost purposes.
two Car Garages in Albany, NY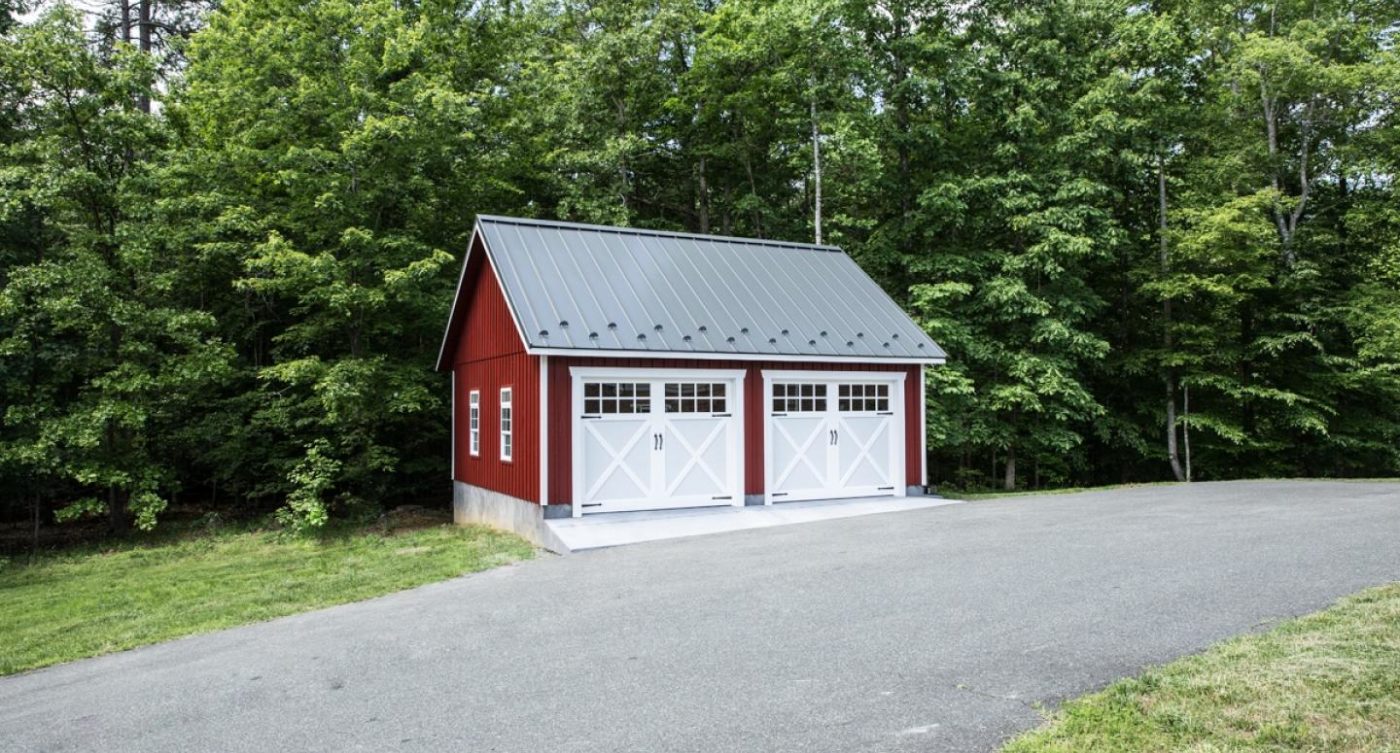 If you're looking for a space big enough to fit your vehicle and the vehicle of your significant other, then the 2 car garage is a great option. We know the problems of owning multiple vehicles with only one spot to store them, luckily we have a solution for you. Our 2 Car Garages offer space for both your vehicles with additional options including overhead loft, attic, or even a 2-story garage!
three Car Garages in Albany, NY
Match your home with a beautiful 3 car garage in Albany, New York. This amazing 3 car garage can be designed to look exactly like your home to give your property an elegant but unique look. This 3 car garage could also be used for more than just a parking spot, this garage can be transformed into a car collection lot, or a mechanical shop, the possibilities are endless!
four Car Garages in Albany, NY
You want a spot that will fit your family's vehicles, and the 4 car garage will do just that. Leave the worry of something happening to one of your vehicles while also increasing the value of your home at the same time. Purchasing a 4 car garage in Albany, New York is a great idea if you seek high-quality storage space for the family with plenty of more room to spare. Go even bigger with a 4 Car Garage with Attic, or a 2 Story 4 Car Garage!
Custom Design Your Garage in Albany, New York
Garage with Lift in Albany, New York
Are you looking for a space to work on your cars? A garage with a lift would be a great place to do that. At Sheds Unlimited, we craft quality garages and work with other contractors to get you the dream garage you've always wanted.
Have dreams of owning your own car collectors garage, or a mechanic shop to work on your vehicles? Whatever garage design you plan on building for your home, make sure it is a Sheds Unlimited garage in your backyard.
See what this customer in Maine did to his multiple car garage and what you could do to yours today.
A Trusted Garage Builder in Albany, New York
When looking for a quality built garage for your home, you're looking for a team of dedicated and hard-working people who strive to do their best. At Sheds Unlimited, it's who we are. We build amazing storage sheds and garages in Albany, NY to those who want a storage space that will last them decades.
Why Buy From Sheds Unlimited?
At Sheds Unlimited, our team thrives to give you and your family exactly what you are looking for. Whatever style, budget, size storage shed or garage you are looking for, we work with you to find the one for you. Here are some more reasons why Sheds Unlimited is the garage builder for you:
Wide range of options to choose from.
Heavy-duty quality material that lasts a lifetime.
Amazing customer service with one-to-one help every time.
100% FREE quotes every day.
Save money by purchasing from a trusted manufacturer instead of a shady third-party dealer.
Thousands of happy customers along the east coast.
Absolutely NO hidden fees.
We work with contractors to build your dream garage.
See What Garage Customers in New York Are Saying About Us
Can't say enough good things about dealing with everyone at Sheds Unlimited in purchasing our new 2-car, 2-story, 24'x30′ Maxibarn Legacy garage. From the design to the production and especially the construction, we couldn't have been more pleased. Their crew of three came to install our garage four weeks earlier than planned. They arrived at 11:30 a.m, worked until after dark, started the next day at 7:00 a.m worked again until after dark, arrived again at 7:00 a.m the next morning and were finished, cleaned up and gone by 1:30 p.m. What was most beneficial for us, in addition to the lower cost, was that the building interval was kept to under 3 days, as opposed to having a contractor on site for months. Couldn't be more pleased with our new garage with second-floor storage!

-Charlie K.
Prefab Garages FOR SALE in Albany, New York
Whatever it is you are looking for in a prefab garage, we can assure you that we have what you want. We have hundreds of happy customers in New York who have found Sheds Unlimited as their number one option for storage sheds and prefab garages. We would love to get a chance to speak with you on your future dream garage building today, just give us a call at (717) 442-3281 or fill out a FREE quote form on our website.
ready for more space in your life?
Create the building of your dreams by requesting a free estimate or customizing your own 3D design. You can also call us at 717-442-3281 from Monday to Friday between 8:00 am - 5:00 pm or Saturday between 9:00 am - 1:00 pm. We're ready to assist you!