Free* Tread Plates Through Oct 1!
Amish Garages For Sale in Rochester, NY
When you ask yourself "How much does a garage cost in Rochester, New York?" You must think of what you are looking for in a prefab garage. Whether you are looking for a one-car garage or 4 car garage, finding the garage that fits your outdoor vehicle storage space is what is needed first. Sheds Unlimited build high-quality Amish garages and deliver all over upstate New York including cities like Utica, Rome, Syracuse, Albany, and many more.
Find your Amish Built Garage that will fit your Rochester home below:
2 Car Amish Garages in Rochester, NY
In need of a prefab 2 car garage? Then you are in for a treat! These amazing 2 car Amish garages for sale are great for anybody looking to store two vehicles in a protected and enclosed space. Protect you and your partner's vehicles with a 2 car garage.
Get your hands on this amazing 2 car Amish prefab garage in a style that you will love for the years to come. With many styles to choose from including the Double-Wide, the 2 Car Workshop, 2 Car MaxiBarn, and the 2 Car Saltbox Garages, the future of your cars storage is completely up to you!
3 Car Amish Garages in Rochester, NY
Need space for 3 vehicles in your household? Now you can get everything you've wanted in a prefab 3 car Amish garage with the click of a few buttons. Protect you and your family's vehicles from theft, damage, and leave yourself with peace in mind knowing your vehicle is locked and secured.
Get started owning your 3 car Amish garage today by picking a style the best fits you. Our 3 car Amish garages come in three different styles including the 3 Car Workshop, 3 Car MaxiBarn, and the 3 Car Saltbox garages. Buying from a trusted Amish Garage Builder has never easier, see more about this prefab garage.
4 Car Amish Garages in Rochester, NY
Are you in need of a space to store your car collection, antiques, or need a large space to store at least 4 vehicles with room to spare? Then you need an Amish built garage 4 Car Garage in your life. These amazing Amish garages provide more than enough space to work on your cars, store tools, and much more.
Bring your Amish garage fantasies to life by finding your preferred style which includes the 4 Car Workshop, the 4 Car MaxiBarn, and the 4 Car Saltbox. Whatever your need for a large garage like this, just know Sheds Unlimited will help you every step of the way.
Amish Garage Builders in Rochester, New York
Are you looking for a trusted Amish garage builder in upstate New York? Someone who is known in the community that will get you the dream garage you've always thought of? Look no further as you may have just found it.
Sheds Unlimited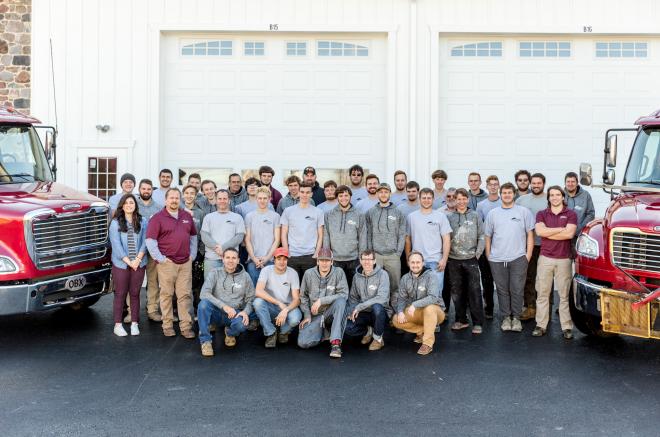 We are a dedicated Amish Garage Builder that crafts magnificent Amish garages that fit your taste. Our expertise has satisfied thousands of people in the tri-state area and continues to do so. What once started as a small chicken coop delivery business to now one of the largest storage shed and prefab garage builders on the east coast, Sheds Unlimited has come a long way from where it started and continues to grow each and every day.
Don't settle for a garage that won't last a while, contact Sheds Unlimited if you want to get started on your dream garage journey today, you'll be glad you did.
Sheds Unlimited out of Gap, PA built our new garage this week in just 2.5 days. They worked till dark and hustled the entire time! They were conscientious, careful, and respectful of the build and our property. Can't say enough good things!

-Jennifer F.
Amish Garage Styles in Rochester, New York
Finding the right size garage is the easier part of the buying process, next is figuring out what style you would like your Amish built garage to be. Here at Sheds Unlimited, we provide plenty of prefab garage styles to choose from to give you flexibility and options to decide on the perfect one.
See below the style options you could pick for your 4 Car Amish Garage in Rochester, NY:
Standard Amish Garages
If you are thinking of something simple, the standard option for your Amish prefab garage should do the trick. This amazing and most affordable garage out of the bunch offers you space for your selected garage size with some room for additional items including workbenches, tables, etc.
When looking for the most economic garage, the standard does not fail. Find your standard prefab garage below!
Amish Garages with Attics
If you are looking for more bang for your buck and additionally more space in your Amish prefab garage, the garage with attic space is certain to get the job done. With plenty of uses for the additional upper storage space, it allows you to organize, protect your belongings, and store tools, equipment, jacks, and much more.
When you need additional storage along with a garage, an attic is the perfect solution to your problem.
2-Story Amish Garages
If you are looking for a solution to all your vehicle storage problems, the 2 Story Amish Garages are sure to give you the answer you're looking for. The 2 Story Amish garages for sale will bring your home more value and people with complements. With this size of a garage, anything is possible. Don't settle for a small ordinary space, get the 2 Story Amish Garage to ensure yourself of lifetime storage space.
When looking to get the most space you possibly can with a 4 car garage, the 2 story garage never disappoints
Amish Built Sheds in Rochester, New York
If an Amish Garage is more space than you need, maybe a storage shed would be a better option for you. Amish sheds for sale in New York are great for people who desire a simple yet helpful storage space. Shop our full selection of Amish Prefab Sheds to find the best fitting Amish storage shed for your Rochester home.
If you are ready to get the storage space you've always wanted, now has never been a better time to do so. Sheds Unlimited would love to get you started on your future space today, call our office at (717) 442-3281 or request a free quote or your custom storage garage or shed. We would love to turn your storage dreams into a reality.
ready for more space in your life?
Create the building of your dreams by requesting a free estimate or customizing your own 3D design. You can also call us at 717-442-3281.
We're ready to assist you!