50 miles of Free Delivery with all purchases through Dec 9!
4 Unique Car Garages in Binghamton, New York
Finding the right car garage for your Binghamton, New York home can be tough. Especially when you have a ton of builders you have to look through to make sure you are getting the best structure possible. So where do you start? Well first, you need to decide what you are looking for. Is your Binghamton home large or small? Do you plan on keeping the garage elsewhere? Ask yourself these questions and then think of what you are looking for in a car garage.
See the possible selections of car garages below to get an idea of what you may be looking for in your future garage.
Single Car Garages in Binghamton, NY
Probably the most typical car garage you will see on someones property is the single car garage. That goes without any question why. This car garage not only protects your vehicle, but also allows for additional storage as well. There are three different styles within the single car garage selection that you may choose from for your home.
Give yourself a space you can ensure your car is protected while at the same time saving some money on your insurance bill with a one car garage from a trusted builder in Binghamton, NY.
See our selection of single-car garages below:
Single Car Workshop Garages
Our one car workshop garages are an Amish built garage that can perfectly fit your vehicle in with also having room to spare for other storage. The workshop garages come in 4 different styles which you can find below:
Single Car MaxiBarn Garages
The MaxiBarn garages are exactly what they sound like, a barn turned into a garage. Claim a secure spot for your vehicle and other equipment with a MaxiBarn today. See our styles for a one car MaxiBarn garage below:
Single Car Saltbox Garages
If you need a simple yet unique single car garage, the Saltbox may definitely be one to consider. Combine the unique look of a Saltbox with the color of your home and see how well it may blend with your home. See our selection of Saltbox one car garages below:
2 Car Garages in Binghamton, NY
Imagine the look of a 2 car garage in the back of your Binghamton home. Our wide selection of 2 car garages in Binghamton, New York is sure to give your home plenty of value and even more aesthetical beauty. Additionally, it provides a large space for two vehicles with plenty of room to spare for whatever you need.
Upgrade your two-car garage to have a loft area, or even a second-floor space for the ultimate experience of what having a garage feels like. Provide a secure and luxurious space for you and your significant others' vehicle with a 2 car prefab garage.
See our selection below:
2 Car Workshop Garages
The 2 car workshop garage is probably the most common 2 car garage you will find. It includes a traditional A-Framed structure that provides enough room for your two vehicles, additional free floor space, and an option for an attic or second-floor space. 
2 Car MaxiBarn Garages
If you love the look of a dutch barn and want to combine it with storage space for your vehicles, the MaxiBarn car garages are definitely a great option to look at. Shop our three selections of these traditional Dutch barn garages and find the one for your home!
2 Car Saltbox Garages
For two vehicle spaces and a unique look for your outdoor space, the saltbox 2 car garage is a great option. Combine this garage with a small porch area (like the picture above) and you are sure to have yourself a great time enjoying your prefab garage.
3 Car Garages in Binghamton, NY
The saying "the more, the merrier" can relate to a bunch of different things, it can definitely relate to the 3 car garage. The 3 car garages in Binghamton, New York are a favorite in many peoples eyes because of what it provides. You get three large spaces for your families vehicles and a bunch more for all. your tools and other equipment you plan on keeping inside.
Turn your 3 car detached garage into a car collectors paradise, or make it a garage with lift for automotive work. The opportunities are endless when it comes to your new 3 car garage.
See our selection of 3 car garages below.
3 Car Workshop Garages
If you are looking for a large garage that compliments your home nicely, then you need the 3 car workshop garage. This quality built garage enables you to store three vehicles with room to spare, plus allows you to create it into an attic space or a second floor for even more space.
3 Car MaxiBarn Garages
The MaxiBarn design is a very popular style from Sheds Unlimited. The MaxiBarn Storage Sheds are one of the more popular sheds and it easily translates that way for the prefab garages. With additional options including custom dormers, which MaxiBarn car garage will you choose?
3 Car Saltbox Garages
The saltbox three-car garage, what else is there to say about it? This amazing 3 car detached garage provides a space for your personal vehicle and 2 other spaces for your family. Add custom doors like the photo above to create your own custom garage space. See our options on saltbox 3 car garages and find the one for you!
4 Car Garages in Binghamton, NY
If you are looking for the biggest and most spacious option in a car garage, the 4 car garage is definitely our top option. With different styles to choose from and custom options to create your own personal garage space, why go with anything else? This prefab garage creates a perfect space for a car collection or a small personal body shop to work on vehicles.
Redefine your Binghamton, New York home with a stunning 4 car garage from a trusted builder in New York.
4 Car Workshop Garages
The workshop 4 car garage as seen above is a great structure for anybody looking for space for 4 vehicles right in their backyard. Add a complimentary garage to your A-Frame-shaped home for an amazing combination that you'll come to love and sure catch your eyes as people pass it.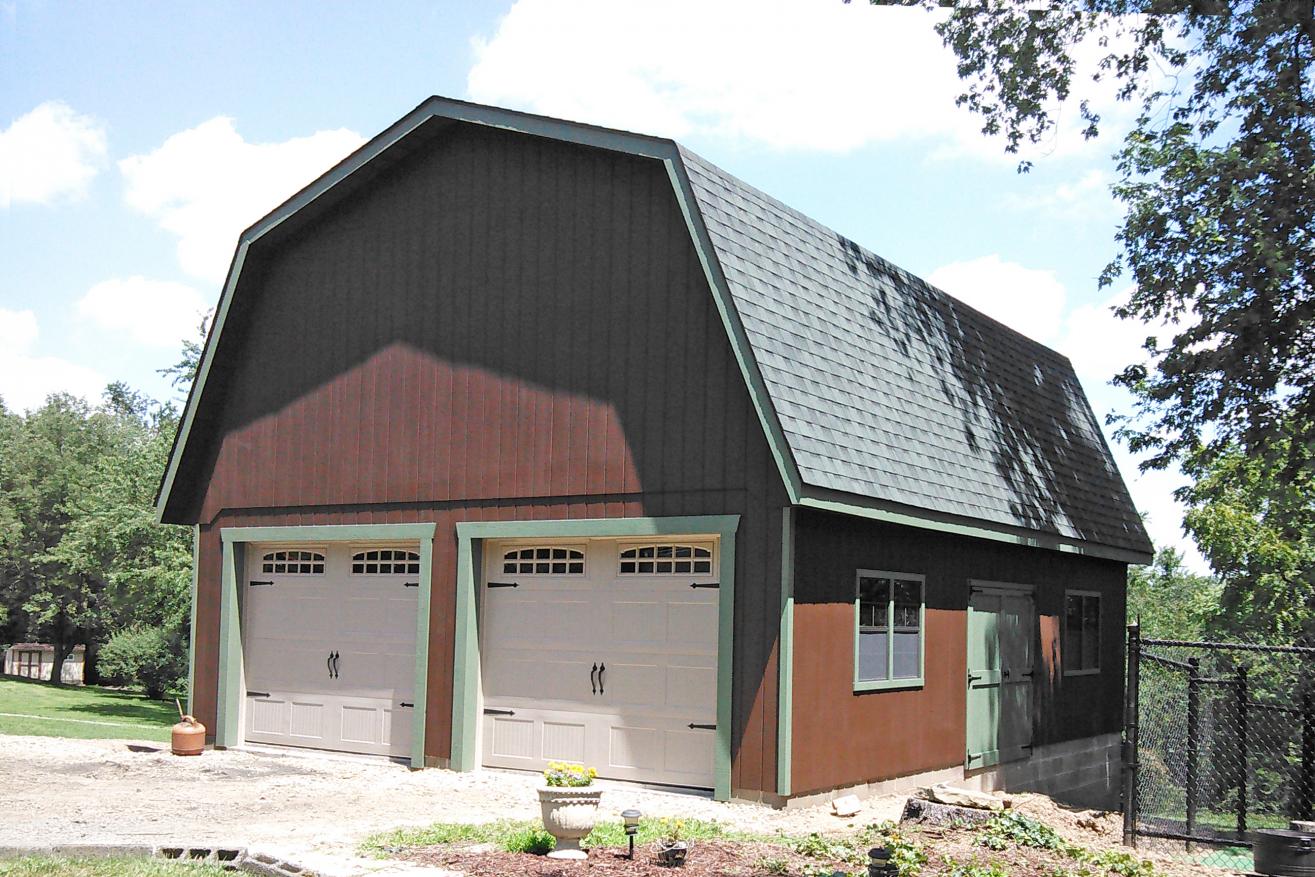 4 Car MaxiBarn Garages
If a large vehicle storage space is what you require and love a barn-style structure, then the 4 car MaxiBarn garage should be a no brainer for you. Keep your vehicles safe while also having large overhead space for additional storage, or attic space, and even a second floor.
4 Car Saltbox Garages
If you are looking for the largest garage size possible and also love the look of the saltbox garage, then the 4 car saltbox garage is something you should seriously consider. This vehicle storage space can make for a new hang out spot or workshop space right outside of your home.
Your Trusted Car Garage Builder in Binghamton, New York
When the time to buy a garage is right, you can rely on Sheds Unlimited to get you the vehicle storage space you are looking for. With over 30 years of experienced craftsmanship and dedication, there is no wonder why Sheds Unlimited has been a top garage and shed builder on the east coast.
Sheds Unlimited also manufactures top-quality Amish storage sheds in PA, NY, MD, VA, NJ, and much more!
See what these Car Garage customers had to say about Sheds Unlimited

The garage has become a place where my sons and I spend time together working on classic cars. There's plenty of space to not only park the cars but to work on them as well!

-Jim S.

The garage not only meets my expectations, but it has passed the 'quality test' of my friends, family, and even the nosy neighbors. Not one critical remark has been made. The garage build speed and fit/finish have impressed everyone.

-Tom B.
Get Started on Your Car Garage in Binghamton, New York Today
Create your own custom garage to fit your size and preference. Our dedicated sales team will work with you every step of the way to make sure you get the car garage you are looking for. Sheds Unlimited has works with thousands of people to bring their shed and garage dreams to life, you could be next.
Live in a different part of New York? No problem. Sheds Unlimited deliveries to Upstate New York as well including cities like Syracuse, Rochester, Utica, and much more! 
Today is the day you can get started on your new car garage, make the first step now by requesting a free quote, or calling our office at (717) 442-3281. We look forward to hearing from you and getting you Space For Life.
ready for more space in your life?
Create the building of your dreams by requesting a free estimate or customizing your own 3D design. You can also call us at 717-442-3281.
We're ready to assist you!