Free* Tread Plates Through Oct 1!
Sheds For Tiny Houses

Shed Styles That You Can Use To Build Your Shed House
Size: 8×12
Starting At $7,370

Starting price is shown. Building displayed in photo may include optional upgrades.


1 Saves | Login to Save
#16561
Sheds Unlimited is happy to provide sheds that you can use to create your own shed house. Although we do not do interior finishing for our sheds, you can order your shed from us and finish out the interior yourself, transforming it from a quality shed from us to a beautiful tiny house shed for you. We offer a large selection of shed styles from the simple Mini Barn to the elaborate Two-Story Legacy Standard Workshop. Keep reading to learn about a couple shed styles that may work well as DIY projects to build your tiny house in.

PREMIER WORKSHOP SHED
The Premier Workshop Shed is an excellent shed style that can be transformed into a shed house. With four regular windows plus four 10×24″ Transom windows, this shed style would work well if you're wanting a future tiny house that is filled with warmth and sunlight. Although the Premier Workshop Shed is a little more on the pricey side, its standard features and exterior look set it apart from most of our other sheds. A set of double doors also comes standard on our Premier Workshop Sheds and will allow for easy entry into your future shed house. Featuring a 10/12 gable roof pitch and an 8″ roof overhang on all sides, the Premier Workshop shed gives off an aura of magnificence and strength. On top of all that, you could add some customizable features such as the color of siding, different roof types, and much more to give it a personal touch. Although our buildings come unfinished on the inside, we can add lofts and/or workbenches to most sheds. The last step on your list is to plan how to finish the inside of your shed, and either hire someone to finish it for you or make it into a DIY project.
LEGACY TWO-STORY SHEDS
If you're looking for a larger, more elaborate shed style, our Legacy Two-Story Sheds might be your best bet. We offer two different kinds of Legacy Sheds: the Legacy 2-Story Workshop Shed and the Legacy 2-Story MaxiBarn Shed. Really the main difference between these two Legacy shed styles is roof pitch. While the Legacy 2-Story Workshop Shed has a 14/12 gable roof pitch, the Legacy 2-Story Maxibarn Shed has a barn-style (Gambrel) roof. In case you're wondering, a barn-style roof is a double-sloped roof while a gable roof is a simple A-frame roof. Both Legacy shed styles, however, have an 8″ roof overhang on all sides. Several of the standard features of Legacy 2-Story Sheds include two 30×40 windows with screens and trim, a 3′ prehung sing door with glass, and 6′ prehung double doors with glass.
Now that you got a general idea of what a Legacy Two-Story shed is, let me give you a couple of scenarios where this shed type would work well for a future tiny house (or maybe more like a large house😀).
One, if you have limited backyard space still want a larger shed house, the Legacy Two-Story sheds are perfect. Of course, two-story sheds take up the same amount of backyard space as a single-story, which makes our two-story sheds the perfect option if you're looking for a future shed house that is space-efficient.
Second, a Legacy Two-Story shed is a large shed that you could basically turn into a house. Although this shed type technically falls under the term "tiny house," Legacy sheds are the biggest sheds we offer and could easily be converted into fair-sized dwellings, an Air BnB, and much more. So if you're looking to create a place where you want to combine several different shed ideas into one shed house, a Legacy 2-Story shed is just waiting for you to finish into a beautiful mansion.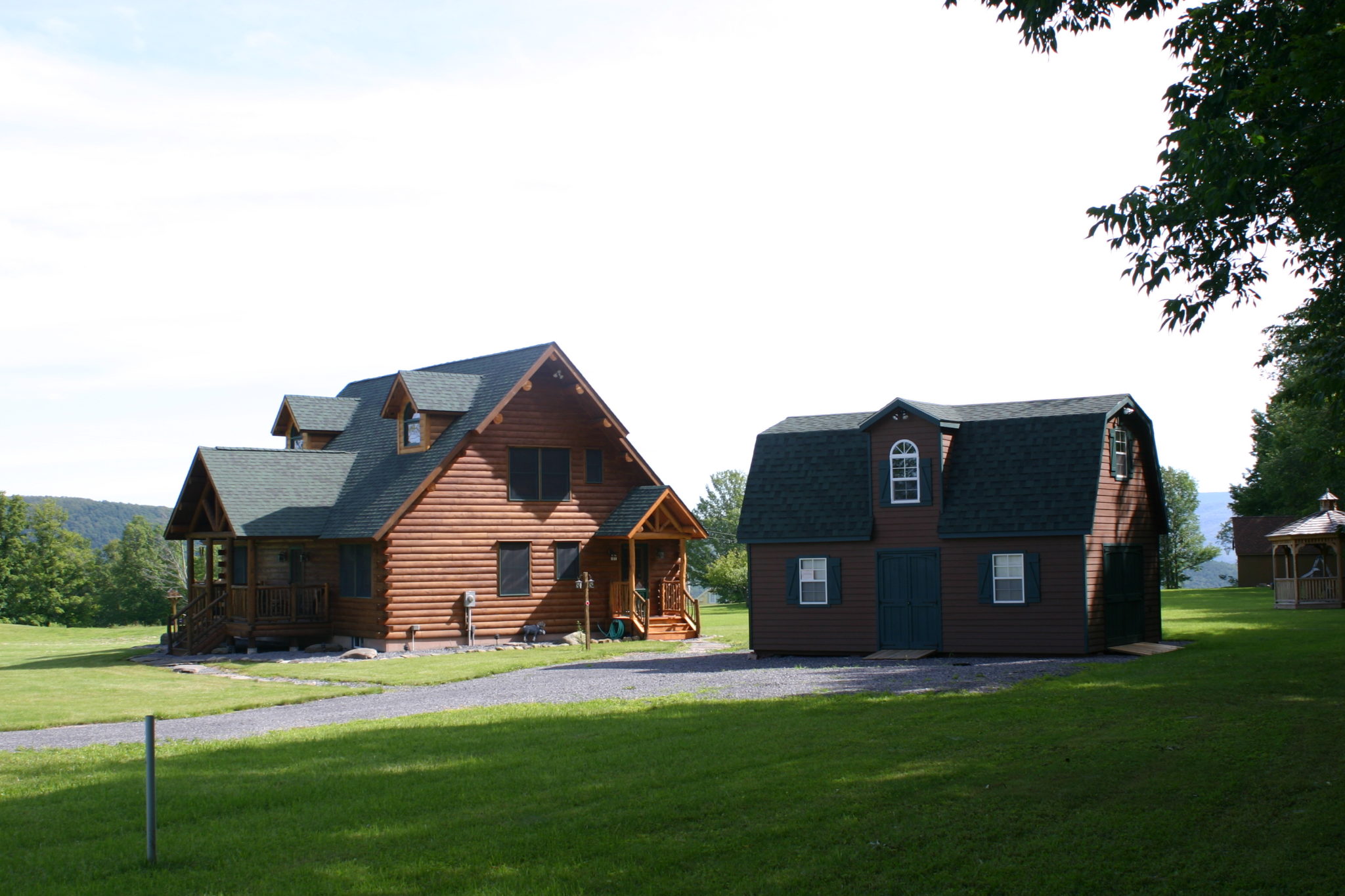 Saltbox Sheds
Trust me, don't be deceived by the name. These sheds are used for a lot of things that don't have anything to do with storing salt. Our Saltbox sheds offer a unique roof design that includes an 18″ front overhang. What sets a Saltbox shed apart, is this unique roof build. With a short front roof and a longer back roof, the Saltbox shed roof design historically comes from New England, giving this shed type an old-time, New England appeal. There are two different types of Saltbox sheds: the Standard Saltbox Shed and the Classic Saltbox Shed.
The Standard Saltbox Shed is the more economical option of the two. Featuring two 18″x27″ windows with screens and double doors (single doors on 6′-wide buildings), the Standard Saltbox Shed is a good idea if you're wanting to spend more on interior finishing rather than on the shed shell itself.
The Classic Saltbox Shed is one of our top-selling models that that comes with two 18″x36″ windows with screens and a set of double doors (single doors on 6′-wide buildings). If you're looking for a elegant, yet cost-efficient shed the Classic Saltbox Shed might be the way to go. Of course, we don't finish the inside, but you easily start a DIY project and have the interior of your saltbox shed transformed into a shed house in little time.
Tiny House Example
Check out this tiny house shed built by a customer inside one of our Premier Garden Sheds. The featured picture shows what one customer did to the interior of their shed. Beginning with a walk in the front door, this tiny house shed takes your breath away. With a full kitchen, a large bedroom, laundry space, and even closet space, this Shed House takes small living to another level. The second level is an actual reality when you climb into the loft area and enjoy a lovely view of the sitting and dining area of the tiny house. This customer built a beautiful shed interior, and you can too! Just choose a shed style that you like best, and plan a DIY project for you and your family to create your dream tiny house!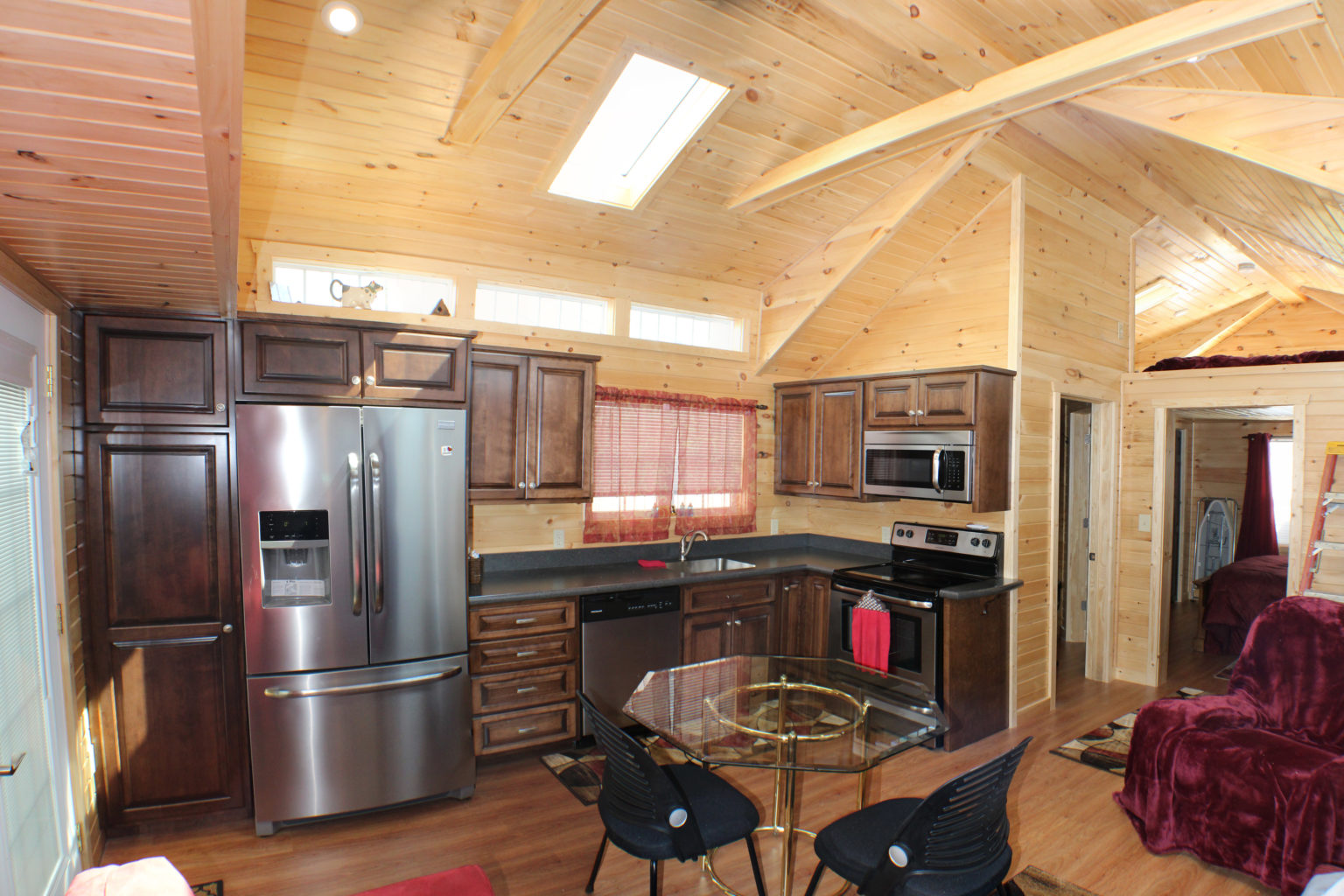 What You Can Do
To wrap it up, here's what you need to do. To begin with, choose a shed style that you think works best for your property. Then request a quote for the building. We do not finish out the interiors of our sheds. But you can easily buy a storage shed from our line and do the work yourself or hire a contractor to do the finished work to create your own beautiful tiny house shed!
ready for more space in your life?
Create the building of your dreams by requesting a free estimate or customizing your own 3D design. You can also call us at 717-442-3281.
We're ready to assist you!