Rent A Shed in PA or DE - Rent to Own Storage Sheds
Rent an Amish Shed for your Home or Business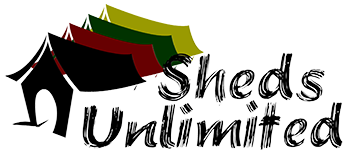 As of 2013 Sheds Unlimited offers a STORAGE SHED RENT TO OWN option through BLI Rentals. This program allows a customer to order the home storage shed or one car garage of their choice from Sheds Unlimited and arrange a Rent-to-Own program with our partner company. Here is how the program works.

1. Choose a shed model from the Sheds Unlimited line of outdoor sheds and prefab garages
2. Add the options for the
rental shed
or prefab garage (Must be under $10,000 total)
3. Place the rental shed order with Sheds Unlimited INC.
4. Pay one month rent on the shed plus a security deposit for the rental shed unit
5. Pay the monthly rental fee to BLI Rentals for 24 or 36 months
6. Ownership: Choose the early payment option and recieve up to a 45% discount or
7. Pay the monthly rental fee and at the end of the contract the rental shed is yours to keep.

PLEASE NOTE:
The
RENT-A-SHED
program is not offered for all states. Call Sheds Unlimited at 717-442-3281 to learn which states are in the rent-a-shed option.


Reasons to Choose a Rent-to-Own Storage Shed

1. You will never need to run to the rental storage unit to store and pick up your items
2. Rather than paying a monthly fee to a rental storage unit and end up with nothing, rent a shed for 24 or 36 months and at the end you will own the shed
3. Rent a shed if you know you will be moving within the next year or two. When it is time for you to move, BLI Rentals will arrange to have your rental storage shed picked up and returned


Reasons NOT to Choose the Storage Shed Rent to Own Option

The cost over the rental period is substantially more. Be sure to understand the cost versus benefits prior to choosing the rental option!


Rental Costs for 36 Months:

Property Cash Price (excluding sales tax) $3,000
36-month divisor / 19.8
Monthly Rental Payment $151.52
Sales tax on Rental Payment (6.00 percent) $9.09
Protection+ fee (option) $15.15
Sales tax on Protection+ $.91
Total Monthly Payment w/ Protection + $176.67

This example is based on a 36-month agreement, an 8.25-percent sales tax rate and the customer?s enrollment in Protection+.


CUSTOMER BENEFITS

- Fast: Instant Approval
- Immediate qualification
- As low as $150 security deposit plus first month?s rent to get started
No Credit Check: A Simple Solution
- Avoid unwanted credit inquiries
- Save credit for when you need it
- Don't need great credit to rent-to-own
Flexible Payment Options: AutoPay, Online, Phone, E-Billing or Mail
Affordable Monthly Payments
- Rent-to-Own storage for about the same cost as renting a storage unit
- Month Rent-to-Own Agreement
- The initial rental term is 1 month and with each payment made the agreement is automatically renewed
- Return the property at any time without penalties
Ownership in 36 months or less
- No penalties to purchase early
- Take advantage of the Early Purchase Option (EPO) and SAVE up to 45% on the remaining balance


Call 717-442-3281 or EMAIL US to Learn more about our rental shed possibilities
Click HERE to PREQUALIFY

Copyright 2013 - Sheds Unlimited

Share on your Social Networks

Wooden Sheds For Rent

Vinyl Sheds For Rent

Classic Sheds For Rent

Premier Sheds For Rent

One Car Garages for Rent