Buy One-Car Garage Designs from Sheds Unlimited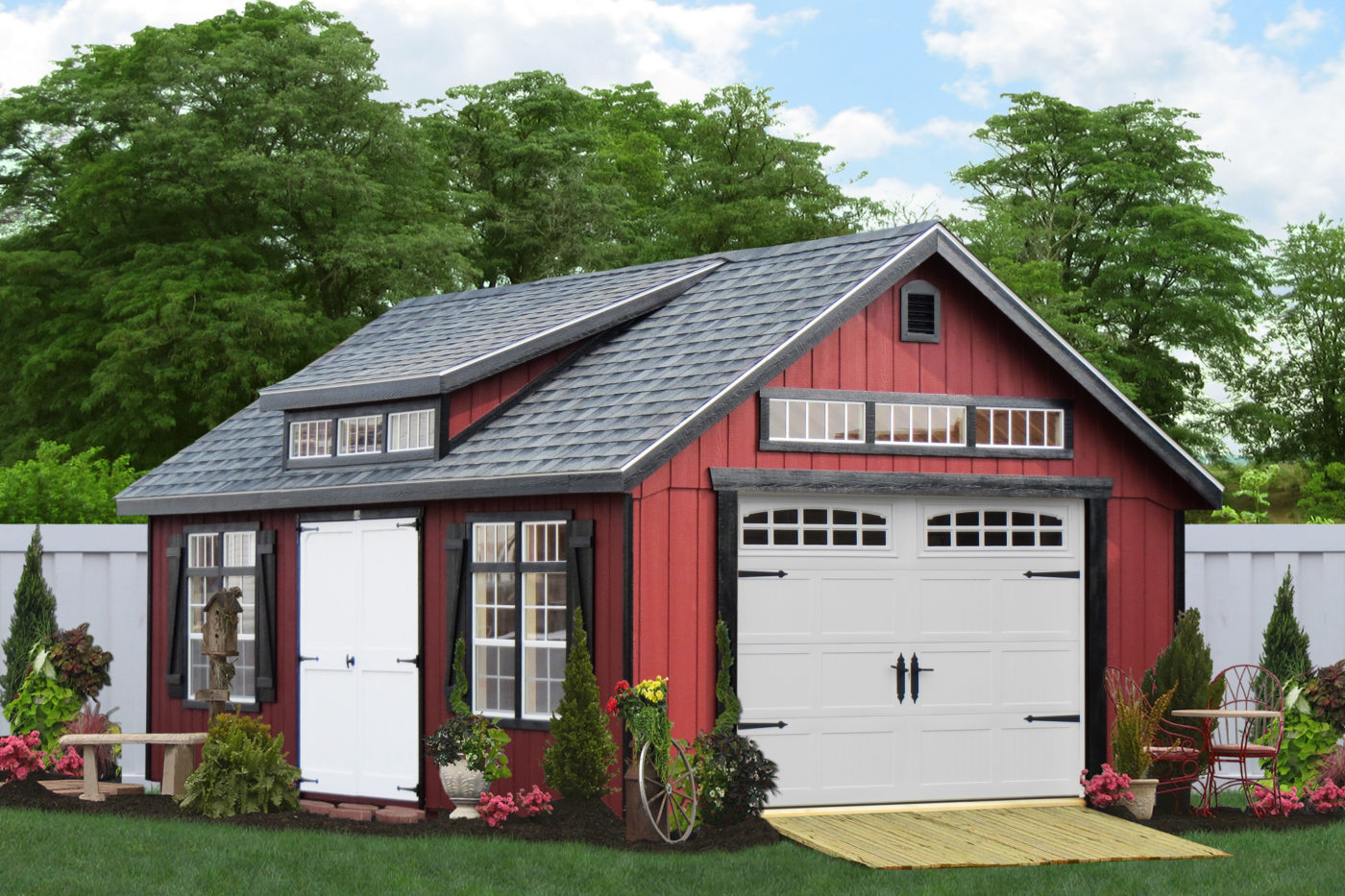 Sheds Unlimited has been building Prefab 1 Car Garages for decades. The following free one car garage ideas galleries provide only a small sampling of our prefabricated and portable one car garages for sale from our manufacturing facility in Lancaster County, PA. From our garage builders facility in PA, we ship all over PA, NJ, NY, CT, DE, VA, WV, MD and beyond. Peruse the photos and contact us with any questions you might have on our ONE CAR GARAGE collections
Amish One-Car Garage Designs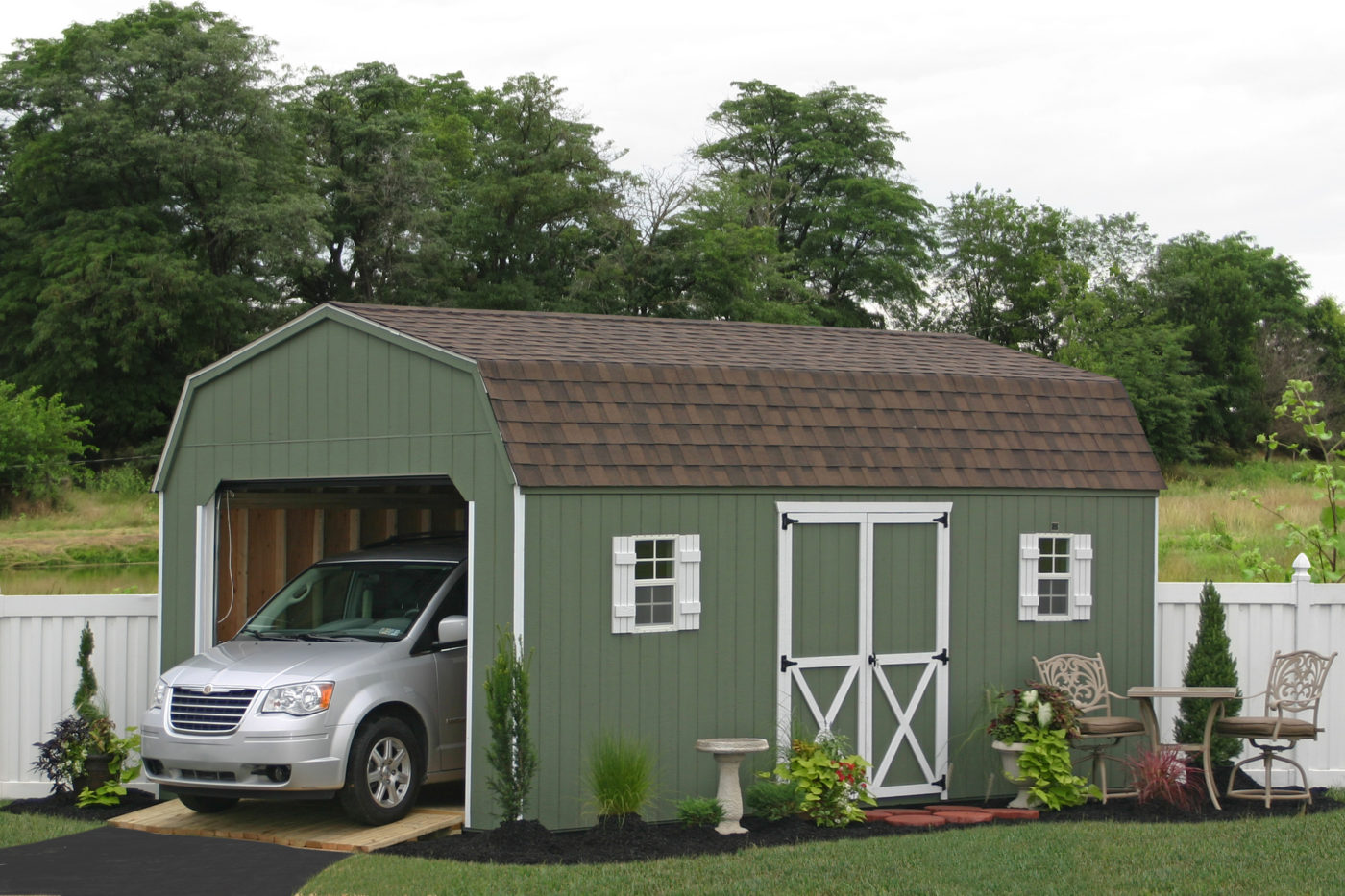 Looking for one car garage ideas? Click on the single car garage ideas gallery and you will find Economy Garages, Classic Garage, Premier Garden Garages, two story garage ideas and much more. Combine ideas from the gallery or bring your own garage design ideas to our professional sales team and they will help in designing a garage that will provide a quality design with a pleasing exterior look.
Watch how we even employ the latest SHED DELIVERY IDEAS with the most up-to-date in backyard shed and garage delivery methods in the portable buildings industry. Your one-car garage ideas can be delivered as a whole unit to your backyard or brought as a kit and setup on site. Call us at 717-442-3281 or EMAIL US to learn more.
Premier One-Car and Motorcycle Garages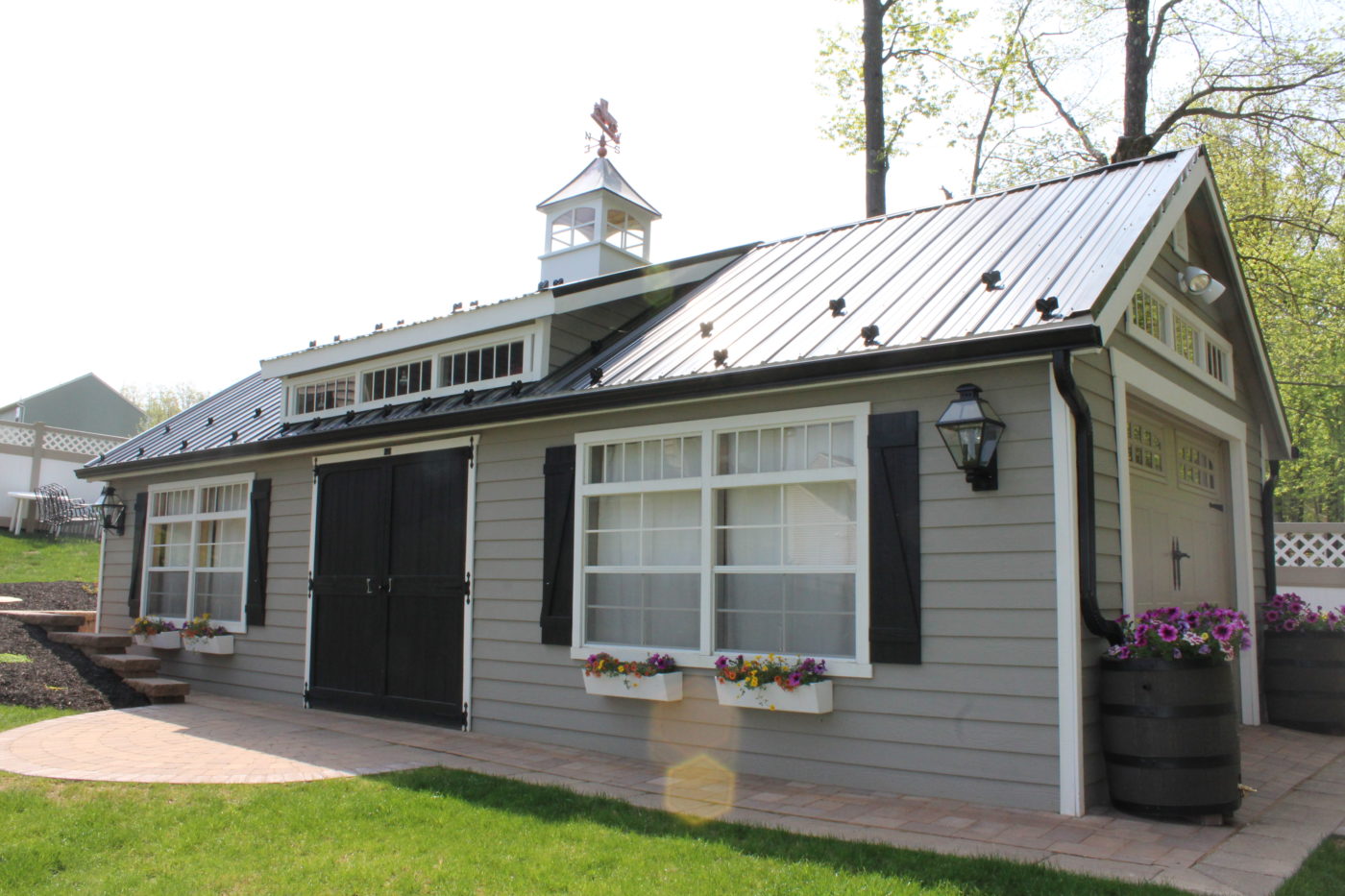 Get the best one car garage in town and buy a Premier garage for a car and motorcycle garage. The Premier Pre-Built One Car Garage offers plenty of room for a full-sized car, garden tools and even a motorcycle if you wish. Add a wide overhang, a steep roof pitch and all the other features of this fancy motorcycle garage and you will have the garage of your dreams.
Check out our Premade Car Garages Prices in the Premier Line and peruse through our ideas gallery on our Car and Motorcycle Garages ideas.
Contact our sales team at 717-442-3281 to get a FREE ESTIMATE TODAY!
One-Car Two-Story Detached Garage Ideas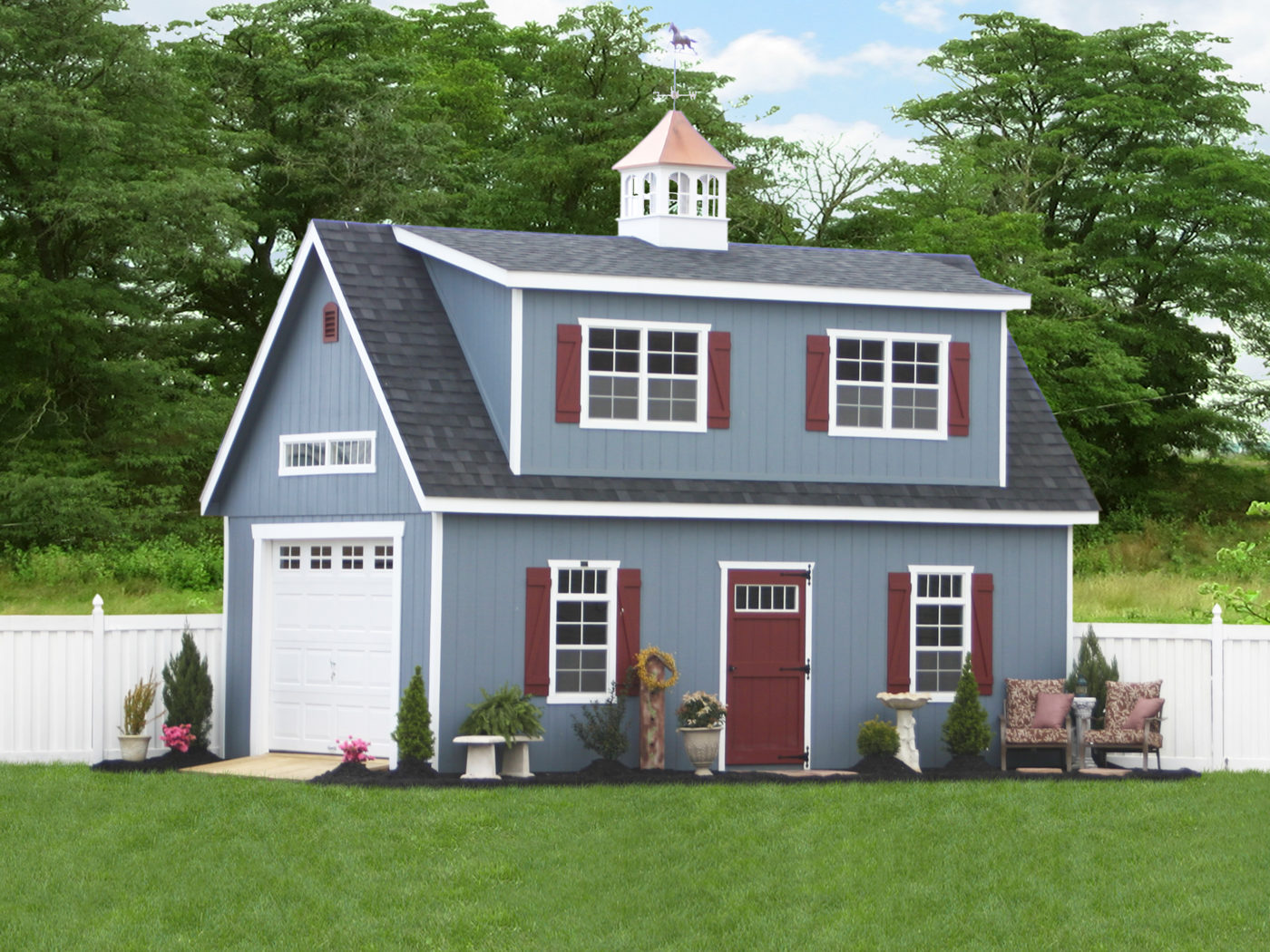 Peruse our One Car Garage Ideas in a Modular Two Story Garage model and you will be amazed. The Modular Two Story One Car Garages can be delivered in two sections and assembled on site within hours. Go from a flat stone or concrete pad to a completed two story one car Detached Garage Designs in hours. Watch a One Car Modular Garage Assembly in action and get a taste for how it all works or check out our Complete Guide for determining the cost of a detached garage.
The Two Story one-car garages offer countless options for making the building just your own. Ask about shed dormers which will give you a wide open second-floor area for you to enjoy all year round. See the two-story garage prices and find out how to get yours started by calling us at 717-442-3281 or EMAIL US to learn more.
Modular 2-Car Garage Ideas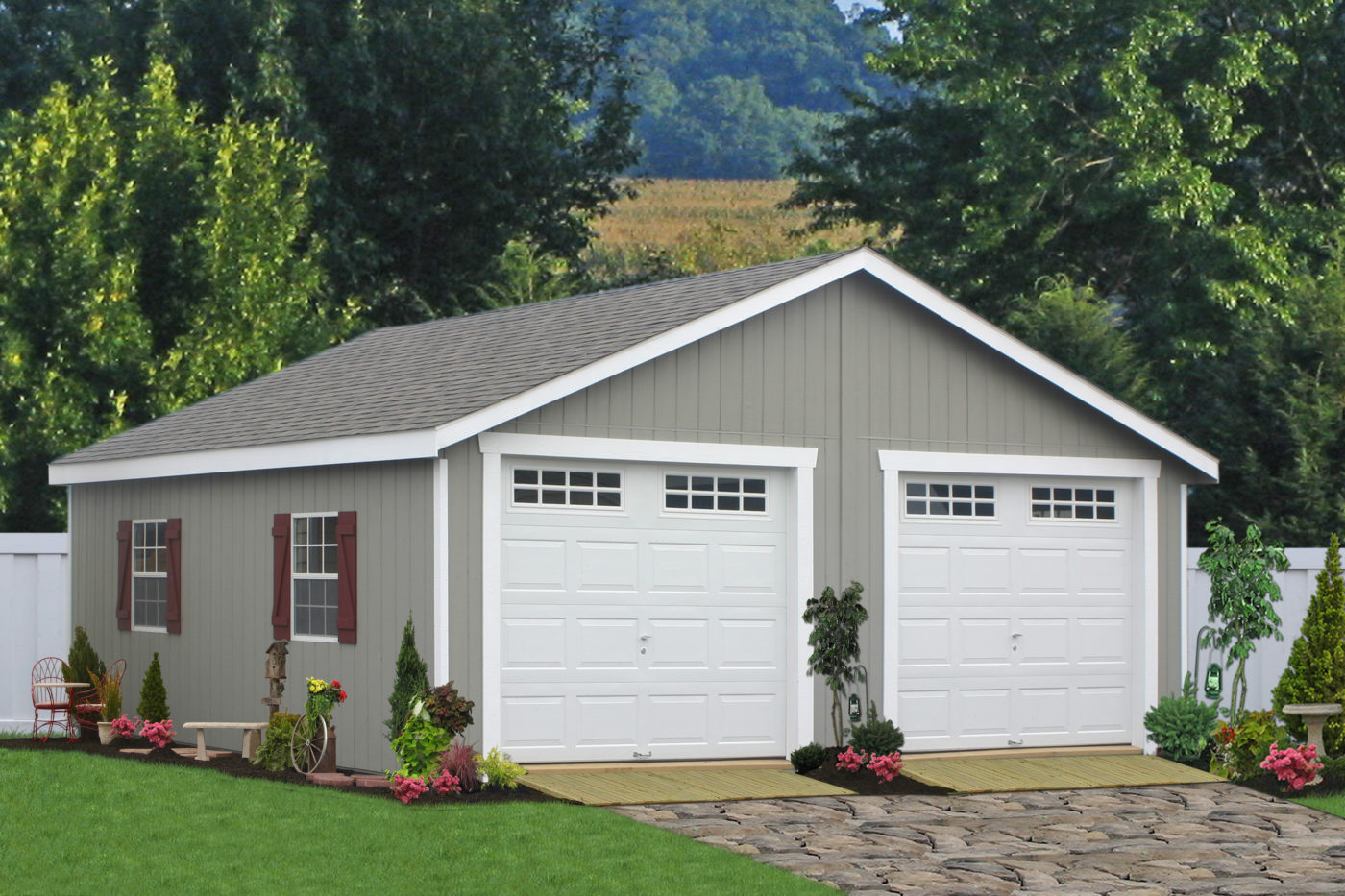 For the most ECONOMICAL solution in a Double-Wide Garage, choose the Sheds Unlimited modular garages. These buildings come in two units and can be in place and ready-to-go within hours after our truck arrives at your property. Watch a modular garage setup video or see the modular garage prices.
In addition to a cheaper price to start off with, these modular garages come with a heavy-duty garage floor that is ready to house your car. This means that there is no need for an expensive concrete pad to place the building on. And there are many available options for these modular two-car garages. Call 717-442-3281 or fill out the form for a FREE ESTIMATE including shipping.
ready for more space in your life?
Create the building of your dreams by requesting a free estimate or customizing your own 3D design. You can also call us at 717-442-3281 from Monday to Friday between 8:00 am - 5:00 pm or Saturday between 9:00 am - 1:00 pm. We're ready to assist you!