10% off select add-ons through Oct 8!
Luxury Garages in Hartford, CT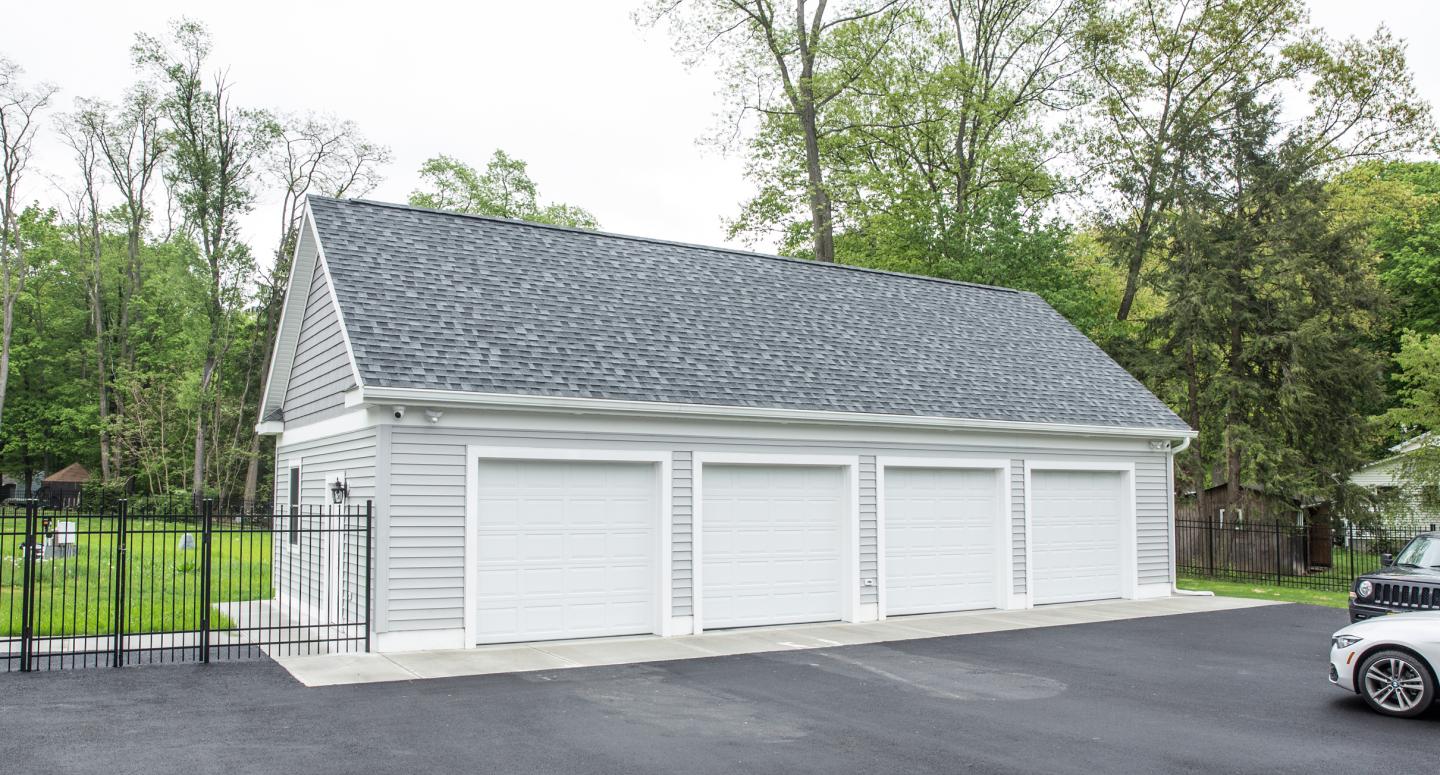 Are you in need of a new space for your everyday hobbies and pastimes? A luxury garage in Hartford, CT big enough for all your needs. Whether you plan on creating a new office space in your new garage, a small home gym, a man cave, or she shed; we have tons of options for you to search through.
Check out our selection of premium luxury garages in Hartford, Connecticut to find your next space today:
One Car Luxury Garage in Hartford, Connecticut
A small one-car garage is ideal for anyone looking for an affordable option for their vehicle storage. A one-car garage is also a great option for a small office space in your backyard. Whether you are in need of a space for your single vehicle or just need a small area for personal use, the one-car garage is a great option.
Check out the different styles that we have to offer including our standard Workshop, the MaxiBarn, and the Saltbox below. Owning your next luxury garage has never been easier, get started today!
2 Car Luxury Garage in Hartford, Connecticut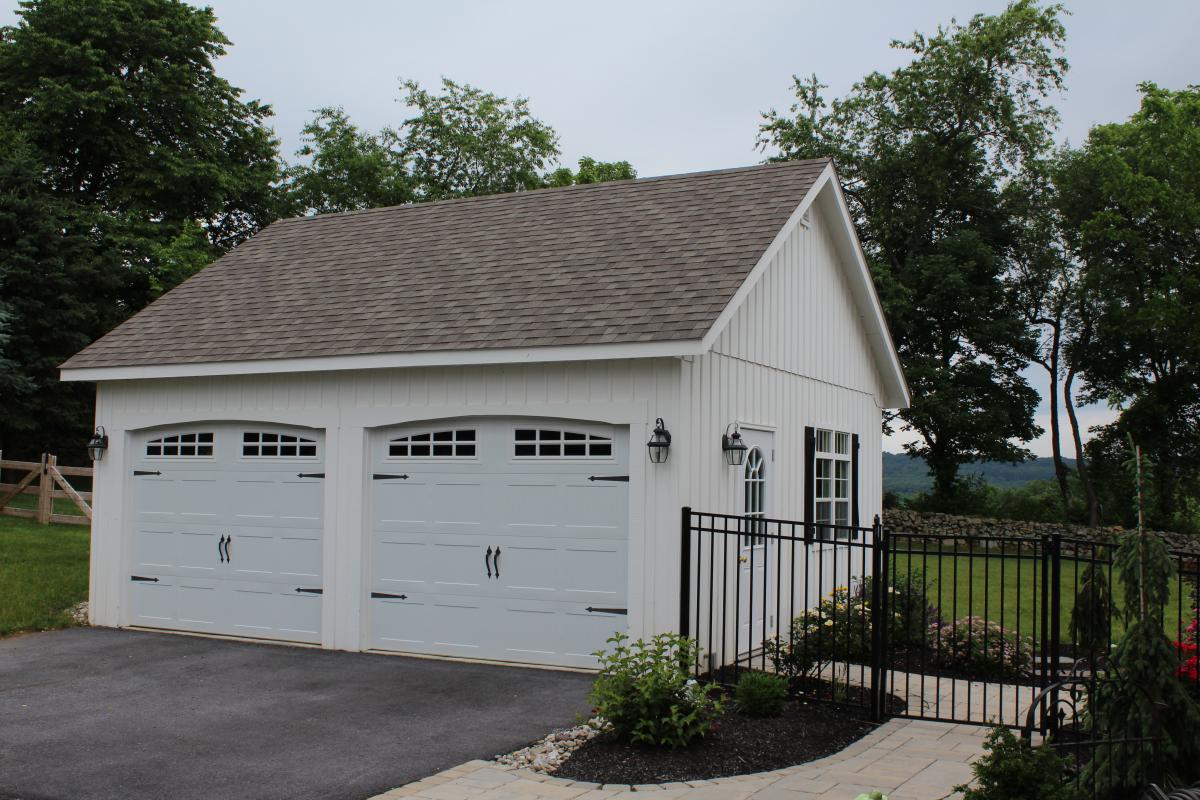 One car garage not cutting it? Maybe you need a larger luxury garage for your home. A 2 car garage obviously could fit at least two vehicles and still have room to spare for workshops and other things as well. If you only plan on using one space for a vehicle and the other for personal use, this could help in protecting your vehicle while also giving you a space to enjoy yourself and unwind. What's better than unwinding in your new luxury garage knowing your vehicle is protected and secured.
The 2 car garage also comes in 3 different styles as well. Consider all the style options when looking for your next luxury garage, after all, it will be in your outdoor space for many years to come!
3 Car Luxury Garage in Hartford, Connecticut
What's larger than a 2 car prefab garage, has three doors, and multiple styles? A 3 car luxury garage from Sheds Unlimited. Our 3 car garages are made with high-quality wood or vinyl (depending on your desired siding) and built to last. If you are a family man with multiple vehicles in your household, then a 3 car garage may be a great idea for you. Ensure the safety of your vehicle while also providing yourself with a spare workspace!
Check out our different styles for 3 car garages and find yours today!
4 Car Luxury Garage in Hartford, Connecticut
The 4 car garage is the largest building we have to offer. These large garages come in various sizes and styles to give you plenty of options when looking for a luxury garage for you. Create a space for the entire family to park and safely store their vehicles overnight. Whether it is for personal use, car collection, even car shop, we have the building just for you.
Check out our selection of 4 car luxury garages below and find the right one for you.
Custom Luxury Garages in Hartford, Connecticut
If you love the look of a modern garage, we may be able to help you. We consider a workshop garage a modern garage since it is still extremely popular today. There are many ways to upgrade your modern luxury garage, one of them is by selecting a 2 story garage option. Adding a second floor to your new modern luxury garage will double the initial space providing you a space above for even more hobbies or leisure.
You can customize your modern luxury garage online by submitting a free estimate. Creating a modern space has never been easier, click or call us today!
A Trusted Luxury Garage Builder in Hartford, Connecticut
When shopping for a quality luxury garage in Hartford, CT you need a builder you can trust. Sheds Unlimited has been doing business in Hartford, CT for many years and has constructed plenty of luxury garages for our customers. We are a storage sheds and garages builder based in Morgantown, PA that has been constructing sheds and garages for over 30 years! If you have a project you are interested in, give us a call at (717) 442-3281 or request a free quote online.
Why Choose Sheds Unlimited?
We thrive in offering our customers the best customer service experience possible. We love working with the customer on exactly what he or she wants. We have a dedicated team that work together to construct your dream luxury garage.
Other reasons why Sheds Unlimited should be your garage builder in Hartford, CT:
Unique options
Quality materials used to construct a shed or garage.
Top-notch customer service.
Free quotes!
No "middle man," we sell directly to customers.
No hidden fees
Get Started on Your Luxury Garage in Hartford, Connecticut
If you live in Hartford, CT, and are ready for your new garage space, make sure you choose the right builder for your new project. At Sheds Unlimited, we want to work with you to build your dream garage. Take the first step today by submitting a free estimate form and someone will contact you.
If there are any other questions you may have regarding our sheds or garages, please be sure to contact us. We want to build you your new Space for Life in Hartford, Connecticut.
ready for more space in your life?
Create the building of your dreams by requesting a free estimate or customizing your own 3D design. You can also call us at 717-442-3281.
We're ready to assist you!