Backyard Storage Sheds: 5 Key Points To Choosing The Right Shed
Table of Contents
While buying a backyard storage shed for your home is an exciting adventure, it may create moments of frustration as well. From the moment you dream about owning a shed to the day it arrives in your backyard, the buying process requires thoughtful consideration. Below you will find 5 key points to empower you when looking to purchase your future backyard storage shed.
key point #1: Consider the Purpose of Your Backyard Storage Shed
Figuring out why you need a shed is the first step towards owning one. Plus, it is the most enjoyable. Everyone holds particular ideas for what they will be storing in their shed. Discovering the purpose of your shed depends upon your needs. Think of all the ways you would use a storage shed and how a shed could benefit you in the long run. Consider an optimal organization, extra storage, property investment, etc… If it helps, you can write down your main purpose and all the benefits and needs that will be met by purchasing your storage shed. Meanwhile, let's dive into some of the most popular purposes and the benefits of each. 
Purpose 1: Need for more storage space
When storage space is running low and your garage is way too full, a backyard storage shed could be a perfect solution for you. A shed provides an innovative way to store your belongings and maintain optimal, long-term organization.
Insufficient Space at Home
Photo Credits: Oprah.com
A big reason you may be interested in a new storage shed may be due to the lack of sufficient storage space. You may find yourself having difficulty getting rid of stuff. Or, maybe your house is just too small. You might have already decluttered, yet there is still not enough space for the other necessities needed for your home.
A backyard storage shed may be an optimal solution for you if you fall under this category. The addition of extra storage space to your backyard can take away the extra stress created by too much stuff and not enough space. It is a stress-free experience knowing that you have another option to store equipment, tools, or important household wares and goods. A shed creates an avenue for living a more organized lifestyle. This extra space offers a great place to store items based on their category of use or function so that you know exactly where everything is and how to find it. This organizational tip allows you to be more flexible and know where your items are located at all times.
Purpose 2:  Planning on Storing Non-Household Items
A shed can store anything you need at a safe and comfortable distance from your home. Sheds are a great space to store non-household items because it is just footsteps away from your home, which allows for easy, 24/7 access to them.
 Items That Cannot Fit In Your Home
We all own large and necessary items, including lawn care equipment. When there is no room to store these types of large items, a backyard storage shed may be a great option.
A shed provides a perfect home for safely and comfortably storing lawnmowers, garden tillers, and other large tools and outdoor equipment. Some homes do not come with a garage, that is when a storage shed is especially helpful for providing a secure and effective space for large items and ideally just footsteps away from your home. 
You will never have to worry about lacking sufficient space for your larger equipment when you safely secure your large and expensive belongings in a storage shed.
Items That Cannot Be Stored In Your Home
There are some items that you need that are not supposed to be stored in your home. Flammable and/or explosive items should not be stored inside your home due to their potential for harm. It isn't worth risking accidental explosions or accidents that could result in property damage and personal injury. 
A backyard storage shed can create a safe space for you to store some of those risky items. Note: We recommend you do not store any flammable or explosive items that expand in the heat as the shed may get hot during summer weather.
For example, flammable items such as gasoline may be stored in the shed as it is commonly used for garden equipment. Just make sure to take safety measures when planning to do so.
Key Point #2: Evaluate the Size & Shape of Your Yard
Another key factor to consider when looking into purchasing a backyard storage shed is your yard. The size and shape of your outdoor space can play a big factor in the kind of shed you are looking to purchase. A larger yard space is more flexible when it comes to the size of your desired storage shed.
Factor 1: How Much Storage Do You Need?
When looking at the size and the shape of your yard, a big question you will want to ask yourself is "how much storage do I actually need?" You want to think about all aspects of your yard and what could fit inside your yard without taking up too much of its space.
How Much Storage is Enough Storage?
To keep your backyard looking as clean and organized as possible, you will want to get a shed that does not take away from the beauty of your yard. You will want a size that does its job while still fitting nicely within your yard space. 
When you are figuring out which shed you should choose, pick one that will fulfill your desired purpose, all your storage items, with a little extra room to spare. It is better to play it safe and err on the side of too big rather than too small. You never know what you may need to store in the future. You can use LP Shed Size Calculator to find the right size of shed that will fit all your estimated storage needs.
Find Your Ideal Shed Size
No need to stress over the sizing of your shed. Grab a tape measure or any measuring device and start calculating how large of a storage space will be required to satisfy your storage needs. While you are at it, measure your yard space to help choose your ideal shed size in proportion to your yard space. Also, take a moment to decide the ideal loctation of your storage shed. 
1. Decide how much storage space you need. 2. Choose a proportionate size of shed in relation to your backyard space and storage needs. 3. Ensure that your desired location for your shed works best with its the ideal size you are leaning towards.  As stated above, a storage shed that fits your needs without crowding out your yard is the ideal storage shed.
We will give more detailed guidance and considerations on the proper sizing further down with Factor 3. 
Factor 2: Foundation For Your Backyard Storage Shed
Now that you have found the size you will need for your backyard storage shed, it is time to focus on the foundation for the shed. Working on the foundation is one of the simpler parts of the shed buying process. Finding a contractor to do the foundation is as easy as contacting a local foundation business, or partnering with the shed building company where you plan to purchase your shed.   
Consider the following when thinking about a foundation for your outdoor shed:
Beware of Irregular Yard Slopes
Photo Credits: Site Prep
You willl want to avoid preparing your shed's foundation on irregular yard slopes. If a foundation is set on irregular yard slopes, the process will require more extensive preparation and digging of the allotted area. It is best to place your foundation on an even piece of land in order to avoid the extra prep work. 
If you cannot find a flat space in your yard for the foundation of your backyard storage shed, you can contact a contractor who prepares foundation sites to excavate the site on your property. Excavation is the use of heavy-duty equipment used to remove the dirt from the ground in order to make room for the foundation that is set to be prepared.
Backyard Storage Shed Foundation Preference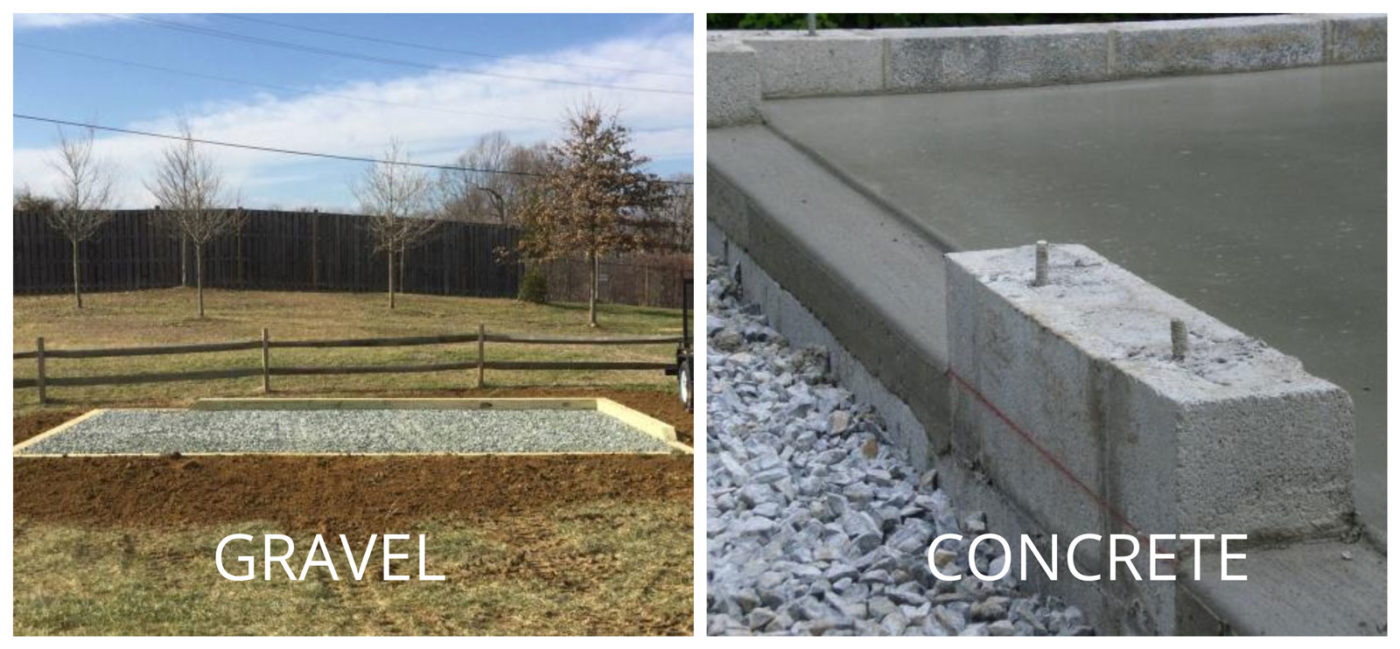 Deciding on the foundation for your storage shed is simple. Typically a smaller, more standard shed would receive a gravel shed pad, however, there are some instances that a concrete pad is necessary for larger buildings.
Generally speaking, a gravel pad is better for a shed than a concrete pad for multiple reasons. One, gravel contains a better drainage system which results in less rotting and decay. Two, gravel prevents water from gathering underneath your shed and causing exterior damage to the shed. Three, gravel is much cheaper and easier to install and remove than concrete. 
Factor 3:  Make Sure The Shed Size Fits Property Size
Like we mentioned earlier, something you will want to guarantee before purchasing a backyard storage shed is ensuring it can coexist well with your current property. You do not want an oversized shed stealing the show in your backyard.
Determine the Right Size For Your Yard
Let's nail down the right size once and for all! In a typical, small to medium-sized yard, an 8×10 shed would suffice. However, in a larger yard, a 12×12 storage shed would not be a bad idea. You do not want a shed that takes up too much of your yard's space. Oversized sheds take away from the natural beauty of your yard and may even be illegal, depending on your town's zoning laws.
Judging the size of a shed in your yard can be based on how it looks to the eye. A small shed is not mandatory for a smaller yard, but it helps with the overall aesthetical appreciation of your yard and how appealing others find the combo as well. For best results, get recommendations from a couple of shed builders and even friends or family to ensure the best possible shed size for your yard.
Key Point #3: What Shed Can You Legally Have in Your Yard
Something many people do not think about when looking for a shed is whether or not it would be even legal to add one to their yard. Yes, it is weird to say, but it may be illegal for you to own a certain type of backyard storage shed. 
Know the Zoning Laws and HOA Rules
The law that may or may not allow you to add a backyard storage shed is called zoning laws. This law dictates whether the land can be divided into zones on the property.
Restrictions & Building Permits
Photo Credits: wikiHow
There are three easy steps to follow to ensure your desired backyard shed's approval.
The town inspector will make sure the shed you want is built to code to avoid any possible sinking into the ground, a possible roof collapse, or being damaged from mother nature.
The next step requires the town officials' approval or denial as to whether your proposed building's location is on your property line, is not near wetlands, or not sitting over sewage chambers.
Finally, if you have your shed placed or built on a site that has not obtained a building permit, the town can either move or take down your shed entirely.
Key Point #4: Your Budget For A Backyard Storage Shed
Deciding on the budget for your backyard storage shed is the easiest part of choosing the right backyard storage shed. After you have found the right shed size, the correct foundation, and figured out the zoning laws for your county, it is time to budget your backyard storage shed.
How Much Are You Looking to Spend?
There are many aspects that go into the pricing of a shed. The prices can fluctuate depending on the size, materials, style, customization options and features, and if it is built professionally or DIY. 
Factor In Size
Size is an obvious reason why a shed might be more expensive than another. It is simple, the larger the shed, the higher the price. If you are shopping on a tight budget, a smaller shed would be your financial ideal.
If you are looking for the right sized backyard storage shed, chances are you already calculated how it will fit and look in your yard. Plus, if you are more flexible with your yard space, then the more space for future storage the better. 
See below our selection of different workshop shed sizes:
Your Ideal Exterior Shed Material
The siding choice for your shed provides the long-term quality of its exterior life and plenty additional benefits. Some shed sidings offer water resistance so that your shed does not accrue water damage during its lifetime. Your siding choice also provides an aesthetical beauty that either makes your shed stand out or blend as a complementary extension of your home. 
The materials used on a shed can also differentiate the price. So if you are looking for an economic shed for your backyard, then a more budget-friendly siding would make sense. Below you can see the examples of 4 popular sidings that can be used for your shed:
Different Shed Styles
The different shed styles also have an influence on the price of the storage shed. If you are going to go for a basic economy workshop shed, you are more likely to pay less than a premier workshop shed. Each specific backyard storage shed style offers its own features and options for aesthetics and even more storage space.
Below you can find the different styles of backyard storage sheds:
Additional Options / Features
Something to consider while looking for a backyard shed is the additional options available to your shed. The additional options and features can be really helpful if you are searching for specific customization for your dream storage shed. For example, if you are looking for a smaller shed, but your afraid space may become quickly limited, a loft option may be the right addition for you. 
The additional options incorporated into your shed can increase its value and functional capabilities. Lighting is another option you can build into your storage shed with the addition of electrical outlets which allows for optimal use of your shed, day or night.
DIY or Professional Installation?
The last factor in determining the budget for your backyard storage shed is its installation. In this situation you have two options. One, you can purchase a DIY Storage Shed Kit and bring it back to your home and install it yourself, or you can purchase your desired shed and have it shipped and professionally installed.
If you are searching for the cheapest option for your storage shed, then the shed kit is the most ideal route for you. However, your time and labor will be required to build and install your backyard shed kit.
Key Point #5: How Your Shed Can Enhance Your Home's Appeal
While you are settling on the shed that is right for you, let's turn our thoughts once again to its perfect fit into your backyard. You want a very appealing look to your backyard and that will only come by obtaining a backyard storage shed that feels like home, and is maintained like your home.
Match Your Shed with Your Home
Photo Credits: Tuff Shed
The best way to make your shed feel like home is to make it look like home. When picking the color, the style, and additional options for your shed, consider the current look of your home. When looking to match your shed with your home, consider the siding material. The siding material is crucial when trying to match your shed with your home. 
If you want your shed to complement your house, choose the same color. If your home's exterior color is grey, you will want your shed's color to be grey as well. Matching the exact siding, options and colors of your shed and your home creates a storage shed that can look like a "mini" version of your home. Prepare to hear many compliments for how well your shed coexists with your home.
Landscape Around Your Shed
Adding a landscape design post shed delivery can dramatically improve your backyard storage shed's look and feel. Incorporating your shed into the landscape and layout of your home offers the ultimate combination of outdoor beauty!
Landscaping along with a new backyard storage shed improves your home and its surrounding property. Plus, it has the potential to improve the value of your home. Yes, landscaping along with your new shed can improve your property value because of the amazing look that is offered with tasteful flowers beds etc. and a stunning backyard structure.
As mentioned, landscaping really improves the overall look of your backyard and home. So, why not spruce things up in preparation for your storage shed's arrival!
We hope you found these 5 key points helpful as you naviagate the process of choosing a backyard storage shed that fits perfectly with your outdoor space. If you have any additional questions that may have not been answered, please feel free to contact us. If you feel like you are ready to take the next steps towards owning your own backyard storage shed, request a quote today. 
Begin having space to do more, and obtain your Space For Life.
ready for more space in your life?
Create the building of your dreams by requesting a free estimate or customizing your own 3D design. You can also call us at 717-442-3281.
We're ready to assist you!