50 miles of Free Delivery with all purchases through Dec 9!
The Best Sheds in PA: A Top 5 List
Looking for the best selection of storage sheds in PA? You've come to the right place!
Shed builders may be a dime a dozen in the state of Pennsylvania but come to see for yourself storage sheds in PA that are more than just sheds. Sheds that provide Quality Space for Life.
We will begin with our best-selling sheds first, then work our way down the list of choices.
Keep in mind though; our best seller storage sheds in PA may not be the option for you. Each person's need is unique. Some are looking for a small 8×12 storage shed that is as cheap as possible, others want a vinyl storage shed that will last a lifetime. It's why we like to build for your needs and not just build cookie-cutter sheds that fit the masses.
So here we go…
1. The Standard Storage Shed
That's right, our best-selling shed in PA is our line of standard sheds. Simple. Economical. A get the job done type of shed. Which, come to think of it, is very much like a lot of our customers. Whether you have large or small storage need these sturdy, appealing structures are there for you. In 2017 60% of the storage sheds we sold were in this class. Let's browse our styles…
The Standard Workshop in Wood
From 6×6 to 16×48 there is no storage need that can't be met with one of these backyard sheds. Ranging from just over $ to just under $17,525 for wood siding and from around $ to just under $18,742 for vinyl siding you can find the perfect fit for you!
10×12 Workshop Shed in Wood
Here is a 10×12 rustic-looking shed with Chestnut Brown paint and dark brown trim. Wouldn't this look great in your backyard? Get more ideas by checking out the 10×12 storage sheds blog.
This elegant-looking 10×14 vinyl storage shed is greatly enhanced with 6' double doors with 11 lite glass, an option available on any of our best-selling outdoor storage sheds in PA. Check our door option page for more door selections. The basic model 10×14 shed in vinyl comes in at just under $, so your wallet will have room for a few extras like this. Check out our blog on What Can I Get inside a 10×14 Shed?
The Standard MaxiBarn Storage Sheds Built in PA
If you need to maximize your overhead storage space, or just appreciate the old-time look of a gambrel shed roof, we recommend another of our popular storage sheds… the MaxiBarn Sheds. Just think of all you could put up there! A simple DIY shelf or loft would really do wonders to reduce clutter under your feet. And did I mention the old barn-style look and feel?
12×16 MaxiBarn Storage Shed
The 12×16 Wood Maxibarn Sheds start at under $. Our smallest MaxiBarn model is very affordable at only $. With the high roofline in a MaxiBarn Shed, you can store a lot of garden tools in a small space.
10×12 Vinyl MaxiBarn Storage Shed
Then again, a MaxiBarn can look cool, it's up to you! An entry-level 10×12 with vinyl siding goes for $. Dress it up like the one above for just a few hundred more. Plus, with a vinyl-sided barn shed, you'll have a longer-lasting building to last for a long time to come.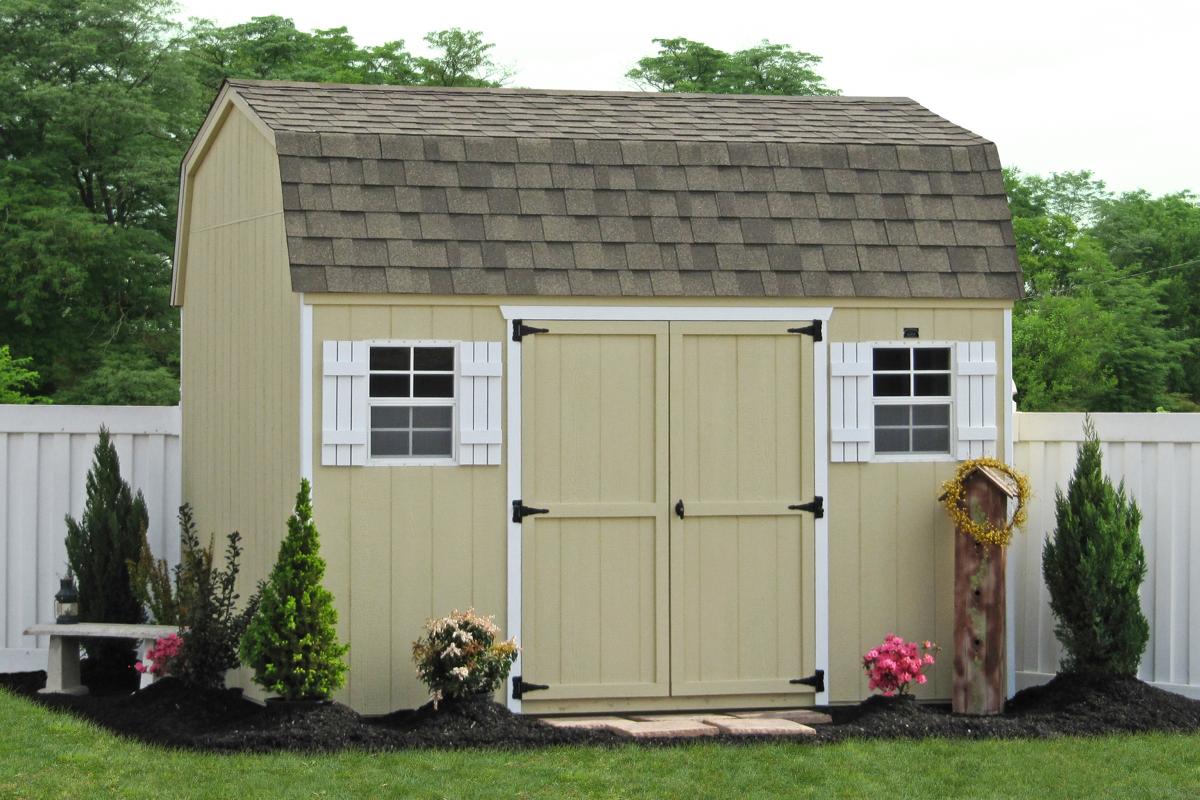 Standard Saltbox Storage Sheds in PA
Do you want to go easy on the wallet but don't want to scrimp on style? Consider a Saltbox-style shed. Charm without the high price tag… what's not to like? Consider adding easy to reach shelves along the back wall of this uniquely shaped shed. A basic 8×12 Saltbox Shed can be yours for just over $!
8×12 Vinyl Saltbox Storage Shed
Step up to a Vinyl Storage Shed in the Saltbox roofline for portable buildings that will last longer. Plus, you won't have to worry about repainting the shed every few years in the future. The 8×12 Saltbox starts at $4,321 and can be customized to your liking!
10×16 Classic Saltbox Storage Sheds
The Classic Saltbox Storage Sheds are great-looking backyard storage shed that can keep your stuff safe for years to come. Get it in wood or vinyl or even a very classy clapboard siding that has a 50-year warranty. 
Standard MiniBarn Shed in PA
You need a shed, but your budget is tight. The longer you let your garden tools out in the weather the worse they look. Or maybe they're leaning against the side of your garage wall, meaning you need to trip over them to get to your car. The MiniBarn is a very economical shed to get your stuff inside quickly. 
8×12 Standard MiniBarn
The solution to all of these problems is just maybe our MiniBarn Shed. Our entry-level wood 8×12 MiniBarn sells for $! Rather have vinyl siding? How about an 8×12 MiniBarn for $? As with all our offerings of storage sheds in PA you can customize with specialty doors, ridge vents, or even a cupola to top off the package.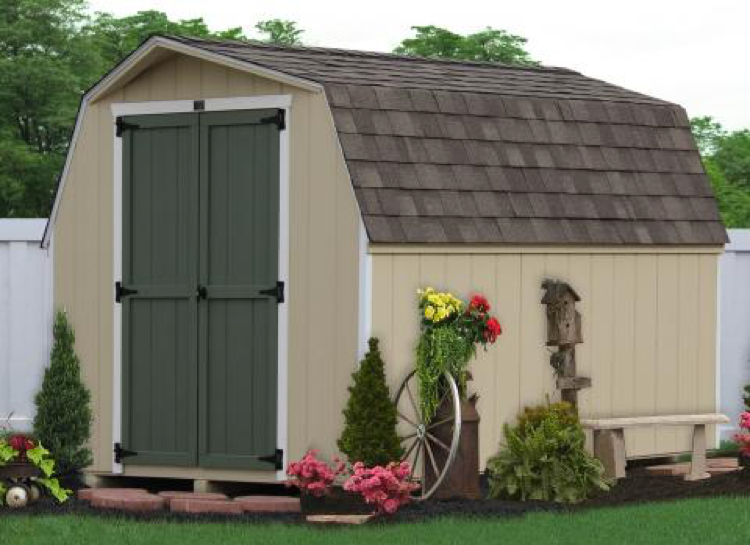 2. The Classic Storage Shed
Classic. The word makes you think of your first car. Makes you wish you still had it. Our line of classic storage sheds in PA takes the typical standard shed and kicks it up a notch. Wider overhangs. Classic doors. Z-style shutters. More money? Sure. But the fact that almost 30% of our sales in 2017 were classics tells you how popular they are. Here are just a few.
10×14 Classic Workshop Storage Sheds in PA
Our 10×14 Wood Classic Workshop starts at $. Classic. Affordable. A 10×14 Shed gives you the space you need for some lawn equipment, garden tools, and maybe a workbench. Get the most out of your 10×14 Shed with some organization tips. 
12×14 Classic Workshop Sheds
A Classic 12×14 in vinyl will only set you back $ and change. Not bad for 168 square feet of storage that's maintenance-free for years! With the Classic Storage Shed built in Pennsylvania, you get a wider overhang, a steeper roof pitch, and a great quality shed!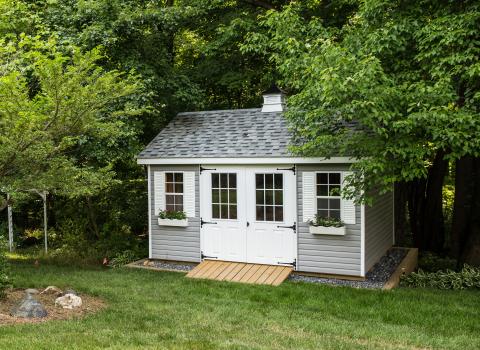 Classic Gambrel Storage Sheds in PA
Our popular Gambrel storage shed has the unique appeal of an old-time storage shed with the added benefit of more cubic feet of storage overhead.
At less than $ for our starter 10×18 wooden model, you'll be set for lots of storage without parting with lots of cash. Even a huge 14×48 is still affordable for $ considering 672 square feet of floor, storage plus all that overhead appeal.
3. The Premier Storage Shed
Accounting for just under 9% of 2017 sales comes our nicest line of storage sheds. Personally, I think these are the nicest STORAGE SHEDS IN PA! A picture is worth a thousand words so let's look at a few thousand words worth of pictures of these beauties.
14×30 Premier Workshop Storage Sheds in PA
You might think a work of art like this 14×30 Outdoor Garden Shed would cost tens of thousands of dollars, but the entry-level model is about $. At that price for a premium, quality storage shed you can afford to add extras such as dormers, round-top wooden doors, and more.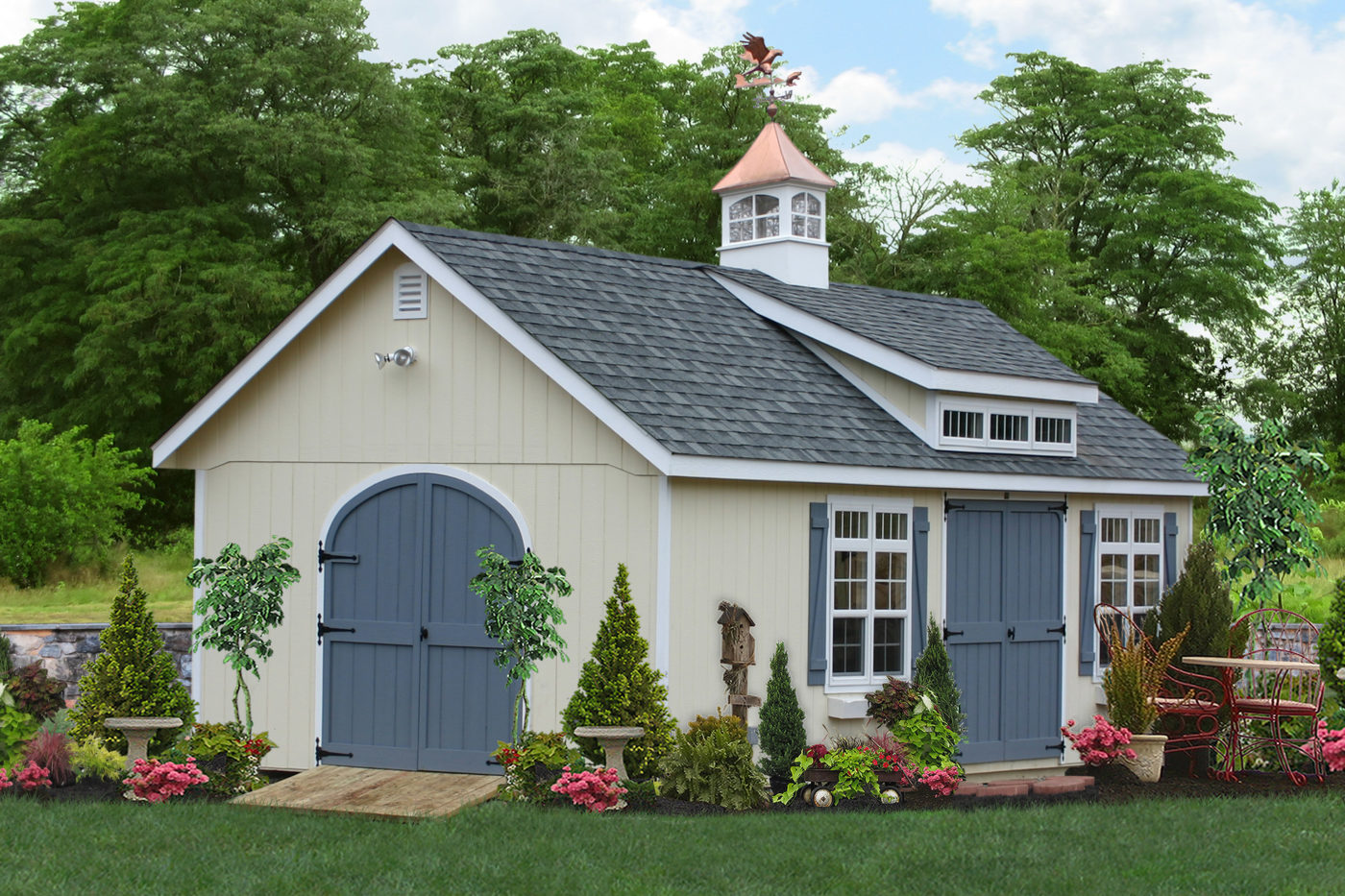 10×12 Premier Workshop Shed
This custom-made Premier Storage Shed is an eye-catcher finished with cedar shakes for a great look. This is just one example of the many possibilities of our storage shed that are built-in PA. You can customize it to fit your need and your design taste.
10×16 Premier Workshop Shed
Another unique custom-made shed, this 10×16 with beautiful landscaping surrounding it may just be your dream shed. The 6' dormer, extra transoms, and 30×36 windows make it stand out. The entry-level 10×16 vinyl model comes at a low price of $8,744.
12×20 Premier Workshop Shed
You could call this the Ultimate Premier Storage Shed. The LP Smart Clapboard siding used here has a lifetime warranty! The base model with Clapboard siding runs just for $13,300 and is sure to make a statement in your backyard!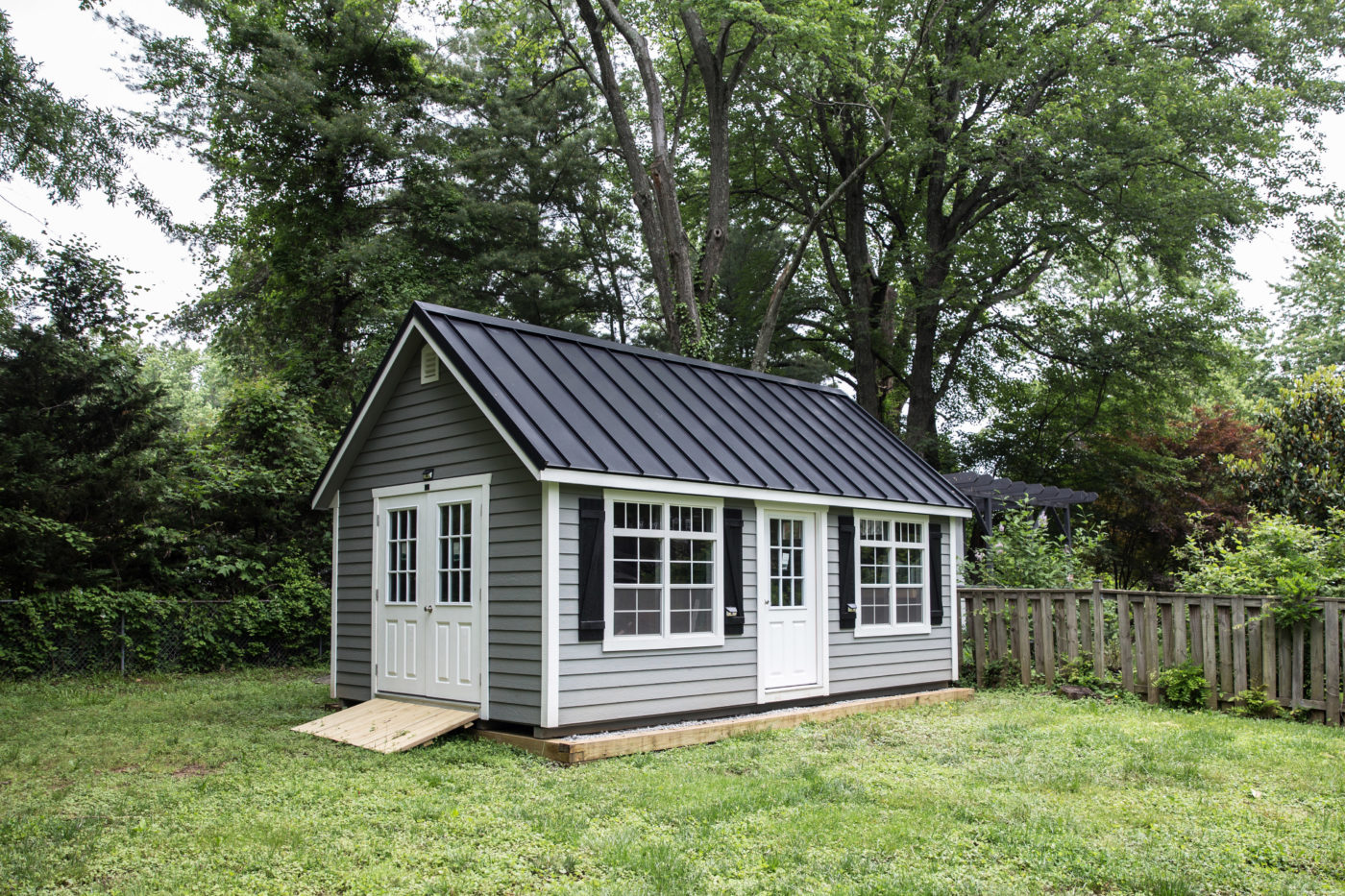 4. Legacy 2-Story Workshop Shed
You may not think of a storage shed coming with two stories, but we have them! Double your storage with a full second story at a price less than you may think and you won't have to take up more space in the backyard!
12×20 Legacy Workshop Shed
Our 12×20 2-story workshop shed has a starting price of just over $. This is for a shed you could live in. In fact, some people do live in them. Use one for a workshop, a man cave, or a she-shed. With all this space the possibilities are multiplied!
14×24 Legacy Workshop Shed
Here is the 14×24 Two Story Shed in vinyl, still very affordable at $. Here you get a lot of quality space for life with a full second floor! How about an Art Studio or an Office Space?
5. Studio 1 Modern Shed
If you want a shed that doesn't look like a shed here's your answer. A 10×14 Modern-Shed has a starting price of $14,934. Many of these are used for pool houses, an office, or a studio. Siding that's made to last is part of the package.
Where to Find The Best Storage Sheds in PA
We've looked at a lot of storage sheds, but in many ways, we've only scratched the surface of what's available here at Sheds Unlimited. You can blend any or all the characteristics we've looked at in our shed lines to get to your storage shed truly the only one of its kind.
Stop by and see some of these sheds for yourself. Look at the quality of the materials. Talk to our friendly staff about bringing your storage shed idea to life. We think you'll agree our way of making Space for Life has "quality" written all over it.
Recent Shed Blog Posts...
Recent Shed Stories...
ready for more space in your life?
Create the building of your dreams by requesting a free estimate or customizing your own 3D design. You can also call us at 717-442-3281.
We're ready to assist you!