Amish Backyard Structures: How To Landscape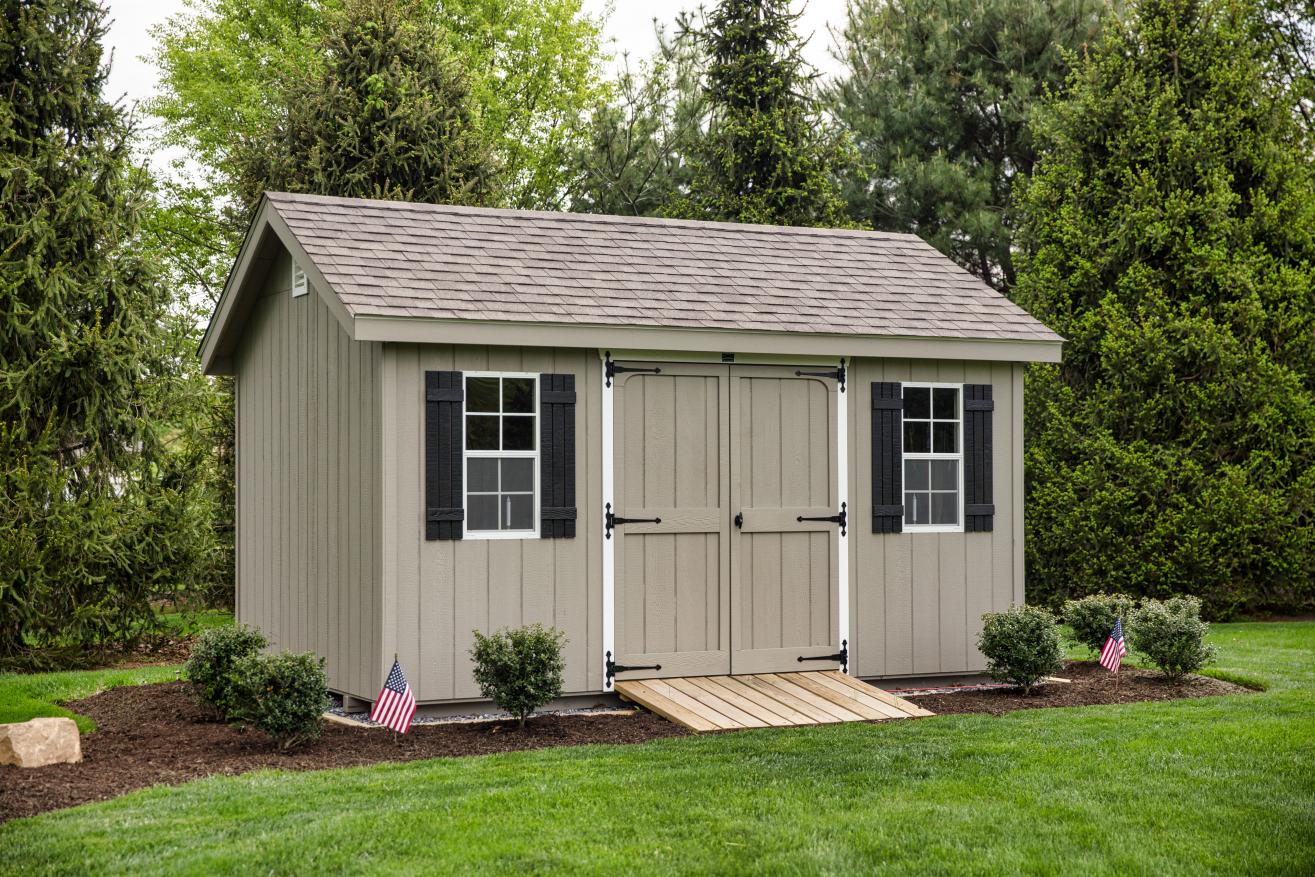 Adding a landscape design can definitely improve the looks on your backyard shed. You may already have a storage shed or are about to purchase a portable structure very soon. If you are looking to purchase one, Sheds Unlimited specializes in creating Amish Structures that will enhance the beauty of your backyard at a reasonable cost.
3 Terrific Ideas for LANDSCAPING AROUND A SHED
Landscaping around a shed is a great idea when you are trying to enhance the look of your backyard and shed. Many more people seem to notice a shed when it has landscape work done to it. There are plenty of landscape designs you can do around your shed but here we will only talk about three of them. Adding a concrete design to surround your shed, a mulch and grass combination, and a garden landscape around the shed.
Concrete Shed Landscaping
Concrete shed landscaping can add a great and authentic look to your home. Typically surrounding an outdoor pool house, a concrete landscape design is a modern way to landscape a shed. Not interested in a concrete landscape? What about a concrete foundation? A concrete foundation gives you a concrete pad the shed will sit on with an option of a different landscape design.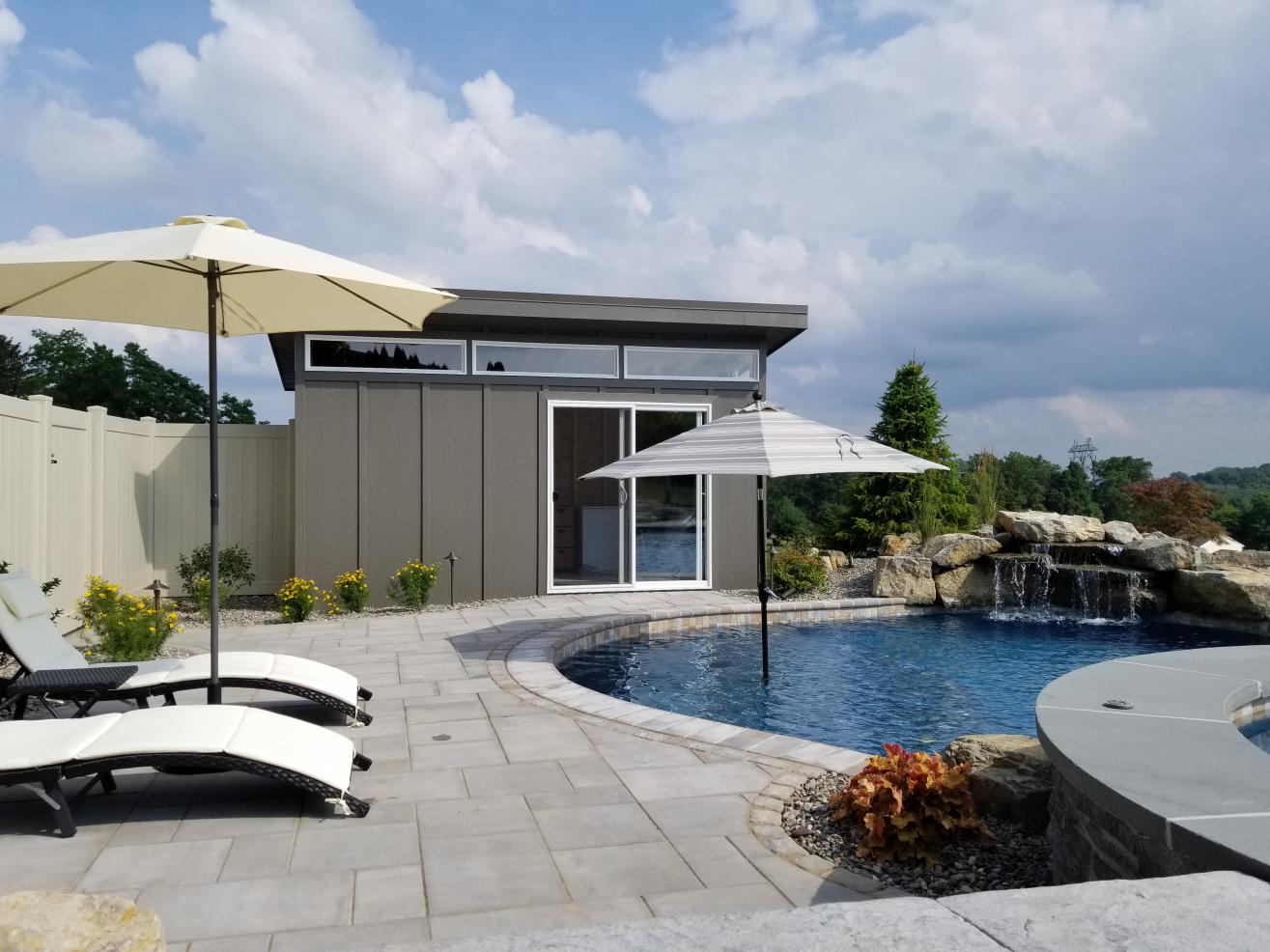 Mulch Shed Landscaping
Adding mulch to your shed landscaping design adds a great natural feel to it. Any typical backyard storage shed can have a mulched landscape wrapping around its shed. You can also add a ramp under the doorway to stay clear of the mulch when loading or unloading the shed!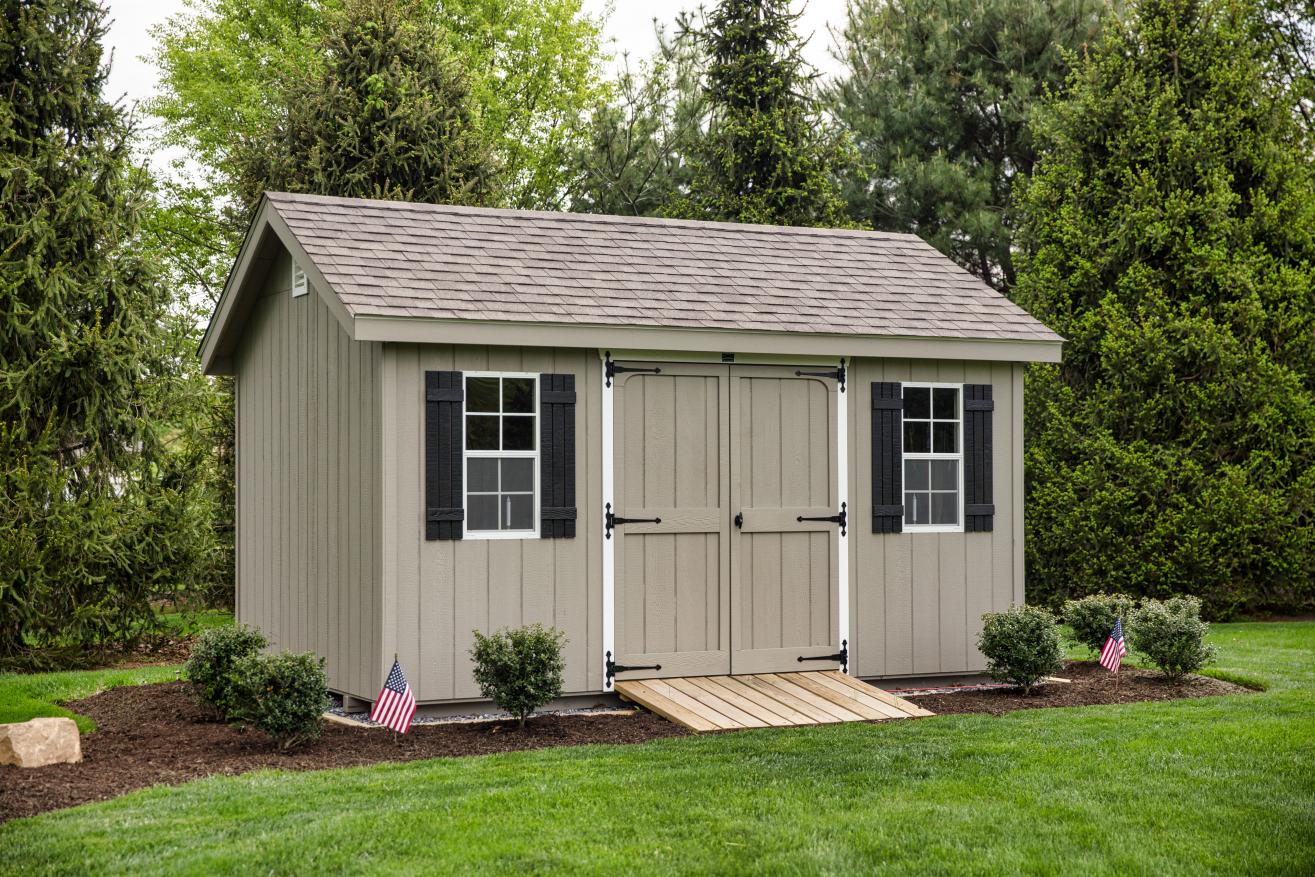 Garden Shed Landscaping
Adding a garden to your shed landscape can be a great idea to enhance the looks of it. The combination of mulch, flowers, and concrete stones complement each other greatly for a clean and unique look as seen on the left. Don't settle for a standard landscape when you can get the combination of all in one with a garden landscape.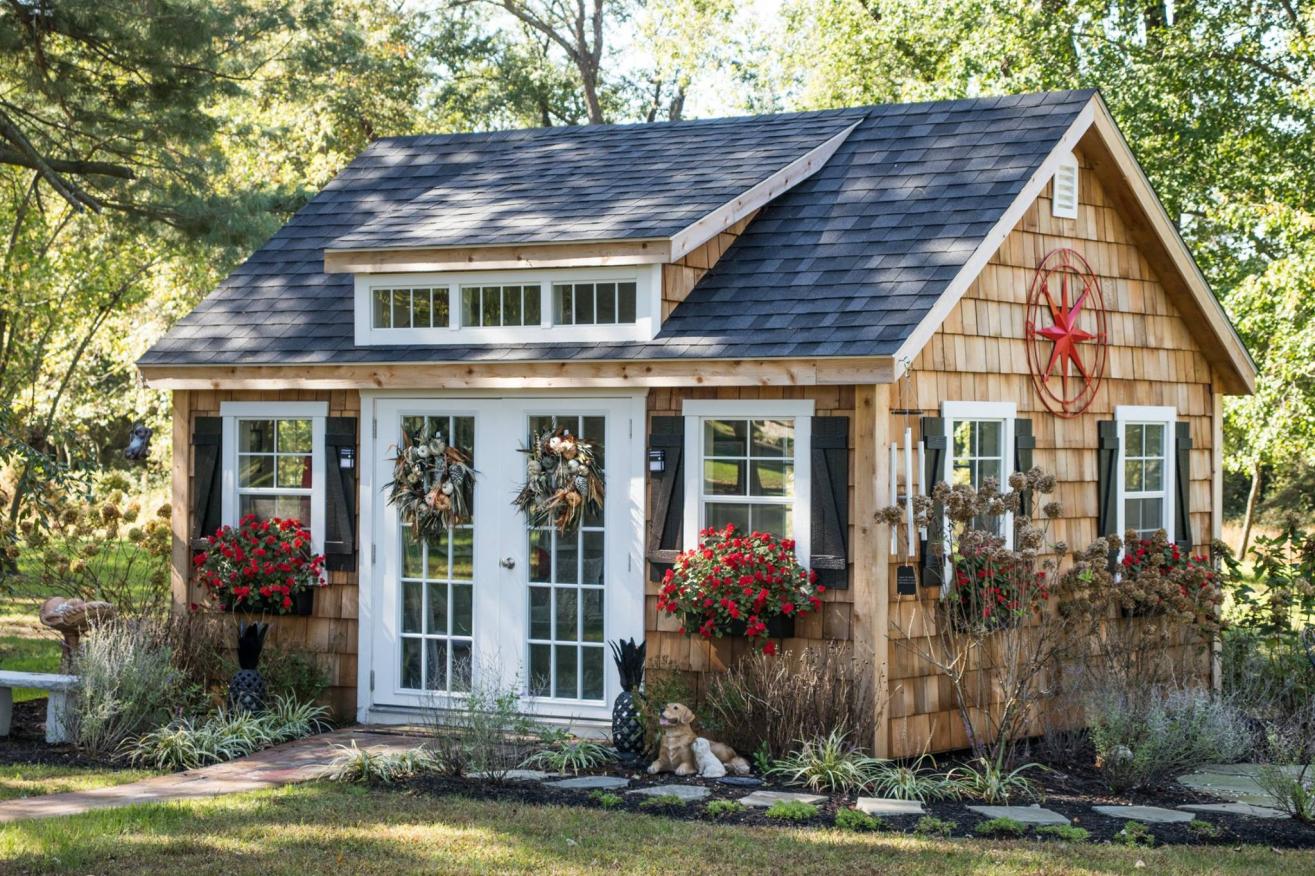 How to landscape around a shed?
Landscaping around a shed can be simple but also very difficult. Landscaping your shed may require a professional if it is a bigger job involving more than the shed, or if it involves more material. However, simple mulch can be done at home by yourself.
Who can I get to landscape around my shed?
If you decided you don't want to do the shed landscaping, you may look online for a professional who can do it for you. There are tons of companies who would be willing to complete this for you including Willow Gates Landscaping who is a local in Berks County, PA. Finding the right company that you trust is a big part of a project like this, make sure to shop around before deciding on the company who will landscape your shed.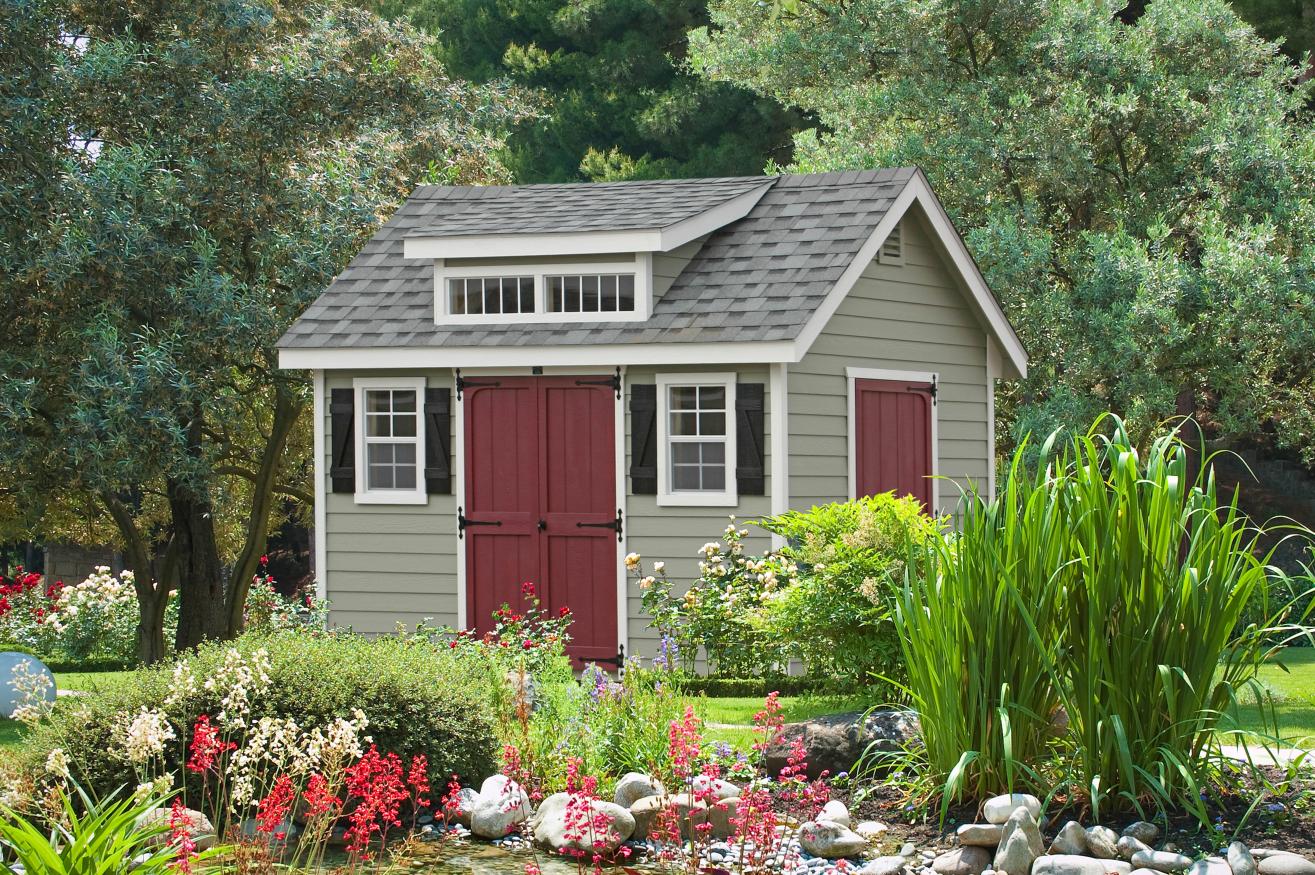 10 Tips to Improve Your Shed Landscape
Cut plastic strips 2.5-3 feet wide and place them around the Amish Backyard Structure or Prefab Car Garage on your property. The plastic will serve to keep down any sort of growth that might push through the mulch.
Add Mulch 3-4 inches thick on top of the plastic keeping things clear around the door areas. And be sure not to pile it against the wooden siding on the building! Doing this could hold in moisture and cause rot. Leave a bit of air space to keep your building dry and safe.
Create a swirl or a wider mulch area in some places to avoid an overly formal look. In the swirl, you can place your grill, add a rusty bench or plant bushes and plants.
Place 2-3 evergreen bushes at the corners. The evergreen should be sized in proportion to the size and height of your Amish Backyard Structure. For a standard economy Amish Outdoor Structure I would recommend a 3′ tall evergreen. Be careful that you do not purchase one that will grow to 5-6 feet.
Add some colored plants and other greenery along the length of your Amish storage structure and around the gable end. Plants will color add a very nice look to your Amish structures and to your backyard.
Buy flower boxes for the windows on your Amish Backyard Structure and plant hanging flowers in the boxes. Just be aware that they must be watered regularly due to the limited soil in the flower box.
Find an old wagon or a milk carton or some other antique and incorporate it into the landscaping. Fill the wagon with dirt and add plants that hang down over the sides.
Create potted plant arrangements and set them in the mulch or on a stone paver driveway. These can work great between and beside the garage doors on Amish Garage Structures.
Place a clock on the Amish outdoor structure, or a birth bath, a birdhouse, or hanging light in your landscaping to add more charm and color.
Lay some patio pavers in an area of the landscaping and add an outdoor table and chair set for better looks and a cozy place to hang out.
Why should you landscape your shed?
While we realize that Summertime is still long ways off, now might be the time to begin thinking about how you can beautify your backyard in just a few months. Sheds Unlimited can only do so much to make your backyard beautiful, but when the sun starts shining and things begin to thaw and warm up a bit, adding landscaping to your Amish backyard structure can make your backyard shine even brighter! A small investment and a Saturday of fun can make an incredible difference on how your newly landscaped shed will fit nicely into the backyard.
These are just a few of the many ways you can add charm and coziness to your outdoor storage shed. Keep in mind that you might need to experiment a bit to find out what looks best in your backyard. Try something and if you don't like the look of it, keep on going and try something new. There are countless ways you can make your backyard beautiful with a fancy Amish shed and some well-placed landscaping.
Get Started On Your Shed Landscaping
We would love to get you started on your dream shed. See all of our storage sheds today and decide which you will have for your backyard dream. You can even get a FREE quote on a custom-built storage shed! Imagine all of the shed landscaping you can do around your own custom-built Amish shed!
Recent Shed Blog Posts...
Recent Shed Stories...
ready for more space in your life?
Create the building of your dreams by requesting a free estimate or customizing your own 3D design. You can also call us at 717-442-3281 from Monday to Friday between 8:00 am - 5:00 pm or Saturday between 9:00 am - 1:00 pm. We're ready to assist you!